Perhaps you are a real foodie, but I have a feeling that you have never ever seen anything like it. Restaurant owners scratching their heads and resort to the most unexpected marketing moves in order to attract more potential visitors. Some of these ideas seem to put it mildly, strange and even repulsive. But these clever geniuses restaurant have not lost, because for every product there is a buyer. Visit with 15 sverhneobychnyh restaurants that you have ever seen, all over the world.
Restaurant for silent types, USA

Remember the saying, "When I eat, I am deaf and dumb." So, owners of the restaurant, "Eat" interpreted it literally took the idea itself on a note and put it into reality. In this restaurant for lunch you will not be able to talk not so much, but even with someone to spread the word. Simply Nicholas Neumann inspired by a trip to Buddhist monasteries occurred to create a place where people could enjoy the peace, tranquility and a wonderful meal.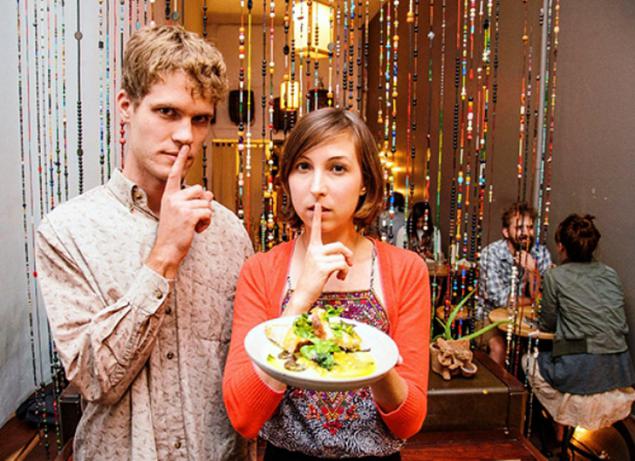 Table for one, the Netherlands

This restaurant in Amsterdam - a paradise for sociopaths. Its peculiarity is that no one will be bore his talk at the time, when you're enjoying your meal, because every table in the institution targeted by only one person.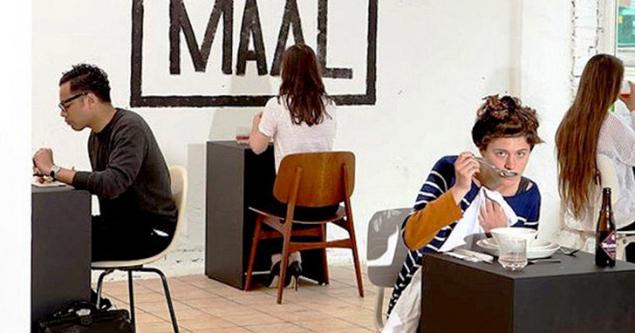 The Feast during the earthquake, Spain

After visiting Spain, you do not hold out, not to go to this restaurant. However, in this institution damn hard to keep your balance. All because Disaster Café you pay money for something to eat lunch in a quake of magnitude 7, 8 points. Broken dishes here - a common occurrence!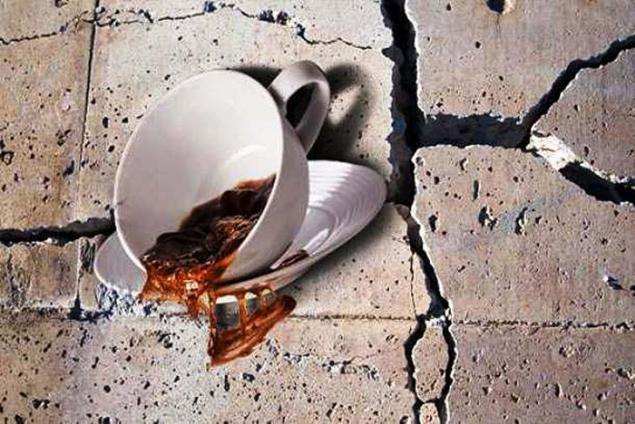 Dinner among the rocks, China

Restaurant Fangweng in Happy Valley Gorges Xining in China's Hubei province - a place for fans not only spicy food, but also the thrill! The fact that this restaurant is suspended high-altitude directly in the rocks. But a bird's eye view you can enjoy local picturesque scenery.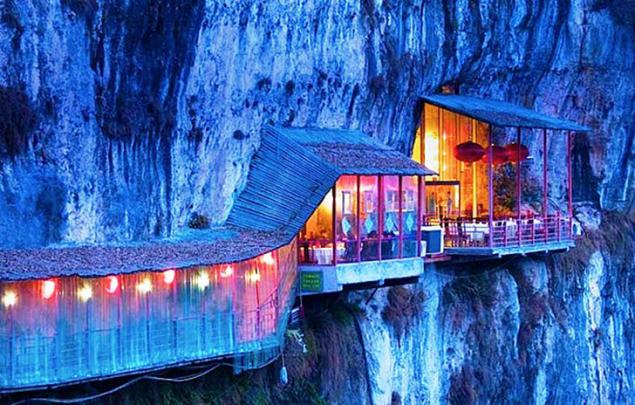 Restaurant robots, Thailand

These smart waiters never mix up your order with the order guy at the next table. They have a wonderful memory! Just in the restaurant Hajime, which is located in Bangkok, instead of the usual waiters take orders polite robots in clothes of the samurai. These employees of the restaurant at the end of the day, even you will have fun dancing.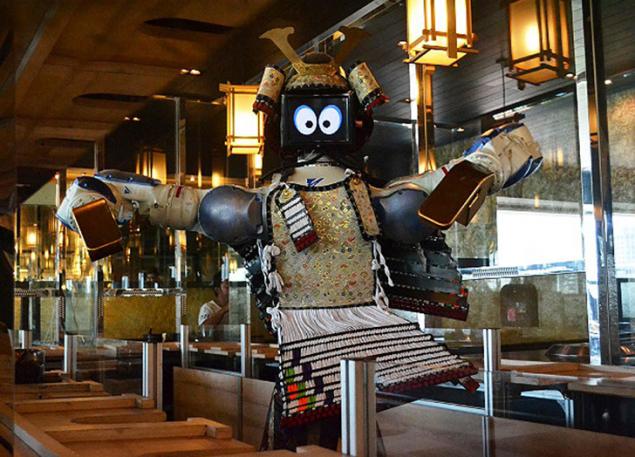 Ice restaurant Findlyandiya

You have to be very seasoned, to visit the ice restaurant, which is located at the North Pole. The restaurant serves only cold food and hot drinks. If you are ready to look into this place, you can enjoy a marvelous delicacies: tender venison and venison meatballs.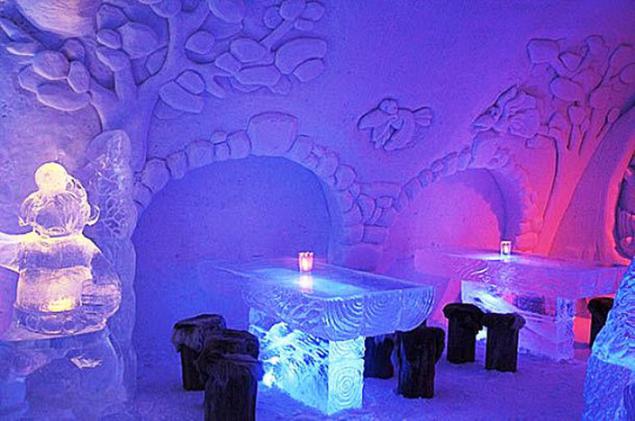 Restaurant with monkeys, Japan

This is the most lovely and charming waiters, whom you have ever seen. These monkeys will fulfill your every whim. All of them are very smart! The restaurant owner Kayabukiya Tavern, which is located in Utsunomiya, specially trained monkeys service skills. Local authorities, too, were not against such waiters and the monkeys were allowed to work here officially. Instead, clients are often tip animals treated soybeans.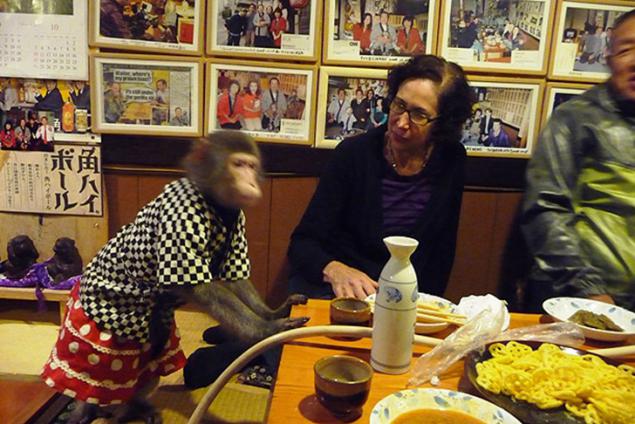 Restaurant, Hospital, Taiwan

In this unusual restaurant, hospital, you can not just great for lunch, but also improve your health! Instead, tables are arranged around a hospital bed, and hot drinks in the atmospheric institution serving waitresses dressed as nurses straight out of the syringe.

restaurant dirty, USA

More Holden Caulfield - the hero of the famous novel by John. Salinger "The Catcher in the Rye" - said that you had never manage to find a quiet and secluded place where there were no obscenities. He was right ... In this terrible restaurant called Dick's Last work very rude waiters, who flamed you down and up and down. Each visitor places give a paper cap with obscenities written on it. Believe it or not, this place is very popular among the visitors!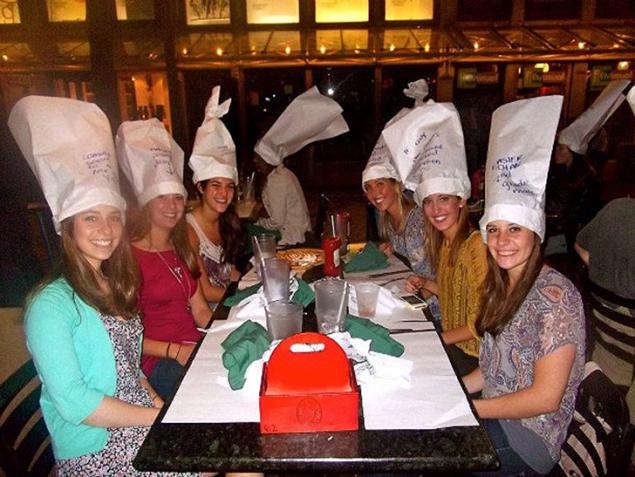 Nudist restaurant, USA

In this place called Clothing Optional Dinners you can feel myself free from everything, even clothes! Once a month, held here nudist party for people without complexes. However, the staff of the restaurant still working in the clothing.

Lunch in sheer darkness, England

Everyone knows that in the dark better than our other senses more acute. Due to the fact that the restaurant Dans Le Noir in London permanently dark, you will be able in a special way to experience the bright taste of each dish and drink, and enjoy their memorable flavors.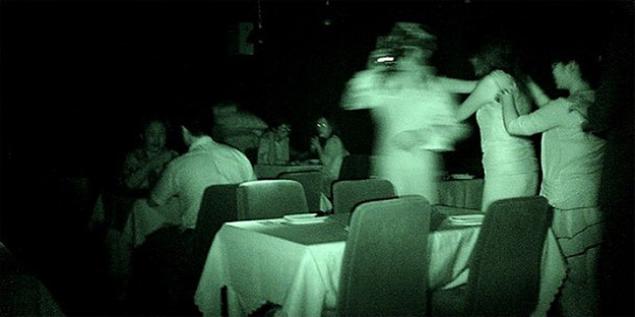 The restaurant is the most harmful food, USA

I do not strange that this restaurant is it in America ... But in this institution you just put before the fact that the food here is very harmful, and can harm your health large. This cafe serves really junk food with lots of calories and a complete lack of vegetables. Even the names of the exclusive restaurant meals eloquently speak for themselves: "Free, wherewith he may die," "Burger Dead", "infarct hot dog" and so on. If you pace yourself steady diet, this place is definitely not for you!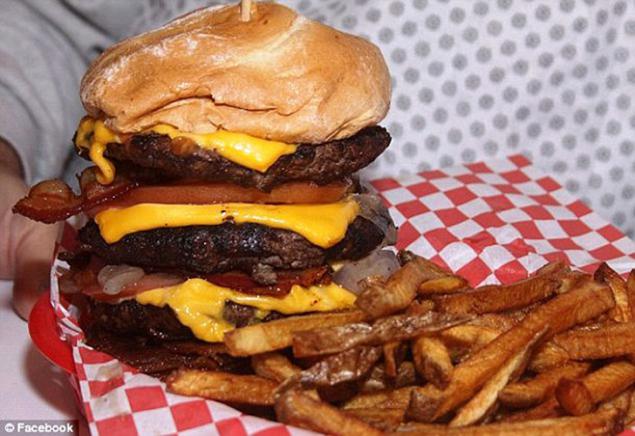 The feast among the dead, India

This place is not conducive to enjoy your meal. Colorful Indian restaurant was built on the site of the old cemetery. The owner decided to use this fact as a successful marketing tool. Therefore, visitors dine here quite simply among the old graves. Strangely enough, there was a lot of wishing to tickle your nerves and eat among the dead.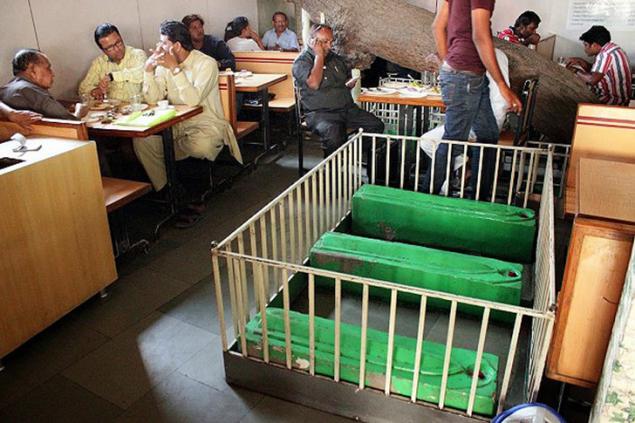 Restaurant-view of the city

If you love extreme sports and beautiful views, a restaurant Dinner in the Sky in Belgium - ideal for your holiday! Special crane will raise the table with the visitors just above city buildings and you can enjoy fine cuisine and view of the city from a height of several meters.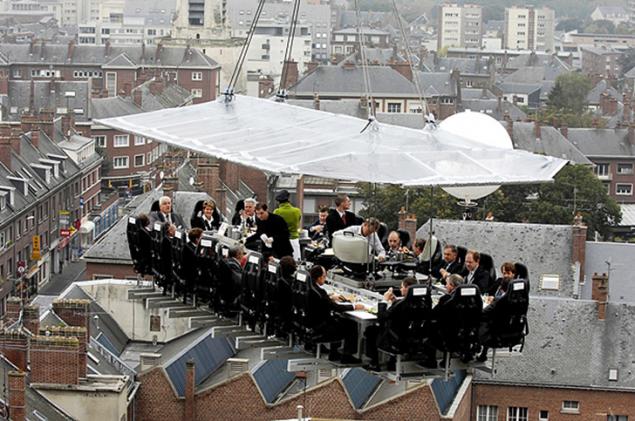 Restaurant toilet, China

I wonder what the owners expect this institution in the Chinese city of Taiyuan in Shanxi Province, when they came up with such a crazy idea? Ceases disgusting when you think about what you will eat lunch in a restaurant, toilet, where instead of toilets seats are soft cushions in the form of poop. Once wildly even to wish someone good appetite for such an institution.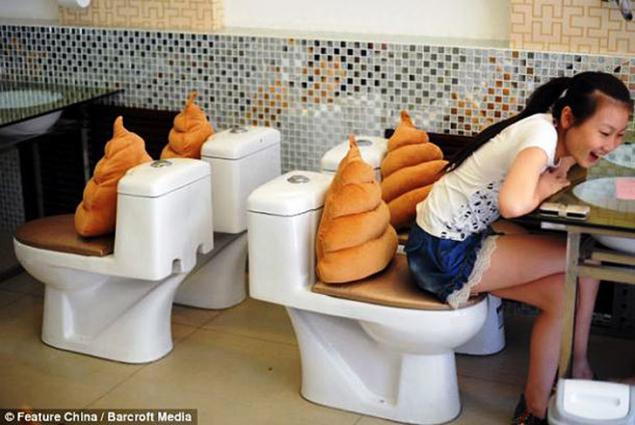 What can I say, the creators of these fancy restaurant curiosities can only envy. Tell us about these unusual places your friends may have chosen to travel, you and visit some of the extraordinary restaurants.

list25.com/25-of-the-most-bizarre-dining-experiences-from-all-over-the-world/?view=all