Snapshot landscape photographer Peter Lik / Peter Lik «phantom» / Phantom was sold for 6, $ 5 million in November this year to remain anonymous collector. Along with "Phantom" buyer purchased two more of his work - "Illusion" / Illusion and "Eternal mood» / Eternal Moods, spending a total of $ 10 million. Leake yet won four of the 20 seats in the top of the most expensive pictures of all time.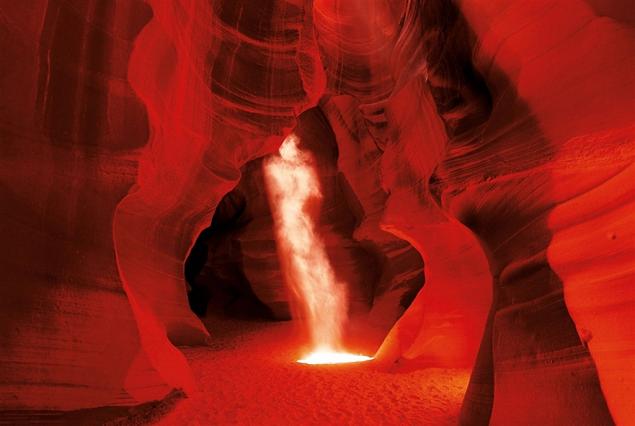 It is noteworthy that "Phantom" and "Eternal mood" - black and white duplicate the work of the photographer, "Ghost" / The Ghost and the "Eternal Beauty» / Eternal Beauty more famous in color, as does the Face - is famous mainly for its dynamic color images. Both works were made in one of the favorite places of the author - a native of Australia and is now a resident of Las Vegas - Antelope Canyon is located in the southwestern United States, where tens or hundreds of such images are produced daily
.
All of these details add up to a rather mixed picture, which provoked some critics and experts expressed bewilderment at the incident. The texts are full of a variety of theses - the suspicion Lika falsifying sales and accusations of aggressive marketing strategies to claim that a precedent appears in first place in the list of most expensive photographs shot extremely tasteless and clichéd have proof that photography is not art, and never have they will not.
3. "Eternal Beauty» ( «Eternal Beauty») Peter Lik.
During the auction the person who has acquired "the Phantom" for 6, $ 5 million, also bought the photo Lika "Illusion" 2, $ 4 million, and "Eternal mood" for 1, 1 million dollars. Photo "Eternal mood" as well as "Phantom" is a monochrome version of the "Eternal Beauty»
4. Photo «One» Peter Lik, for which in December 2010, an anonymous buyer has paid one million dollars.
"In my photographs I want to capture the power of nature and show it so that it could inspire others" - so said about their work Australian photographer Peter Lik, who was born in 1959 in Melbourne, and currently lives and works in Las Vegas Vegas.
Peter Lik - self-taught, who mastered the craft by trial and error. His first shot he did in elementary school. For over ten years, he has specialized in the panoramic landscape photography. Besides the fact that his pictures are paying a lot of money, many of his works have won awards at international photo contests such as: Masters of Photography, Epson International Pano Awards and the Royal Photographic Society.
Until now, the first in the list of most expensive photographs was listed work "Rhine II» German photographer Andreas Gursky / Andreas Gursky, sold for $ 4, 3 million. In late 2011 year.