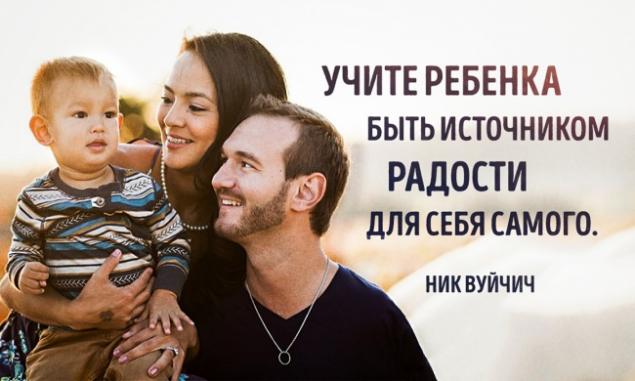 This man was born with a rare disease - without arms or legs. Despite this, he was held as a husband, father and a great orator. His performances give hope and give strength. In August last year he became a dad for the second time.
On the education of children about what it's like to be a man with features and live happily ever after, Nick Vujicic told the publication MEL.
< Website with permission article shares his thoughts extraordinary man.
The boys and girls from early childhood should be taught that it is okay - be different h3> And friends can be different, but it is so, and we need each other.. Therefore, it is important that children learn together - and normal children and children with physical disabilities
.

When children talk to each other, they learn to "communicate heart," without regard to appearance. H3> For example, the guys at my school finally learned that I am not only with disabilities, but also an interesting, well-read with a great sense of humor man! In high school I did was class president. My parents supported my desire to communicate with classmates.

Basically, I had a positive experience with their peers communication. Although I occasionally encountered bullying and exclusion, and this helped me to build a internal protection system.


To do this:

1. Have a clear understanding of what your abuser is actually.

2. Take responsibility for your behavior and happiness that others had no power over him.

3. Line up the system of values, which can not afford to shake anyone.

4. Create an internal security zone, where you can be mentally draw strength and consolation.

5. Generate someone congenial strong and reliable relationships that will help to fight bullying.

6. Learn how to monitor their reactions to the persecution and control.

7. Develop a spiritual foundation that will surely resist the persecution.

8. Use the opportunity to learn from the bitter experience and become stronger, wiser, more confident. This will help to overcome any obstacles and solve all problems in later life.

9. Create a protective strategy against the persecutors of any kind.

10. To develop the ability to empathize and help others deal with cruelty if necessary.

Blockquote> If your child is still small - help him make these steps. Together, you'll be twice as strong.



It is necessary to teach the child a simple spiritual values, one should not treat a child once in a special h3> Did peers confused, if a child with features instead of running away, to depart in the direction of -. Reach for him . Demonstrating classmates do not fear and panic, and the love interest of the child resides internally their experiences and become wiser.



Teach your child to be a source of joy for himself h3> Learn to recognize and enjoy the little things, all good things in his life. Own talents and abilities, the beauty of the sunset, my mother's kiss, the joy of a puppy on his return home. Let it "adds to the account of" all the joys of life and cashes them when someone tries to spoil his day. People can break a notebook, a pencil case to hide, but to the joy that lives inside - they do not get
.


Teach your child patience. H3> When peers were getting me in high school, I did not see any way out. It seemed to me that the taunts and tortures never end. The lack of prospects plunged me into depression and despair. If I have learned to look to the future, it eased my suffering. I kept thinking, "This guy is going to torture me all my life." < Patience would say to me: "And this too shall pass»
.


Teach your child to love and accept yourself. H3> All feel the confidence and strength of a man who loves himself. It draws.

< Most people do not know how to behave with a man externally or internally are not like them. It is therefore important to understand that we all have problems, and it does not matter, we have hands, feet, right facial features or hearing, sight. We are friends and talk for other reasons.



advice - sincerity. Interest. The desire to help. H3> Among disabled children there are those who say that they do not need any help. And no one needs. To do this, we have a decision. We must slowly, day by day, but unobtrusively "explain" such a person, you need each other. Due not so much the word as making some good deeds.

Parents should introduce their children to learn and communicate with disabled children so that they were not afraid, they did not hesitate in the future, and know - it also happens, and were able to help
.