In our traditional monthly review we suggest that you remember the most significant examples of print and outdoor advertising of March.
Test creativity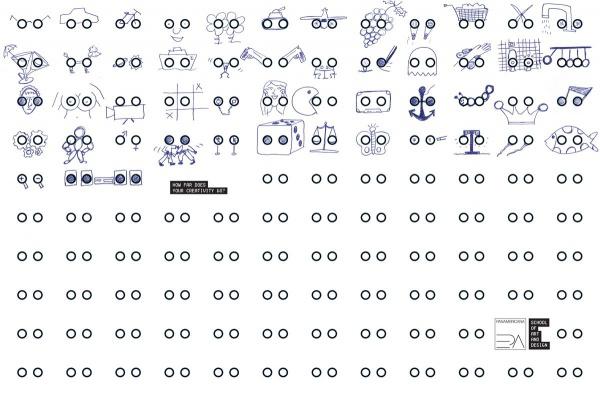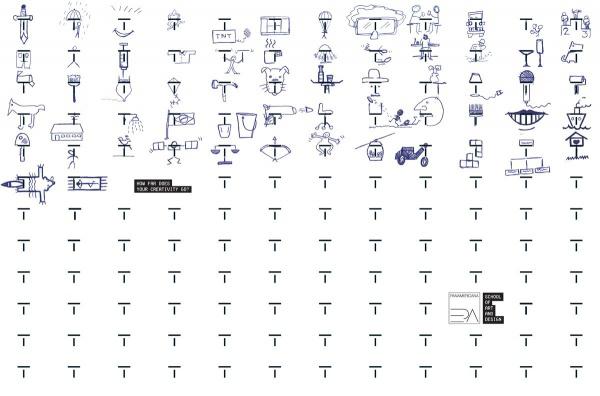 Some things can not be washed out of my head even Head & Shoulders (+2 print) Renowned illustrator Richard Wilkinson and the German branch of the agency Saatchi & Saatchi presented three posters made in the framework of the curious campaign "Some things can not be washed out of my head even Head & Shoulders» (Some things even we can not get out of your head). Topics of the prints show the trauma that children coming down.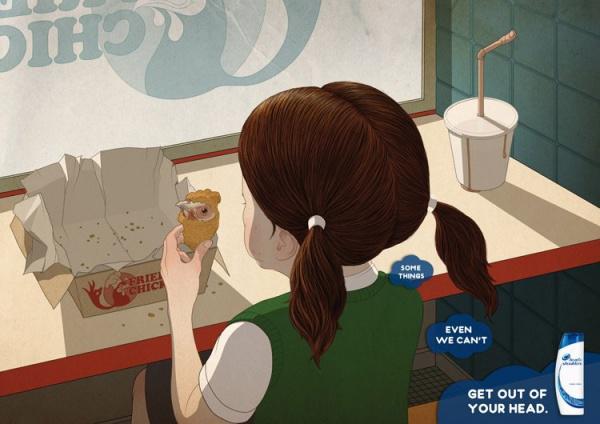 Graduates of the School of Design News Limited everywhere see ideas for advertising (2 prints)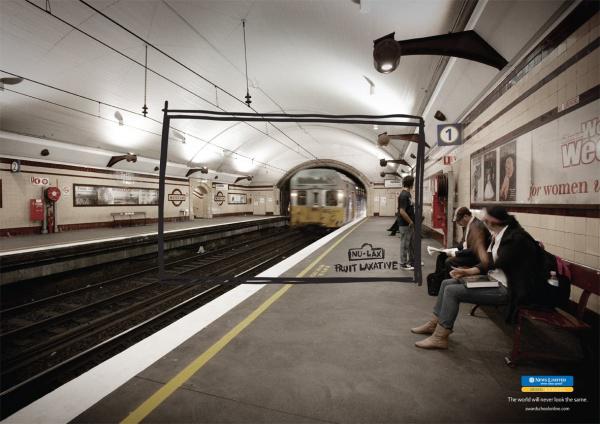 Delivery services delivered ads from hand to hand (4 prints) Just 2 cargo delivery services - brazilskif office and FedEx Aramex Qatari company used a similar concept fast transfer of goods "from hand to hand».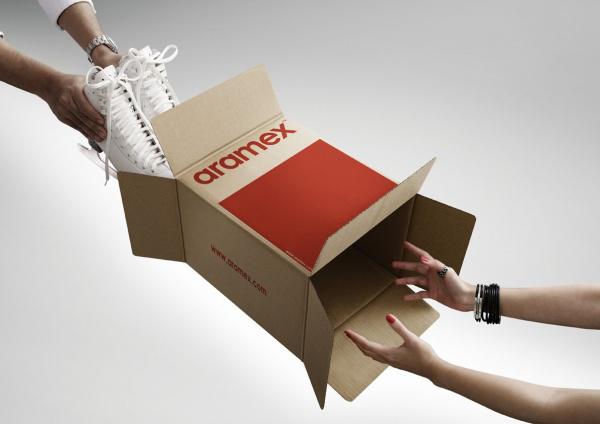 Fighting harmful food from the stomach to the advertising of the restaurant La Buena Tierra (+ 2 prints)
Agency Z Mexico invites you to visit the restaurant La Buena Tierra, to stop the war between the poor quality food and your body. As an argument restaurant visualizes the damage that causes the body to fast food. Slogan: Eat a healthy diet.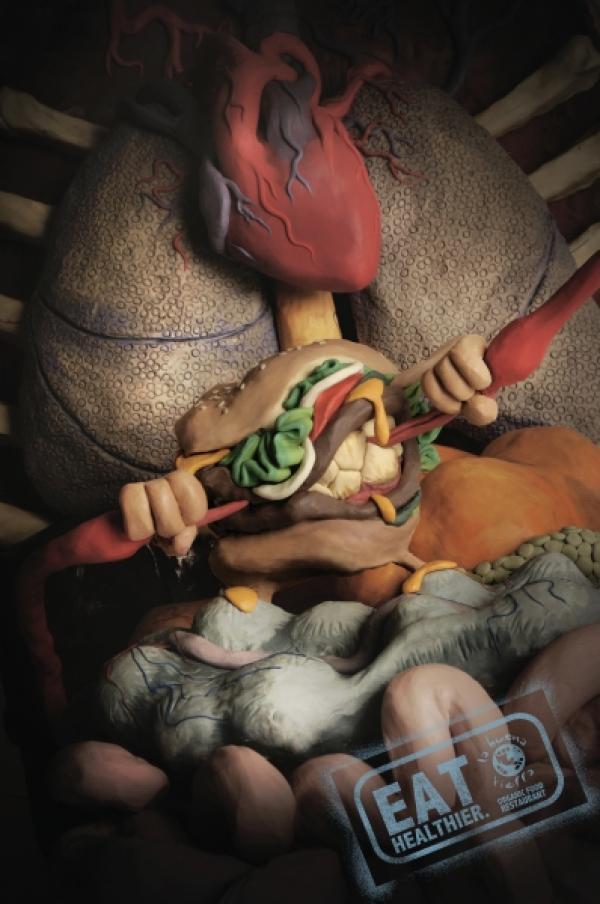 Aluminum foil Cuki contains products are safe (2 prints)
Bags Eastpak stronger than the lives of their owners (+2 prints)
Moaning from the artist Gil Greenberg advertising child protection center Juvenile (+2 prints)
Superglue Loctite: Toys rose, but did not forget their owners (2 prints), the Italian branch of the agency DDB (Milan) showed a meeting of old, grown-up toys with her vladeltsami.Blagodarya superglue Loctite Super Attak they will not break up and lived their lives. Slogan: Welcome back.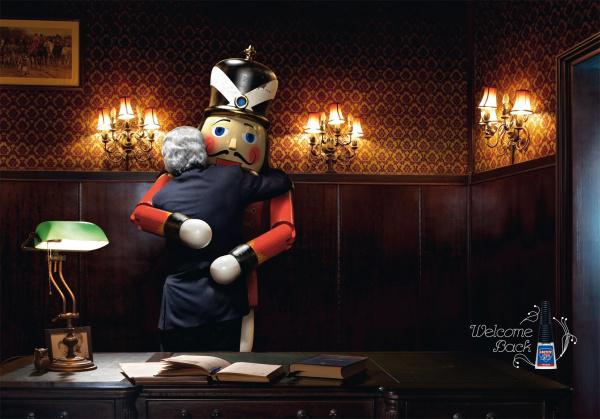 McDonald's helps to make a deal with a child (2 prints) South African agency DDB South Africa offers to make a deal with the child. If you do not want to buy his daughter a huge spider, cartoon, or watching children riding on a roller coaster - that the child can talk, reducing it to a children's meal with a toy Happy Meal from McDonald's.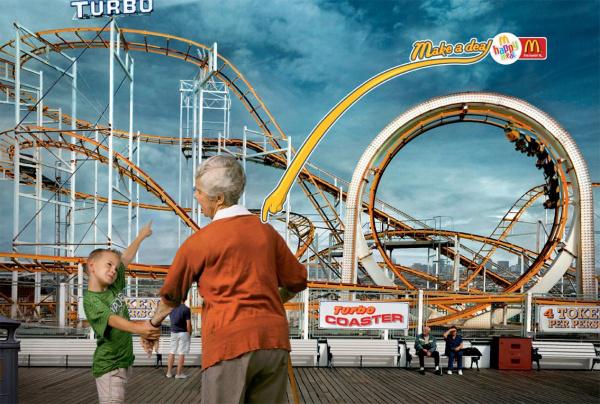 Clay Becks: Let the kids build a better world (1 print)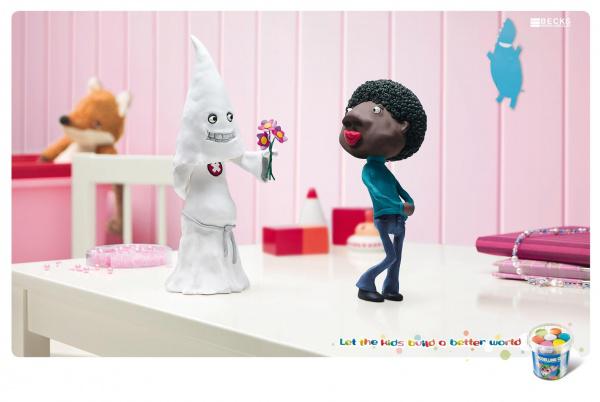 Cream female breasts Innoxa: You will want to show them (one print)
The most accurate way to test for pregnancy (3 prints) Thai Agency Lowe Bangkok touts pregnancy test to Exact.
Dirt "seasick" in washing machines Samsung (+2 prints)
Fiat Adverture: Camping may be safer than in the city (2 prints) Leo Burnett Buenos Aires (Argentina) has developed a series of prints for an SUV Fiaty Adverture, which makes it comfortable to relax gorodom.3 prints prove that outdoor recreation can be safer than working in the office on a weekend or holiday home.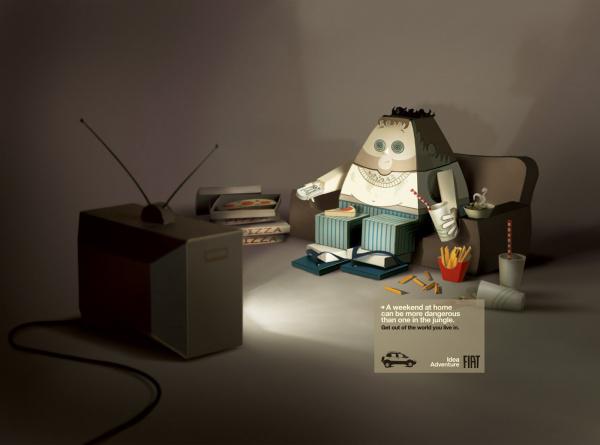 Traces of sex in advertising delivery food service (2 prints)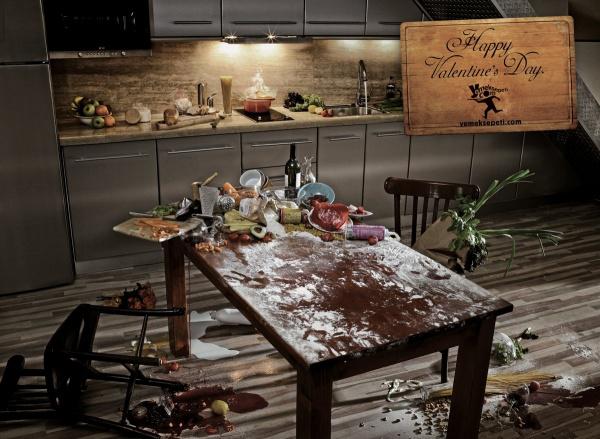 Bank Financiero: Whatever happens, you will get your 8.5% (+2 print) Agency Young & Rubicam Lima (Peru), says that Banco Financiero ready to withstand any shocks, up to the flood, the coming of aliens and dinosaurs. Client Bank in any case get their 8.5% gain.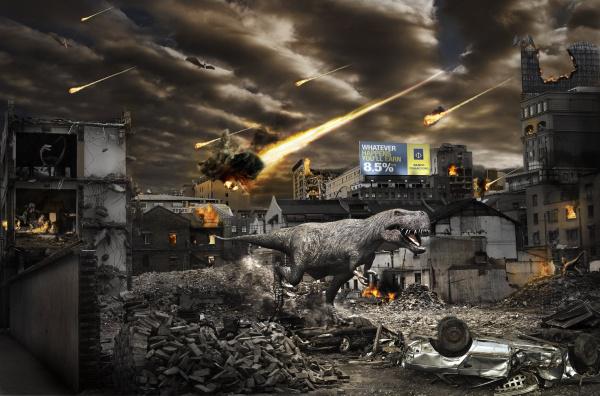 Sunglasses Paul Frank will not miss the interesting (2 prints)
RA "Sunrise" carries out repairs languages ​​for "Brighton" (print one) RA "Sunrise" campaign presented the language center "Brighton", which invites you to learn the language of those who have forgotten the school knowledge.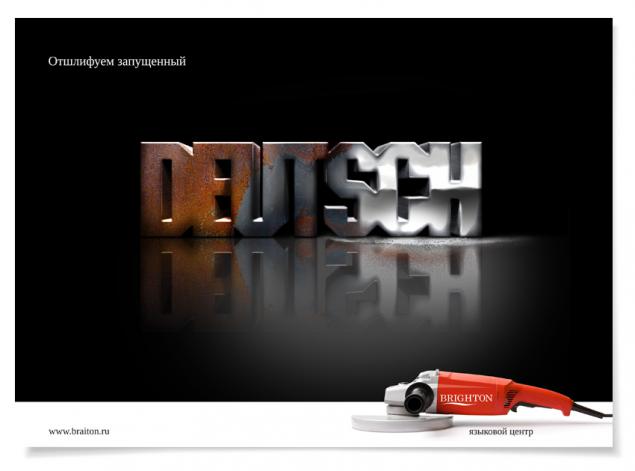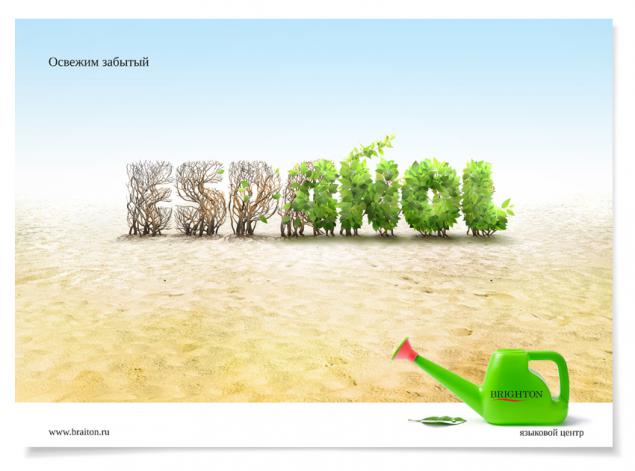 Advertising ice-cream "Duet" offended Obama (+1 print)
Xpycteam in Borodino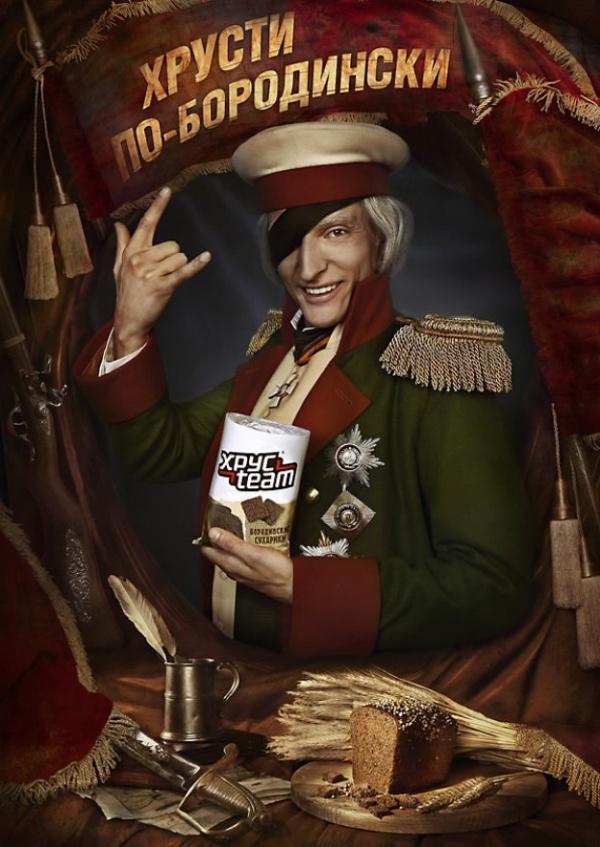 Leo Burnett Moscow print money (+2 print) Agency Leo Burnett Moscow launched a strategic campaign for the Cadillac brand cars commissioned by General Motors Russia. The purpose of the communication - to inform consumers about significant discounts on the model Cadillac Escalade, Cadillac SRX and Cadillac CTS. The creative ideas formed the idea that the new prices are so sensational that are equal in importance to the issue of the new banknote of the State Bank.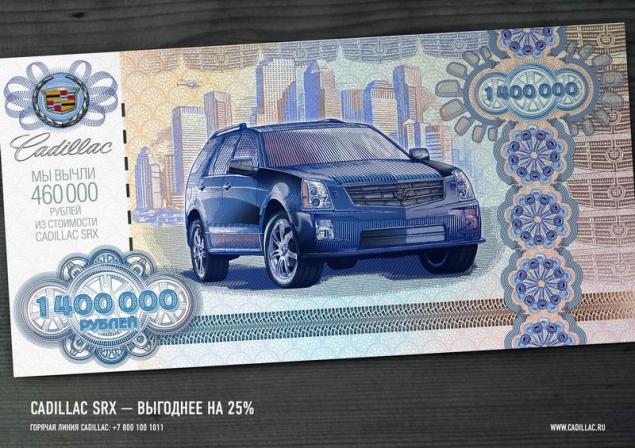 People are fleas in the pet store advertising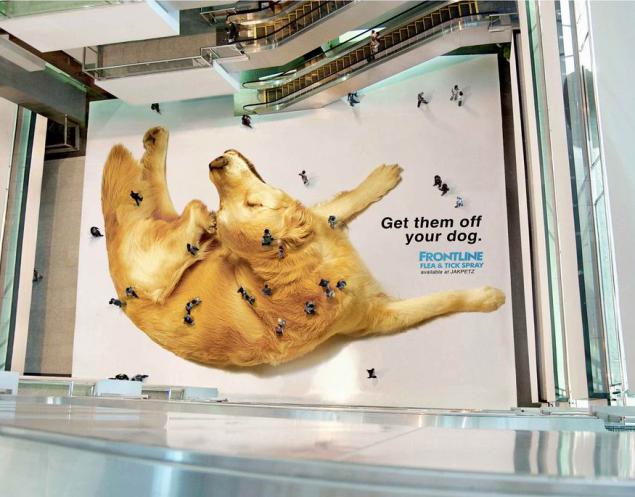 Fitness Centre weighs people at bus stops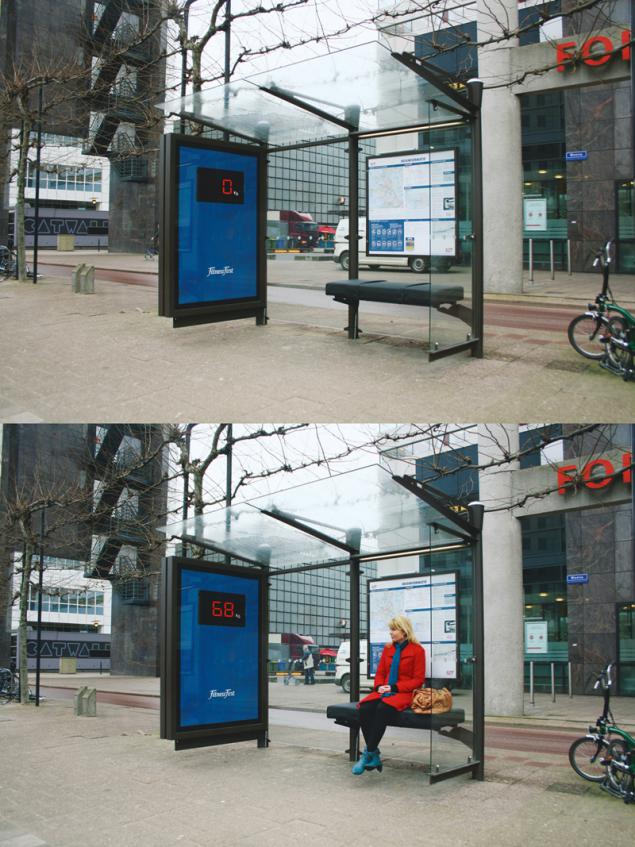 Saatchi & Saatchi showed where to go if you want to hide the face of a new range of services for the treatment of acne agency Saatchi & Saatchi Indonesia placed in shopping centers, restaurants and on the streets of mannequins, hiding their faces from all passers-by. Sticker over their heads reads: "You can not turn to face the world?" The following is contact information for the clinic.
via # image3198255