The selection of the best of traditional print and outdoor advertising in the past month - that made an impression on visitors and editorial team in sentyabre.Pechatnaya reklamaSedobnye flags (+10 prints) Australian Agency WHYBIN / TBWA has developed a series of prints for the International Food Festival. Photographer Natalie Boog and fudstilist Trish Heagerty implement the idea creatives agencies WHYBIN / TBWA on edible flags characterizing the national cuisine. Typical dishes and products around the world were put on a plate in the form of national flags.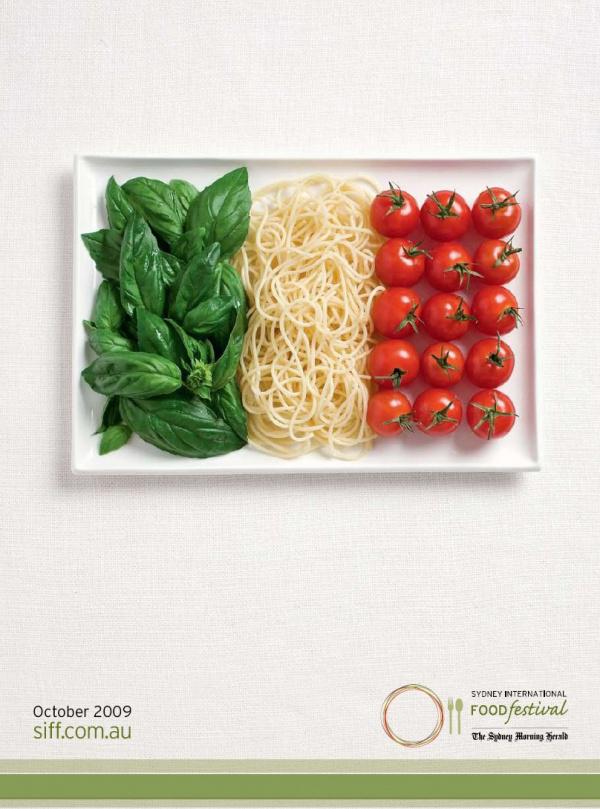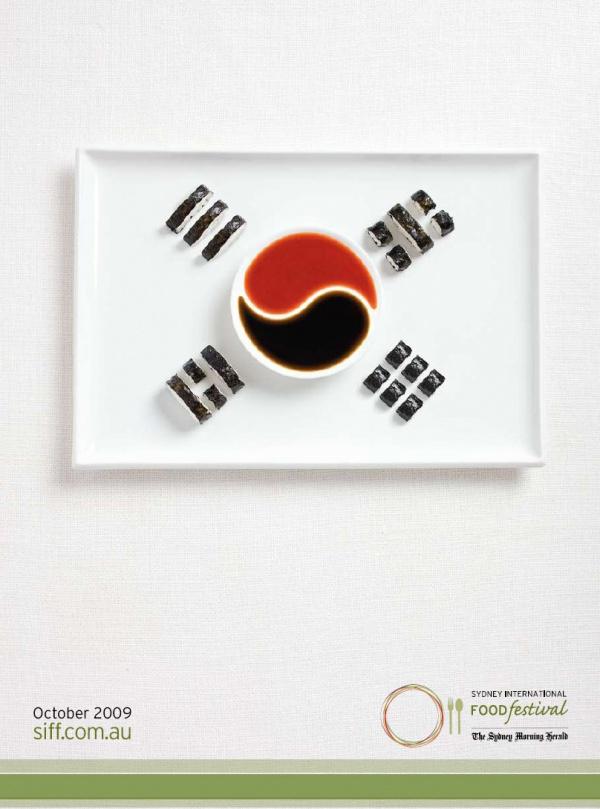 Your clothes will tell you that it's time to go to the fitness center Gold's Gym (+ 2 prints) Advertising agency Jotabequ Costa Rican has made a series of prints from the "plasticine" prodakshenom showing animated clothing, which is experiencing discomfort from too thick master.
Sex with Stalin in the German anti-AIDS advertisements (+2 prints and video) Foundation Regenbogen independently developed and launched the campaign "AIDS - a serial killer." Print advertising is an incurable disease compared with the greatest dictators of XX century, on the conscience of whom millions of lives. "Decent" the fate of being compared with AIDS were three: Adolf Hitler, Saddam Hussein and Josef Stalin.
Capital Issue removes the mask to economic experts (+4 prints and video) agency Young & Rubicam Paris launched a campaign denouncing risky economic publications Capital. The main idea of ​​the campaign is that many experts talk about the economy, in fact are not, or pursue personal interests. The prints depict the judgment of people who should not be taken seriously because they are due to personal economic interest.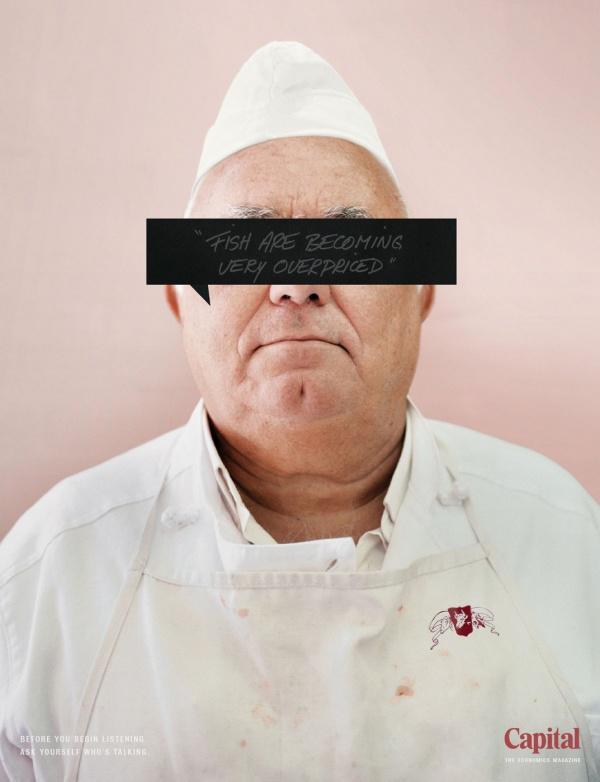 Cleaner toilets advertised as toilet water (+2 print) Australian Agency for Jay Grey (Sydney) has shown how to look advertisements Ambi Pur - a product claims to be present toilet water. New smells cleaner toilet Ambi Pur - a real eau de toilete!
Chest born to die pair (+2 prints and video) Dutch magazine Pink Ribbon, dedicated to the prevention and treatment of breast cancer, has launched an advertising campaign in which a woman's breast is compared to twin girls.
American FirstBank offered to find hidden objects in advertising (+ 3 prints) prints for consumers to play, creators of the agency TDA Advertising & Design have decided to advertise for free without having to open an account minimum balance and no monthly payments.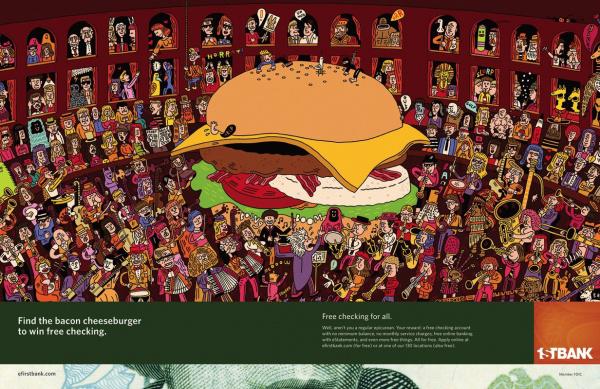 However, it did so creators of the Romanian branch of Publicis in the print campaign for Martini Bitter. Food, not easy to digest, is presented to the audience in the form of readily available women. Tagline: "Does the food available».
McDonald's advertises mini burgers to coffee (+1 print) of the Paris office of TBWA developed a series of print ads McCafé coffee from McDonald's, turning the popular national French pastries Macarons in "small burgers».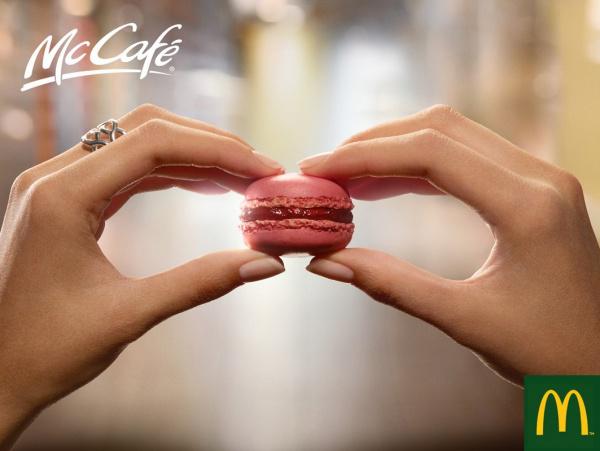 Do not make your Peugeot's lazy animal (+2 print) Agency Saatchi & Saatchi Copenhagen (Denmark) to advertise the service "5+ Service" that helps to monitor the technical condition of used cars Peugeot.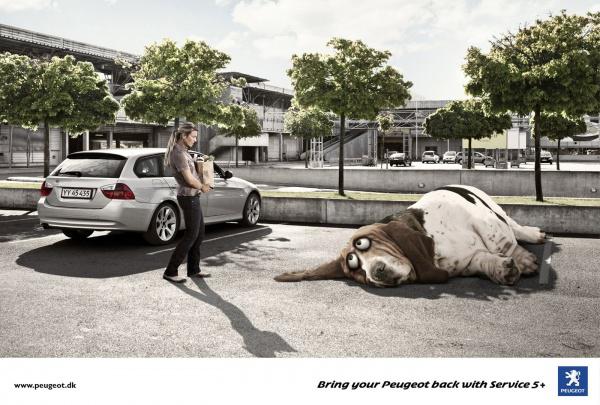 Store condoms erased all evidence (+2 print) for the Spanish magazine La Condoneria intimate goods made a series of prints depicting nude women from the "rubber residues" .Kartiny drawn eraser, or rather what remains of its use. As the authors explain, the idea of ​​using a metaphor that the eraser as condoms occurred conceal evidence.
Folding furniture magazine (+2 print) Vietnamese branch of Grey used successfully receiving pop-up, or printed extenders, advertising furniture. Furniture Nha Xinh asked the Grey Vietnam with the brief of easy folding furniture. Lightness was transmitted using plain paper, which were cut from the shelf, a chair and a table, and that it develops, with the help of receiving pop-up.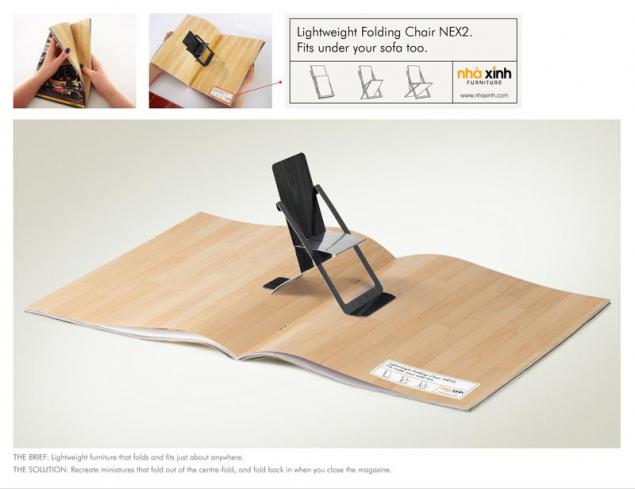 BBDO advertises Fedex eyes recipient (+2 prints) BBDO PROXIMITY Singapore used the method of "hands" to advertise courier Fedex Express. Tagged box still serves as a "teleport", linking the sender and the recipient of the parcel. But the frame is now not only the hands, and the sender sends the goods to the recipient out of the box in which it is located.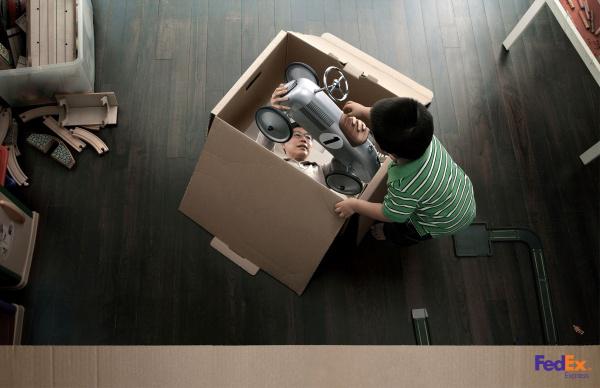 The Playstation 3 resurrects Joan of Arc and Rommel (+1 print) The new campaign for Sony Playstation 3 from the Chilean BBDO surprisingly fine art direkshenom. Prints embody is not a new idea of ​​"reincarnation", the possibility to give his life in the game, or another character to use his life.
In advertising shops CNA of two well-known personalities have made one (+4 print) South African agency The Jupiter Drawing Room joined into a single image, at first glance, quite dissimilar well-known personalities: the Queen of England and Mother Teresa, Bill Gates and Elvis Presley, John Lennon and Albert Einstein, Prince Charles and Buddy Holly. The campaign was designed for a network of shops CNA, selling books, video games, movies and music discs.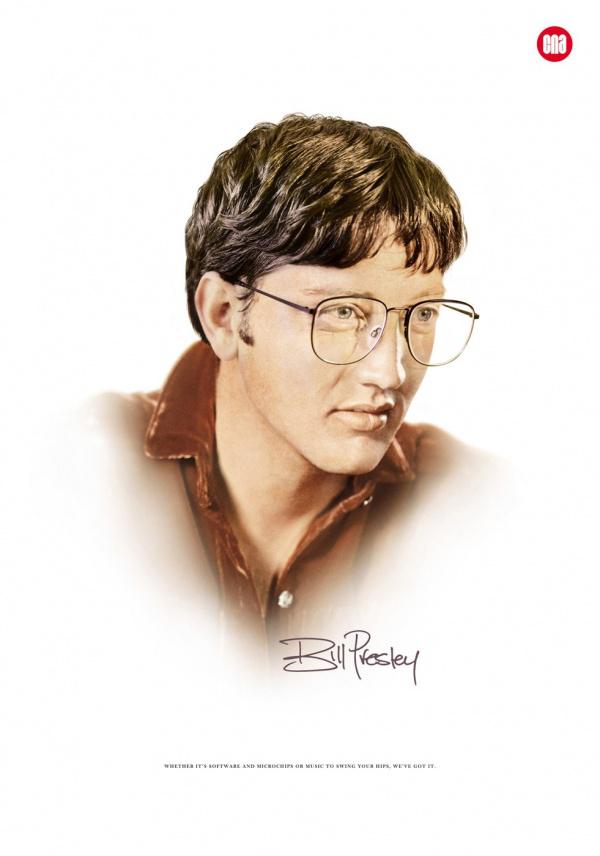 Russia "Cr ivaya" advertising from Twiga Touch (+ 2 prints) TWIGA TOUCH Agency developed the concept of advertising materials for companies Choise.ru, an online store selling spare parts for cars of different brands.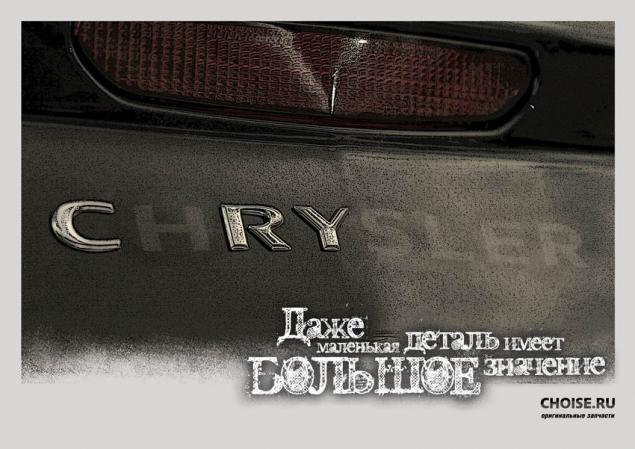 Lay's SensationV The creative concept based on the idea that every woman lives Queen. It does not matter who the woman is, what she is, what she needed to fulfill the role in the course of the day - that spark is in each. Therefore Lay's Sensations creates a world in which every woman can feel like a queen.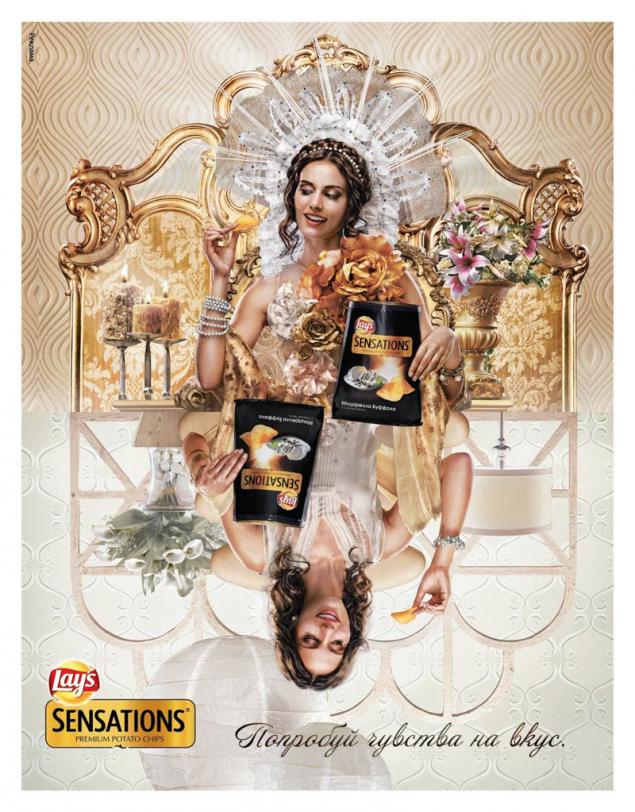 Outdoor advertising
The most effective advertising mireV Slovenia did what wanted to do for a long time, many advertisers. Just at eye level passers-standard-size billboard is located 3 * 6 with a large image of a woman's breasts, covered with soap suds and ants.
McDonald's coffee spill free from April to May at McDonald's free coffee poured when ordering breakfast. The agency Cossette (Vancouver) came up to finalize a lamppost so that he spoke about the free coffee. A bus stops coffee ended with the passage of time.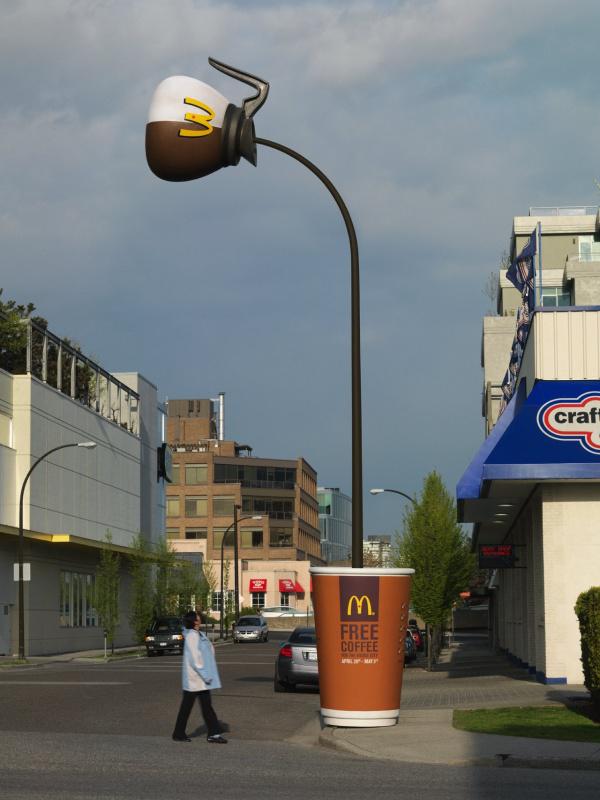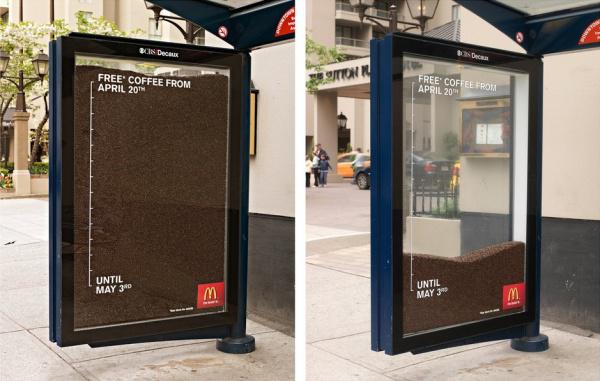 Converse - Feel like a Frankenstein (+3 print) Agency Anomaly held outdoor-collection campaign for Converse One - sneakers that everyone can customize for yourself.
The game "Undress chick" in advertising insurance (+2 print) interactive, but not high-tech posters have been placed around the city. They were showing people dressed as a chicken, a pirate and a clown. But if the image of the man was placed behind glass, his strange attire pasted on top of the glass. The calculation was correct, given the subconscious desire of people to scratch, otkolupnut and pull out. Heroes campaign gradually left without their costumes. Tagline: "Everyone always steal your stuff. That's why there NZI. Even at Sevens »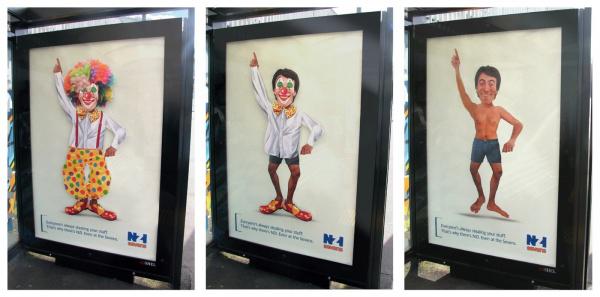 Russia
Tomatoes grown for Calve in reklamyNestandartnaya Calve ketchup advertising campaign takes place in the end of the 2009 season Barbecue on billboards and city-formats in Moscow and St.Petersburg. Construction of billboards and city-formats are boxes filled with tomatoes and bulk packages of ketchup Calve.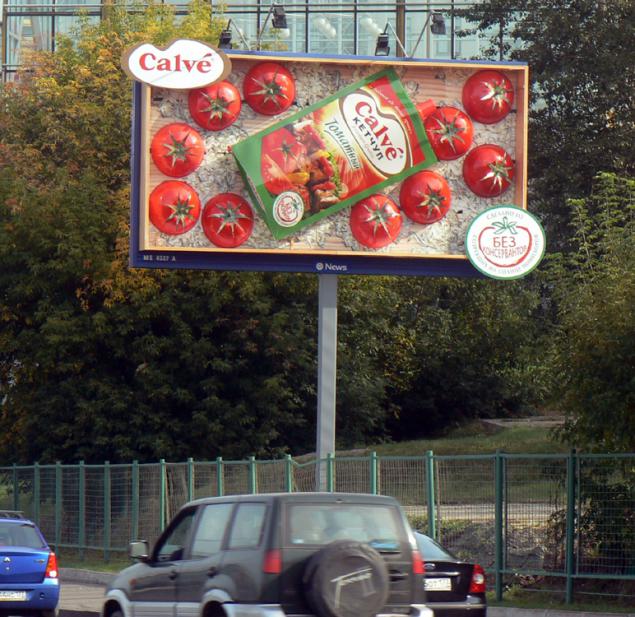 via # image2252355