Series Redoubt eruptions (Mount Redoubt), began in Alaska March 22, 2009 and continues to this day.
The ash cloud rose to an altitude of 15 km and blocked air traffic over the Cook Inlet.
Since 1900, Mount Redoubt erupted at least five times, with the last eruption took place in 1989.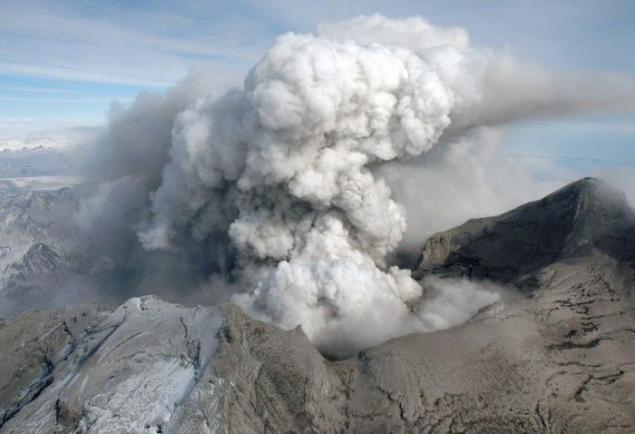 View of Redoubt volcano eruption (Mount Redoubt) from the cockpit DC-6 flying over Cook Strait near Anchorage, Alaska. March 31, 2009. Photo courtesy of Brian Mulder - pilot and photographer. (© Bryan Mulder)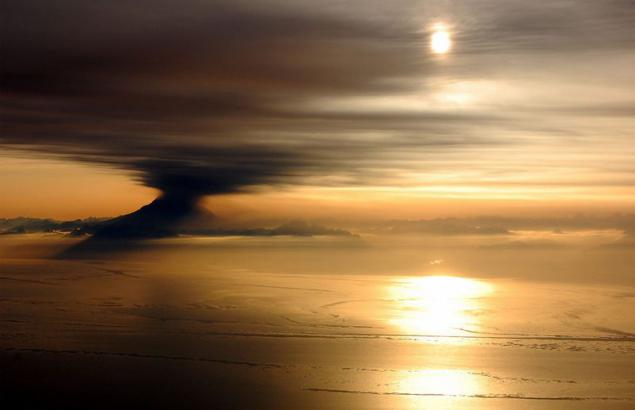 A cloud of volcanic ash rises above the horizon. Homer, Alaska, March 26, 2009. (AP Photo / Kenai Peninsula Clarion, McKibben Jackinsky)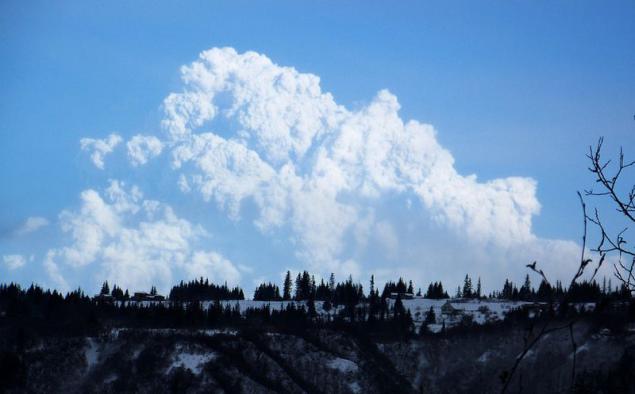 Cloud Redoubt volcano eruption. March 27, 2009, near the town of Homer, Alaska. Photo courtesy of Dennis Anderson. (Dennis Anderson / Alaska Volcano Observatory)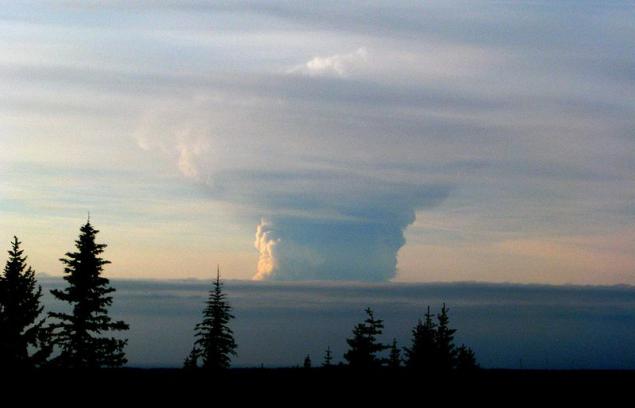 Redoubt Volcano Crater: around rapidly melting glaciers and increasing "ice piston" (crater-hole ice with vertical walls, formed of ice, which, with the melting of drops straight down). Picture taken March 21, 2009. (Cyrus Read / AVO / USGS)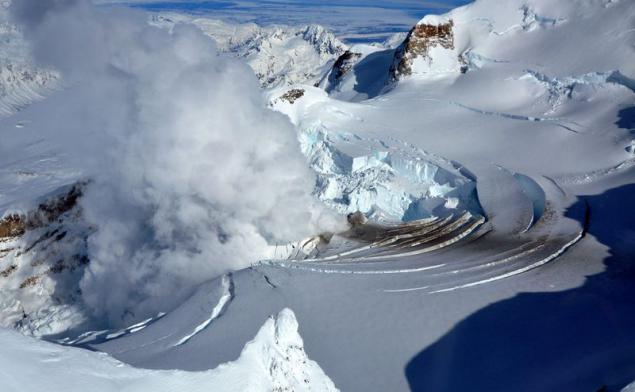 The hole in the dome, which was formed during the last volcanic eruption in 1990. Picture taken: 21 March 2009 (Cyrus Read / Alaska Volcano Observatory)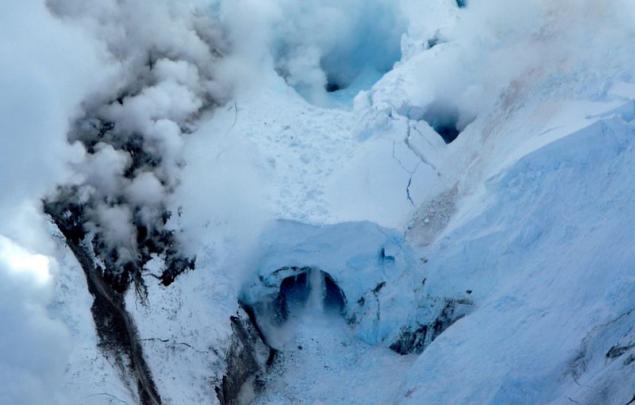 Photo Redoubt summit crater of the volcano shot at close range March 21, 2009 (Cyrus Read / Alaska Volcano Observatory)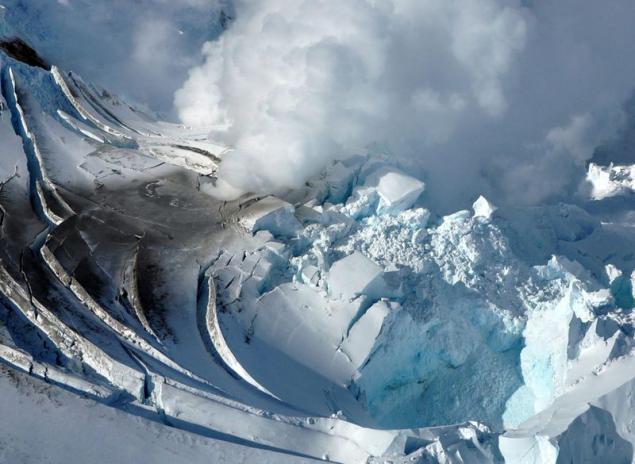 View of the smoke plume to the north-east of the volcano. March 31, 2009. Flex consists of fine ash that is all clouds downwind of the volcano, and settles on the snow-covered mountain slopes. (Kristi Wallace / Alaska Volcano Observatory)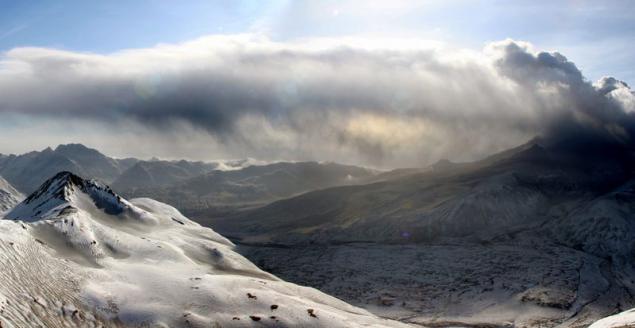 Satellite image of Redoubt volcano presented GeoEye, shot in the Monday, March 30, 2009. The photo seen a steady column of ash that the volcano erupts. The day before, on Saturday, the first time the ash fell on Anchorage, Alaska's largest city. (AP Photo / GeoEye Satellite Image)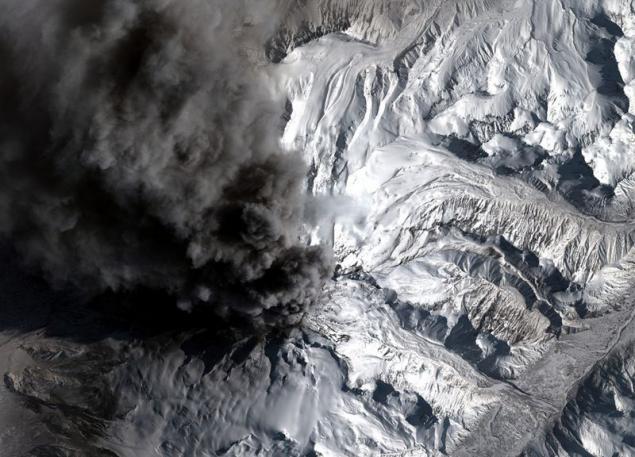 View from the east on the top of Redoubt volcano crater, covered with solid deposits from past eruptions. Picture taken: March 31, 2009. (Game McGimsey / Alaska Volcano Observatory)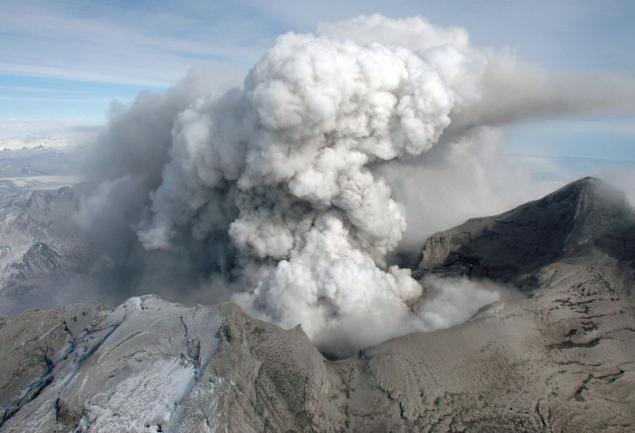 View of Redoubt volcano eruption. Picture taken from a distance 28 March 2009. (Tricia Joy Sadler / Alaska Volcano Observatory)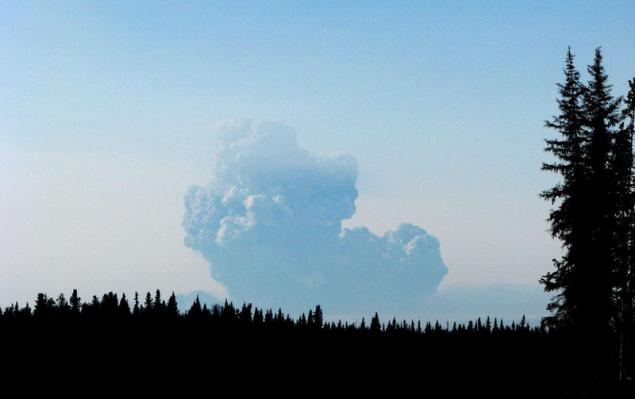 Photo Redoubt volcano ash cloud, flying and partly settling. Picture taken between settlements and Nakiska Kenai, Alaska, March 28, 2009. (Jaden Larson / Alaska Volcano Observatory)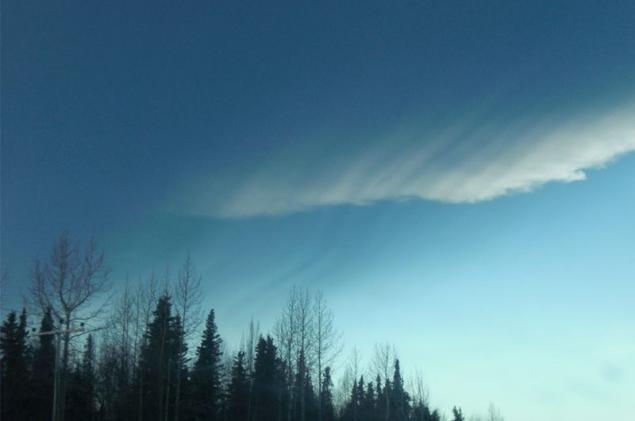 Volcanic ash on the hood of a truck in Nakiska, Alaska. The ash cloud was formed for the day March 28, 2009, and began to settle approximately at 16:16 local time. The settling of ash lasted about 5 minutes. It is reported that the thickness of the layer of fallen ash was less than 1 mm, but the ash particles - large size of coarse sand. (Kristi Wallace / Alaska Volcano Observatory)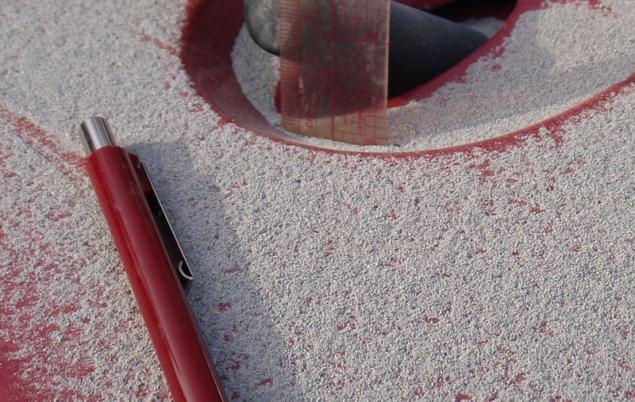 The granular volcanic ash. March 29, 2009 in Anchorage, Alaska. During a volcanic eruption Redoubt sandy layer of volcanic ash spread to many localities, including Anchorage, Alaska's largest city. (AP Photo / Rick Bowmer)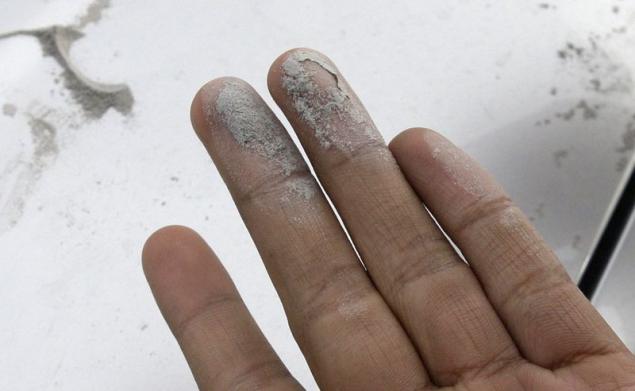 Images of particles of volcanic ash, made with an electron microscope. March 22, 2009. A sample of the ash was collected during ashen rain in Healy, Alaska Paul Izbekovym March 23, 2009. The image was taken by Paul and Jill Shipman Izbekovym with a scanning electron microscope ISI-50 in the laboratory of the University of Alaska in Fairbanks. (Pavel Izbekov, Jill Shipman / AVO / UAF-GI)
A particle of volcanic ash, the image made with an electron microscope. March 22, 2009. Image courtesy of Tom Kircher with a scanning electron microscope ISI-50 in the laboratory of the University of Alaska in Fairbanks. (Tom Kircher / AVO / UAF-GI)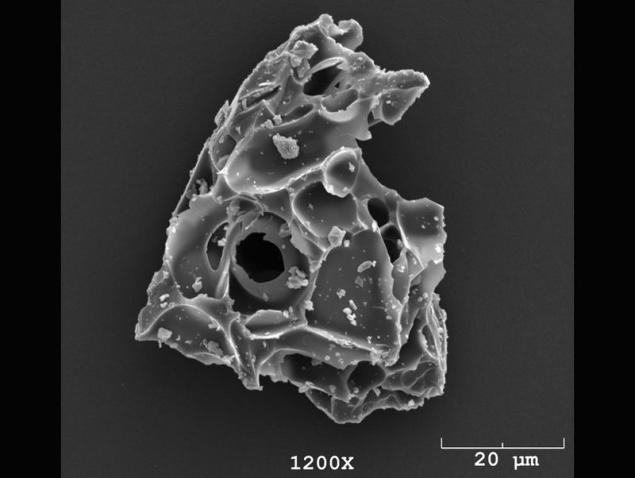 Game MakGimsi collects samples of ash in the Drift River Valley at seismic stations DFR, located 8 miles (13 km) north of the volcano erupting Redoubt. Picture taken March 23, 2009. (Cyrus Read / AVO / USGS)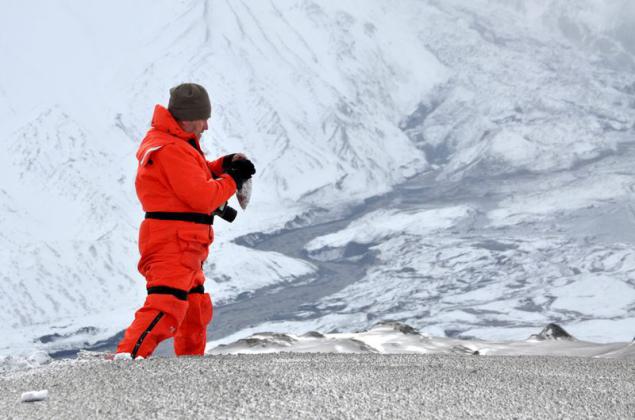 Layers of ash and snow that fell in a few days from the beginning of the eruption of the volcano on 22 and 23 March, 2009. Picture taken: March 31, 2009. (Kristi Wallace / Alaska Volcano Observatory)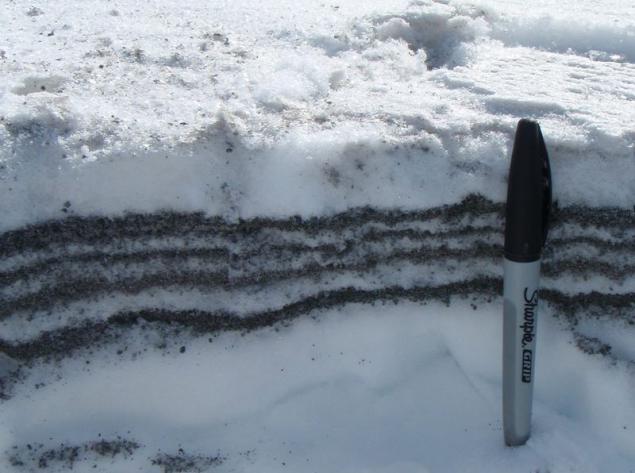 Clubs steam and ash over Cook Inlet. Picture taken 26 March 2009 near the settlement of Ninilchik, Alaska. (AP Photo / Al Grillo)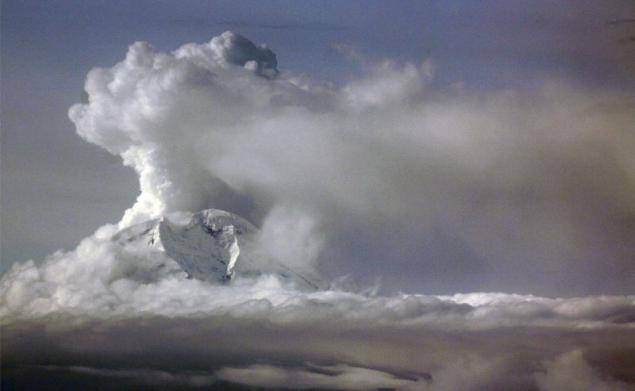 Redoubt volcano ash cloud. Photo made from the geostationary satellite system MTSAT, courtesy of the National Weather Service. Photo processed Cooperative Institute for Meteorological Satellite Studies at the University of Wisconsin-Madison. Picture taken March 26, 2009. (Jonathan Dehn / National Weather Service)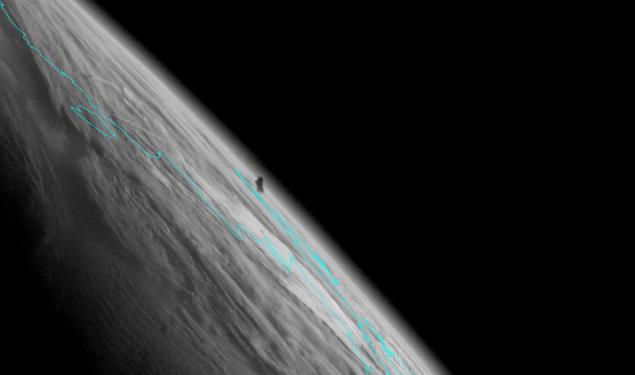 Outbreaks of Redoubt Volcano. 1:20, March 28. Photo courtesy Bredvudom Higman. (Bretwood Higman / Alaska Volcano Observatory)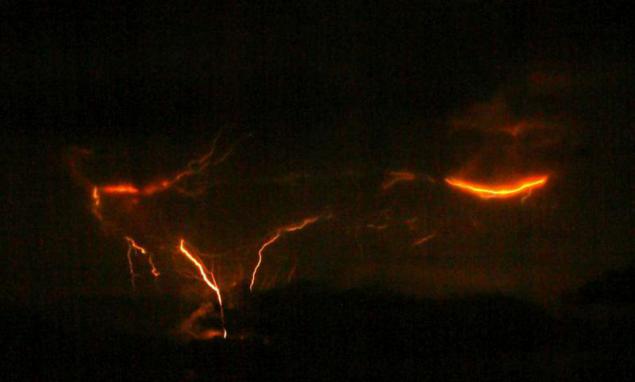 Outbreaks of Redoubt Volcano. 1:20, March 28. Photo courtesy Bredvudom Higman. (Bretwood Higman / Alaska Volcano Observatory)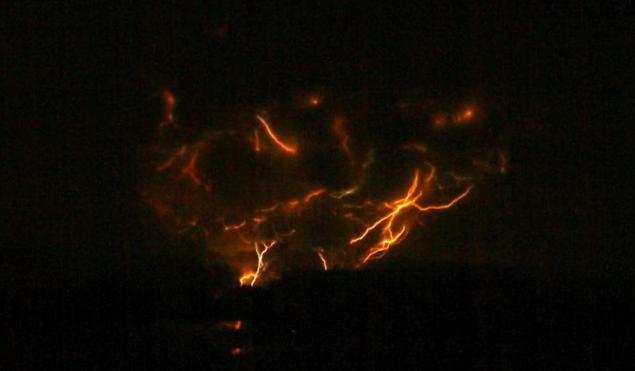 Outbreaks of Redoubt Volcano. 23:20, March 27. Photo courtesy Bredvudom Higman. (Bretwood Higman / Alaska Volcano Observatory)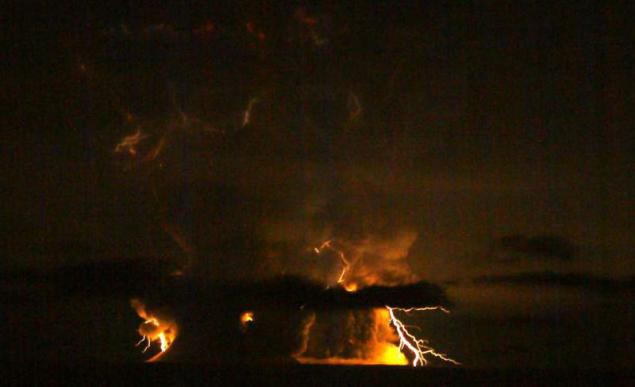 Photos district, in which the eruption of Mount Redoubt. Made from Landsat 5, March 26, 2009 at 13:07. The photo shows the big brown ash cloud over Cook Inlet and the western part of the Kenai Peninsula (right side of photo). You can also see the white plume of smoke and steam that rises from the summit crater (upper left corner). Dark torrents flow from the crater to the north through the glacier to the river Drift River. (Ron Beck, EROS / Alaska Volcano Observatory / US Geological Survey)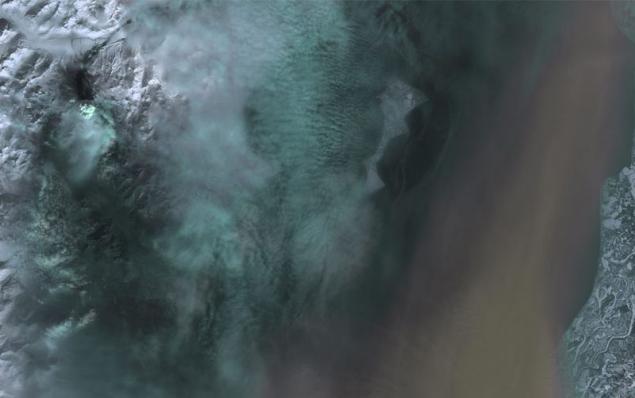 View an expanding plume of ash, about 15:30, March 28, 2009 view from Kazilof Beach Alaska. (Jacob Buller / Alaska Volcano Observatory)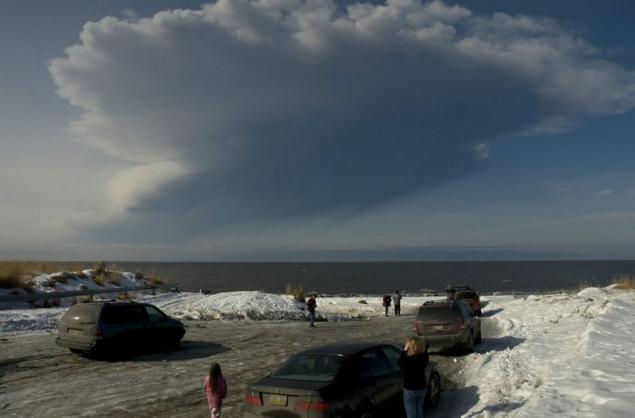 Train steam mudslides and ash deposits on the northern slope of the volcano Redoubt April 4, 2009. (Game McGimsey / Alaska Volcano Observatory)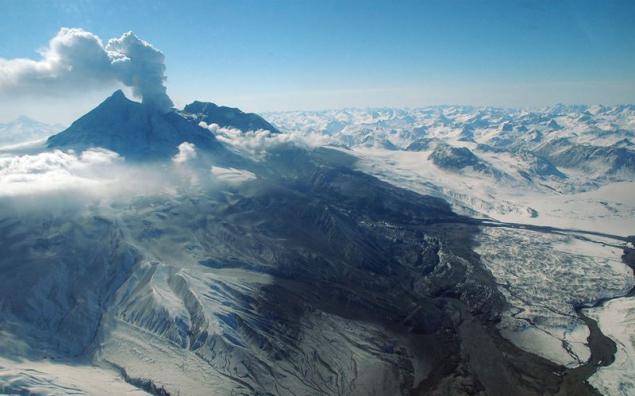 Streams of muddy water flow down the glacier on the slopes of the volcano Redoubt. 23 March 2009. (Cyrus Read / AVO / USGS)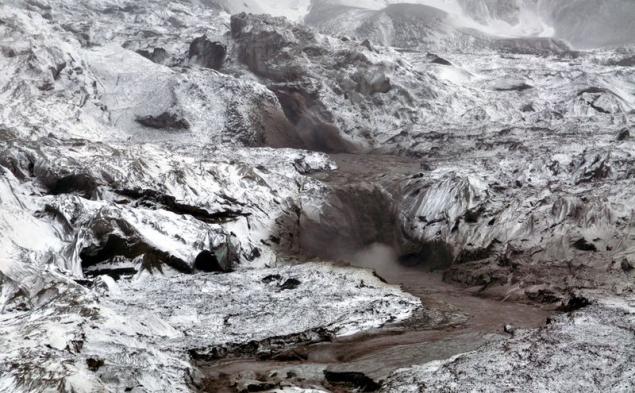 A pillar of steam and ash rising from the volcano Redoubt after sunset, March 15, 2009, 50 miles west of Soldotna, Alaska. (AP Photo / Peninsula Clarion, M. Scott Moon)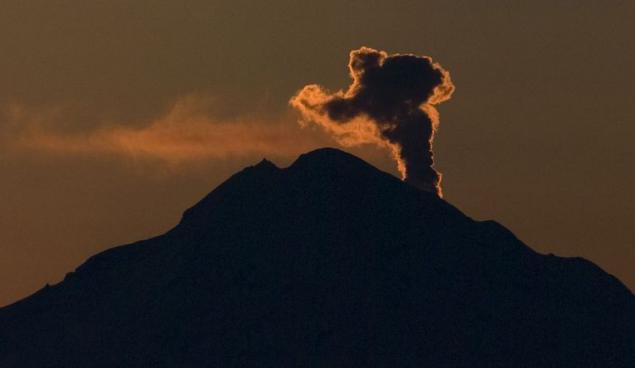 Source: onegid.livejournal.com