In the minds of our people, the word "crisis" usually has negative associations. They are often associated with confusion, uncertainty, and at the same time, the bleak prospects for the future. But in fact, the devil is not so terrible as he is painted. There are objective laws of history. According to them, every crisis has a positive impact. And what he was serious, so they will be more positive. And we need to wait a little change from the crisis and take only the good.
1. Generosity money
The crisis has taught us is reasonable to dispose of the funds. It is best not to let money on nonsense, but really put off by something worthwhile. Yes, maybe you can not buy you jeans, which you have, and so 5 pairs, but if you think about it, they do not need. Many things just take up space in the closet.

2. Reason to develop their ingenuity
True Love Crisis is not a hindrance. Problems with finances - that's no reason to lose romance. Sociologists say that in times of crisis, both men and women are becoming more sophisticated and are suitable for the selection of gifts and visits more creative. Romantic surprises are not always expensive. Also, people are changing the priorities. Expensive ring will bring joy just for a moment. But it does not comfort after a hard day, do not hug and kiss.

3. Opening new horizons
The financial crisis has affected our ability to travel abroad. But at the same time, we can explore new places in our country, which are no less beautiful. Make travel abroad, as well as his native country to help more accessible online services such as Souchsurfing, BlaBlaCar, and loukost companies. If you pre-select the tickets in airlines, discounters, you can find good deals on a variety of directions.

4. A new, more interesting work
During the crisis, virtually anyone is immune from job loss. If this happens, do not get depressed. This allows you to discover their vocation in itself, which until then was not required. Perhaps you will find exactly what was born. This includes the talents by which a person becomes truly successful. The work brings only income but a vocation brings prosperity.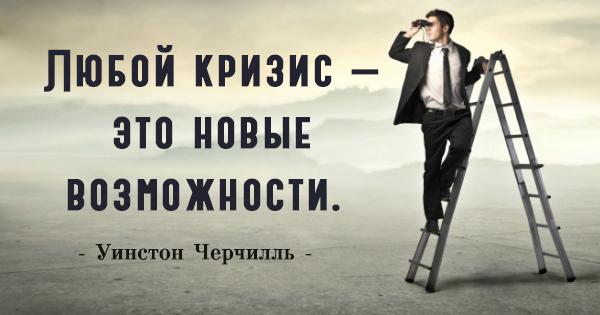 5. To realize the dream
The crisis - is the best time to realize his dream into reality. Many of us often think that it would be nice to sell everything to hell and go to live in the cottage or in the wilderness, there to grow carrots or piglets. Well, or rent a three-ruble note in the center of the city and go to live in Thailand. And then get to work on the soul. Why not?

6. Hendmeyd
Many people have long ceased to buy dorogushchuju furniture, carpets and home decorations from fashion catalogs. More important now to make everything or to alter their own hands. Firstly, it's not expensive, and secondly - it is fashionable and unique, and the third, a great pastime.

7. Mutual
On Web sites, the advertisement had many offers of free training manicure, foreign language and so on. Citizens are trying to help each other in difficult times. With these proposals, of course, need to be careful, but why not try? Some want to help a good cause to find friends. Other free training to find a talented staff.

8. Cars
Have you noticed that there are fewer traffic jams? The number of cars has dropped significantly. Of course, without a car is not as comfortable as with him. But many citizens were transferred to the bikes. To work on such transport, not everyone can afford to travel, but to the country - is the best option. Ecologically and economically.

9. Food
The crisis gives us an opportunity to try new foods. And to discover the least useful, but more affordable food. And at the same time to support domestic producers. We are starting to look for new and more affordable recipes, thereby making your diet more varied.

«Everything in life happens for a reason. The crisis has given to us to begin to live easier. And it's true that it survive, should be simplified. Forget about complicated diet, reduce the number of unnecessary information and return to the basic values.
Ordinary people who do not have "Mercedes" and bank accounts! You - the most protected from the crisis, audience! » Em> - expressed his opinion and popular host of Comedy Club residents Andrew Milk.

In all need to see the positive side, look for the positive, and if no global crisis will not be afraid of you. Happiness does not depend on external circumstances, it is in ourselves. Rejoice each new day, be engaged in self-development and look at the wider world!

via takprosto cc