Those who do not like sugary-sweet cakes with lots of sugar and chocolate, can cook the cake "Tropikanka." This summer dessert, incredibly light and airy. In it ideally combines delicate choux pastry and fruit, which can be chosen to taste. In my opinion, it is best that you can prepare for the festive table in the summer.
Ingredients:
For the dough for about 3-4 cake, measuring 25 x 18 cm:

1 tbsp. water; 1 tbsp. flour; 100 g butter; 4 eggs; a pinch of salt. For the cream:

2 eggs; 150 g sugar; 5 Art. l. starch; 350 ml milk; 300 g butter; 10 g of vanilla sugar. For the filling :

fruit to taste. How to prepare:

Prepare the dough: to boil water with salt and butter, add the flour and the dough brew, mixing thoroughly. Remove from heat. Give the dough to cool slightly and add the eggs one at a time, beating well each time.

Draw on the paper outlines the future of the cake. Fill dough pastry bag with a syringe or cut area. Laid out along the contour of the dough brewing. 2 Bake cake with smooth strips.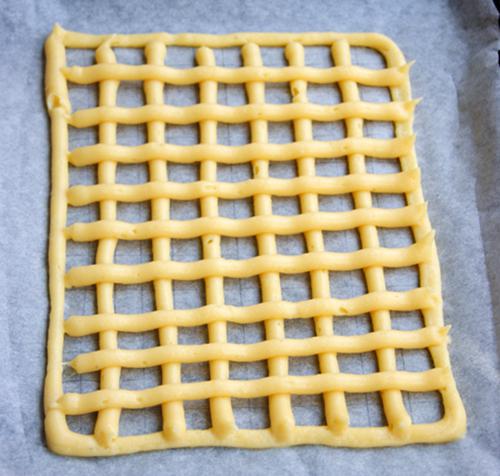 Bake in preheated 180 degree oven until golden brown about 25 minutes.

The second cake must be with oblique stripes. Bake two cakes, too.




Cooking cream: The eggs, starch and sugar vzbey mixer into a homogeneous mass, gradually pouring hot milk. Vari until thick, stirring constantly over low heat. Cool. Vzbey to the wave-like state softened butter, adding a spoonful of the cooled mass.

Fold cake: Lay cakes one by one. Each put the fruit in the hole and smazh cream.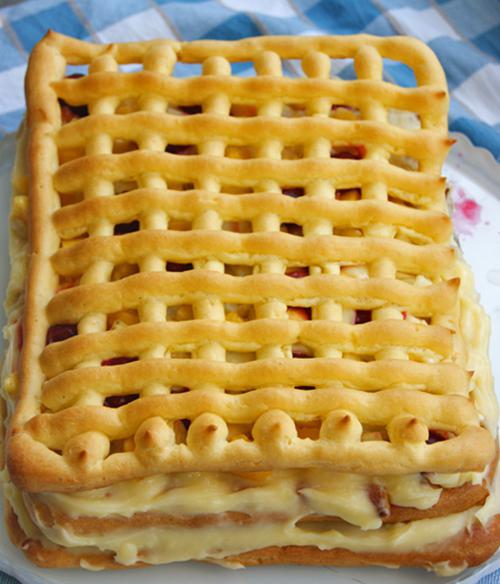 Put in the fridge for impregnation and pour cream.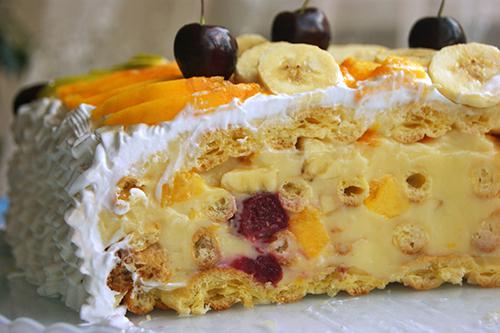 Tasty Cake "Tropikanka" ready. Bon appetit!

Share this with your friends the most delicious and easy recipe of exotic fruits!

via takprosto cc