Since then, we have developed and started to sell
kits for assembly 3D printer
, we began receiving letters (as in TV "to our office") with the responses and wishes of the device, but, most importantly, began to come and some of the work that the owners of printers decided to share with us. Well, we decided to share them with you.
Here is one example. Printer left in Petrozavodsk, and two weeks later a letter arrives from the attached file and the description of the work done:
Quote:
"Hello trowels, familiar to us from Moscow brought the children's designer Artek Blocks.

Suffice it to the original idea of ​​children plastic constructor to build a three-dimensional shapes of the blocks.
Designer is remarkable that all the basic blocks are the same and represent a simple cube with tricky (but simple) asymmetric lock.
This simple cube has only one projection, which allows it to be attached to any other unit. And on either side!
But we was not enough a few blocks, and I decided to try to buy a set in our Petrozavdoske. The problem was to find it again, and from Moscow shipping is expensive, it's two, although the set of 50 pieces costs about 600 rubles.
Because printers have already been assembled (thanks to your support line) and I have already printed the first batch of trinkets, downloaded from the Internet, then had the idea to try to reprint do not have enough elements.
Turned to an acquaintance who told all sizes and sent pictures. He quickly made a model of the program and the file to be printed.
CUBE first appeared pancakes, which came out lumpy, but after three corrections and reduce the number of voids, we have made the first stable result.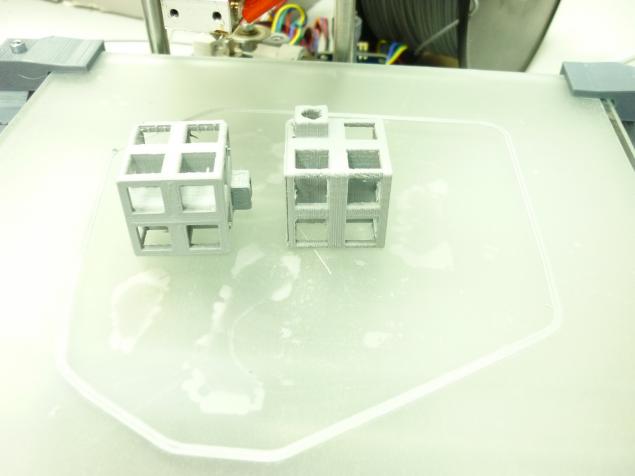 Also made two versions of the cube with the dimensions of protrusions 7.6h7.6mm 7.8.h7.8mm and for different types of plastics and different types of printers.
Flow of plastic get 8 grams per cube, ie, at a cost of about 1.6 rubles. 1 gram of ABS plastic, the cost of the cube turned 12.8 rubles.
If you want you can in his laboratory trowels print and show others your subscribers.
Andrey Egorov »
3D printing possibilities are manifold, and this is just one example of the use of home 3D printer.
Turn their ideas into reality!
Model files for download in two sizes available for download from our website in the section
library of 3D models
.
ps We did not stop there and decided to refine the model cube, as describe in the next time.
Material provided by our DIY-direction - Master Kit.
Source:
geektimes.ru/company/dadget/blog/249110/