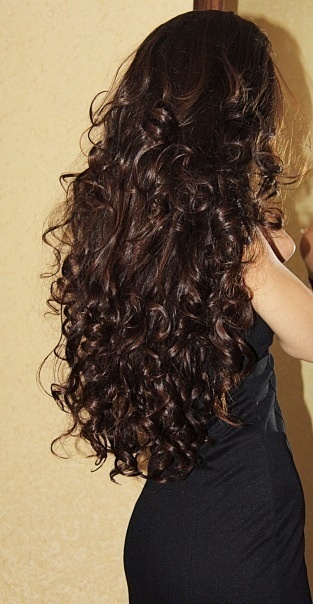 India is perhaps the only country where all women, without exception, truly luxurious hair: thick and shiny. Here are the secrets of Indian beauties. It turned out, we can achieve the same result.
Many attribute the phenomenon of "Indian Volo
with "genetic characteristics of the nation and the specifics of the climate. The case of special care. It's very simple: the shining beauty and healthy hair - the result of the beneficial effects of massage heads and special oils.
Since childhood, Indian girls are taught to wash my hair with hot water and rinse - cool rice extract. Once a week is definitely a hot head massage with oils - it improves blood circulation and nourishes the skin. Wet hair is Indian beauties wipe only silk cloth. It is believed that silk gives the hair an elegant sheen.  
However, the main secret of luxurious hair of Indian women - coconut oil, which they rubbed into the scalp.
Indian women daily brushing her hair with oil (if it will be a little strands will not look greasy) and make weekly wrap. Coconut oil is used in pure form or in combination with others:
• amly oil dries oily hair and skin,
• wheat germ oil retains moisture and has a protective function,
• oil of patchouli and sandalwood eliminate dandruff,
• oil of ylang-ylang stimulates hair growth,
• almond oil restores hair even after prolonged regular staining,
• sesame oil prevents hair loss,
• olive oil adds shine, smoothes and strengthens hair.
The most common prescription in India: coconut oil and warmed slightly added a few drops of sandalwood, and then the resulting mixture was rubbed into the scalp, the hair is wrapped with a towel and allowed to warm to 20-30 min. In the finale - the usual shampooing. If your hair is bleached, the oil should be at room temperature - hot can change their tone.
If desired, the process can be simplified and easily add 15-20 drops of oil in its ordinary shampoo (per 100 ml).
American scientists conducted an experiment. They compared the effect of mineral, sunflower and coconut oils. And found that only coconut substantially fills the nutrients that hair loses both because of a bad environment, and in contact with hard water and aggressive shampoos. Oil is best to act if applied before washing your hair and after, during combing. Efficacy coconut explained by the fact that it is distributed more evenly throughout the length of hair to form a thin but robust protective layer. He keeps the internal structure, not "releasing" out nutrients.