Magic wand to draw in space
3Doodler
was the result of a banal failure of 3D-printers, but became a hit. In 2013, the project has collected $ 2 million to "Kick", and since then more than 70 thousand people have bought a nice device.
Now the project team wants to create around Dudler powerful creative community, whose members together to come up with useful and effective methods for its use.
At the invitation of
MadRobots
Daniel Cowan, director of marketing WobbleWorks, behind the production of pens, recently visited Moscow to take part in the "RIF + KIB 2014" . We used this opportunity to ask him about the history 3Doodler.
It's a true tale of kraundfandinge and real success story. That is the case when the "Kickstarter" allowed people to make the dream: given the chance to create a proactive guys its international business, completely change your life and start a something really significant - and they managed not to miss this chance.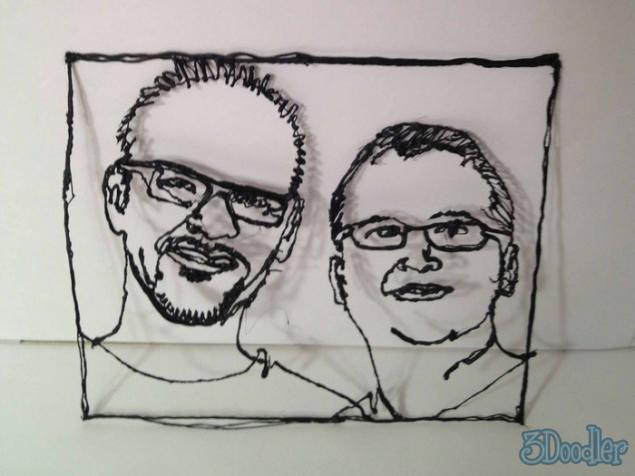 Hole in the Layout h4> Future Founders WobbleWorks Max Boag and Peter Dilworth in the middle of the two thousandth worked together in Hong Kong in the WowWee - a company known for its toy robots. Pete - a graduate of the prestigious MIT Leg Laboratory and the MIT Media Lab - was an engineer and inventor, and Max was responsible for the production process and the practical implementation of high technology.

In a friendly conversation they spoke much about what both want to go into a separate swimming, to realize their creative ambitions to the full and do an independent consumer electronics. 2010 Max and Peter set up in Boston WobbleWorks. At the launch of spent money only from private funds. This amount the company did not disclose. "She was not very large due to the fact that Pete and Max have used only their own concepts and developments," - says Daniel, who joined the team in 2012.

He already had the experience of their own swimming: has worked as a corporate lawyer, and later founded two small IT-companies and even wrote some pretty successful applications. One of them - Last Night Never Happened: The Morning After App («Last night never had: a new application in the morning") deletes all records from the owner of its pages on Facebook and Tweeter for the previous night. However, after a couple of months Facebook has closed access to the part of API, which is used by applications.

The first time after the start WobbleWorks Max and Peter focused on inventive work and often prototyping the 3D-printer who came to their minds the idea. As a rule, these were electronic toys and robots.

"Once our 3D-printer UP! haywire directly in the process of printing the next layout for Peter - says Daniel. - In the final layout was a hole, and Peter wanted to take the printer head to manually fill the gap. It was at that moment he was born the idea 3Ddoodler ».

As a result, Max and Peter quickly dismantled the printer and tried to unscrew the small details of his pen. The first modification gadget barely worked and was a print head bolted to it to extrude plastic lever. But Pete and Max were happy: "It still works!".




VAL mail h4> «We quickly realized that in order to plastic hardens quickly and allowed the creation of sustainable design terhmernye in the air, it must be cool - says Daniel. - Next was hard work to improve the prototype, we came up with a long cooling mechanism. When we have it finally happened, we exclaimed: "Wow! From this thing really can do something to get out. " Until a few months inventors bring to mind technology. Gadget to make the most compact and easy to use. With this modification, and went to the "Kickstarter" ».

Crowdfunding gave talented engineers modernity chance to realize almost any technical ideas. The guys from WobbleWorks used this opportunity to the maximum. To attract attention, in parallel with the campaign to "Kick» WobbleWorks launched a project with designers and jewelers international online fair Etsy, who experimented with the device and puts his work.

Later, in an interview with Max told about what it's like to engage kraundfandingom - and get some success: "On you dump more publicity. Get ready for it as carefully as possible. You will get tons of e-mails. My girlfriend even took two weeks off from work to help us cope with the shaft sent emails. Was important for us to respond to every interested person ».

WobbleWorks originally wanted to collect a total of 30 thousand dollars, obviously not to strike at something great. But ultimately the project financed more 26000 Baker, and the total amount of the fee exceeded $ 2 million.





EACH Baker - software Dudler! H4> The Rise of the project heralded a new era in WobbleWorks. From a startup that develops technical ideas and licensing, it was urgent to expand to a full-fledged production company with a product-development, distribution and logistics. Inexperienced people probably would have broken off teeth on this problem - many projects on the "Kick" stung not because they were unable to raise the money, but because they have collected a lot, but do not coped with scaling.

"We certainly understand that invented a really cool thing, but collected at the" Kick "the amount we were amazed. We did not expect such a response. Those 30 thousand dollars, which we originally wanted to collect as soon as the price would cover the necessary equipment and tools, so we would work at a loss. Despite this, we very much wanted the world to get 3Doodler », - remembered Max in an interview Makezine .

A few months before the launch of the campaign to "Kick" founders went to Hong Kong to look for a factory that would deal with the production of pens. Here especially useful experience Max, who at the time of the launch of his own project had several years to work Production Director of the Chinese startup Handy Robotics, which established relations with high-tech factories in Hong Kong and South Korea. As a result, managed to find a factory that has agreed to work with small orders, but if anything was ready to quickly increase production.

"It's very helpful to know the language - I started learning Mandarin is still in high school, he continued to deal with it in college, and then lived in Hong Kong for four years - says in the same interview, Max. - The first few months I was sitting at the factory bezvylazno, but that's the price I'm willing to pay for it, so that our customers 3Doodler reached. I am more than happy to do it. " Constant presence in the production bore fruit - Max worked side by side with engineers and quality control services, it has helped reduce the time of manufacture of the product.

Do not let us down and the rest of the team. The most difficult thing was to establish a stable system of logistics and send the first 25,000 Dudler Baker living around the world. "At this critical moment, it became clear that our team there are people with all the necessary knowledge and competencies to ensure stable operation. It is well-matched team then saved the situation, "- said Daniel. WobbleWorks just now working ten people.

"Scale the business is always hard, but we were well prepared to cope with this task. Success on Kickstarter has brought us enough money to build a company to hire the right people and be independent of outside investors. This is a real luxury, but we work very hard "- sums up Daniel.





SYMPHONY downspouts h4> However, some geeks even with all the love of gadgets from the outset were skeptical and called Dudler « toy with which it will be interesting to tinker about fifteen minutes, no more. " Is this true?

"I understand the skepticism, and from the very beginning were serious advocacy, - says Daniel. - In fact, opportunities for useful devaysa weight: a sphere of education, design, gardening, art, architecture, choreography, construction, jewelery ... Look at our community in Twitter and Facebook - imagination and skill of the owners of the borders does not know ».

View really have something. For example, one device Baker took to paint the plastic pipe in his basement, making them thus an object of art.

Separate pride for developers Dudler - the opportunity to teach the blind and visually impaired people, создавая with the help of special tactile objects. "As for medicine, then we have to achieve in this area, - says Daniel. - Who is our beginning to use a pen to work on medical prostheses. We discuss other possibilities for the use of the instrument in medicine with leading experts from the United States ».




STAR, letters and interchangeable nozzles h4> What next? At the annual CES WobbleWorks reported about his plans to create a platform for pen-holder, which seriously would facilitate work on large objects. Also announced plans for a series of interchangeable nozzles and silicone molds DoodleBlocks as numbers, letters and stars. They can fill plastic and create perfectly aligned objects.

"We are in touch with the majority of people who bought the device, and thus feedbacks we have accumulated a lot of information about his work and proposals for possible upgrade, - says Daniel. - Who is our goal - to create a bright living around Dudler creative community, whose members could work together to create and share ideas. Therefore, we begin to cooperate with more and more new artists and designers all over the world ».

But only focus on one Dudler company is not going, he promises: "We still have plenty of non-trivial pans."

If you want to join the growing community of happy users 3doodler , welcome to our shop MadRobots - Dudler Whilst stock. And if you have already become the owner of the device will be glad to learn about your experiences using it - tell us in the comments how it was possible to apply it. I>

Source: habrahabr.ru/company/madrobots/blog/226581/