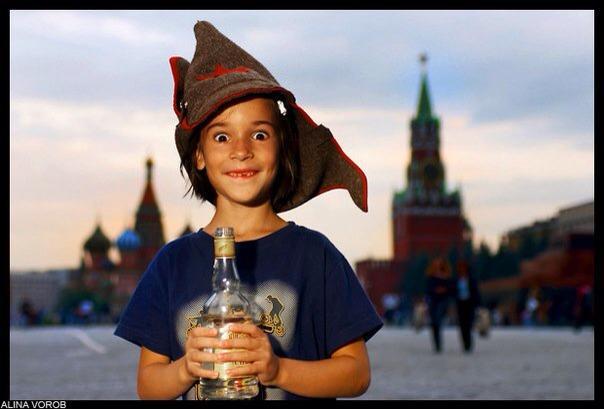 Today, my daughter came back from a little vacation they spent with her boyfriend ... in Moscow and St. Petersburg. If the question was solved recently, I would have never allowed (although it is already 27 years old, do not try to solve). But it was all planned even already at the end of last year. So it was just nervous and wait for the return. At the same time, it was very interesting to learn about her impressions.
First of all, one that does not inadvertently offend again convey its sincere gratitude to all, to all those who received them, drove, drove, helped tell, guarded and cared for. Everything was very nice! But I would never conceive this quasi-reportage, if he had not had for me a deep connection with the current Russian-Ukrainian conflict. Paradox? Let me explain.
At the time of emigration to Germany daughter was 6 years old, over the 20 years it has become a German 80% and only 20% ... "Russian" although we emigrated from Kharkov, the Russian language has always been a priority in our family. And her friend Axel - 100% German, in Russian understands only "ass" and "Stalin».
And now the fragments (large cuts) of our dialogue.
 - How do you like Moscow?
 - Actually, Peter, we liked more: beautiful, clear, quiet, pokulturnee, quieter.
 - What is not clear in Moscow?
 - Here's an example ... Remember, I called you with questions about the meaning of the terms Russian ....
 - Yes, but I did not understand what was meant. How do you reads?
 - It is during registration. It appears to us to register or sign in Moscow had, but no one warned. But most importantly, that we two o'clock this profile with my Moscow friends were filled and handed over. Okay, I'm a fool, a foreigner, but to them that their native language is Russian, but still figure will understand these terms and verbs. I wanted to ask in the window - yell at me, look at a pier obratsy do not know, and there all the windows sealed samples, go figure it out. I began to hand out the window, keeping his distance to the Do not use cleaning ahead as we passed - Abstand halten! - So to me that one aunt squeezed, then the other, they're hanging on each other, and I do that ... Then it turned out a photocopy of a passport is needed. What to do? No one can explain all or silent, or roaring in anger. What I done to them ...
 - You would have snapped!
 - I would have snapped if it knew the reason. Even Axel huddled in the corner ... or tickets to buy a boat trying to Peterhof. Obviously not sell. Online, you can not order. It is necessary to approach the type tomorrow at 13.00. I came at 12.00, and there all morning. Defend 2:00, tickets run out in front of his nose. Fortunately random neighbors losers in turn offered them a car to drive. There, too, hour queue for tickets to go to the territory. Then a separate line for tickets to get inside the palace. Later all the tickets to all enter the palace itself ... We lost half a day, and in the crowd and crush ... Hey, they even have brains?
 - But go everywhere ...
 - < But I'm still the chief did not say
I, too, was unable to answer my daughter to these simple questions. But remembered an old anecdote times of stagnation. They're coming in the first passenger train, Lenin, Stalin, Khrushchev, Brezhnev. And then we ran out of the sleeper. Lenin first came up with: "Everyone in the forest! Chop firewood, railway sleepers nastrogat! Friendly, comrades !! ". Go further back sleepers over. Stalin commanded "to unhook the rear carriages, passengers shot, the cars start up on the sleepers!". Next time, Khrushchev ordered: "Behind the sleepers apart, and in front of the place!" But the most ingenious proved Brezhnev: "Everybody banging empty pots and pans on rails: Let the enemies of bourgeois thought that we were going!»
That is, "Let everyone think! ..." - Still very popular in Russia! Navrёm in our news - let everyone think that Ukraine is an aggressor. We show more blood and hysterical talk show on television - and believe that Ukraine fascism. To convince our people that we are the great and powerful ... The main thing - not the essence of facts and events. The main thing - to think correctly about us; the main thing - to create the appearance of grandeur.
Frau Merkel is not quite right: in Russia, not only Putin, but almost all the people living in some parallel reality.
©