Well, finally I found a man who mocked the annoying trend of "eternal weight loss." Italian photographer Dan Bannino created still lifes (the project «Still Diet»), which introduced the appetizing foods that dieters eat. It was very clearly, catchy, and even somehow mocking. Because the word still life means "the image of inanimate objects in the visual arts." Dead! Very subtle humor, I guess.
Beyonce Diet - laxative.
Beyonce prefer to eat some crazy set of products, according to the pictures. Cayenne pepper, salt, lemon syrup, maple syrup. And laxative herbal tea. Do not be surprised that the artist crowned still life with toilet paper pink, pink - for edification. Still, Beyonce girl!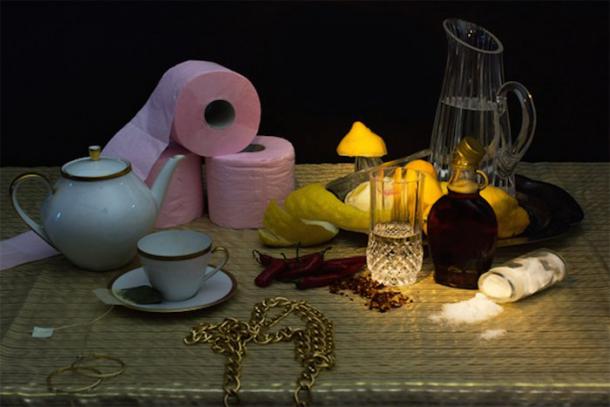 With its strange diet Beyonce kicked off 14 days enough to get the role of her dreams in the film Dreamgirls (2006). Actually, it was not even a diet, and cleaning, which simultaneously rids the body of kilograms. In order to console the girl, the photographer put on the table a gold chain as a symbol of that "golden" diet brought "gold" results.
Gwyneth Paltrow - fan of vegetables. Carrots, broccoli, onions, peas, pate with nuts and lentils (no doubt that tasty), water with lemon ("All ballet drink!"). Gwyneth obsessed with diets, she is the author of four books on healthy eating, and maintains a blog about healthy lifestyles, called Goop. Therefore, the artist presented it to the table in no-nonsense design. By the way, on a diet Gwyneth insists its promoter, claiming their demands that the ugliness and aging - is a failure in show business. Tie a man.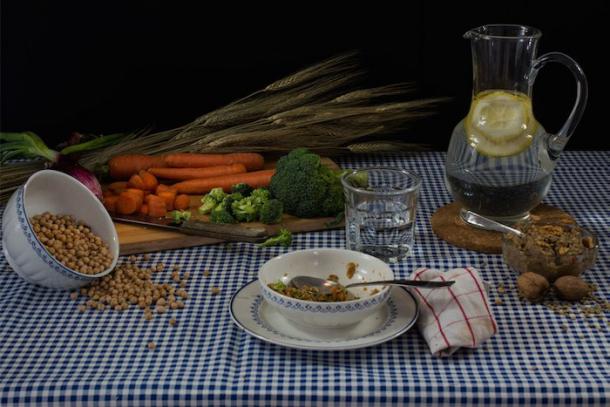 Set appropriate. Let's go further.
But Simon Cowell does not restrict itself in the delicacy. Pineapples and strawberries, cranberries, grapes, blueberries, mangoes, avocados, oranges. Plus milk and liquid vitamins. All this is mixed in a cocktail. Very supportive, always I believed that the diet should not deprive the body of nutrients, much in the berries and fruits are enough. According to the photographer, Simon just jealous diets and adept eternal youth. He says that puts the vitamin drip and bathed in milk. By the way, it looks really good. In the past, they say, witches bathed in milk and blood. And even kings.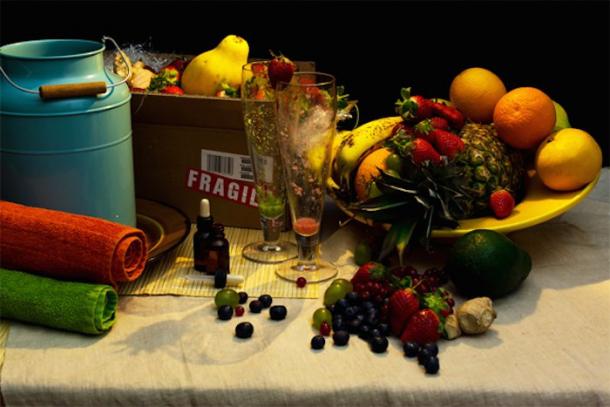 This diet of King Henry VII. Pork, chicken, rabbit, lamb, fruit and wine. Actually, the same meat and fruit, but some exotic feed! Services that Henry modern celebrity. Such a diet does not make a selection in just a sin. Henry was not a fool to dine. He ate a lot, greedy, just, excuse me, ate, spilling the wine, drinking wine, meat in pomegranate juice. Therefore, doctors have banned him bread. The result was such a kind of "Kremlin" diet of meat is too many still do not eat.
To highlight the vulgar behavior of the monarch at the table, still life photographer decorated artibutami svinyachestva: mess and, in fact, a pig.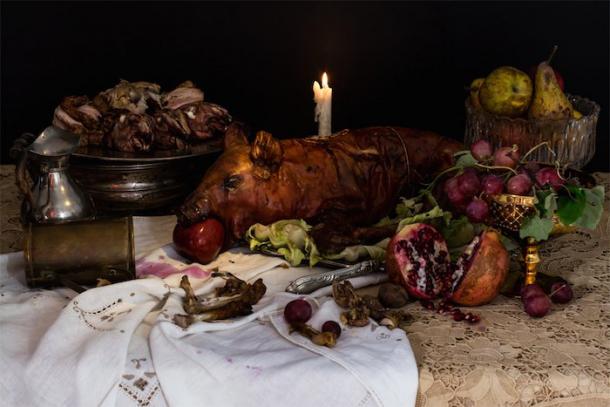 Venetian nobleman Luigi Cornaro from his brother on the status of departed not: boiled eggs and half a liter of wine - daily diet. In principle, I agree nutritious. And the wine used to be no match for the current. Although, despite how much to drink. He drank as much as the doctors told him. At the age of 35 years Luigi learned from Aesculapius was going to die. And he began to have no more than 14 ounces of eggs and no more than 17 ounces of wine a day. Ounce - a 30 ml. But Luigi was the abuse of wine and a diet scored. He died at the age of 98, in mockery of all. Smoked, he drank and walked recklessly. It is strange that the diet he called "sobriety." Probably, for the inveterate revelers 6 glasses of wine a day, and the truth, as the elephant a pellet.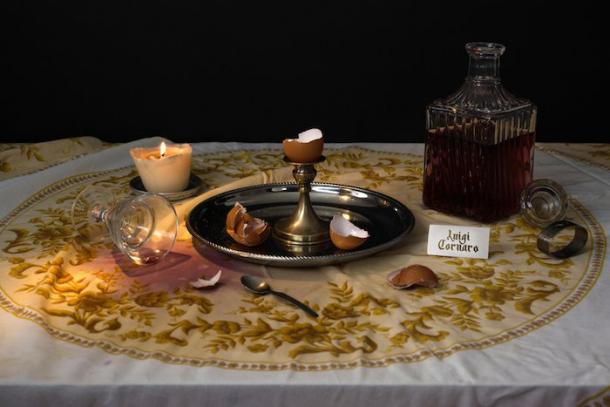 Kate Moss is apparently looking at the royals, he agreed that it is in general not necessary, and switched to alcohol and cigarettes. By the way, this is true, there was a period when she did ... "eat". Poor body, even to feel sick. Once Moss said that "there is nothing more attractive than skinny, so is the world." And she began to eat absolutely unhealthy. The photographer did not fail to decorate the table spilled flour (near an overturned bucket of ice), alluding to the fact that courage is needed in such a diet also cocaine. It is unlikely that Moss used it, but Dan ventured. Good right hook.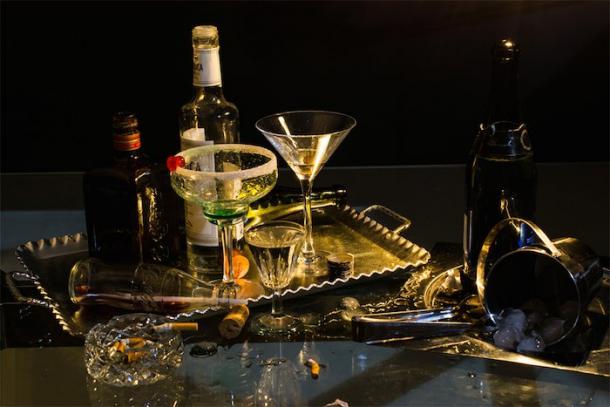 Bill Clinton went on the way vegans. Cabbage soup with a host of other vegetables. Very much! Keep. Moreover, a minimum of calories, though vats handed. And if even a spoon full of holes! ..
But jokes aside, Clinton was prescribed a diet of a patient heart. In 2009, he was forced to go on a diet in which there is no milk, meat, eggs, fish. As a result, Bill lost 10 kg, flutters like a butterfly, and feels fine.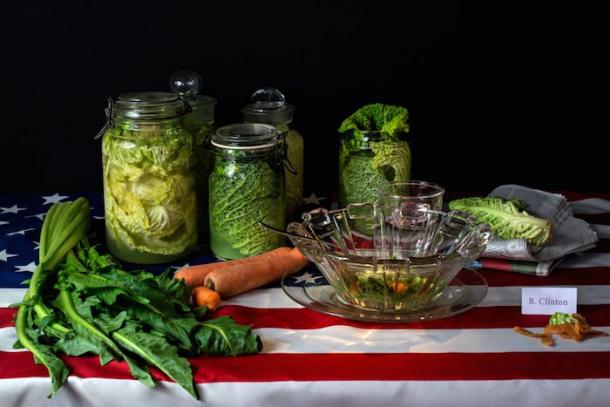 Lord Byron was an esthete. Apparently, not previously known that starch special dietary food is not. He soaked in vinegar potato. And he drank mineral water. Judging from the portraits, he was thin and Yuen face and body. It helped, I guess. But somehow kondovo boring. If only I sprinkled with basil. Generally terribly worried about her figure. All the time wore woolen garments and carefully sweated. To emphasize the romantic side of his nature, the photographer still life vase decorated with a rose.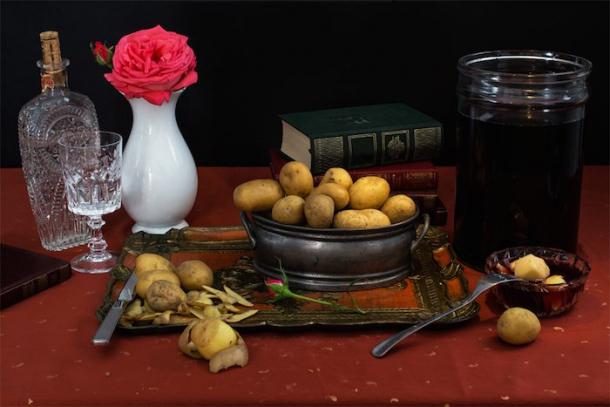 By the way, there is a second, a working variant sketch.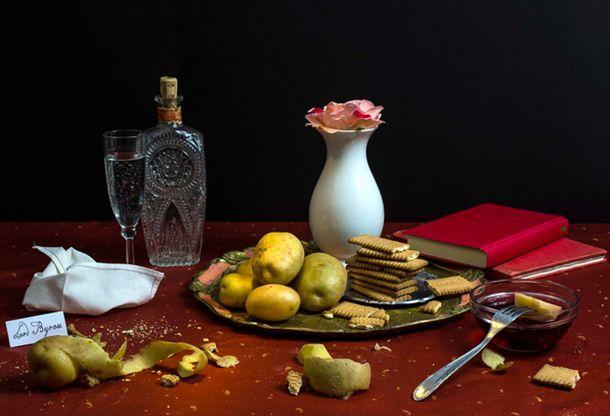 Charles Saatchi, as a modern representative of the nobility, the famous collector, too, prefer a diet of eggs and wine. Only the eggs were not cooked and prepared in various ways. There must be at least some diversity. He lost more than 18 kg for 9 months, eating some eggs. In collaboration with renowned chef Nigella Lawson (his wife), he developed his own version of egg-wine diet. Wine, too, he preferred not easy. A passionate lover of the grape, he drank only collectible drinks. To emphasize the character of a feature on the table with still life placed shark - collector's item purchased at least passionate collector Damien Hirst in 1991.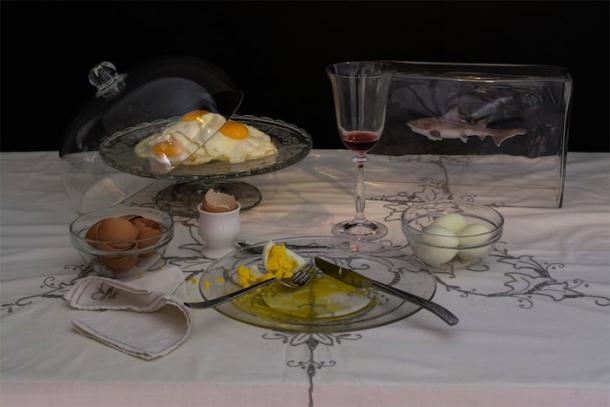 In this selection of finishes that, IMHO, it's strange. Stars lose weight without exception, a space for creativity simply inexhaustible. Maybe Dan just did not have time? Or look dull flakes in a still life? The authors acknowledge that the work on drawing up still life taken away a lot of strength. In addition, it was necessary to observe the historical pattern. Perhaps tired.