We've heard a lot about Google Glass, but did you know that there are several similar devices that will soon appear on the shelves. Let's briefly look at five competitors product Google.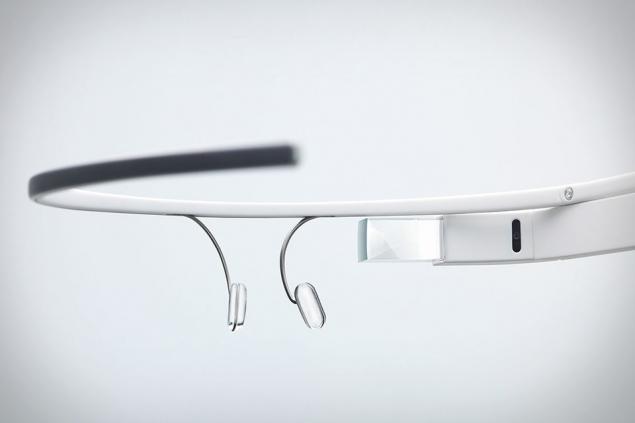 Sony SmartEyeglass h4>
 


Recently, Sony has shown in Barcelona at Mobile World Congress prototype of its "smart glasses", similar to Google Glass. This device looks a little different than one would expect from such a product, it is more like a sports sunglasses. The basic idea behind SmartEyeglass and voiced by developers is to put messages and information directly in front of the user's eyes. For this purpose, a binocular display as transparent lenses. Sony representatives argue that the information is located at a distance that provides comfortable viewing and does not tire the eyes. In addition, the glasses have a built-in camera, accelerometer, gyroscope, compass, brightness sensor and a microphone. There are, of course, connectivity via WiFi and Bluetooth v3.0. It is also interesting that the glasses will deliver along with a separate controller, equipped with a touchpad, power button, navigation and camera.




Microsoft Glass h4>
 


In November last year there was a lot of noise about the fact that Microsoft is also working on the development of "smart glasses". It is known that the company has a patent on augmented reality glasses, which was received in May 2011. In addition, last summer there was a leak of information on, Microsoft is going to provide glasses Kinect (known as Project Fortaleza) its next version of Xbox. It was assumed that the glasses hit the market in 2014, but it is not clear whether the design stage is completed. Microsoft has also previously filed a patent application for "fastened on the head display", whose work focuses on the gaming applications. The application describes a multiuser system, allowing the player to invite new players with a similar device. The illustrations attached to the patent application, it is clear that the glasses have sensors localization of users, sensors tracking gestures and sensors reading environment Player.


Vuzix Smart Glasses M100 h4>
 


Points M100 company Vuzix has already appeared on the market. Like Google Glass they contain a display mounted above the eye, which has a resolution 432h240 pixels. Visual sensation similar to when you look at a 4-inch display of the mobile device from a distance of about 35 cm. The device contains a 1 GHz processor and runs on Android, which allows him to use the application from Google Play. Vuzix glasses positioned as a tool for professionals who can take advantage of it while working in warehouses, hospitals during construction, etc. Unlike competitors who require installation on conventional glasses, M100 is equipped with a special head strap, or a pair of goggles. The display itself can be installed on both the left and right sides. The device has a 5 megapixel camera and a microphone for voice commands, it can also be controlled by movements of the head and the control buttons. In the glasses embedded 4GB memory which can be expanded up to 32GB via SD-card. The cost of his company's website 999 USD.




Recon Jet Glasses h4>
 


Jet - it's the first "smart glasses" designed specifically for athletes. Recon Company has been working in this field and has experience in the design of displays for skiers and snowboarders, which are mounted in ski goggles. Now they have developed a product for cyclists and runners who displays information about the competition, such as speed, distance, height, etc. The display is attached to the sports glasses with polarized lenses. It has an integrated GPS and can via Bluetooth or Ant + sensors connected to sports, such as measuring heart rate, cadence meter. When connected to a smartphone, he can report the received messages or incoming calls, receive information from the Internet. Jet uses a dual-core processor and is equipped with a gyroscope, magnetometer, altimeter and thermometer. In addition, it has a built-in microphone, a speaker and an optical touchpad to control the system.

The device should be on sale soon at a price of 599 USD.




GlassUp h4>
 

GlassUp - a product of the Italian company, a startup that has developed a stylish, connected to the network "smart glasses", provides the user with messages of its smartphone and allows you to manage them. Unlike alternative devices, GlassUp - is not just a miniature display, placed in front of the user's eyes. The system projects the information directly to the right lens of stylish designer glasses. The projection has a resolution of 320 x 240 pixels and is located right in the sight of man, and the need to look up how to do it in Google Glass and similar systems. GlassUp working on different versions points. The first version is mainly focused on the reports of the smartphone and therefore does not contain a camera or microphone. The next version to be installed individually on their own glasses of users, and for those who wish - with the camera. Sales GlaasUp should appear in September 2014.



These five products not an exhaustive list of potential competitors Google Glass. We mention here a few of them that are in various stages of readiness: Samsung Smart Glasses, Pivothead Smart Glasses, Meta AR Smart Glasses, ION Smart Glasses, Tobii Glasses 2. Special mention are EmoPulse nanoGlass-4, the value of which when placed in Indiegogo was declared equal to 25 USD.

Well, as always secretive Apple, which is rumored to also develops its product iGlass. The basis for such rumors began several patents apple company associated with augmented reality, and one of them, filed in 2012, explicitly mentions "fastened on the head of the display." How true these rumors, it will be understood likely soon.


Accelerometer,
Encoders
magnetometer, which serves as a compass.

accelerometer,
gyro,
compass,
Brightness sensors

3-axis sensor head position
3-axis gyroscope
3-axis accelerometer
3-axis magnetic compass < /


9 -OCH sensors
3D accelerometer
3D gyroscope
3D magnetometer
Pressure sensor
The altimeter and barometer
The temperature sensor of the environment
The optical touch sensor to control the user interface

accelerometer,
compass,
light sensor Connection


Bluetooth 4.0,
WiFi B / G
GPS-receiver <

WiFi Bluetooth v3.0

USB
Wi-Fi 802.11b / g / n
Bluetooth 4.0


Wi-Fi (IEEE802.11a / b / g / n)
Bluetooth 4.0 (Bluetooth Smart)
MEMS GPS / INS weakly bound Kalman filter algorithm em>
ANT +
Bluetooth LE Display

640x360 resolution (for the user it looks like a 25 inch screen from a distance of 2, 4-meter)

Graphics Accelerator Power VR SGX540 GPU
Binocular transparent display

The maximum display brightness: 1000 cd / m2.

Display resolution: full color WQVGA-display

Format: 16: 9

The field of view (diagonal): 15 degrees, equivalent the size of the observable with 35 centimeters picture on a 4-inch screen

Brightness: & gt; 2000 nits.

Ultra-compact display and a virtual image

Wide screen 16: 9 WQVGA ultra-compact display

The virtual image equivalent to viewing Images for 7-inch display at a distance of 72cm.

Power Saving Mode
High contrast and brightness for comfortable medium light ND
Processor
1.01 GHz Dual-Core TI OMAP 4430 CPU ND.
Processor OMAP4430 1GHz Dual-Core ARM Cortex-A9 processor with a clock frequency of 1, 2 GHz ND.
Memory
1GB RAM 16GB ROM, 12GB available ND.
1GB RAM 4 GB of internal memory Memory card slot Micro SD support up to 32G < 1 GB DDR2 SDRAM 8 GB flash card
1GB DDR2 SDRAM 8GB flash ND.
Controls:
Support for voice commands Touchpad
Separate controller, equipped with a touchpad, power button, navigation and camera. 4 control buttons The application for remote control, works on the connected Android-device Support for voice commands Support for gestures
Optical touchpad Touchpad Battery
570 mAh removable battery ND.
The rechargeable internal battery capacity of 600 mAh Up to 6 hours of hands-free (with the display off) 2 hours mode hands-free + display 1:00 mode hands-free + screen + camera Rechargeable External Battery Pack 3800 mAh capacity < br /> 1200 mAh = 6 hours per charge 1 day on a full battery charge < / The camera, sound
5 mpix, Video 720p The transfer of vibration to the bone Built-in camera, Microphone 5 megapixel photo mode 1080p video recording mode
Built-in audio & VIDEO Built-in speaker and microphone HD camera < has a grade with or without Price
$ 1500
$ 999.99 $ 599 $ 299-499
 If you want first to know about updates to the medical and fitness gadgets, follow the news of the company, subscribe to our pages on social networks. You can subscribe on the page our blog , in Twitter , start our group in Vkontakte and Facebook . New items gadgets and fitness equipment in our online store Medgadgets.ru .

Source: habrahabr.ru/company/medgadgets/blog/224941/