Stunning elegant home from Malvern company Lubelso, Victoria, Australia
Project Malvern, as called by the developers of the company Lubelso, located in eastern Victoria, where many parks and gardens.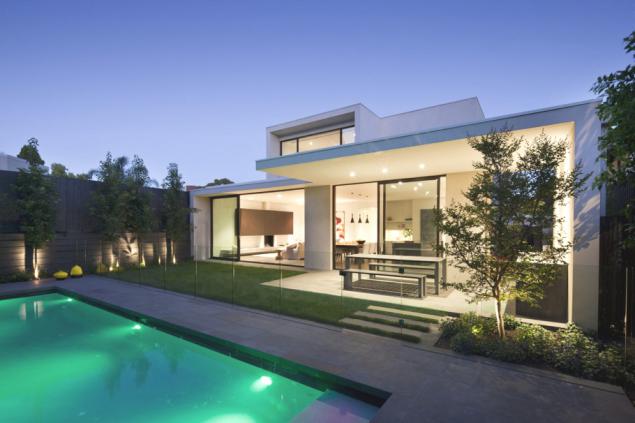 Feature residence that granted most of the entire territory. So the side facades are two-storey building on the borders with the neighboring areas. And go to the courtyard is possible only through the house.
On two levels located central entrance, 3 reception rooms, study, 4 bedrooms, 2 bathrooms and toilets, dressing room. Plan called flexible, but it seems strictly geometric. In the space of one combined living room with fireplace and a huge TV, a dining room and kitchen. Above the countertop striking long narrow window, which shows trees growing in a small garden. Notice near the glass doors on the front porch and an open kitchen and a barbecue area.
In the design of the interior of the used American oak flooring, white stucco walls for decoration. Large double-pane windows allow natural light. It is cool in summer and warm in winter. Elegant surroundings brilliantly complements the high quality appliances from Germany.
Original interior items: Stand light brown wood, oval ottomans, floor lamps, table lamps in the form of bent metal strips, paintings in a modernist spirit.
Unusual idea location of the entrance to the cellar. It is just in the living room floor with a sound-system Airphone. Hides its automated hatch between the sofa and the wall. In the garage 2 car designers have added a place for bikes and storage of tools.
Landscape design is also included in the concept of the project. Backyard planned in such a way that both the lawn and the pool stretches from one end to the other site. All homestead - a phased deployment of the house, lawns, artificial reservoir 8 to 3 m. The glass panels are separated from the swimming area of ​​green terraces. Elaborate system of irrigation and lighting patio.
Luxury villa is equipped with alarm and intercom system, fits well in the urban landscape.