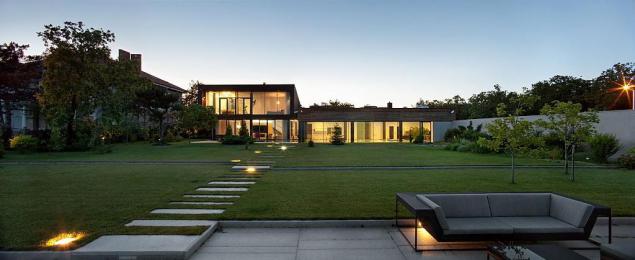 This modern house is located in the village of Sands in the Odessa region in Ukraine. Design of buildings architectural firm engaged in Kharkiv Drozdov & Partners. From the street it looks gray and inaccessible. And how it is seen by the hosts?
The starting point was the concept of site location. It is located on the Black Sea coast. Therefore, single-family detached house joined to the edge of the road, as if protecting the interior space of the yard from prying eyes.
The project consists of two functional units - one residential, the second - a garage, a separate place for healing and table tennis, sauna, Turkish bath, pantry. Separates their main entrance. In the hallway behind wooden panels hidden cupboards and shelves for clothes.
Rotate the doors on the right and gonna get into a spacious living room, connected with the dining room and kitchen. Zone delineated visually. Part of the kitchen is closed huge column in which is mounted TV. Decorative fireplace adds coziness and peace. There is a mini bar and a small library.
Climb the stairs to the second level where the master bedroom equipped with a bathroom and two guest rooms. The glass facade allows to survey the beautiful sea horizon. We go down to the basement and find a gym and a cinema.
Original interior items - chandeliers and lamps, chairs, ottoman on steel legs, give brightness setting and provide comfort.
The apparent proximity of water reinforced mirror pool, bound volume of the first floor and terrace. Notice the design is such that you can swim in it in any weather, outdoors or indoors.
Used for the construction of the Siberian larch, stylized Venetian plaster, and copper. Parts of it have gained noble shade in this coastal environment, and looked like a rusty steel.
When working on landscaping the authors tried to keep most of the existing trees and create a harmonious relationship between the house, garden and sea views are browsing a barbecue area and a sofa, play an important role in the whole composition.
What is not an idyll?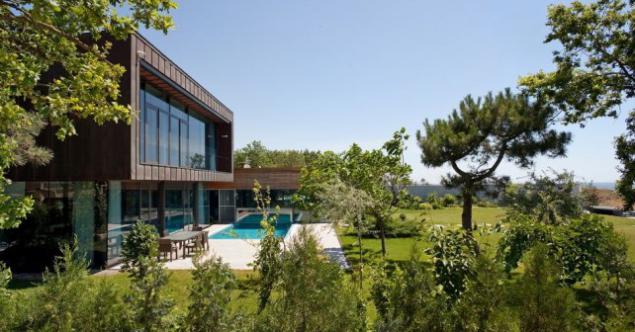 Spacious living room, flooded with natural light sets the tone in the bright and spacious house. Wood plays a huge role in the overall scheme of the design, reducing the scale of the interiors and adding comfort. The color palette is designed to accentuate what is outside the windows. A central staircase leads to the bedroom upstairs, where you can enjoy the magnificent scenery.