Inside, it is exactly the same live seven year old girl, but with the body and face of an elderly woman.
Brave little Ashanti Elliott-Smith suffers from a very rare disease is not curable.
Her body is aging 8 times faster than normal. This means that by the time when she will be 10,
it will be "folded" as well as 80-year old woman. Read the continuation ...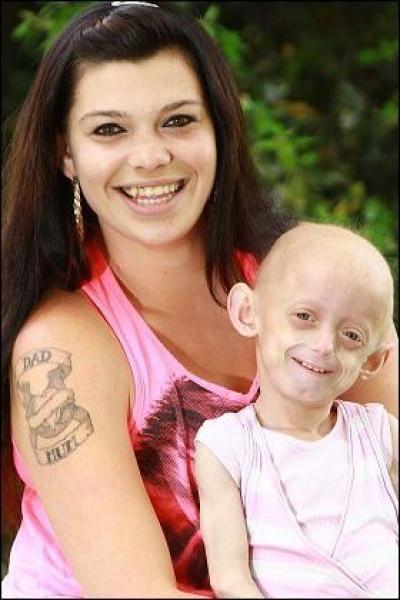 Even now, when she plays with her classmates and listening to your favorite band JLS, she has to deal with such age-related problems, such as arthritis and heart weakening. However, the 24-year-old mother Ashanti Phoebe convinced that her daughter will be so normal and even happy childhood as possible. This disease - a genetic disorder called progeria, or Hutchinson-Gilford disease. In addition to her in the UK there is only one child affected by the same disease. Progeria patients have an average life expectancy of 13 years. However, Phoebe, which has another 4-year-old daughter, said: "We try to take everything from every day." "Ashanti - such cheerful little girl, she's so cute." "I am very proud of her. It does not allow the disease to interfere with her life. She is a very bright person, do not leave anyone indifferent. " While her friends have turned from babies in moving children, Ashanti, more like a little old woman. In the presented photographs of the children of the album can be seen every stage of aging with the experiences of girls mother. Infant hair fell out, and the skin show through the signs of old age that makes passers turn around. The girl weak hands, after 3 years it will have arthritis and heart and breathing apparatus 80-year-old man. Its development has stopped on the weight of the three-year child with an increase of 1 meter. Unlikely Ashanti will grow. Her body is very weak, so the girls must be protected from sick children, because diseases such as chicken pox and flu can kill her. However, when Ashanti was born (May, 2003), she weighed like a normal, healthy child - about 2, 5 kg.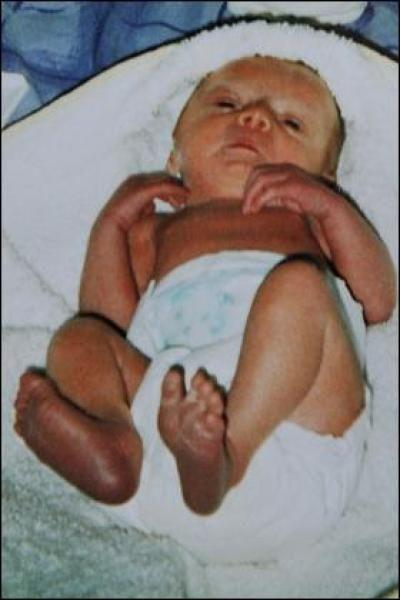 "I did not know that she will be deprived of a future that I wanted to give it" - my mother. Phoebe says: "Pregnancy was absolutely fine, and I thought that my daughter will be healthy. We Albi (the girl's father) were waiting for her look. " "After 3 weeks after birth, when her body began to cover the cramps, the first time we thought that something was wrong."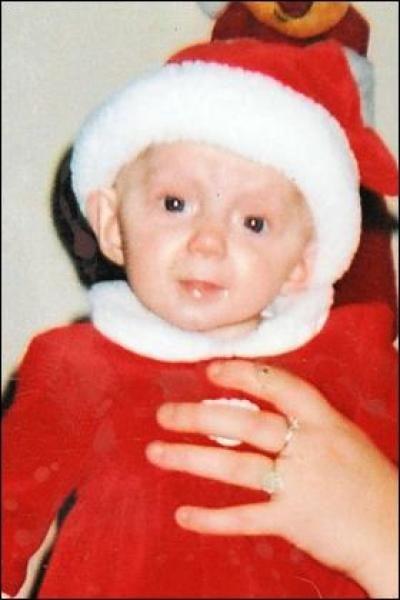 "7 months: our first Christmas. I began to suspect that something is wrong "Phoebe rushed the girl to the hospital and was shocked by the fact that the doctor mistakenly concluded, if the baby is strongly shaking someone from adults. "I was absolutely stunned. In the end, they acknowledged that nothing like this and we have not done anything wrong. But it still upsets me very much. " "I gave birth to 17 years, but in my family had 11 children, so I have a lot of experience looking after children." Doctors performed a great number of tests to find out what's wrong, but the results did not show anything specific. But in the coming months Ashanti got worse and worse. Phoebe, who lives not far from Brighton, said: "It still beat cramps, she gained weight and was bald. My doctor thought that I neglect it. " Concerned mom requested a more tests. Just before the fifth birthday girls were sent to a children's hospital in London on the street Great Ormond Street. Doctor took only one look at her, to understand the reason.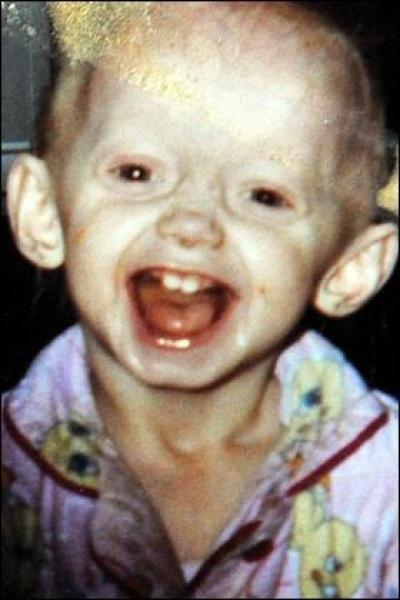 "The first birthday. We have just learned the diagnosis. I can not believe that she had progeria "" When we were told that this progeria, I fainted. Later Albi explained to me that it would be like having to take care of my grandmother. " "He said he had to take care of the Ashanti, as an elderly person, because her body is aging very quickly. It was horrible, but I knew that he had to accept it and live with it. "