At the Independence Square in Kiev began a rally against the new government.
Life in Ukraine became unbearable: the products have risen in price in half, housing services and gas - by 50%, say the protesters.
If the current government of Ukraine did not respond to the demands of the people and not the economic situation stabilizes, to overwhelm the mass protests. This was stated by protesters on Independence Square and the initiative group of the people of Kiev "For decent life».
"Over the last week of life in Ukraine became unbearable, this holocaust in the XXI century: the products have risen in price in half, drugs in the price rose by 50%, public utilities and natural gas - by 50%, travel to Kiev shuttles - almost twice," - He said one of the activists Irina Bogdanets.
"Every day we are warned that the new government will begin to demolish the barricades on the Maidan, asked to disperse to their homes, and these initiatives come from the surroundings of the former commandant of Stepan Stepan Kubiv (now head of the National Bank). Who would have thought that the new government would be a tyrant? Maidan activists protesting against the new government. We demand to stabilize the situation in the country, otherwise overwhelm Ukraine mass protests will go to state employees, pensioners, students, "- warned Bogdanets.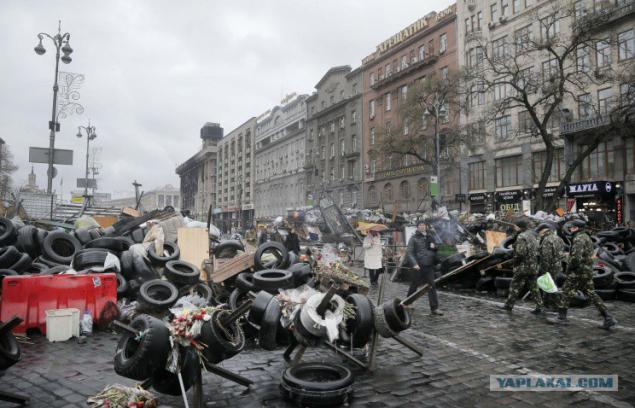 April 9 near the National Bank of Ukraine has held a mass rally with the requirements of the people of Kiev to stabilize the economic situation. The head of the NBU Stepan Stepan Kubiv came to the protesters and said that six weeks have not yet had time to get used to the new place and asked for more time to restore order.
Ukrainians withdraw savings from banks
Residents of Ukraine have begun to actively withdraw their savings from bank accounts. According to official data, the volume of individuals' deposits in Ukrainian banks in March decreased by 5, 9%, which is approximately 26 billion hryvnia (about 72, 5 billion rubles).
Deposits of legal entities decreased by 3%.
To remedy this situation, the banks try to attract depositors higher interest rates, but such a step, by contrast, discourages some customers.
The situation in Ukraine. Chronicle of events. April 14
Source.
Live !!!
People still little :(
Source: