The final of the European Championship is close and it is already possible to draw some conclusions.
Choose the most bizarre example, bright and stylish fans who come not only to cheer for your favorite team, but also trying to stand out clothes and behavior.
I propose to look at them.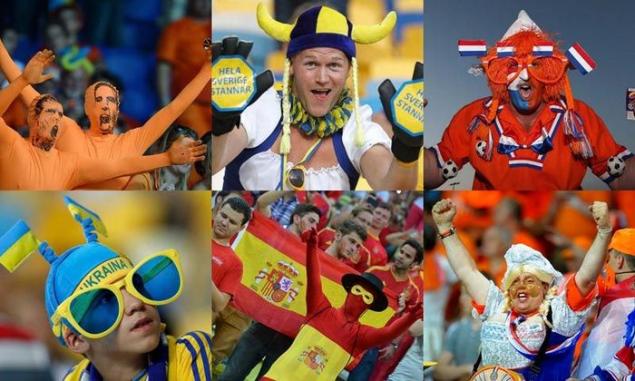 1. Spanish fans during the match of his team against Croatia in Gdansk, June 18, 2012. (REUTERS / Pascal Lauener)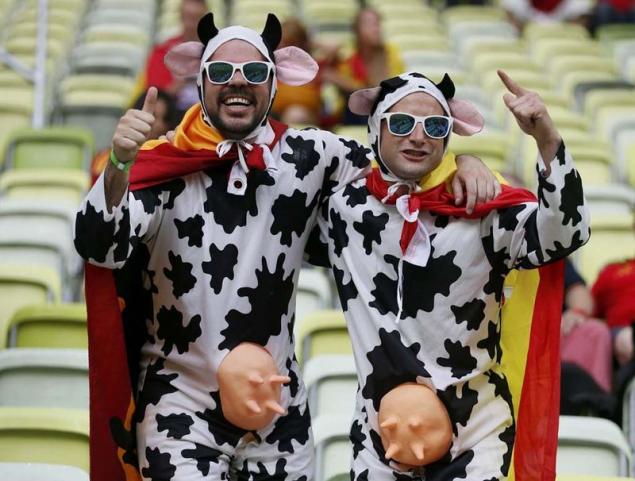 2. The Italian "ladies" at the match between Italy and Ireland at the city stadium in Poznan, June 18, 2012. (REUTERS / Sergio Perez)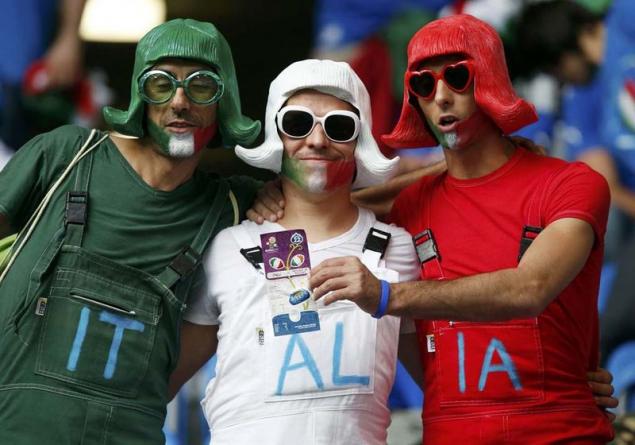 3. Pole sings the song on the way to the National Stadium in Warsaw on June 12, 2012. (REUTERS / Jerzy Dudek)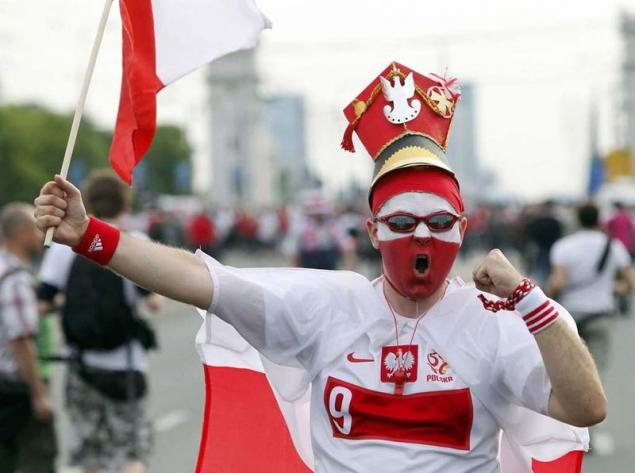 4. Russian fans watching the match Russia - Poland at the National Stadium in Warsaw on June 12, 2012. (Gabriel Bouys / AFP / Getty Images)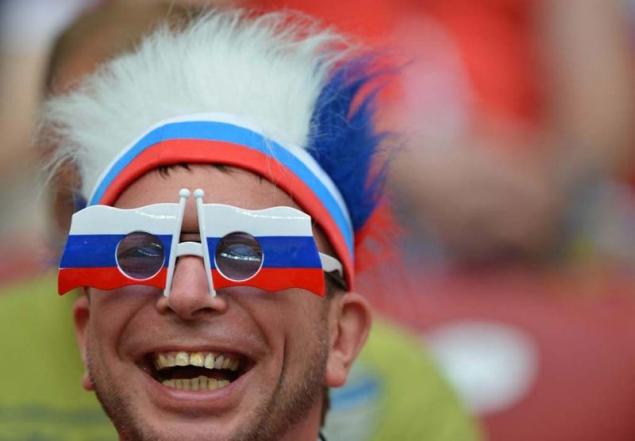 5. Swedish fans during the match of the national team and Ukraine at the Olympic Stadium in Kiev, June 11, 2012. (REUTERS / Alexander Demianchuk)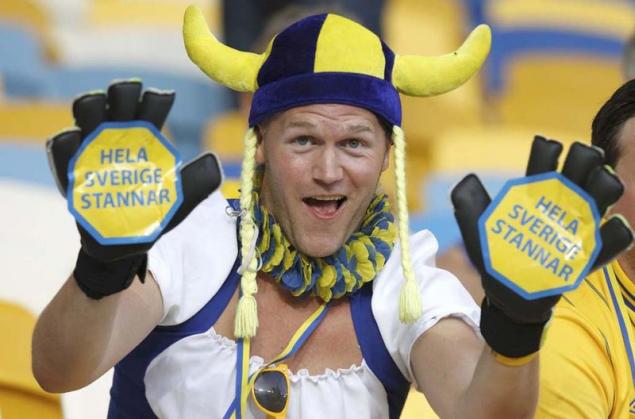 6. The Dutch fans welcome their team in the match with Portugal at the stadium "Metallist" in Kharkiv on 17 June 2012. (HERTZOG / AFP / GettyImages)
7. England fans in masks of Prince Charles (right) and Prince Philip (left) during a match against France at the stadium "Donbass Arena" in Donetsk on 11 June 2012. (REUTERS / Yves Herman)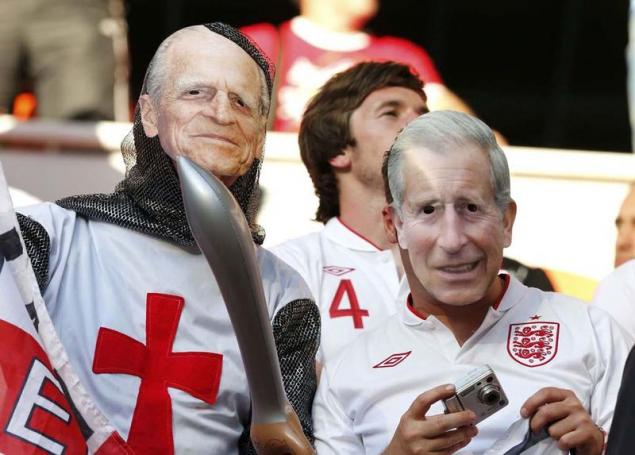 8. The French fans in the match against Sweden in Kiev on 19 June 2012. (SAVILOV / AFP / GettyImages)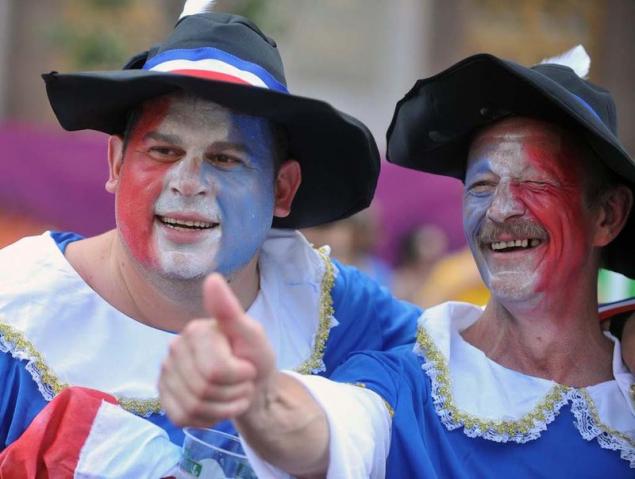 9. German fans at the stadium in Lviv, June 17 2012. (STOLLARZ / AFP / GettyImages)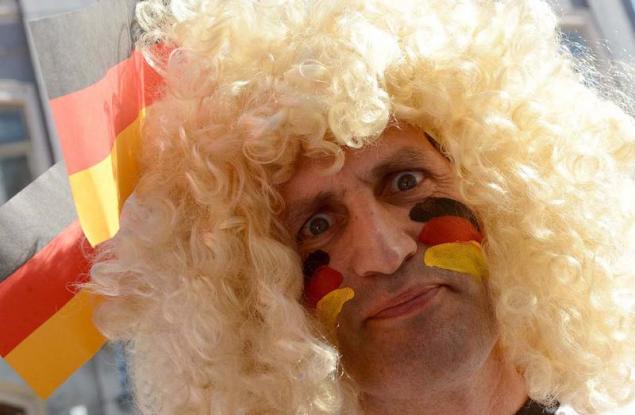 10. Croatian fan upset defeat of his team in the match against Spain, which took place in Gdansk, June 18, 2012. (REUTERS / Kai Pfaffenbach)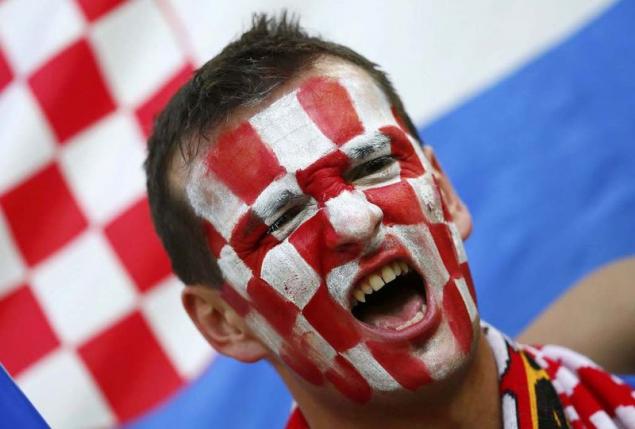 11. The Dutch fans in the stands of the stadium "Metalist" waiting for the match between the Netherlands and Portugal, Kharkiv, June 17, 2012. (HERTZOG / AFP / GettyImages)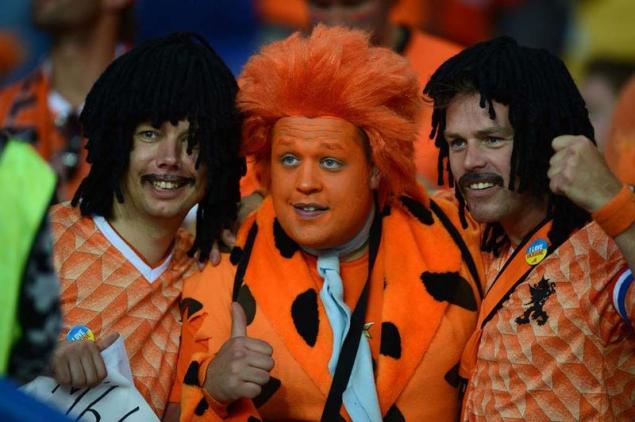 12. Spanish fan poses for a photograph at the stadium in Gdansk, June 18, 2012. (REUTERS / Pascal Lauener)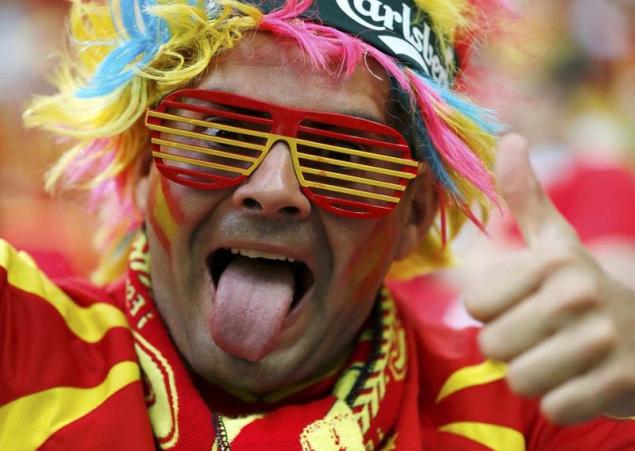 13. painted from head to toe Swedish fans waving scarf in the match against Ukraine at the Olympic Stadium in Kiev, June 11, 2012. (REUTERS / Gleb Garanich)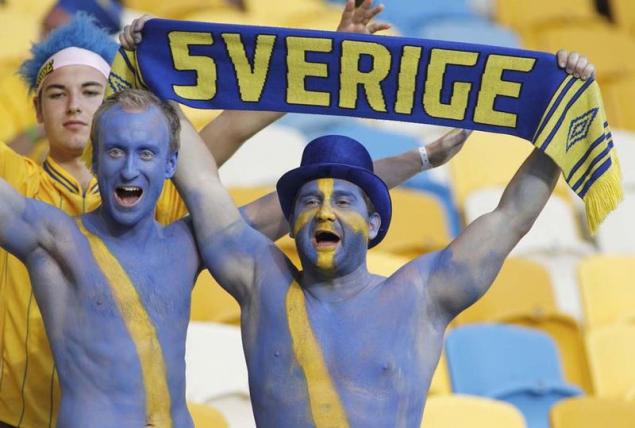 14. The Spanish fans pose for the camera before the match Spain - Croatia in Gdansk, June 18, 2012. (REUTERS / Peter Andrews)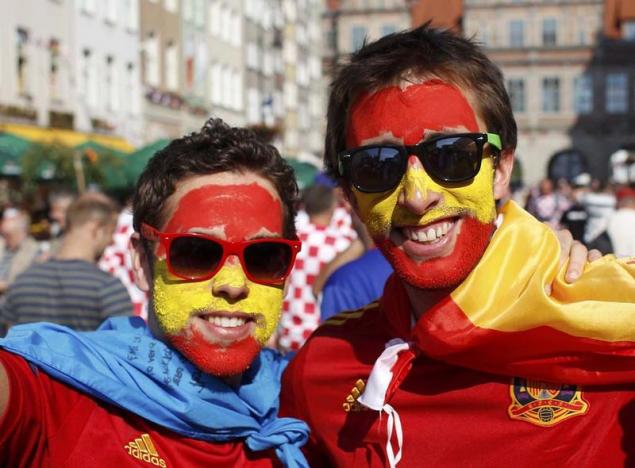 15. Irish fan sits at the stadium in Gdansk on 14 June 2012. (BOUYS / AFP / GettyImages)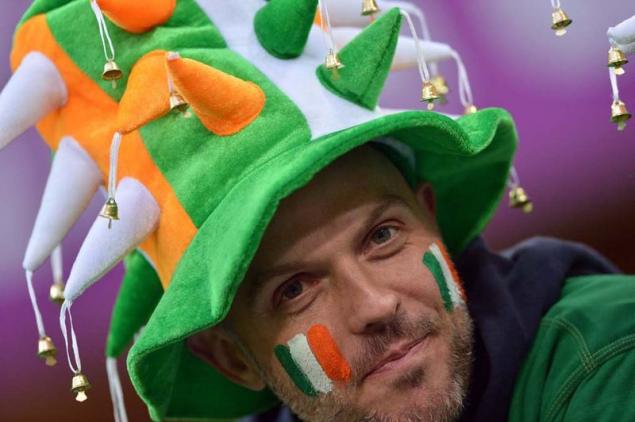 16. Cheerleaders from the Czech Republic supports his team during the game with Greece at the city stadium in Wroclaw on June 12, 2012. (REUTERS / Sergio Perez)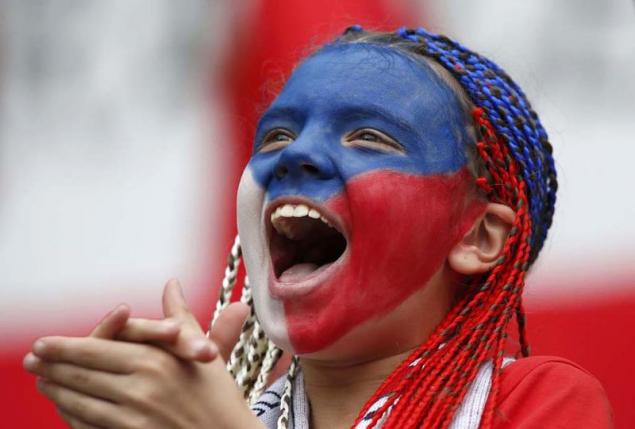 17. Man flag of Spain welcomed the exit of his team on the field in Gdansk, June 18, 2012. (BOUYS / AFP / GettyImages)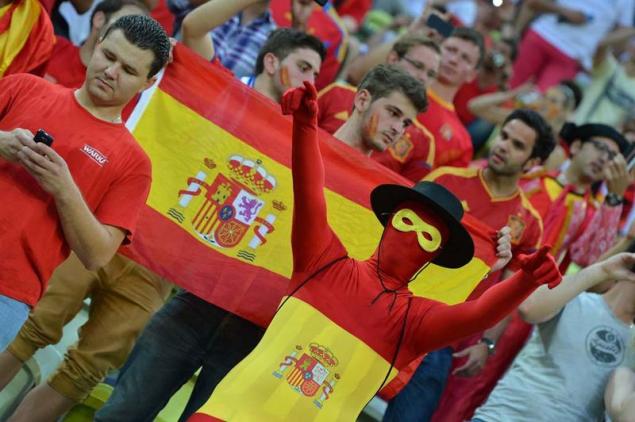 18. The Croatian fans before the match between Spain and Croatia to the stadium in Gdansk, June 18, 2012. (REUTERS / Peter Andrews)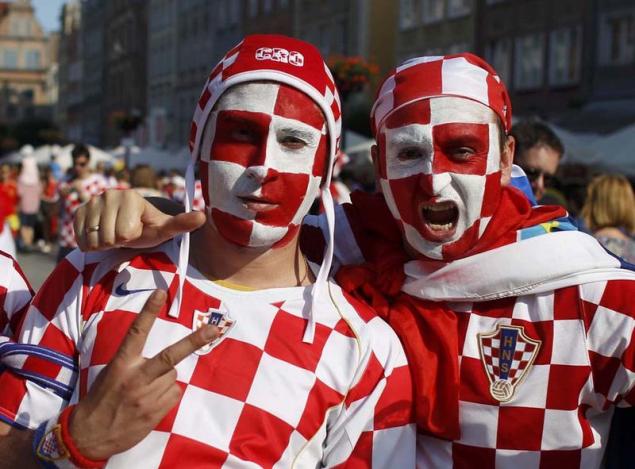 19. The French cheerleader jumped up from his seat during a tense moment in the match against England, Donetsk, June 11, 2012. (REUTERS / Michael Buholzer)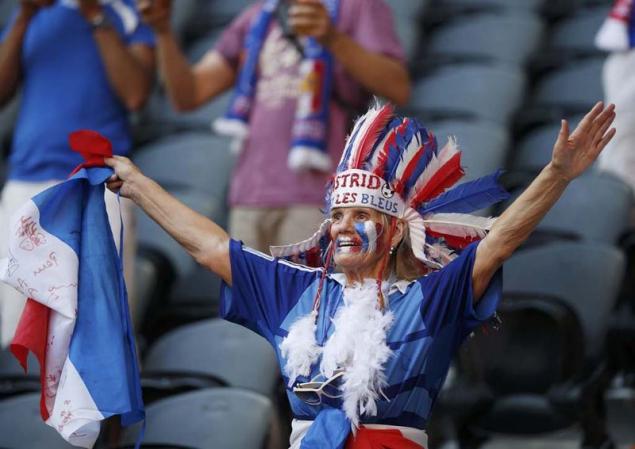 20. Danish fan with painted face smiling for a photograph during the game against Germany, Lviv, June 1, 2012. (POUJOULAT / AFP / GettyImages)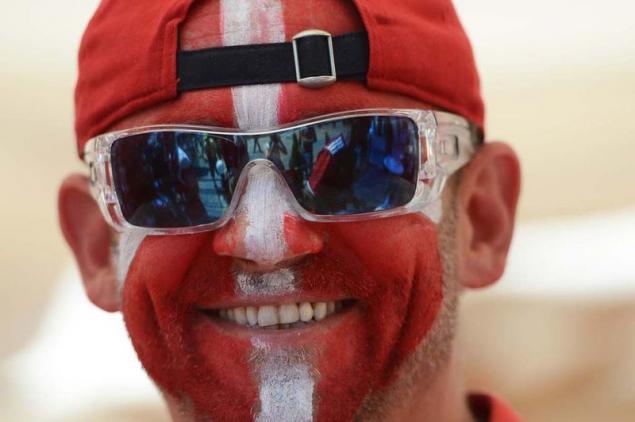 21. The Swedish fans before the match against France at the Olympic Stadium in Kiev, June 19, 2012. (SAVILOV / AFP / GettyImages)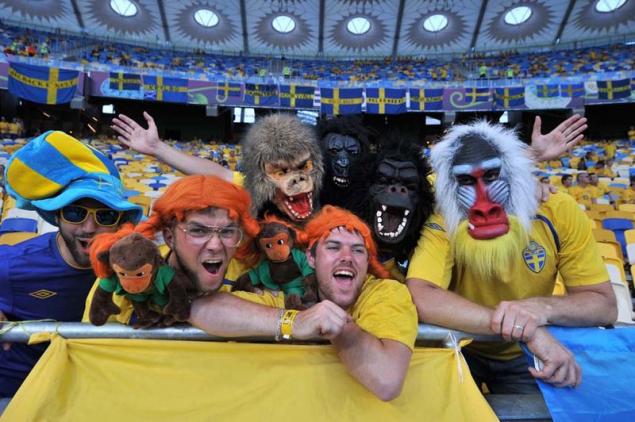 22. Supporters of the Danish drinking beer in Lviv on June 13, 2012. (REUTERS / Gleb Garanich)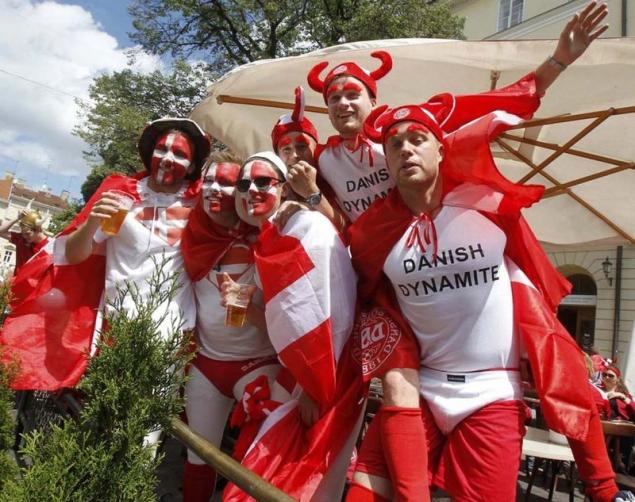 23. Ukrainian fans watch football fan zone at Independence Square in Kiev, June 11, 2012. (REUTERS / Anatolii Stepanov)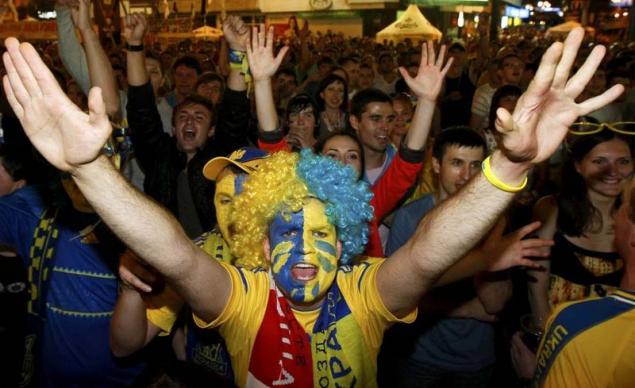 24. The Italian fans at the stadium in Poznan, June 18, 2012. (REUTERS / Sergio Perez)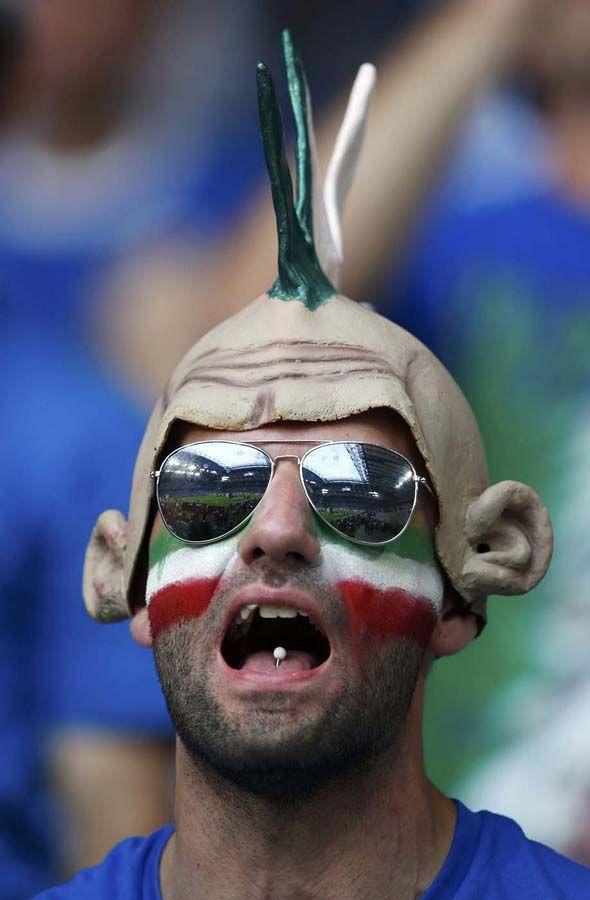 25. A boy watches the game between Ukraine and Sweden at the Olympic Stadium in Kiev, June 11, 2012. (REUTERS / Darren Staples)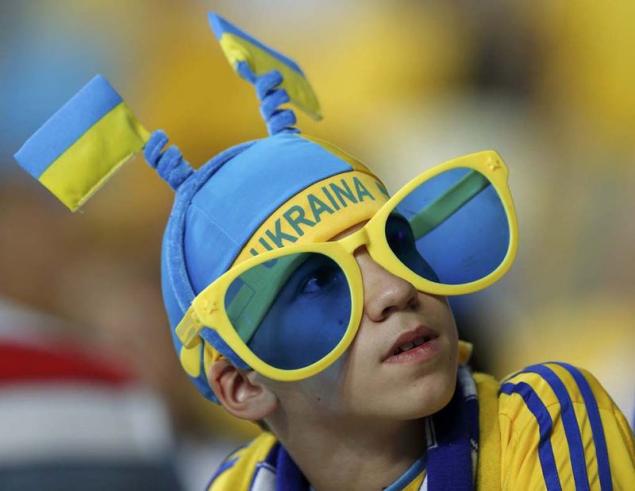 26. The Dutch fans at the match Netherlands-Germany, Kharkiv, June 13, 2012. (REUTERS / Vasily Fedosenko)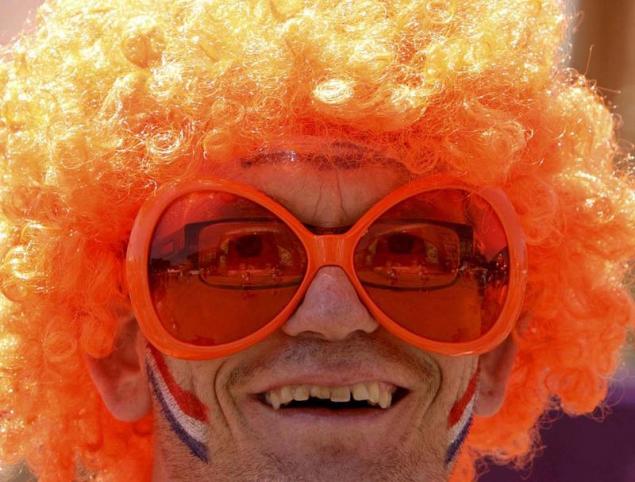 27. The French fans at the match between France and Sweden at the Olympic Stadium in Kiev, June 19, 2012. (REUTERS / Eddie Keogh)
28. Irish fan poses for a photo in Gdansk on June 13, 2012. (REUTERS / Peter Andrews)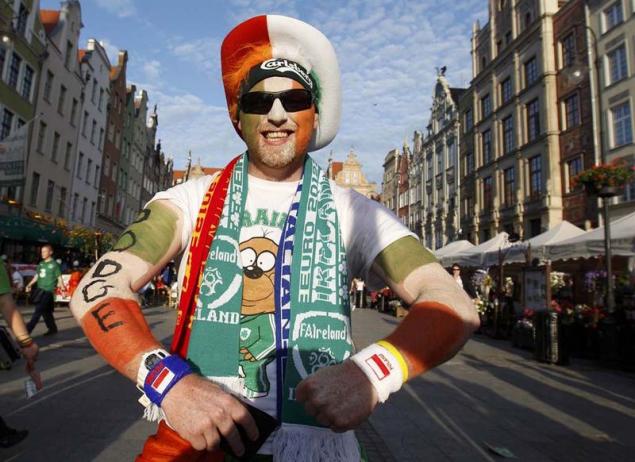 29. Polish fan, painted in national colors, actively root for their team at the match Poland-Czech Republic at the Municipal Stadium in Wroclaw, June 16 2012. (REUTERS / Kacper Pempel)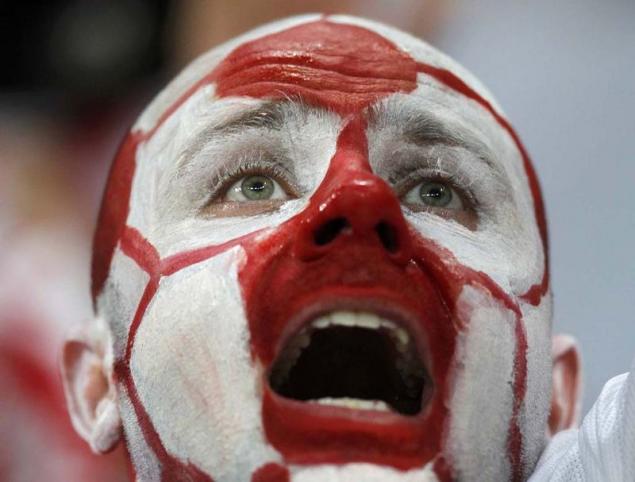 30. Fan of Portugal during the game between the Netherlands and Portugal at the stadium "Metallist" in Kharkiv on 17 June 2012. (REUTERS / Alessandro Bianchi)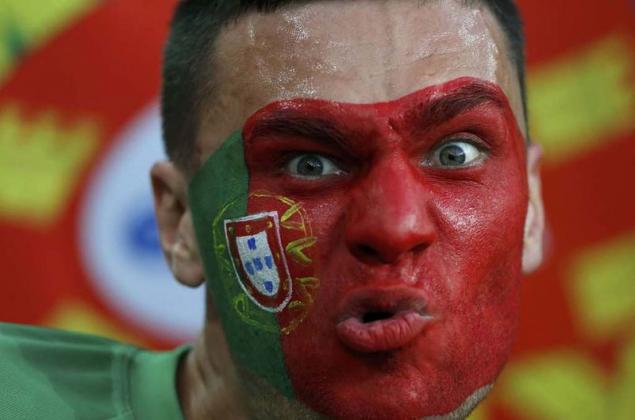 31. Irish fan watching the game between Italy and Ireland in the fan zone, Poznan, June 18, 2012. (REUTERS / Kacper Pempel)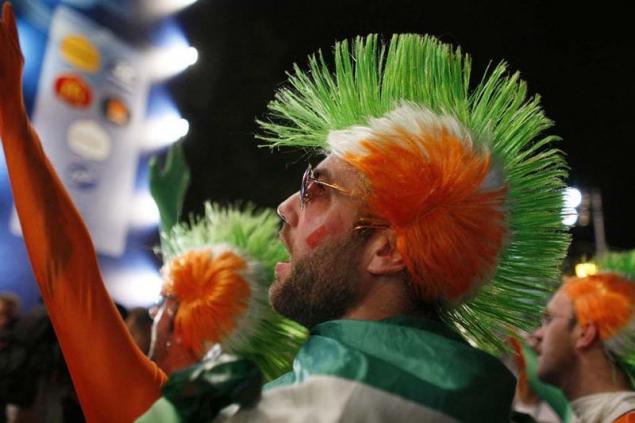 32. Ukrainians in the fan zone at Independence Square in Kiev during Ukraine-England match on 19 June 2012. (REUTERS / Gleb Garanich)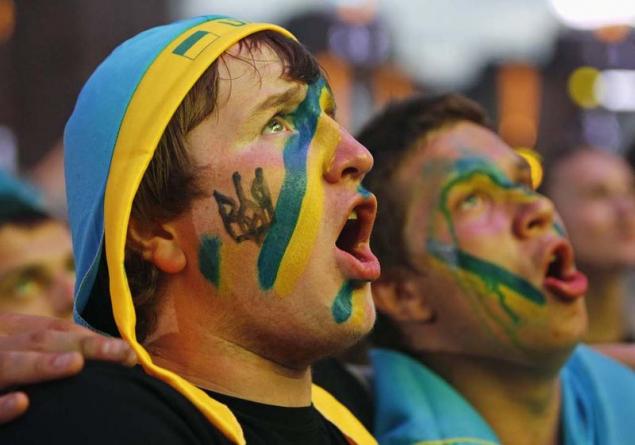 33. Dressed in a Dutch woman dancing around his place during the match Netherlands-Germany at the stadium "Metallist" in Kharkiv on June 13, 2012. (REUTERS / Felix)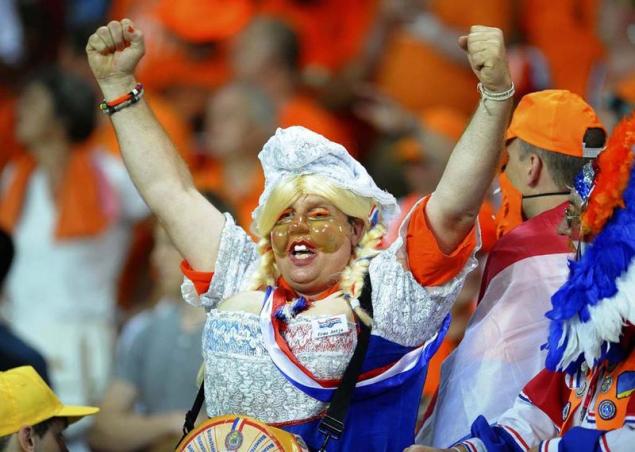 34. The Italian sits in its place is not the stands before the match Italy-Croatia at the Municipal Stadium in Poznan on 14 June 2012. (REUTERS / Tony Gentile)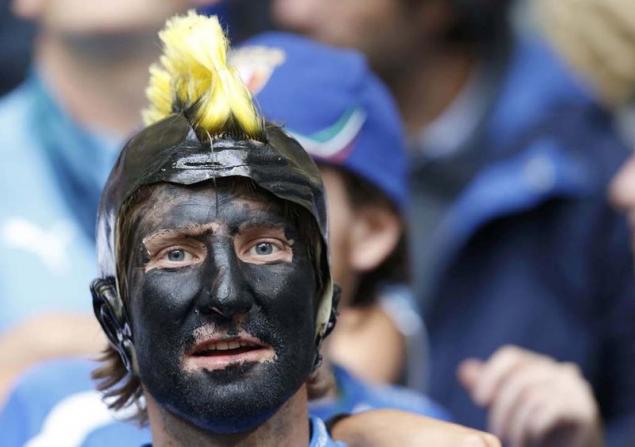 35. The Dutch in the original hats carefully watch the game between the Netherlands and Germany at the stadium "Metallist" in Kharkiv on June 12, 2012. (AFPPHOTO / GENYA SAVILOVGENYA)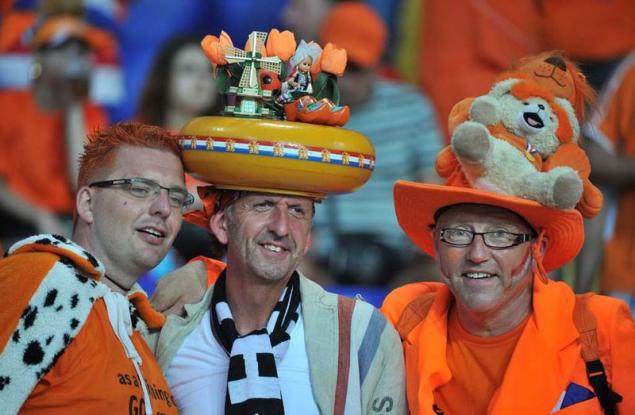 36. Croatian fan keeps fingers crossed for his team in the match against Italy at the Municipal Stadium in Poznan on 14 June 2012. (REUTERS / Petr Josek)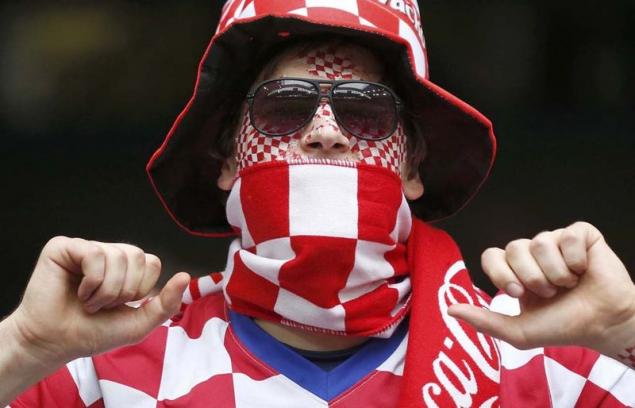 37. The Swedish fans marched to the Olympic Stadium, Kiev, June 19, 2012. (REUTERS / Anatolii Stepanov)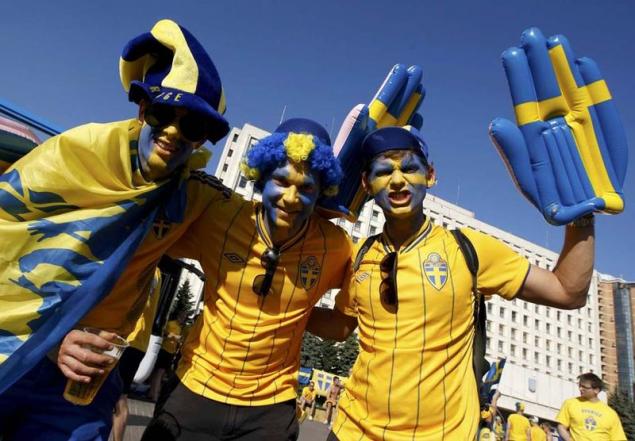 38. England fans dressed up as Batman and Robin, a match England-Ukraine in Donetsk on 19 June 2012. (REUTERS / Alessandro Bianchi)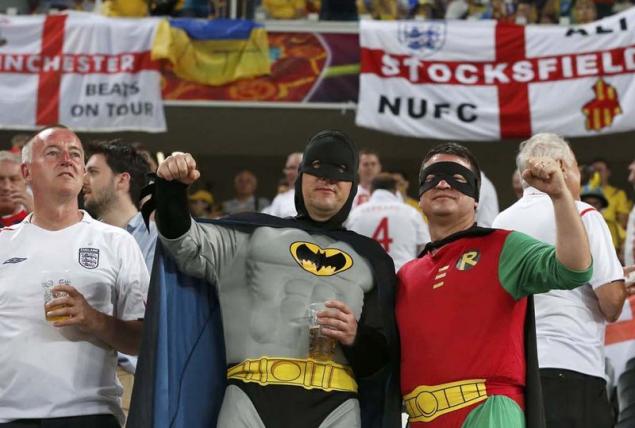 39. The Dutch fans smiling at the camera in the fan zone of Kharkov on June 13, 2012. (REUTERS / Vasily Fedosenko)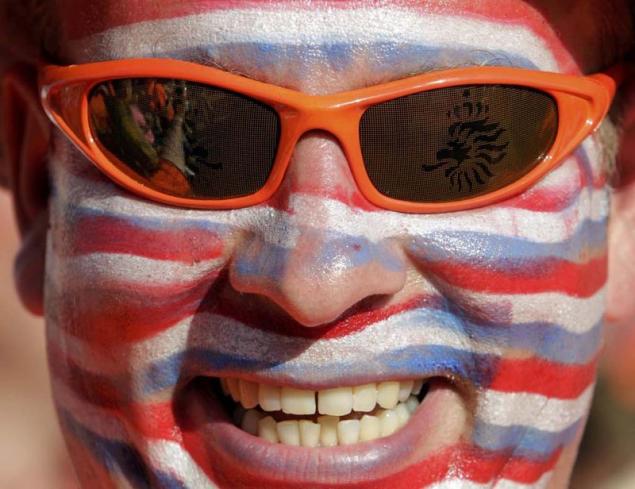 40. Greek Saddened after the match, in which Greece lost to the Czech Republic with a score of 1: 2, Wroclaw, June 12 2012. (REUTERS / Petr Josek)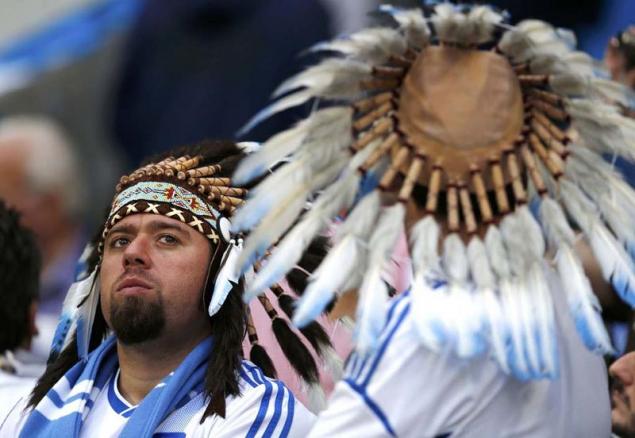 41. The Irishman puts on the mask of the national team coach Giovanni Trapattoni during the game against Spain, Gdansk on 14 June 2012. (REUTERS / Thomas Bohlen)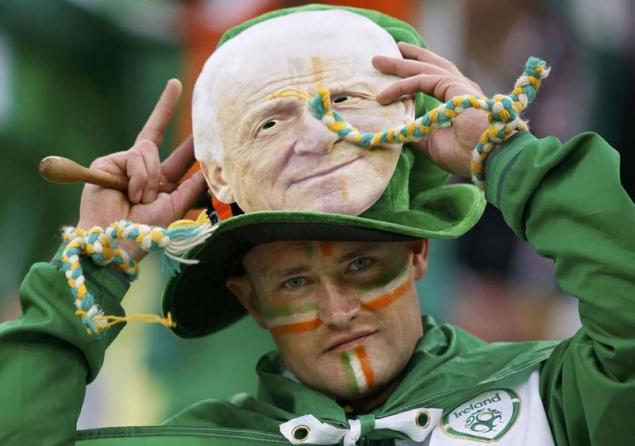 42. The Swedish Football fan walks through central Kiev, Ukraine, on June 19 2012. (REUTERS / Eddie Keogh)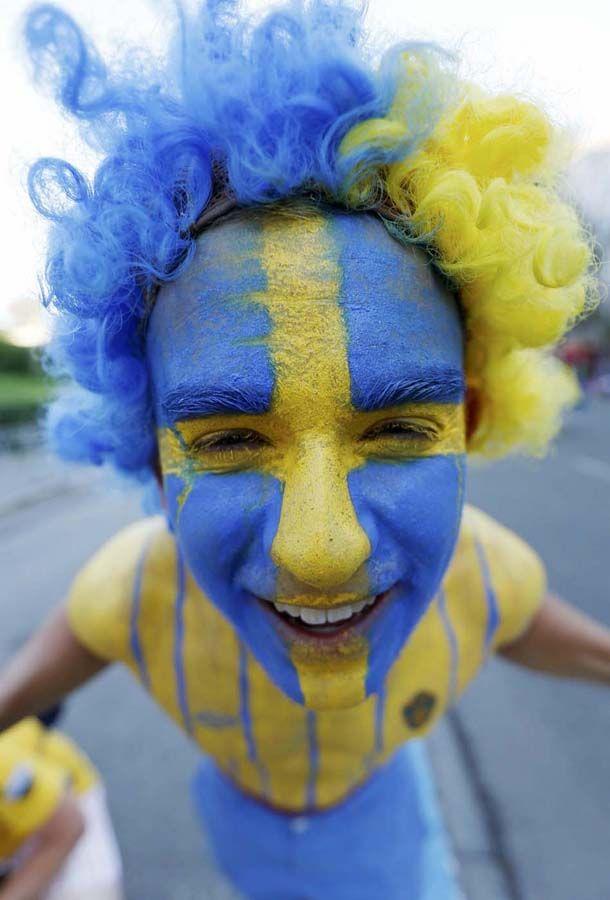 43. The Dutch fans at the stadium "Metalist" Kharkiv, Ukraine June 13, 2012. (Julian Finney / Getty Images)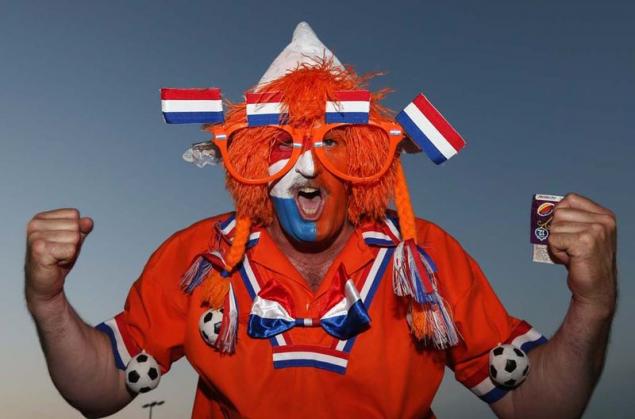 44. The Portuguese with his face painted cheers his team during a game against the Netherlands at the stadium "Metallist" in Kharkiv, Ukraine June 17, 2012. (REUTERS / Alessandro Bianchi)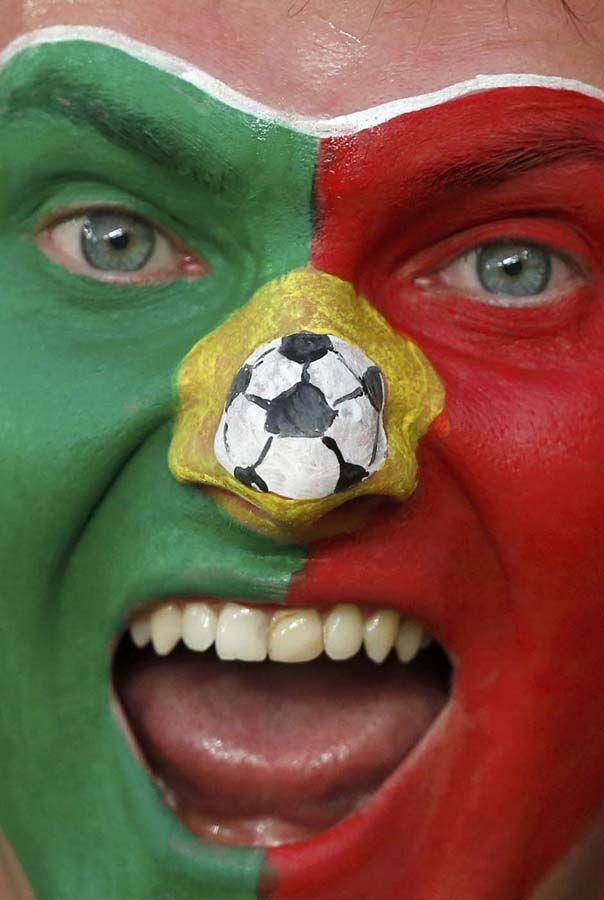 45. Fan of Denmark forwarded to the stadium in Lviv, Ukraine June 13, 2012. (REUTERS / Gleb Garanich)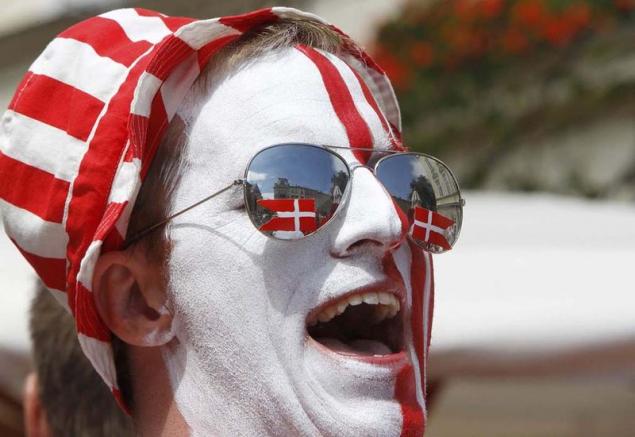 46. ​​The Spanish fans on the background of the stadium in Gdansk, Poland, June 18, 2012. (uefa.com)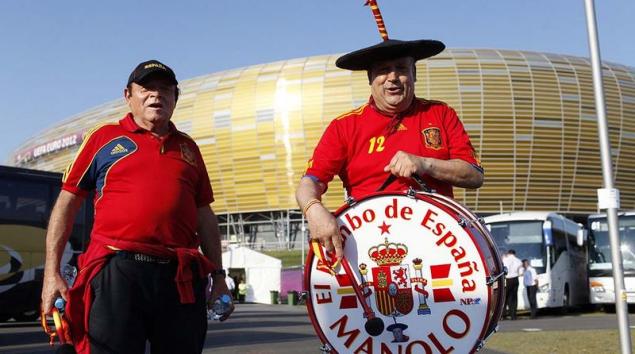 47. Watching from Sweden in the match against France in the Olympic Stadium, Kiev, Ukraine June 19, 2012. (REUTERS / Alexander Demianchuk)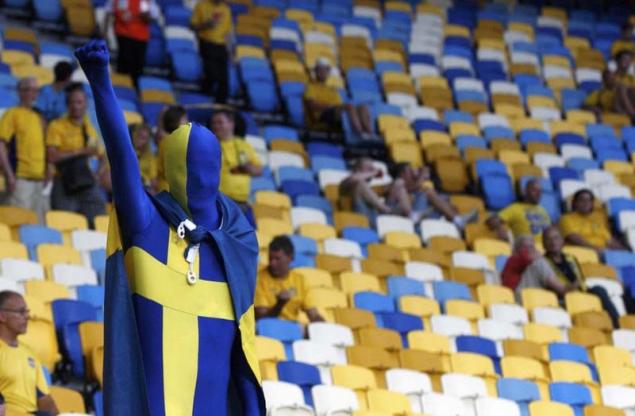 48. The Dutch fans in the stands of the stadium "Metalist" in Kharkov, Ukraine, June 17, 2012. (REUTERS / Vasily Fedosenko)
49. The French cheer cheerleader France at the Olympic Stadium in Kiev, Ukraine June 19, 2012. (REUTERS / Alexander Demianchuk)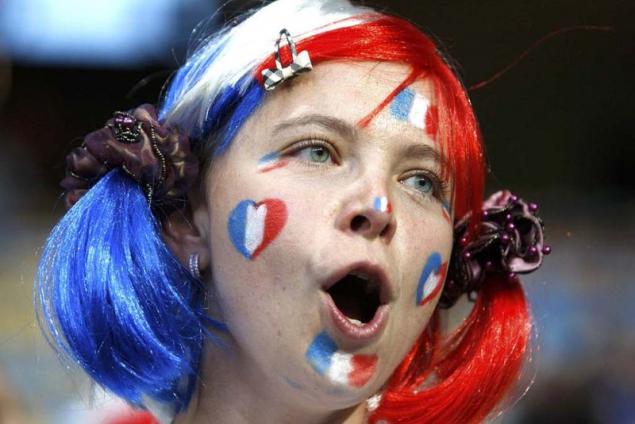 50. Greek sad faces losing players against Greece at the Municipal Stadium in Wroclaw, Poland, on June 12 2012. (REUTERS / Petr Josek)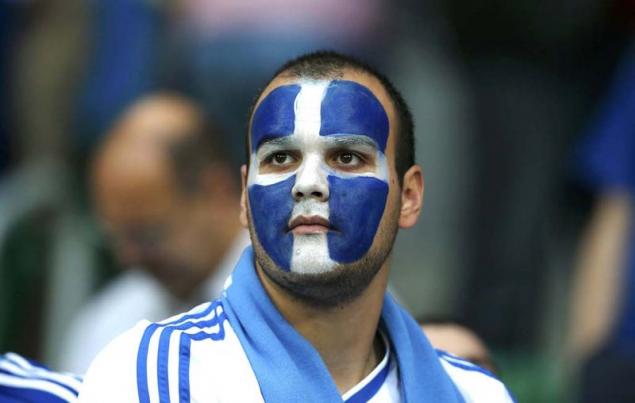 Source: bigpicture.ru