Writes Blogersha elena-lemekhova
... Tigers pink noses. Tender as apple petals. Never noticed before. Moustache - white and prickly, languages ​​- rough as a grater. When the language of a tiger for the first time touched my hand (I have it at this time fed with hands!), It was so touching that just wanted to scream with delight the whole canyon! ..
24 photos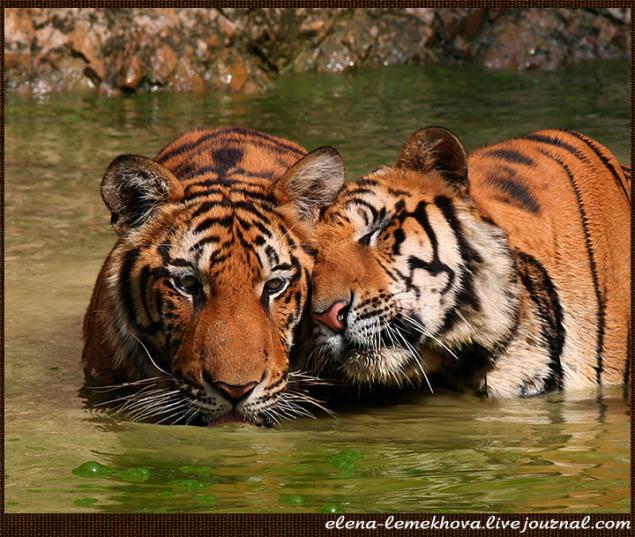 ... According red stones went Buddhist monk in orange robes. His hand was lying on the back of a huge tiger who marched alongside - without a leash and chain. On the shore of lake played tolstolapye clumsy cubs. In the emerald undergrowth grazing deer, peacocks and blue satin revealed their glittering tails ...
No one is eating, no one no one else was hunting ...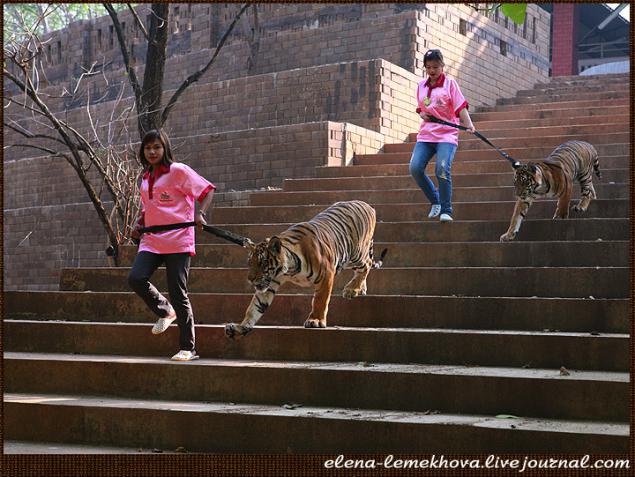 ... It was not a dream come true and not a fairy tale, just on the TV show another piece of heaven on earth. This paradise located in the west of Thailand, known as Tiger's Temple, and to get there, apparently, it was only possible in the next life ...
Option was two - or forget all these beauties, or take a trip to the organization of their own hands.
My friend - experienced traveler - long painted all the charm of an independent trip, saying that South-East Asia - the best option for this experiment is safe, inexpensive, and no visa is required. I nodded, but could not decide.
Frightened suspense and a lot of problems that are usually incurs a tour - tickets, hotels, transfers and so on. D.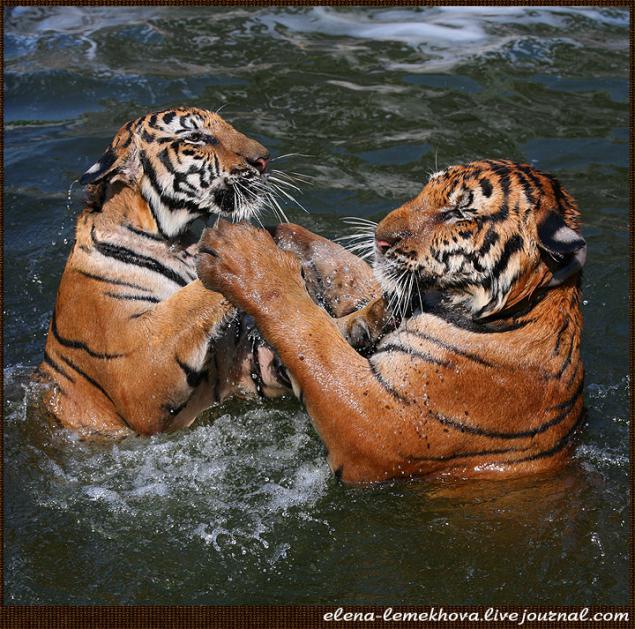 But all ever happens the first time.
And for the first time - it's always a step into another dimension.
But I said, "I want to tigers!", And the decision was made.
To me in the course were joined by three people, but in all honesty, I would say that even if it had not happened, I would still go. Itself. Because when you go to the goal, the presence of fellow travelers is not particularly critical.
Although from the decision to its realization was still as much as two and a half months ...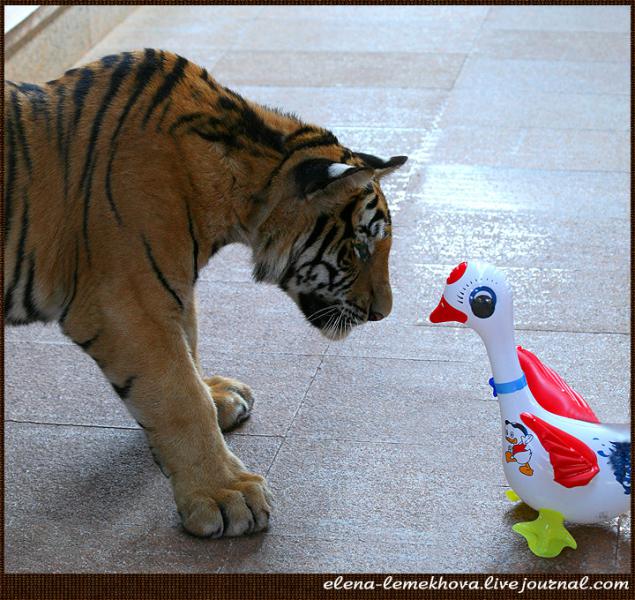 ... Tigers meow hoarse voice: "Maf!" Purr they also know how loud and beautiful. How revving "Harley-Davidson» ...
And what a wonderful hullabaloo they make! Adults - with one another, and small - love inflatable children's toys. However, life in these toys short. Missing one blow velvet paws to any inflatable duck cloth is flat ...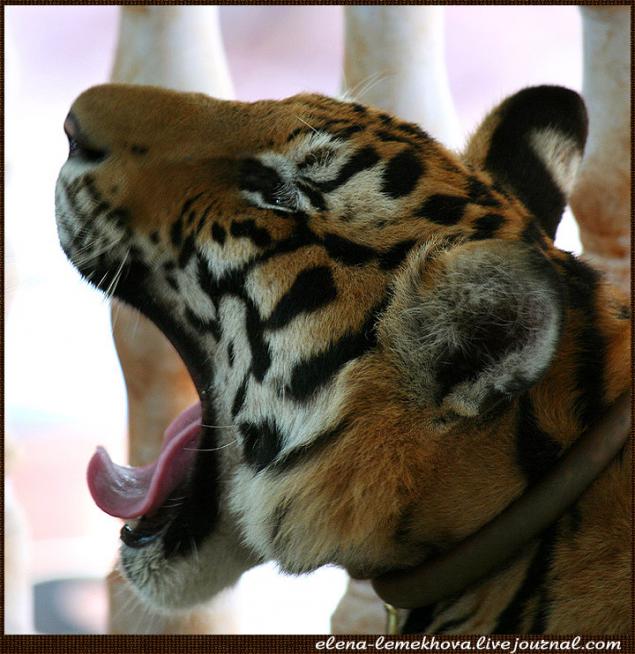 One such sloven striped chosen as a toy for my bag of photographic equipment. Zalёg under a tree and holding a bag with thick legs, and began to chew it with gusto. Trunk tried to take away, but I waved her hands: "Do not! Leave it! Let him eat! »
Now on the belts - traces of tiger teeth. Romance! ..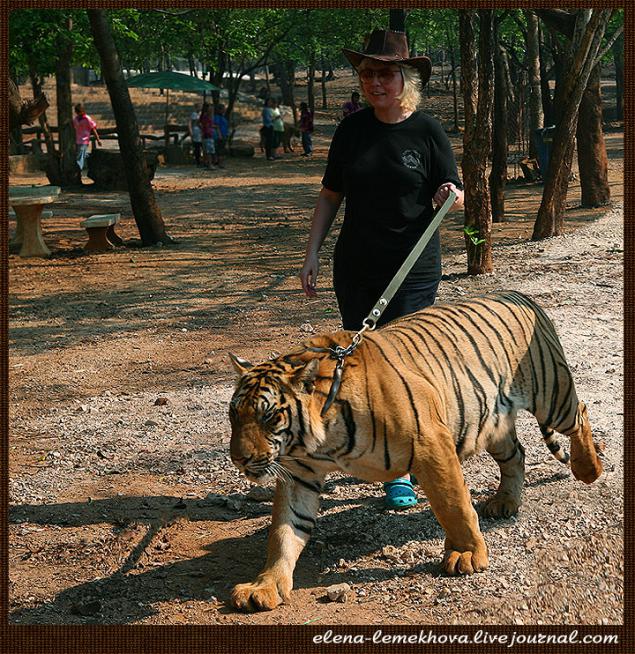 Life is movement!
And to feel in shape, you need to make every year orbit around the globe.
Travel - a whirlpool of feelings and emotions, an explosion of flavors and smells! ..
A training trip - an amazing game, rainbow dreams that suddenly become reality.
And do not believe she is no less interesting than the trip itself. Route Development and choice of hotels - fantastically pleasant experience.
Glory to the Internet - it's now easy.
... The street was snowing, and I have been in the eyes of a jungle ...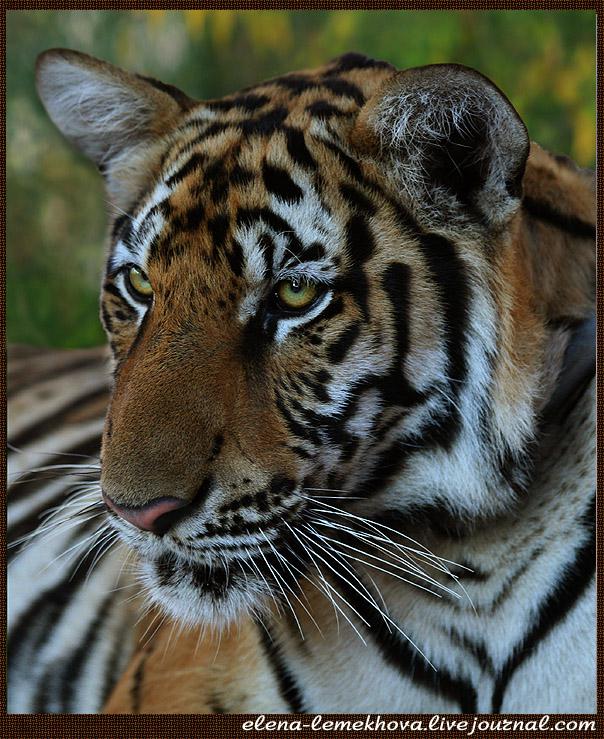 And do not go for us here? ..
Why not!
And yet - here ...
And I've always wanted to see it here ...
And this ...
And this ...
And so - quietly - a meandering line on the map is getting longer and longer, and the route becomes clear outlines.
Independent travel allows you to connect the unconnected and every day to fill the edges of events and experiences.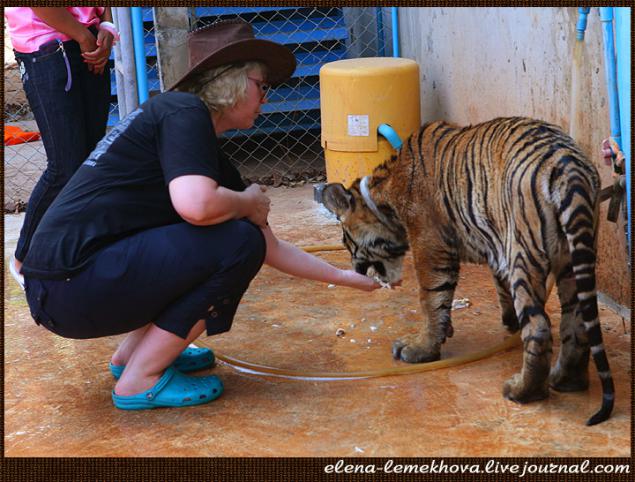 And yet it is - complete independence and freedom of choice.
After all, no one bothers to suddenly spit on this same route and go in the opposite direction.
Why?
Yes, because I want to.
Agree, independent travel as a way to shake the soul and unloading, more, perhaps, appropriate for women than for men.
It is because if she wants to, she definitely should get it! Girls! With our kind of emotion - and live on a schedule?! ..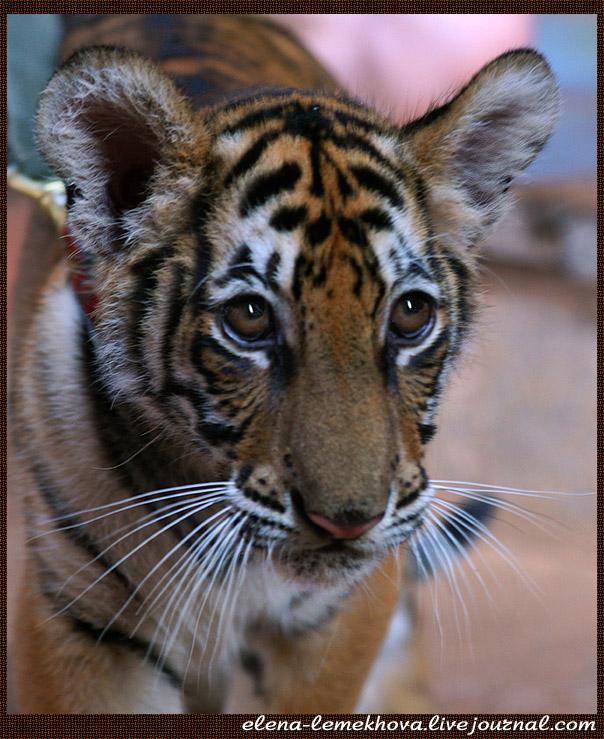 Who - like, and I, for one, can not stand to go on trips herd. A hurried trips and casual, not too often educated people as guides me at all for a long time unbalance. These little things can easily wipe out all the fun of the trip and on the country as a whole.
Independent travel - is an individual dive into the exotic, which begins even at home.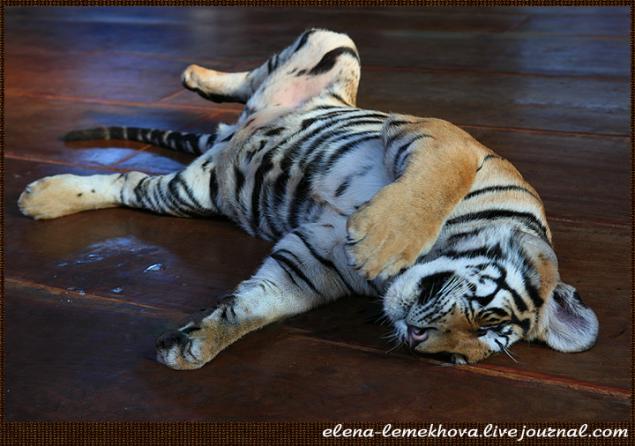 Someone will say: I have enough money, I can not afford to buy a ticket, and do not be fooled with the reservation and the development of the route.
And in general - not "royal case!»
Possible.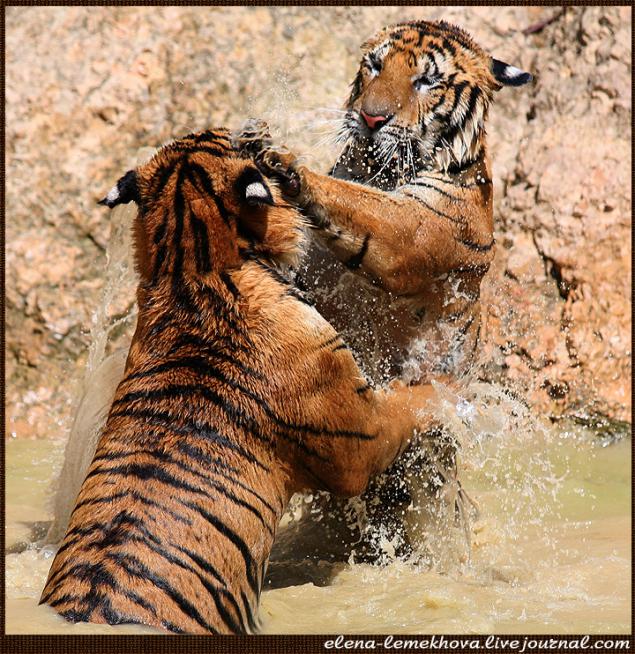 But I want to decide for itself where I go, what to look for and how much time I spend in a particular place.
And another thing: why pay the intermediary for the fact that you can do the most?
Now I know that the most conservative estimates possible without loss of quality to reduce the cost of two to three times.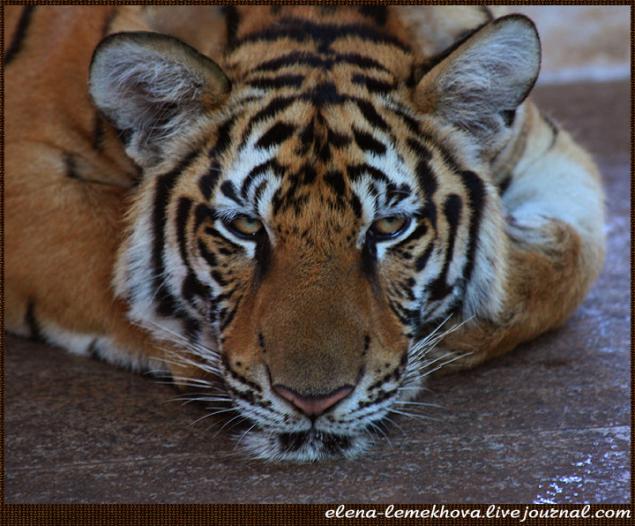 And how on earth amazing places and unexplored corners where "mass tourist industry" does not reach!
Maybe it's for the best.
Nice walk not trodden roads.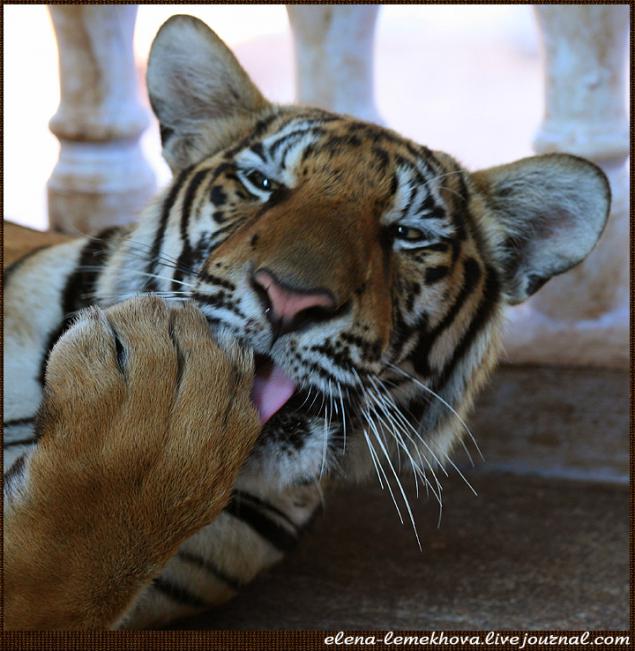 Monks communicate with the Tigers in of Tiger. Dismiss cubs, stepping on them all over, pushing the rambunctious "kotёnochka" open hand - right in the face. It turns out that just as tigers paw divaricata shoved each other in the game or during quiet showdown. Such are the basics of the language tiger!
Tigers do not beat. When an adult tiger trying to do something wrong, it stops the movement of the soft palm in front of a pink nose. Or, in extreme cases, a loud clapping. Tigers obediently aside in ...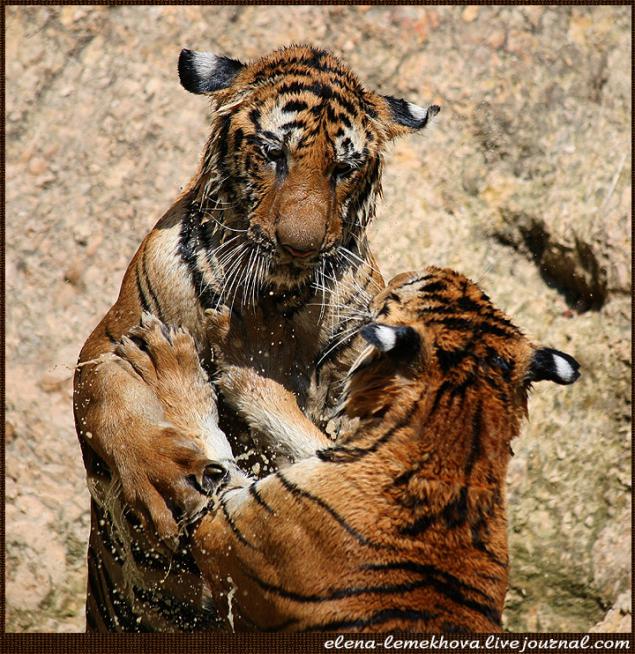 The main expenditure in exotic tours usually fall flights. But it is "usually". And if you move a little bit, you'll find that in nature, it turns out, there are cheap tickets. Airlines regularly shares this important campaign to catch the tail.
Bangkok, where we start our journey, very comfortable city. There are many flights, there are plenty to choose from. As a result, tickets for regular direct flights to Bangkok have been bought with a 30% discount! Motto: fly planes ... well, you know who! .. Recommendation: look so ye shall find!
On domestic flights - and there were four - we figured out even faster. Tickets booked online Airasia and get them on E-mail in five minutes. And as the motto of the budget of companies "than before broniruesh, the lower the price," the cost of tickets was four to five times lower than in normal flight. And, as it turned out later, it is not the limit! From Bangkok, for example, in Kuala Lumpur could fly ... for $ 16! Oh, sorry that we were not going to go there ...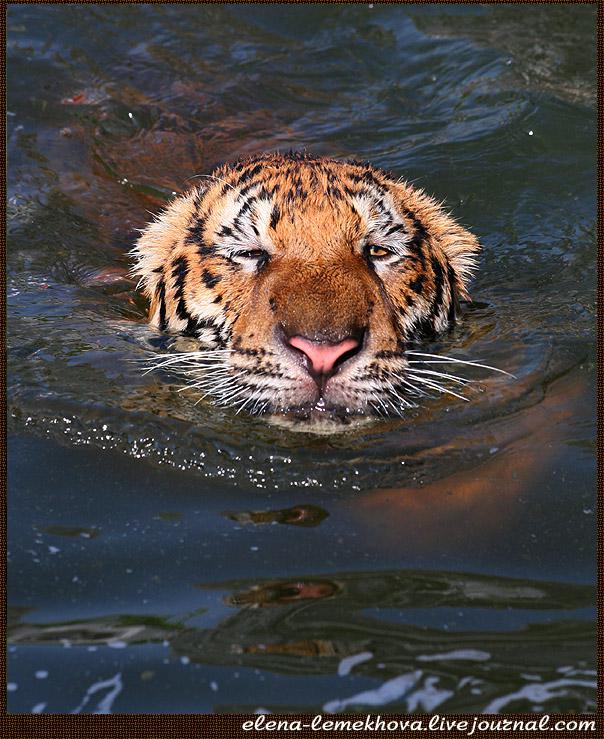 Hotels in Europe - an exciting experience! Now you can find and book any hotel in any country, you do not even necessarily leave the house. Booking sites great variety, we used the services of agoda.ru - Thai portal in Russian. It is very convenient and fast. By the way, it turned another sooo interesting detail: in most hotels SEA money in hotels charge per room. I mean, there is no difference, there is one person will live or two. That is, the "single supplement" (very popular formulation of our travel agents!) Does not really exist! In addition, a large number of hotels in the resorts of Southeast Asia hold shares of the type "pay for five nights - live ten, and so on. D.". About discounts and bonuses do not tell them some unreal amount.
In short, the game is "the director himself," I really liked.
And the win was quite a noticeable! ..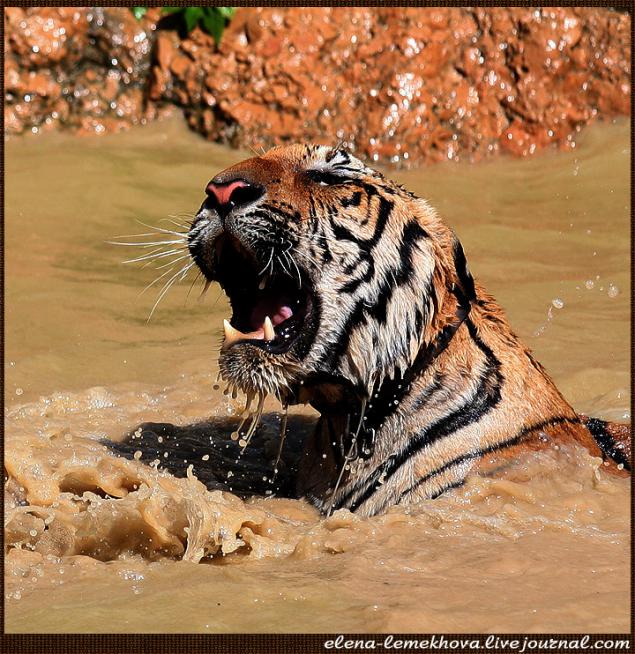 Tigers - even adults! - Very fond of milk. And happy to smack it out of the bottle with a pacifier. And the white tiger whiskers at this time drain mat milk drops ... wonderful pictures!
Feed them boiled chicken. No blood, no raw meat. On the day, perhaps this group in striped swimsuit eats a small chicken farm ...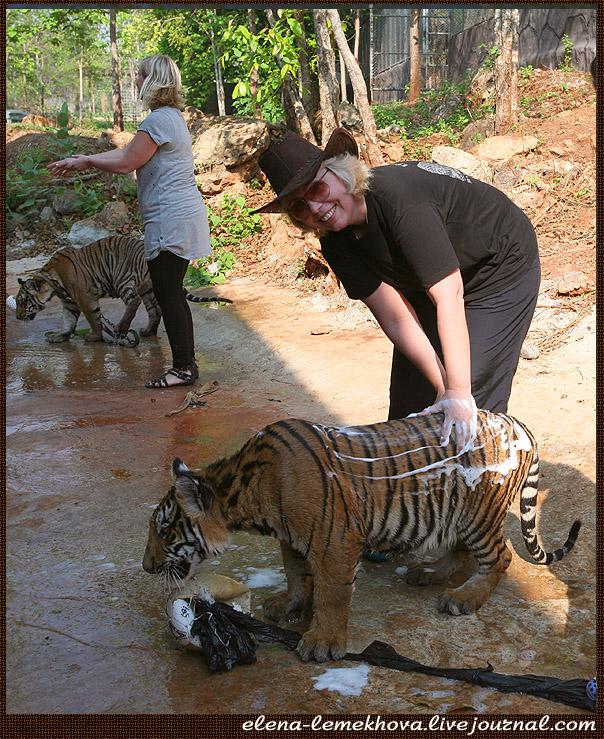 Ears tigers black. And behind them - bright white spots like eyes. This is so that the enemies know that the tiger never sleeps!
Although, what tigers enemies except man ...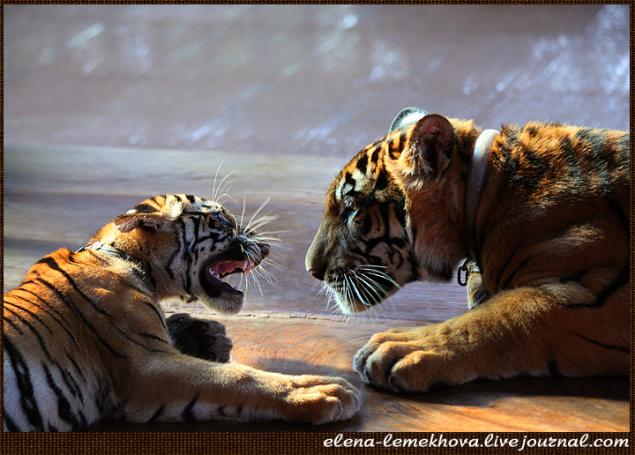 Now, when behind me dozens of trips and countries, to hear about the dangers that await domestic tourists abroad, at least funny.
Journey into the jungle far less dangerous than an evening walk on the streets of Moscow.
A couple of years ago I was in the Chitwan National Park in Nepal. There and the hotel itself, and all the tracks leading to it were shielded wire. At dusk on it indulged current - so that wild animals without an invitation is not frequented by tourists.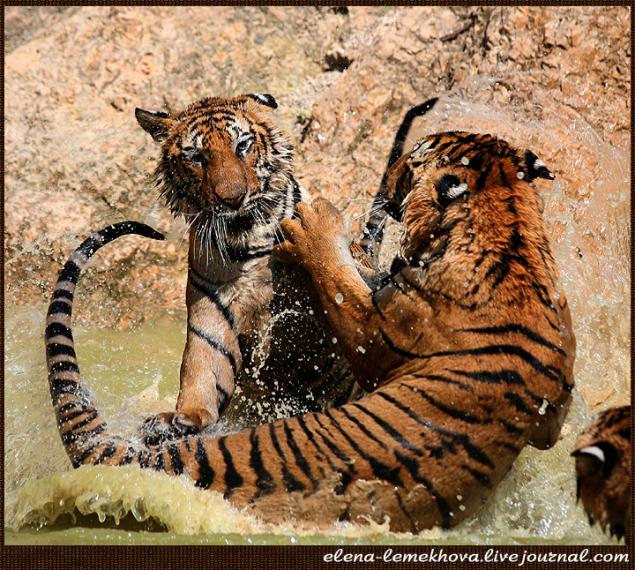 And no one - neither the one nor the other hand - never occurred to grasp at the fence or climb over it in the wrong place.
Nobody wanted to unexpected night rendezvous with a rhinoceros or leopard.
As a result, both us and the beasts was good - calm, warm and damp.
Why am I?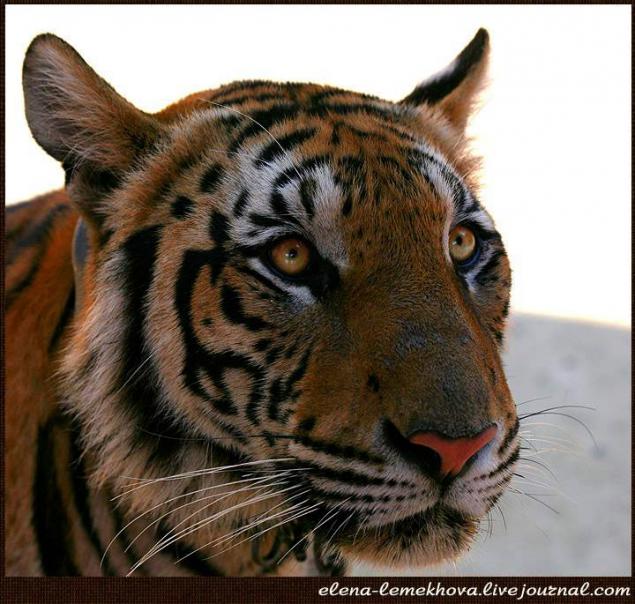 And the fact that the rules of conduct must be observed.
They are fencing in the reserve, indicate the direction and protect against problems.
In any country should not lose all sense of proportion and not risk unnecessarily. But the blow on the water for any reason, too, it is not necessary. And if you suddenly have a problem - people all around! You are sure to help.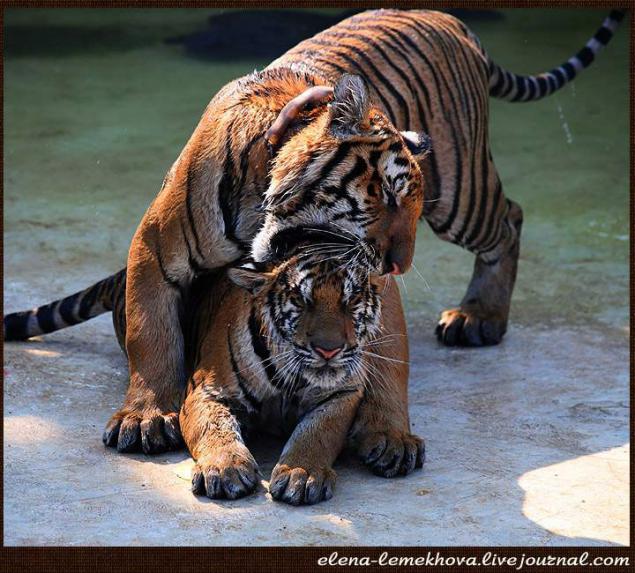 By the way, about the rules: in the voucher Tiger Temple figured very merry pripisochka: You are visiting the Tiger Temple on your own risk!
Like, if that - are to blame ...
But you see - hunting Forest bondage!
Incidentally, during the existence of Tiger Temple none of the rabbit, that is to say, the traveler does not hurt ...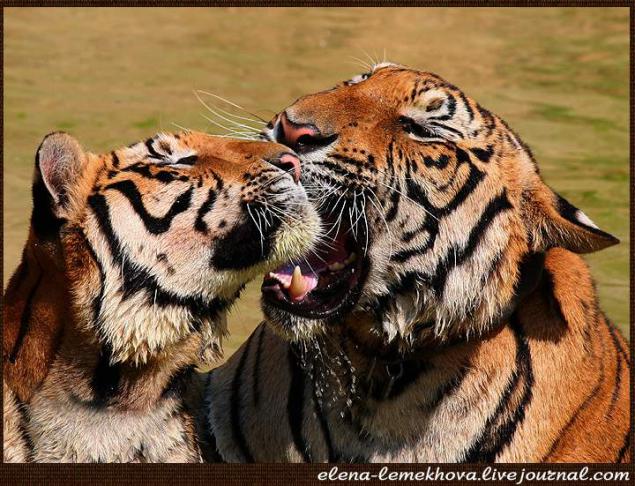 Rasprygavshis pool, tiger teeth grabbed a lady for pants. She at some point back to him, which is strictly prohibited. Although at this time all around the galloping, and it was unclear who to whom and what we should ...
Tiger clutched tightly, like a bulldog. He first long blowing the nose, then slapped in the face removed Vietnamese (touching sight), and the tiger just casually nozzles and snorted in response. Jaws of course he eventually let go - persuaded by common efforts, but did so with great reluctance ... "catch - so my!»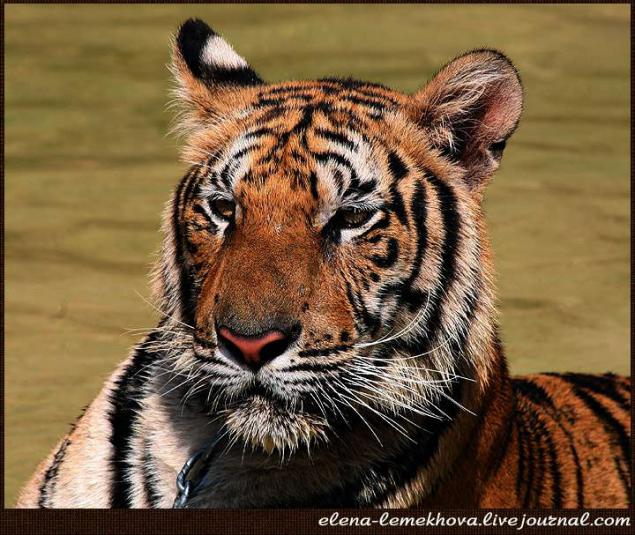 Well, how can we be when you were in school German, the university - Spanish, and at the moment there was only Russian abusive? ..
That's right - you need to learn.
But even the lack of English - not a reason to abandon the trip.
Fellow sufferers who know only the "how mach" and "GIVE mi pliz" still missing. In addition, it is possible to take a phrase book - electronic or paper - as appropriate. In the journey of learning a foreign language happens just the same with the astronomical rate.
And yet, if people want to understand each other - it will happen.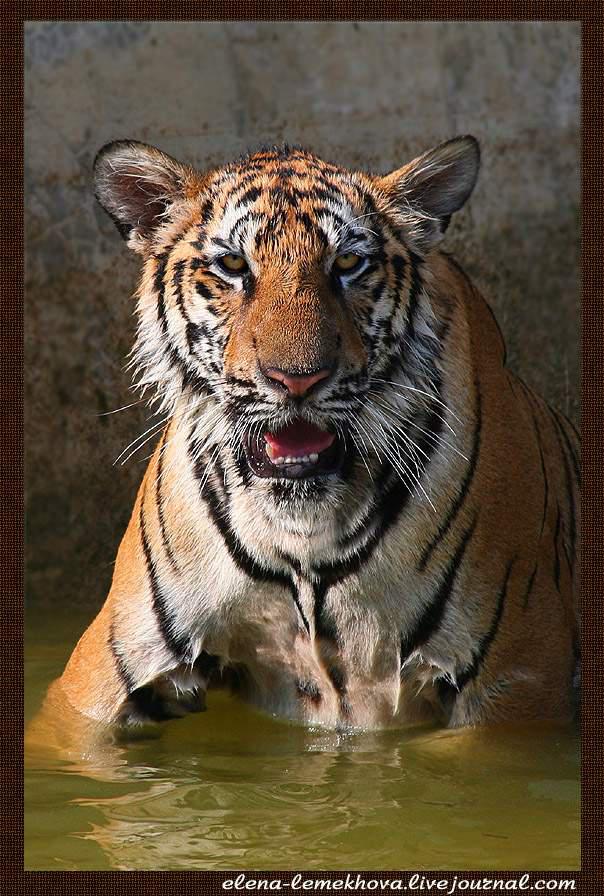 Source: