From LJ M.Zadornov. Painfully I liked the story about the cat
2 photos.
My cat and not a boy, not a girl. He - a man! With dignity. Even in March, does not run for the cats. They run after him. He's not a womanizer! Although sometimes something affords.
He tossed me my daughter. She was twelve. We sent her to summer camp, which in the Soviet past was called a cheerful word "pioneer." Now sad and unobtrusively - just camp.
We guard the camp were born kittens. Not of course, and his cat. He sold a few, but the latter, which failed to attach decided to drown. Money to buy food every day is not enough. When my daughter saw how the guard was carrying it to the pond fluffy miracle, like a kitten squeaked and clutched the lapels of his jacket, anticipating his death, she begged him at guard. The guard was delighted:
 - And you, girl, the money is there to feed him?
 - My dad is a writer. He has the money should be enough for a kitten.
 - And your father, the writer does not get angry when you do it shustriki podkinesh?
 - No, Dad listen to me. Dad, I almost handmade.
After listening to this conversation, Shustrik immediately calmed down and reached for her daughter. His eyes were vseponimayuschimi. It was felt that it grows not Everyman.
At first I called him Foundling. He is a reminder of a bad start life is not like that. Snorts. Daughter, after watching cartoons, called him Jerry. I do not like this was a nickname in the Western manner. I wanted to make it up to our, Russian man. El Foundling not hesitate, as if feeling - fees the writer on his prokormku enough. Therefore, I soon began to call it in Russian - Zhrun. And this name did not stick. Offended. The third name which stuck forever behind him, came up with Serge Drobotenko when he saw the cat in a businesslike pacing the yard, inspects the birds, communicating with dragonflies, thoughtfully looking at the sky, as if to recall the past and ponder the future life.
 - Name it - Reiter! He views the present writer. He is a philosopher, - noticed his fresh eye Sergei. - Solidly will! Reiter? - I called Serge. And Zhrun turned on his response. - You see, he's his real name!
Reiter lived in the courtyard so quickly matured and more understood in this life. So grow inexperienced youths, hitting into the army. Initially, of course, just scared, paw closed on dragonflies, bees hissed. Over time, I learned very quickly run away from the crows. My yard has become a real challenge for him. Reiter wised up, developed. Never sick. Only occasionally becomes sluggish against ticks. Then I came scratched and bitten on the foot spot. Mites were removed, and he again became hearty Reiter - a philosopher, it is important to walk around the yard. Within two years, she grew bolder, began to chase crows stopped hissing bees, with dragonflies learned to be friends, but from the dog barking in the street with dignity jumps on the tree like a real acrobat virtuoso and top proud, with calmness giraffe looked around dangerous clearing. < br />
My yard was for him the same "university" as a teenager for the military barracks. And he proudly stood even crows "hazing" - two years later began to chase them from the yard.
For good food quickly grew fat, posolidnel and began to look like a guard cat. Soon the gate, I posted a message warning: "Caution! The area is protected by a very smart cat! »
We all love it. For smart, soobrazhalku and dignity! As time went on. Reiter continued to guard the territory, without losing his philosophical outlook on life. In general, in fact, it was "a good man" with a good yard form. He was convinced that the main courtyard. Very surprised when something is altered in the garden without his demand. I watched him, often wondered: "What is so he made respectable in a previous life to deserve such a paradise in the present?" He was surrounded by a most interesting society. Many who had seen. Several times sat on the lap of Maxim Galkin. I went round and round Pugacheva. I did not dare to approach. Too much respected guest. A couple of times drove him away Ukupnik. One refused to go to the hands of Moses Bora. In general, repeatedly proved that he understands everything. This Mudryak!
Soon the warning on the gate I changed: "Caution! The territory is guarded Reiter! "Although Latvia is proud of the fact that it is a European country, but not all are aware of European languages. Unfamiliar "Reiter" alarmed many. Written in large letters looked threatening. Something like a very ruthless security.
In recent years, Reiter lives in a pyramid, like me. Only I'm big, and he's young. But for him it built. Winters are not afraid. Tempering! Only wool from the cold is even fluffier. Do not sneeze without coughing. This is understandable - it is always in the shade, not wrapped in a scarf as always sneezing Italian fashionistas.
He is not insomnia. Even during the day!
Better any modern zameritelya it very accurately distinguished from natural products chemistry stuffed. Polish sausage throw it - do not eat! Hence, I can not eat them. Do not drink milk powder. And the main thing - as soon as I'm in trouble, immediately suitable, rubbing against his legs, and through him all the troubles go in the ground. Psychic! Galkin thinks that my cat is not just wise, and Sage!
Water from drinking fountains with rooks. Rooks are not afraid of it. Understand that he is a strong personality, but because at every trifle lower than throw his greatness. Reiter also comply with the laws of the jungle - at the watering should all be friends. Perhaps in a past life he was either a jaguar or leopard. Ravens him longer ride up - they know that they will receive in their crow face.
A cat in the visitors still stare. But he does not allow himself ohmurit each. I particularly respect him for what he is not a womanizer. However, recently I came a young cat, a hair's breadth Reiter in his youth. I immediately understood - son. Dad was looking for. They stared at each other. Then Reiter took his babe in the pyramid. I think that in our district, outskirts of Jurmala already grows a whole generation of future writers!
The only thing that it is often distressing - I often absented himself for a long time. He does not know that I have to earn on his food too. Then mad somewhere disappears. Where to hang out, nobody knows. They say he once saw in a family where a lot of little kids shebutnoy. Apparently, educate them! But every time summer comes back.
And now ... It is no longer a few days. Therefore, using the power of the network and LiveJournal, sending him the message of "Reiter! I'm home, back. Waiting for you. With your pyramid snow melted. Soon your favorite rhododendron bloom. Start working waterfall-watering. Come back, and the rooks will fly and you do not. My daughter, when the calls, all the time asking about you - worrying. And the ravens in the face for a long time did not receive ».
I almost forgot ... I was in the store to give you a new "Whiskas". The saleswoman said - very tasty!
02.
Posted in [mergetime] 1301738884 [/ mergetime]
Learn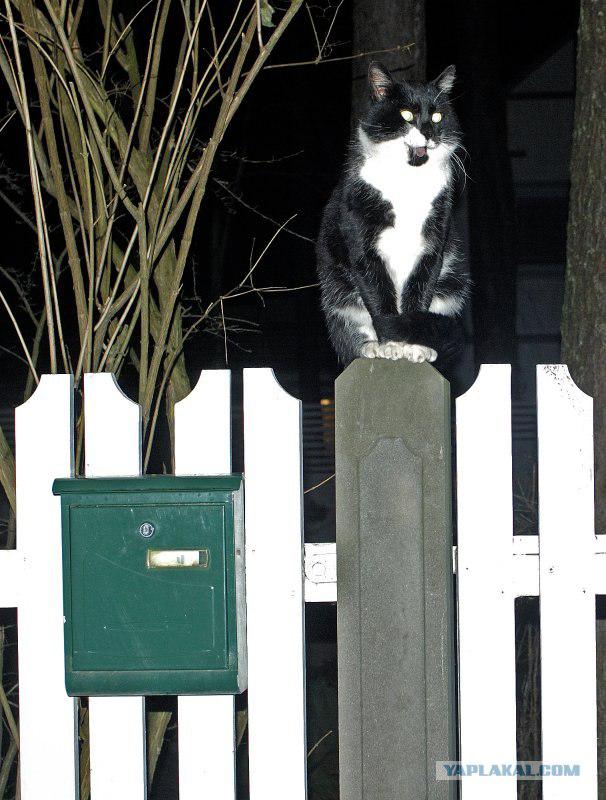 Source: