Girls from India, suffers from a rare disease that causes excessive hair growth, 3 months undergoing treatment in a Moscow clinic of plastic surgery.
Very interesting, what does our spices can help us if you can not cure?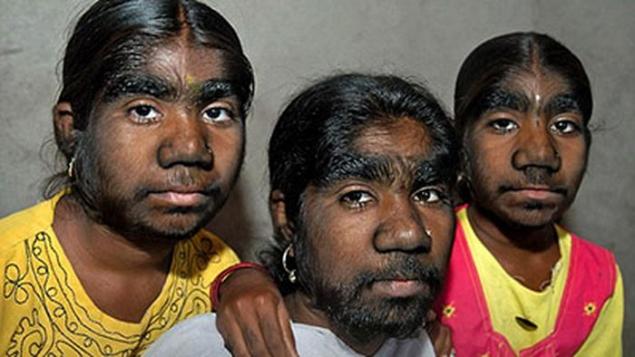 Moscow Institute of Plastic Surgery and Cosmetology took three unusual patsentok from India - Savita sisters, Moniz and Savitri Sangli suffering from a rare congenital hypertrichosis genetic disease, also known as the "werewolf syndrome».
Girl from a small village in the district of Maharashtra state, arrived in the capital in early June. Russian specialists will determine the cause of a severe illness, because of which the body and face of young Indian women is almost completely covered with thick hair.
 - Three patients 24, 19 and 16 years of age went to college at the beginning of this summer. The case is really very serious and unusual: congenital hypertrichosis affects only one person per billion. The first thing Savita, Moniz and Savitri sent for tests to the endocrinologist to determine the cause of the disorder. In the near future we will know what treatments will be needed to alleviate the condition of girls and return them to normal life in society - Life News commented Deputy Director General of the medical work of the Institute of Plastic Surgery and Cosmetology Valentine Zmazova.
Best Moscow physicians interested in the fate of the family Sangli after story "sisters werewolves" received wide publicity in the world press.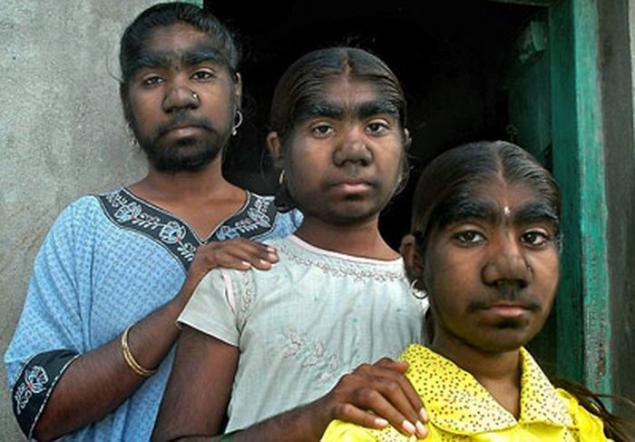 For a long time employees of the Russian medical institutions have been negotiating with the administration of the district, which is home to the girl. Jointly by Savita, Monisha and Savitri received the first in his life passports and visas.
 - It is difficult to even imagine how long it may take all of the medication. We expect to report endocrinologists, which will depend on our future actions. Girls will remain under our supervision, - said Valentine Zmazova.
According to close family Sangli, girls from an early age have tried to cope with the problem by using special creams that remove hair.
However, all their efforts were in vain due to the fact that shortly after the procedure in the same place the hair started to grow more intensively.
Disease sisters inherited from his father, whom their mother - Anita Sambhaji Bhosale Raut - married when she was 12 years old. According to Indian tradition, young girls can not see her groom before the wedding. Prior to the wedding ceremony she did not know about the disease of his future wife.
Ailment turned life Savita, Moniz and Savitri nightmare: peers mocked them in school. The older the girl several times lose their jobs because of the repulsive appearance.
According to his mother, she repeatedly sought help from the Indian specialist dermatologists to help her children, but none of the doctors did not take up this case.
 - When we found out that we are ready to help in Russia, they could not wait for this trip. I could not calm them down, so carefully they were going abroad. Russian experts gave us hope for a normal future for daughters - sure Anita Raut.
Source: lifenews.ru