Good time! I want to share my new hobby - an aquarium.
Decided to give his girlfriend aquarium for his birthday. Began to read various articles and watch stores, how much it costs. A couple of weeks thinking was heard a lot of opinions, but mostly negative. What they say, fuss with it will be a lot. But why do you need. A month later, all kick the bucket. Only a couple of people have said that it is very interesting and exciting thing. Shorter decided to buy anyway.
Thus, the aquarium itself - 90 liters with a lid and lamps. (In stock 3300 rub.)
The background (oilcloth on the wall), 200 rubles., Filter, also known as the aerator - 600 rubles., Ground - in different places, about 100 rubles. / Kg, it seems necessary to 6-7kg tablet for water treatment - 50 rubles., Thermometer - 100 rubles. Almost everything can be bought on the market in St. Petersburg Kondratieff (wanted to make a separate report on the market, but they can not take pictures, and to allow the shooting, the administration did not respond)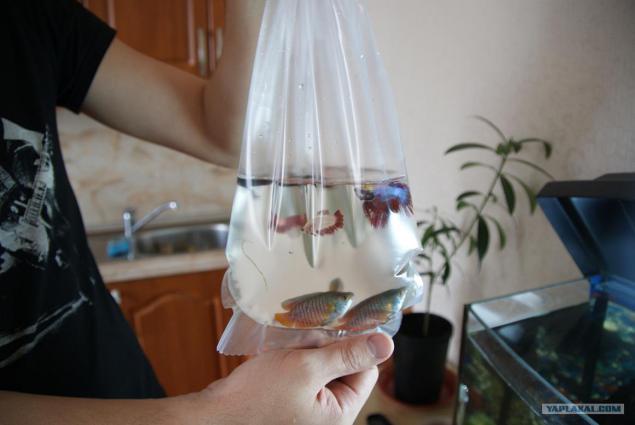 Aquarium washed, background pasted, soil washed and laid thermometer hung filter set.
It seems everything is ready. Poured water, threw a pill and turned on the light and filter. In this position it stood week. Watched all whether there is normal water and equipment. A week later went for wildlife on the same market. It turned out that animals somehow less likely.
Bought Neon - 300 rub. / 20pcs., Shrimp - 75 rub. / 3 pcs., Dwarf crabs - 100 rub. / 2 pcs., Red fish. - 100 rub. / 5pcs., Suckers (catfish) - 150rub. / 6 pcs. + Feed for all 170 rub.nu and like everything.
Threw all the aquarium, watch every 15 minutes. and the eyes rejoices.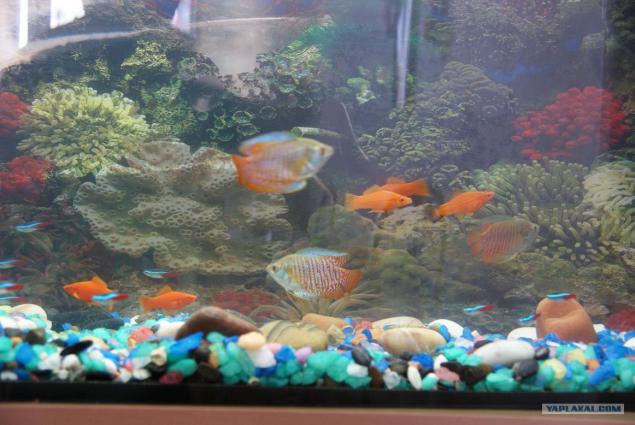 A week later, I decided to go and see the landscape. I liked the beautiful snag = 350 rubles. ((Sympathetic toad strangled, but bought. I thought come and throw it right to the bottom. Not a bit of it. It is necessary to boil it !!! 5 hours of very salty water, and then 5 times boiled in fresh, and then throw. In short everything done according to instructions, and put it into the aquarium. Crabs, shrimp, catfish stuck immediately ....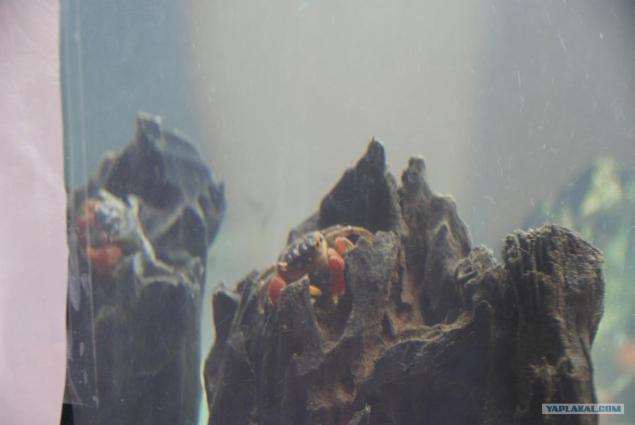 Next weekend went and bought newts 2 pcs. / 200 rubles., But they somehow just did not stick. One apparently crabs, injured and he died the next day, and the other ran away from the tank, through the very snag or climbing on the filter. Found it morning already dried up.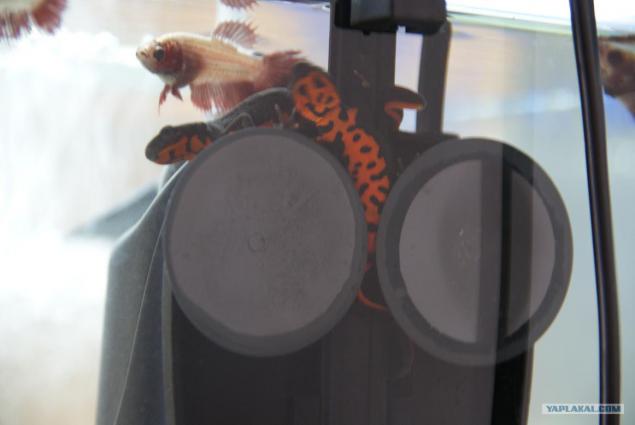 Then somehow drove and bought algae and leave it at that.
Aquarium stands now, nice and bright. Time it does not give special. Once a day to feed the animals, and once a week a little preventive maintenance for 10-15 minutes.
Outcome area costs about 7000-8000 rubles.
Do you have an aquarium ???
Source: