The beauty of the sea never ceases udivlyatOkean - endlessly amazing place and an equally stunning is playing ocean flora and fauna on earth. There are aquariums, designed specifically to showcase the beauty of the ocean around the world. Some of them are so impressive that they can compete with the beauty of Mother Nature.
1. Chiraumi Aquarium, Okinawa, Yaponiya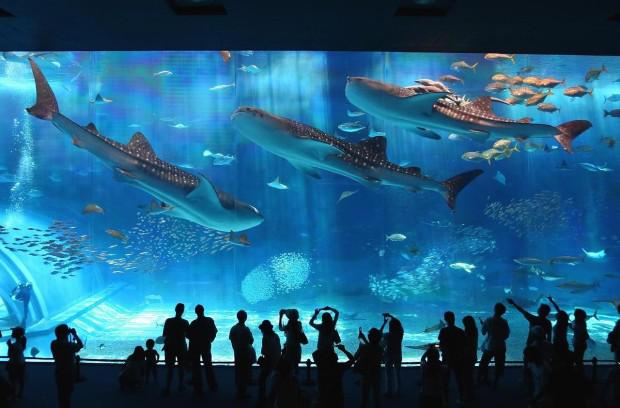 The Japanese are famous for their trendy designs, and the Okinawa aquarium Chiraumi is no exception. It was built in 2002 and used in the construction of the world's largest acrylic panel browsable. This aquarium attracts visitors from around the world. In it a huge number of fish, and many species of aquatic vegetation. In the aquarium you can dive, and there are still a number of activities that will make a visit to the aquarium is really magical.
Aquarium has been designed to mimic the deep sea. Kuroshio tank, which is the local main attraction is home to whale sharks, the whole shoals of sardines, stingrays, and other forms of life.
2. "Sea World Ushakov", South Afrika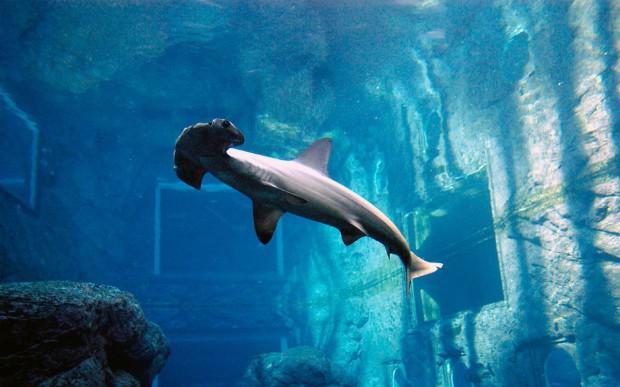 "SeaWorld Ushakov" is located in Durban, South Africa, and with an area of ​​16 km. sq. This thematic marine park was built in a wreck, and is divided into many different areas. In "Sea World Ushakov" you can dive with sharks, watch the show dolphins, feed stingrays and sea lions. The park has a "wet" section, which consists of water slides and pools. More in the park there is a shopping and entertainment center and playground, where children can be children.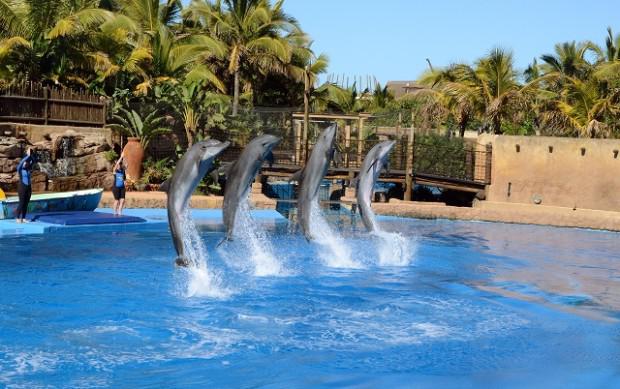 "SeaWorld Ushakov" has a lot of unique species of marine life, and visitors will be amazed by the vast collection of fish and other animals living in the ocean. In the aquarium, live as normal and completely unique species of animals, in addition, the aquarium serves as a refuge for the animals on the verge of extinction. This is a very impressive place, that will appeal to both children and adults.
3. Shanghai Ocean Aquarium, Kitay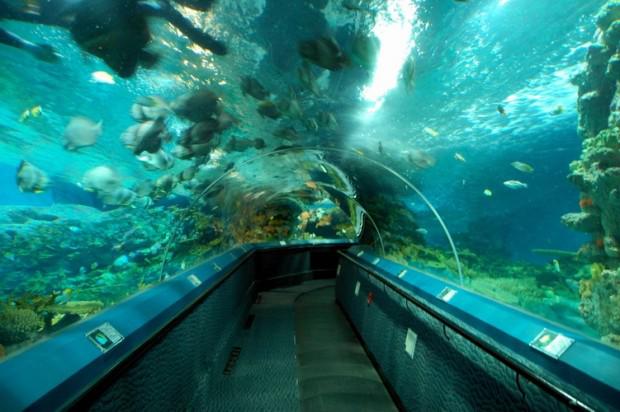 Shanghai Ocean Aquarium is 24 km away. sq. Water surprise. This aquarium exhibits the rarest animals in the world. Visitors feel excited when they see the Antarctic penguins, alligators from the Yangtze River and the giant salamander, a creature that is rarely seen in the wild.
The Shanghai Ocean Aquarium presents Chinese water dragons, white sharks, black and white rays. And yet this aquarium delights guests pedestrian tunnel, which is built directly inside the aquarium. A walk through this tunnel will make visitors feel like they are going through the aquarium tunnel provides an excellent overview and opened view will charm even the most discerning travelers.
4. Aquarium "Monterey Bay" Kaliforniya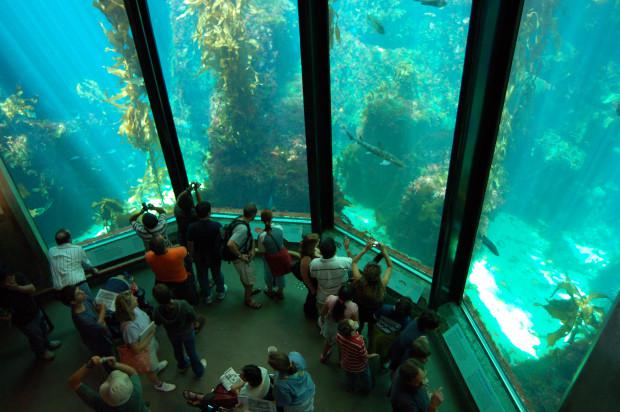 "Monterey Bay" is usually referred to as "a window to the wonders of the ocean." This aquarium - one of the most unique attractions of the west coast of America, because it has an impressive collection of aquatic fauna and flora. Aquarium also aims to find endangered species, and provide them with a favorable environment. In the aquarium, more than 35,000 animals and 620 different species of animals and plants.
"Monterey Bay" is not only a fun but also educational place for people who love marine animals.
It offers these people a unique experience.
Visitors can take part in feeding the animals, enjoy a fantastic show, or take one of the many educational tours. The aquarium presents whales, sharks, seals, octopus, jellyfish, sea eels and sardines.
5. Oceanographic aquarium Ispaniya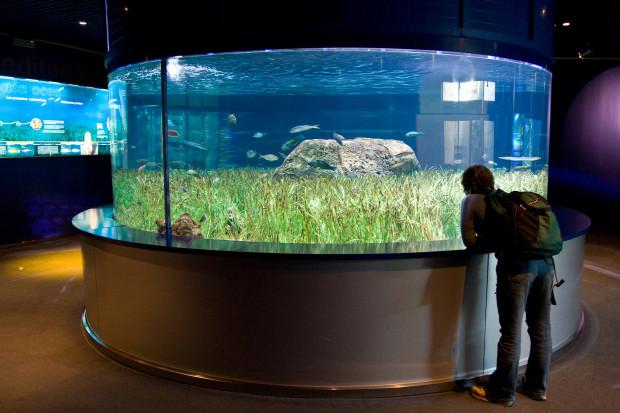 This aquarium - a paradise for lovers of water. He is one of the most beautiful places not only in Spain but also in the world. Visitors will be able to look at the schools of fish, which consist of both ordinary goldfish, because of the unique and very strange looking fish, which can only be seen in an aquarium of this type. Also, visitors will be struck by the awesome dancing seals, dolphins and penguins.
Spanish Oceanographic aquarium is the largest in Europe. It includes 12 buildings designed to mimic a variety of marine ecosystems. When visitors come there, they can be assured that they see all the diversity of marine life. This is not only of fish, but also birds, total - 500 different species of marine animals.
6. Sydney Aquarium, Avstraliya

The beauty of the sea was given a new definition to the Sydney Aquarium, which is located in Darling Harbour. This aquarium is home to 650 different species of animals. Since 1988 there is a total of 6,000 lives of animals. As you know, the Australian continent is home to some unique animals, and Sydney Aquarium best demonstrates this unique marine fauna and flora. The aquarium has a unique acrylic tunnel that visitors can walk, until the fish swim around them.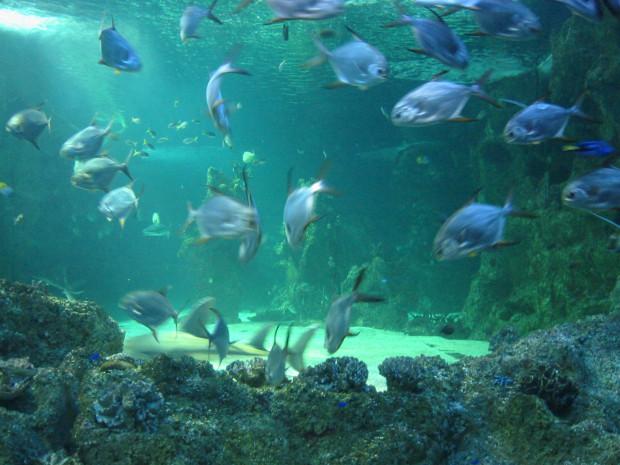 More recreated in an aquarium Great Barrier Reef, which is an integral part of the Australian coast. There, visitors can see the seals and penguins, both in the water and out of it. In addition, the aquarium presents different types of sharks, sardines, octopus, crocodile, stingray, and all this is sure to impress even the most discerning people.
7. New England Aquarium, Boston, Massachusets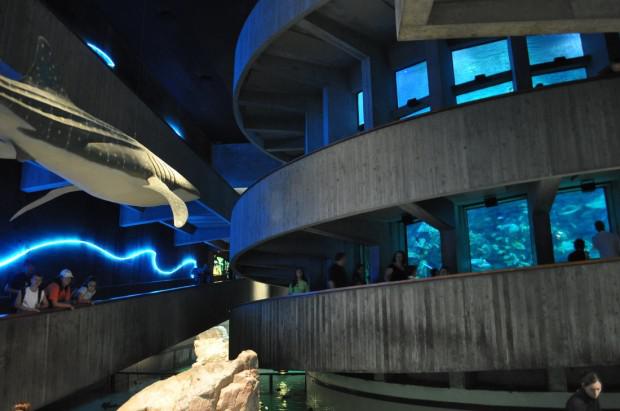 New England Aquarium is virtually indistinguishable from the natural habitat of marine life.
It was built in 1969, and it still is a refuge for endangered species of marine animals.
Aquarium made a real revolution among marine inspection panels, because they are there - cylindrical, and inside is an imitation of the Caribbean coral reef.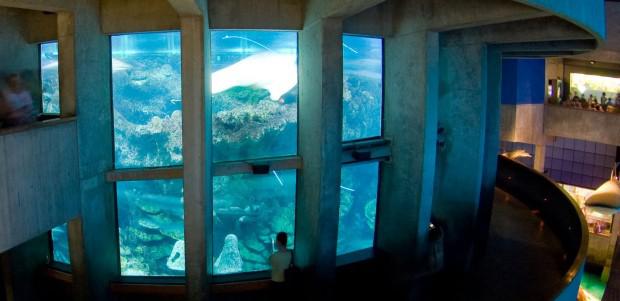 On this reef lives lot of wildlife, for example, there is a great white shark, beautiful and colorful tropical fish, sea turtles and octopus.
Also in the aquarium is an observation panel with an imitation of the South American river. There are anacondas, piranhas, freshwater electric eels, and much more.
8. "Two Oceans Aquarium" South Afrika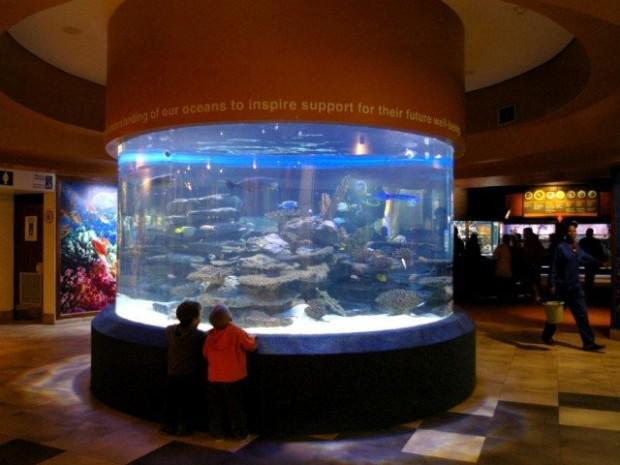 A Cape in South Africa is where the Atlantic Ocean meets the Indian. Warm and cold ocean currents meet, and create very favorable conditions for the prosperity of marine life.
But there is no need to do scuba dive to see this wonderful life because "Two Oceans Aquarium" endured this life on earth. The aquarium - six thematic exhibitions, which represent 3,000 marine animals. Among animals there are inhabitants of the Atlantic Ocean, the Indian Ocean, as well as the inhabitants of the rivers and forests of Africa. Thrill seekers can dive with sharks. You can also feed the animals and take a walk through the forest of kelp.
9. National Aquarium, Baltimore, Merilend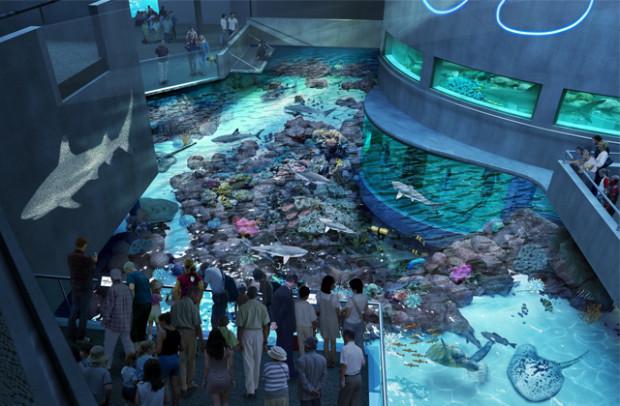 National Aquarium in Baltimore is one of the most complete aquariums in the world. It exists since 1980 and is home to 660 different species of animals. A total number of animals in the aquarium - 16,500 The aquarium is also represented and fauna of the rainforest, with various species of tropical birds.
It is there and the amazing tanks with sharks, a height of 9 meters. There you can see hammerhead sharks and deadly great white shark. Another unique feature - a reservoir with frogs, which presents the largest collection of frogs in the world.
10. Georgia Aquarium, Atlanta, Dzhordzhiya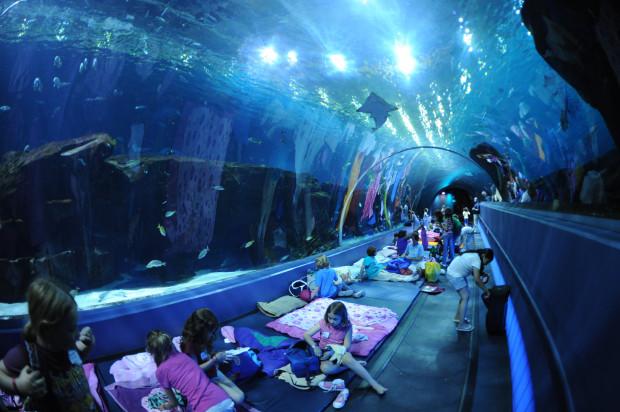 Georgia Aquarium - one of the largest in the world, it is home to the most endangered marine animals of the planet. Organised by the aquarium in the form of five different galleries. Gallery of ocean travel, gallery of researchers, gallery Tropical divers, gallery and gallery Scouts cold karst water.
In these galleries, visitors can see a wide range of animals in their natural habitat. Gallery of ocean travel is home to sharks and giant manta rays. In its 10 million liters of water, and the largest look-acrylic panels in North America. The gallery presents unique research animals that live only in Georgia, for example, lionfish and sea turtles. Gallery Scouts - are animals that can be found only in the rivers of Africa and South America. Also represented in the aquarium penguins, dolphins, and other amazing sea creatures.
via factroom.ru