He returned with his first watch. Here you reportazhik. All photos were made on a smartphone, so the quality is no excuse, will sometimes pictures of instagrama, some people are allergic to them.
I'll tell you how to arrange it as was the first watch, and about the conditions of life. Warn that directly on the work itself and the production will be nothing - information security policy (
It will be about 40 photos and text.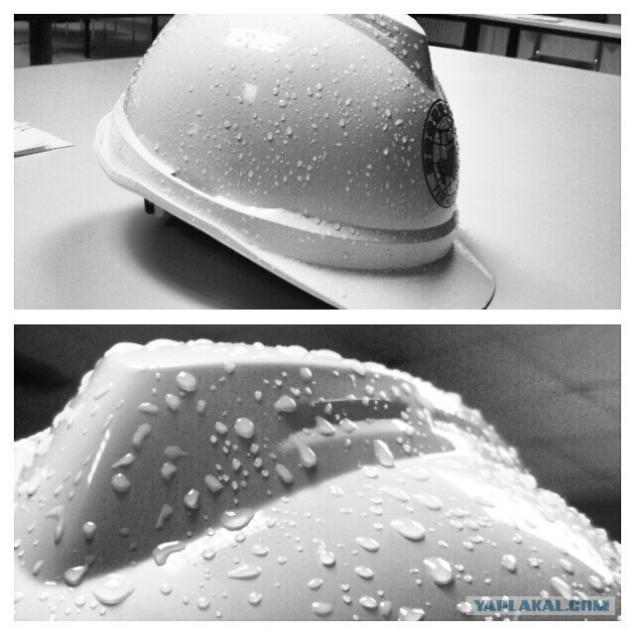 2. About.
Tengizchevroil (TCO abbreviated [te-she-o] or TCO [ti-si-o]) - a joint company was established 20 years ago, Chevron Corporation and the Government of Kazakhstan. Then Kazakhstan sold part of its share of Exxon and Lukoil.
It would be called the topic "Kazakh-American oil industry", or even "the US-Kazakhstan." 2012 TCO extracted about 25mln.t oil and gas producing and processing, sulfur.
Anyone interested in the Russian site here
www.tengizchevroil.com/ru/,
and we move on.
Posted in [mergetime] 1376449795 [/ mergetime]
3. How was arranged.
He graduated with grief in half znametuyu "oil stove" of "Chemical technology of natural energy resources and carbon. He defended in December. Rested for two months, the benefit of the Kazakhs have a tradition as "korimdik" - this is when a relative give money for what you tell them pokazvaet some important crap, such diploma.
In short, I began to search for - throwing a resume. It suggests that the TCO is set. Otprvil, called, called the selection of Atyrau (ex. Guryev). I myself Guryev, but recently living in Astana. Distract sorry.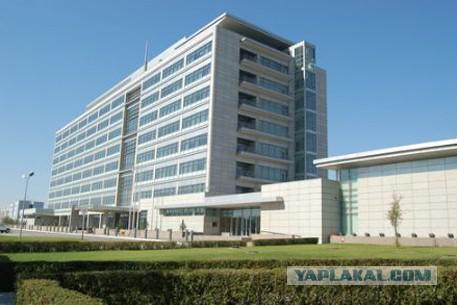 4. Selection
The selection took place in three stages: tests, computer simulations, Interview. Later we are told that only the position of the operator tested 999 people, of whom chose 64.
Tests
A total of 4 tests. The first two: the logic and the ability to work with numbers, they began early in the morning, or 7, or 8 in the morning. Then we were released and told to go back to 12 hours. We read out the names of those who passed and asked to come in half an hour. At 14 o'clock we sat down to take the second 'understanding of the mechanics "and the third" Problem determination ". At this point, our ranks have thinned - 36 out of 60 left, then we will have 18.
Testing
Posted in [mergetime] 1376450079 [/ mergetime]
Computer simulation and interview
Computer simulation "cobra" - used in different variations Chevron and several other oil companies to check on stresoustoychivost hired operators.
What I gave is a remote control the most simplified installation refinery. Created different emergency situations where it was necessary to quickly solve them, nothing exploded and without spilling. Cobra took 4 hours and the results announced the next day, set a date interview. All selection stages spread out over a week
Before the interview worried much. We had to respond to the various questions of the commission of five people - 4 tough oilman and one eycharovets. Not to say that it was difficult, but certainly not easy there.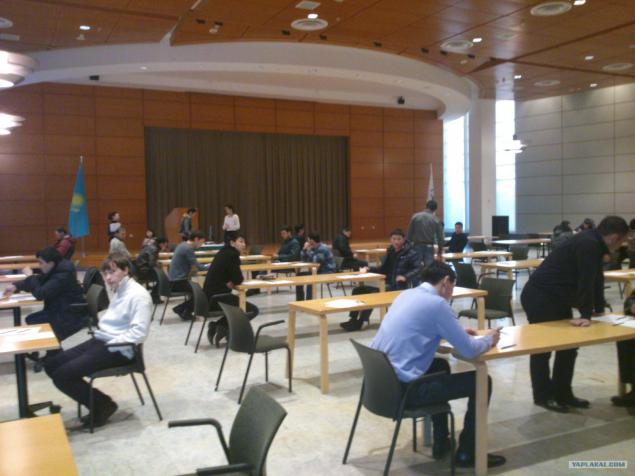 People
Tengiz employs people from many countries. Expats from the United States, England, Italy, Turkey, Hungary, and others. A lot of Russians and Ukrainians - they work there before the arrival of the Americans, arrived there on rapredeleniyu at the Union, but most certainly make Kazakhstan, and contractors and subcontractors mainly Kazakhstan . Here is working a whole army of multinational oil companies and the army is one of those who serve the oil industry.
Languages ​​spoken Russian, Kazakh and English. Expats speak English, the rest speak a mixture of all three languages)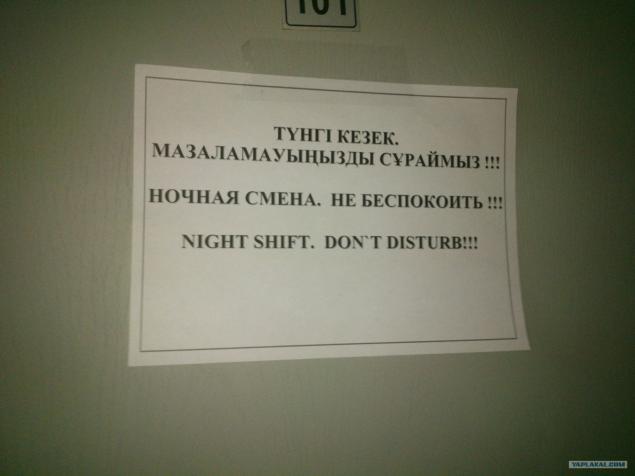 All labels are made in 3 languages.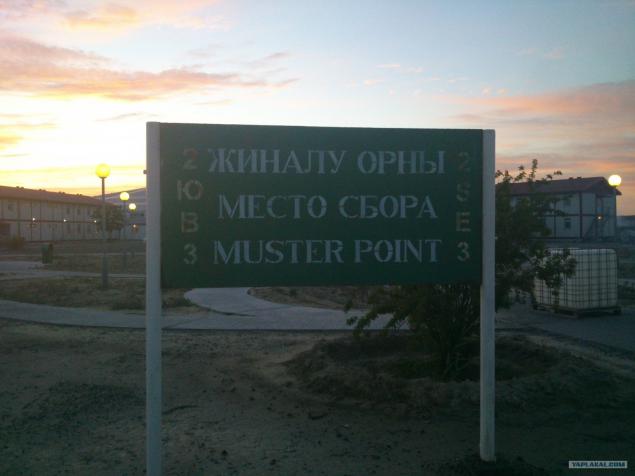 Climate and road
I forgot to take pictures of nature, but those who were there probably will not lie. This part of western Kazakhstan - a solid semi-desert, ispischrennaya solanchakami. Pyatidyastigradusnaya heat, but closer to the Caspian Sea is a huge mosquito humidity and clouds. The most common tree - a telegraph pole. There was only one photo, made out of the bus window. Tengiz workers deliver their buses Atyrau-Tengiz or your perevahtovachny train Kulsary-Atyrau, Kulsary by a further 2 hours before the Tengiz. The bus journey takes 4, 5 hours on peoezd bus 6 hours.
Cult TB
In the early days was not feeling that he was in the sect, the supreme deity of which is "Safety". This morning prayer dedicated to the deity "Minute TB" and for good reason production is very dangerous. If TB is the presiding deity, the supreme demon is "Hydrogen sulfide" - extremely dangerous stuff. I must say that TCO in good security succeeded, there is some rating angry hazardous industries, according to which the TCO of the five best companies in the world.
TB is the cornerstone. Freaks like in this thread here is not a ride, get fired.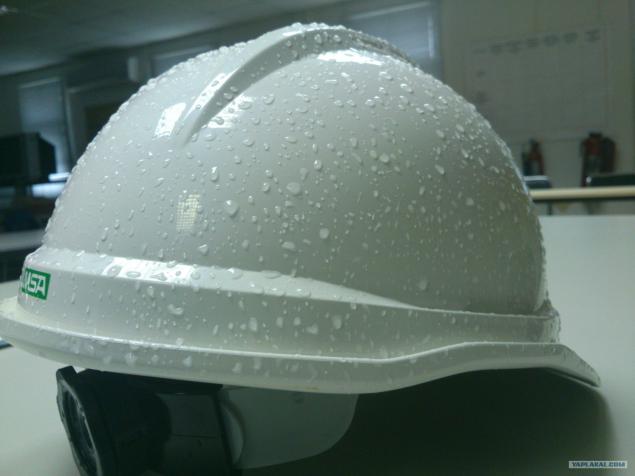 Gen. Shift camp "Shanyrak"
Here someone has laid out the location of the village. map
wikimapia.org/16587721/ru/%D0%92%D0...%80%D0%B0%D0%BA
The village is five sets of "domes" (Dome-1, 2, ...), the Russian-speaking call them just a house-1, 2, 3, 4, 5 when viewed from above the house look like the flowers in the petals of these flowers (in the blocks ) are living rooms, and in the middle of the dining rooms, gyms, fitness, recreation facilities, as well as various communication; separately standing building cinema, swimming pool, bakery and so on. Shanyrak is far from full production in a safe area.
Next are pictures of Shanyrak.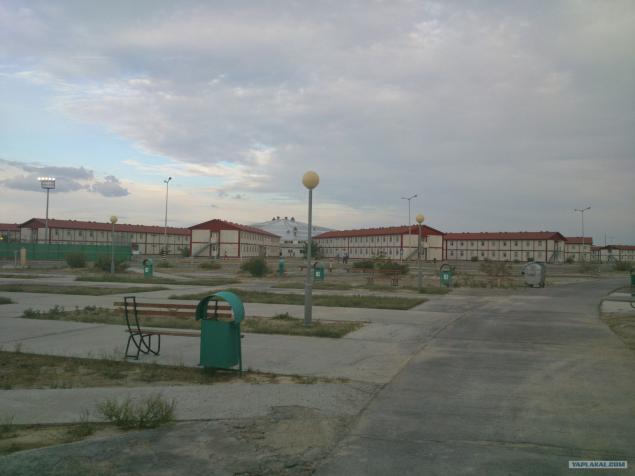 Cinema. Sometimes, there are conducted briefings and workshops.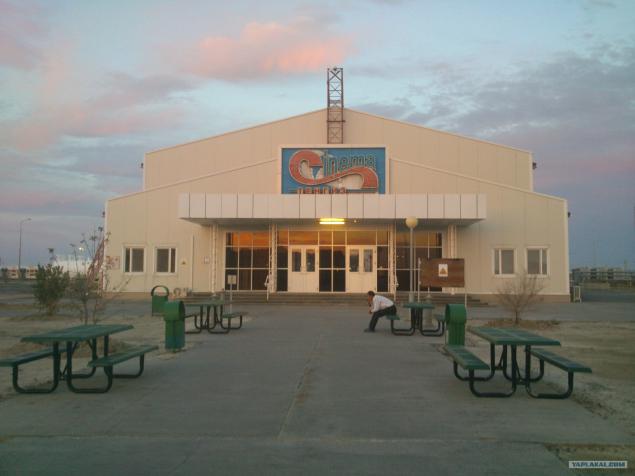 Pool. Inside something not thought to photograph.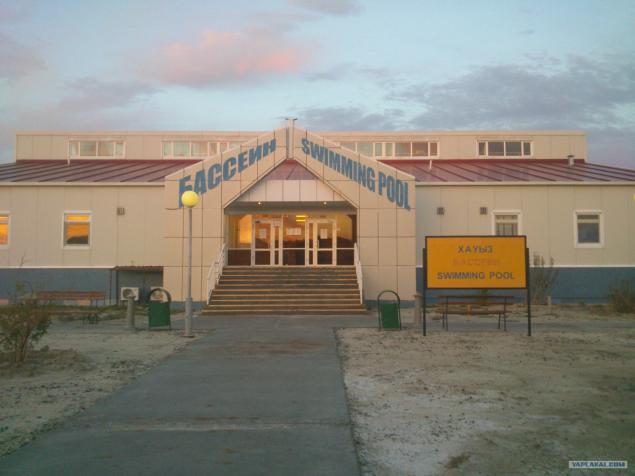 Gym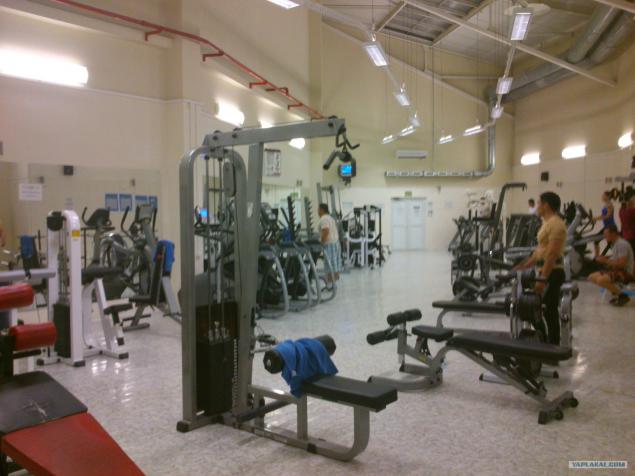 Again gym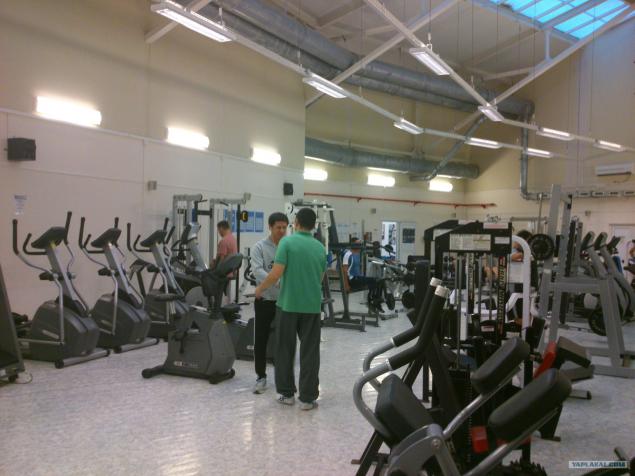 Football field. Also located on site, there are two, maybe three, I do not know exactly, tennis courts and a beach volleyball court.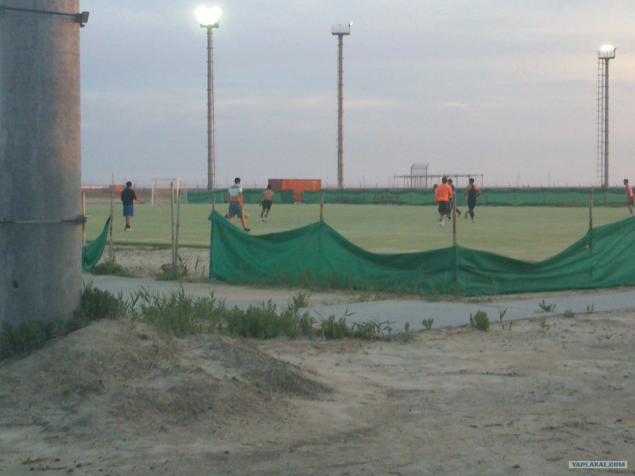 Room.
We live for two people. There is a refrigerator, TV, air conditioning, 2 lamps, furniture. Is now undergoing a period of training, when I get to work immediately, will see his changer only in the factory will be the one in the room.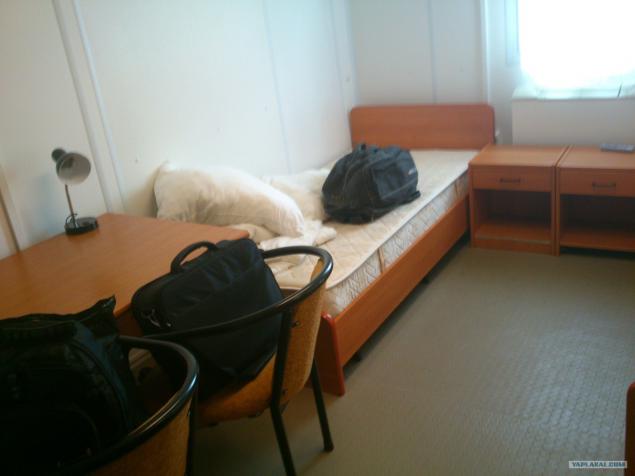 The maids come every day, make cleaning out the garbage.
Photos of the room made the day of departure, the maids had already removed bedding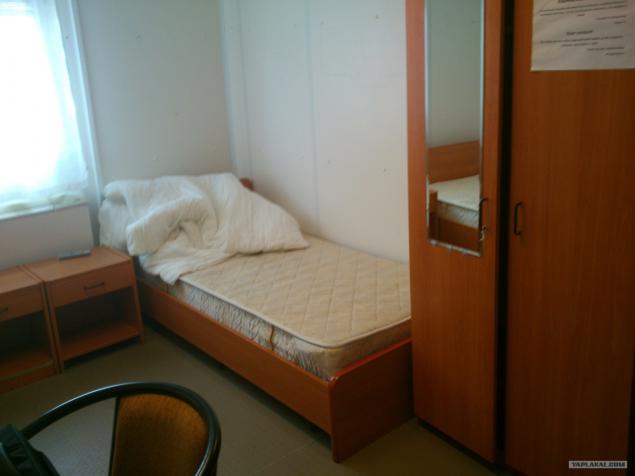 Laundry, put your things in the bag room number refers to cart the next day bring stroked. Laundry is open every day except Saturday, though I could be wrong.
Again room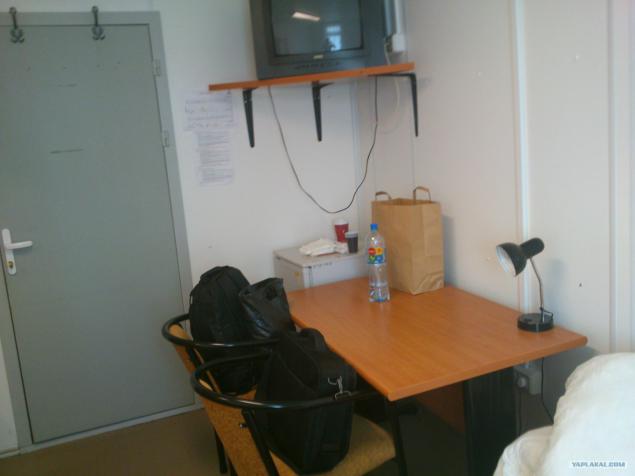 Place for barbecue.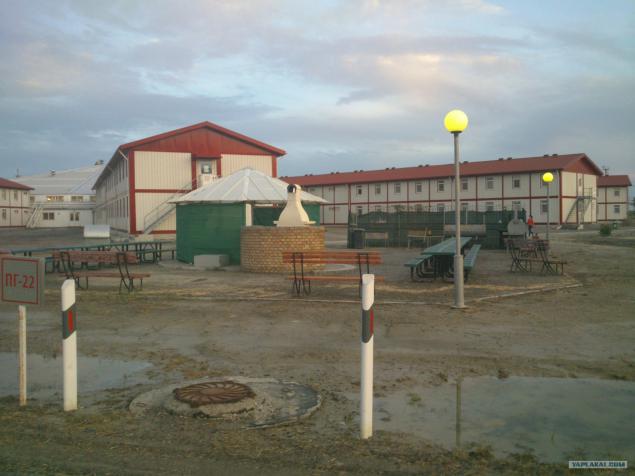 Power
As a person who was most recently the Moscow student, about food I can say only one word - fucking!
All life in TCO is performed using email cards - pass to certain areas and facilities; Seen trenazherka or pool; food. Punching power can pass for 3-4 times a day.
Menu always varied on vydor 4 dishes 4garnira, 4 salad, fresh vegetables. Photos collected somehow spontaneously, almost did not take off table.
Zatrak.
Typically, 5:20 went to take eggs, bacon / meat patty, oldi / pancakes, cereal, latte and milk / juice. If you take take-out, there is more choice, you can take yogurt, KIFIR fruit.
clumsy left picture, sorry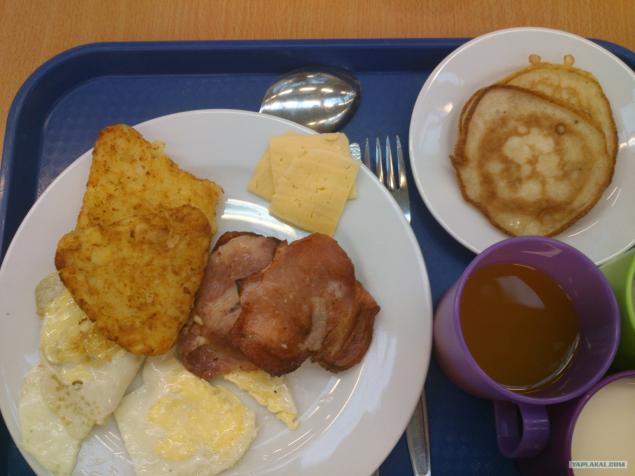 Lunch.
Lunch was from 11 to 12. The dinner is not shanyrak and PTSHO
February 1 dishes to choose from, and the second 3-4 dishes to choose from, 4 salads, desserts, drinks, milk.
Dessert on the day that is not wanted.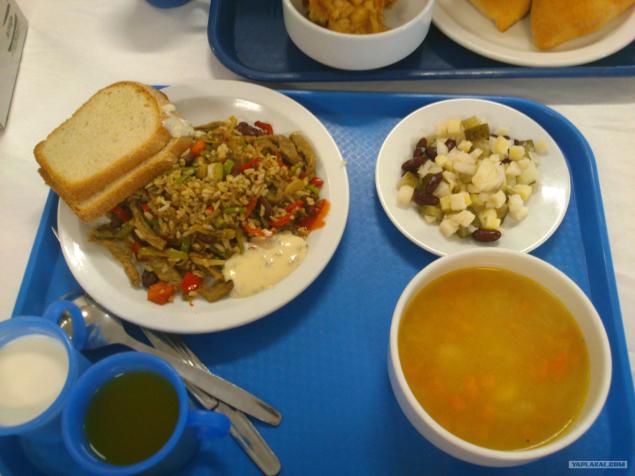 Dinner. Same as lunch, but poured himself less soup, sometimes did not take dessert.
a second dinner. in the day when I go to the gym taking himself another dinner with him into the room. eat before going to bed)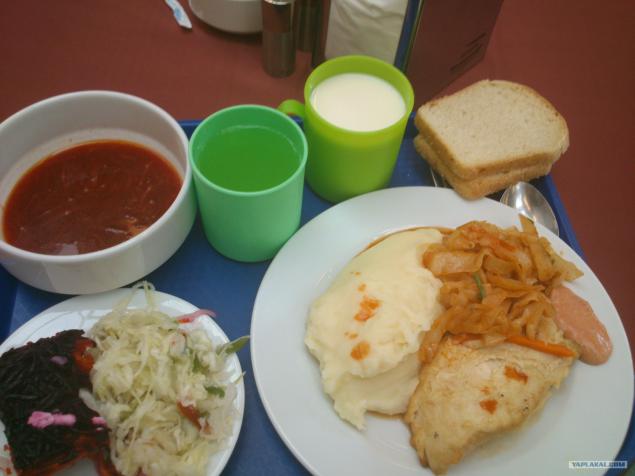 And in the dining room PTSHO (there working administrative staff tebeshniki group competency development) food can be cooked right in front of you. You choose the ingredients, meat and fruit that you have chosen right in front of you there together fry, add spices that you choose.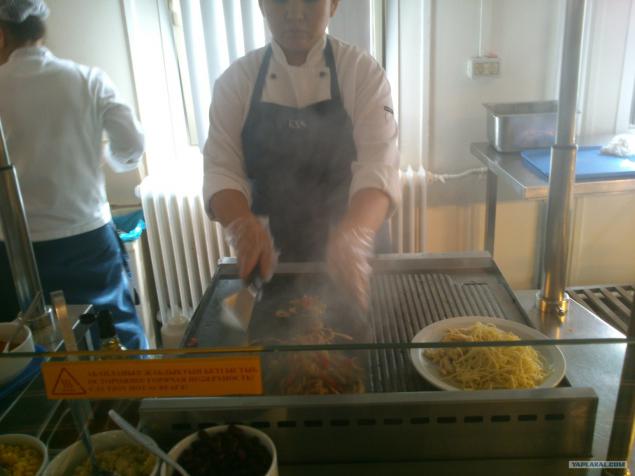 Work (Training)
The first watch we are not allowed to manufacture until completing a training course on "Basic course". Lectures, trainings and tests. Learn TB Prombezopasnost familiar with the basic equipment, learn first aid, put out fires, working in air-breathing apparatus.
Next are pictures from training.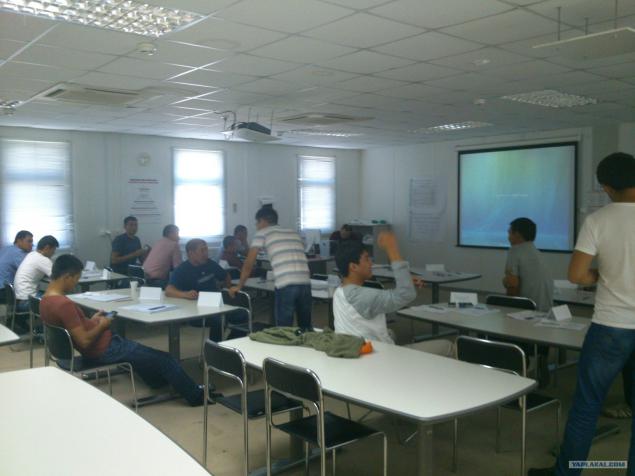 Educate us Competence Development Group (GDC). 90% of former production workers.
In the photo, I was blown rubber woman. Mechanical ventilation.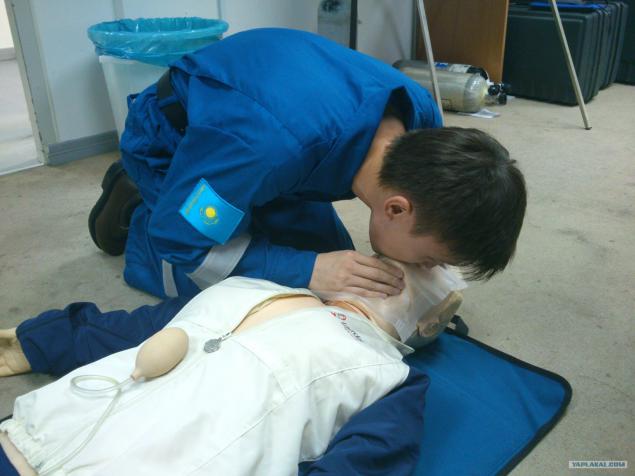 We were 16 people, all from western Kazakhstan. 2 have specialized secondary education, higher education in the other. Basically finishing local universities, three graduated from the Almaty Polytechnic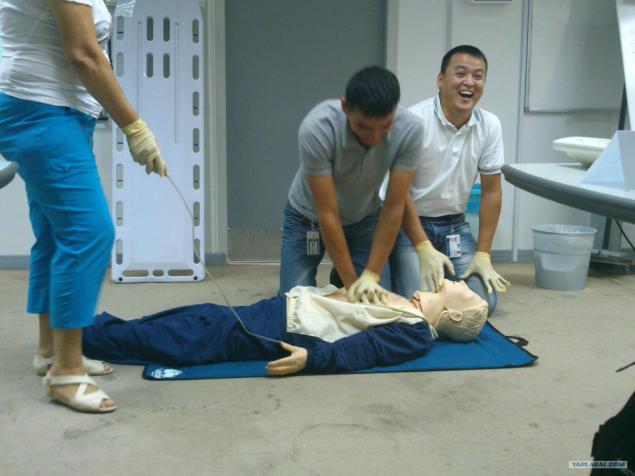 Most have experience in the oil industry for 2-3 years. The oldest Maksat (Mac) - he was born in 1983.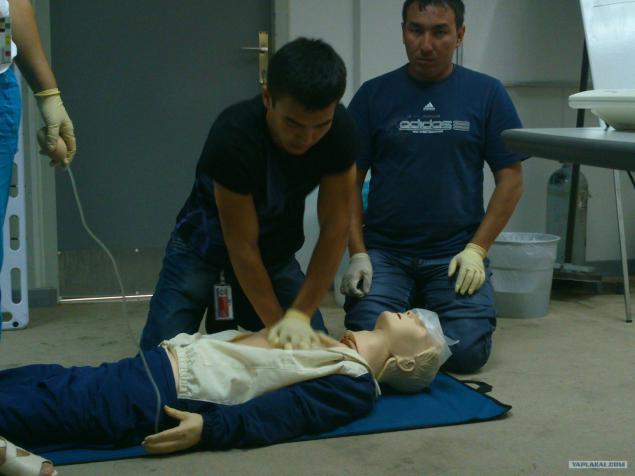 the youngest Zhandos. Born in 1991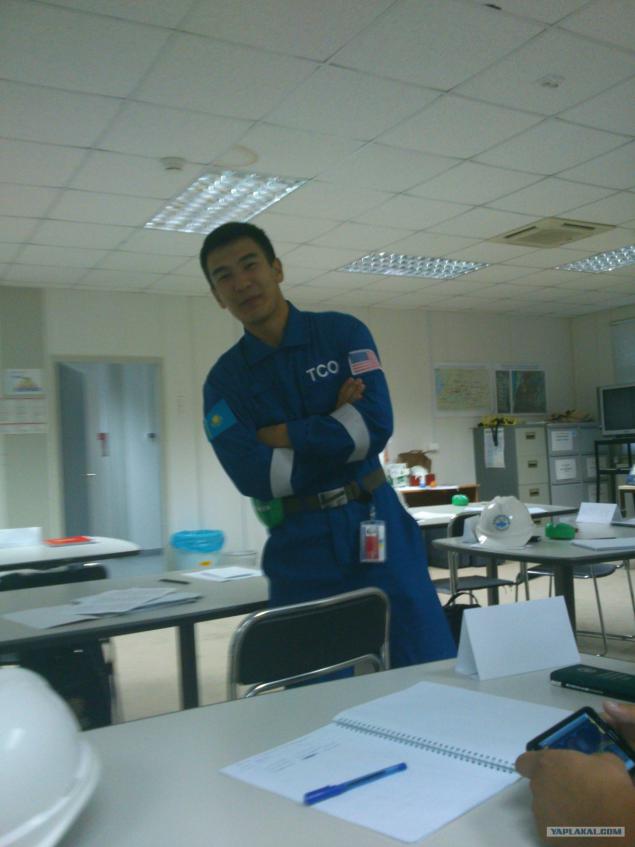 In these boxes are stored self-contained breathing apparatus (SCBA). When an industrial accident may be released hydrogen sulfide, some work should be done only with special equipment.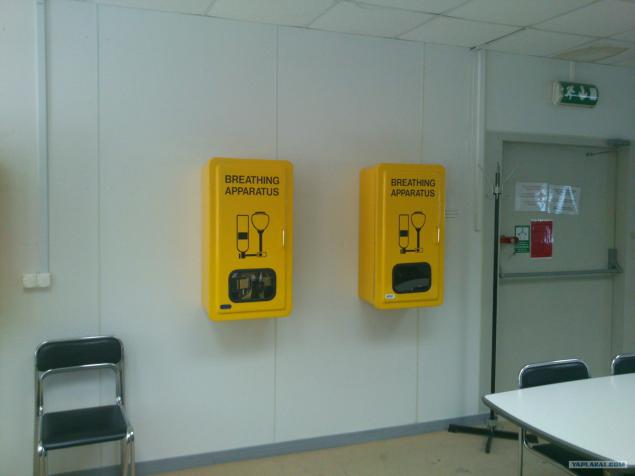 Personal protective equipment (PPE)
Legend industrial safety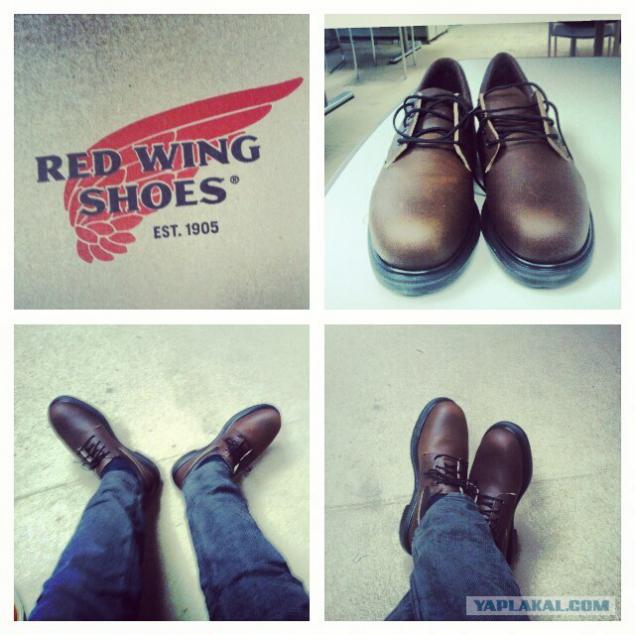 Minifilters - fast transient protection against hydrogen sulfide. It can withstand 5 minutes at concentrations up to 900ppm. disposable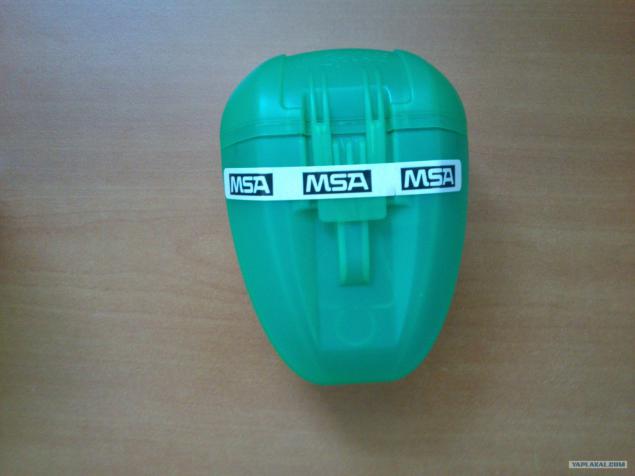 Other PPE:
Overalls fireproof fabric;
Helmet;
Protective goggles + same blackout;
Gloves.
Birushi.
The device is a yellow gas analyzer. He starts to squeak at a concentration of hydrogen sulfide over 7ppm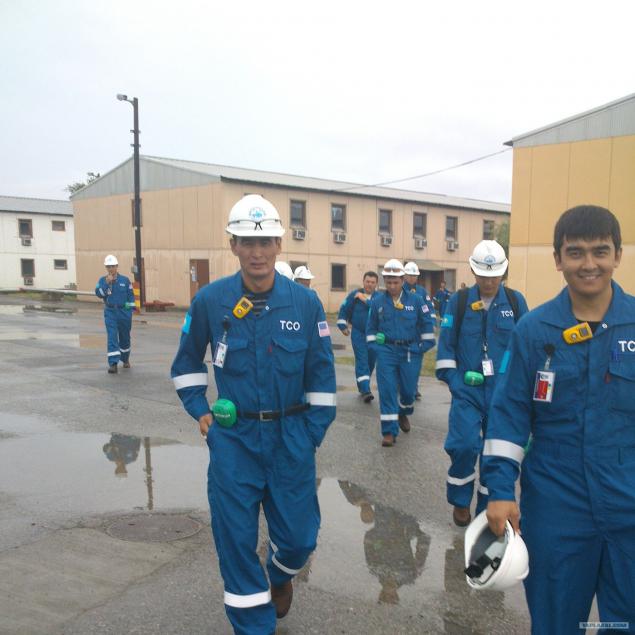 Teaches you how to extinguish a fire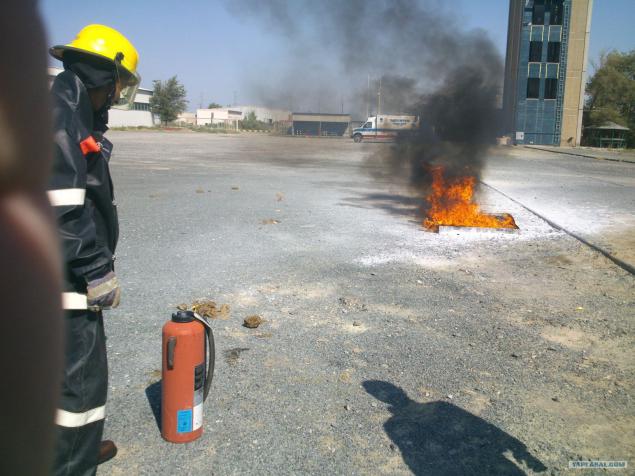 Fauna
Krovosusoschie - mosquitoes and midges, because the sea is 30 km from shanyrak, marshy land there, but can not be called full-fledged marshes. Morning and evening high humidity. On the second day we all stay vydli bolonchiki with a protective agent. On the territory and devices installed in buildings to control mosquitoes.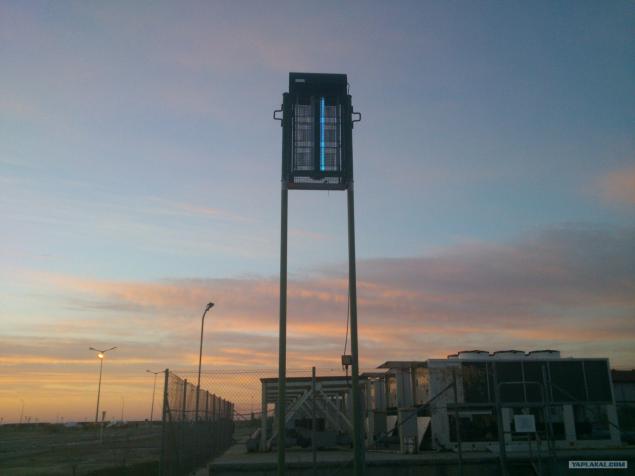 The devices can not cope, we have to veer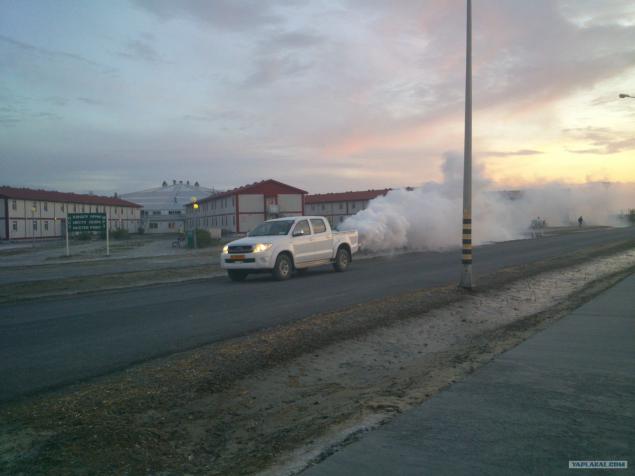 Scorpions, tarantulas, phalanx.
It is recommended to go strictly on the tracks, watch your step and wear closed shoes, as well as to check the bed before going to sleep.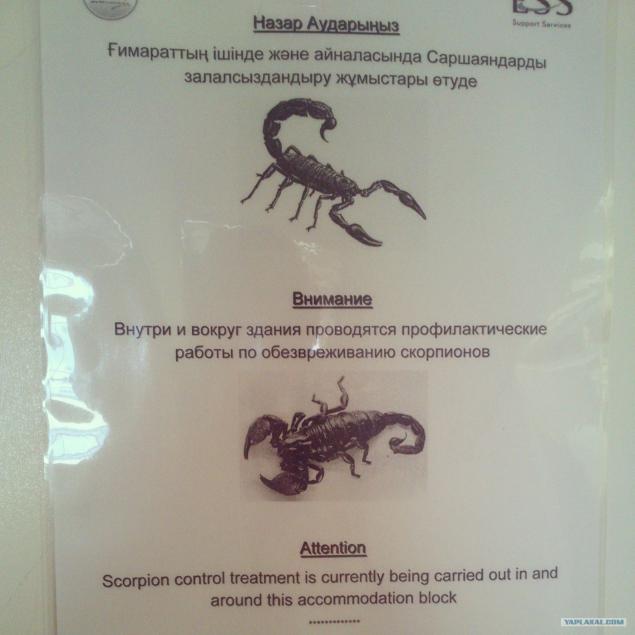 This is a dead scorpion photographed in the hallway, the living did not come across, and out of season now - the invasion of scorpions is in May-June.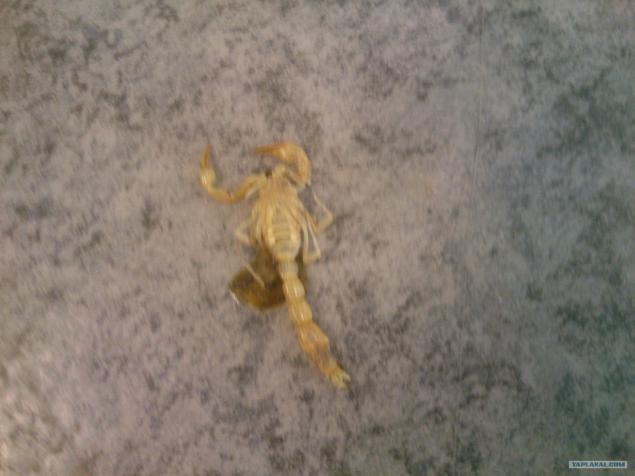 Lizard length of 22-24 cm. It caused a few people interested, but I'm a city-dweller, it's a wonder to me.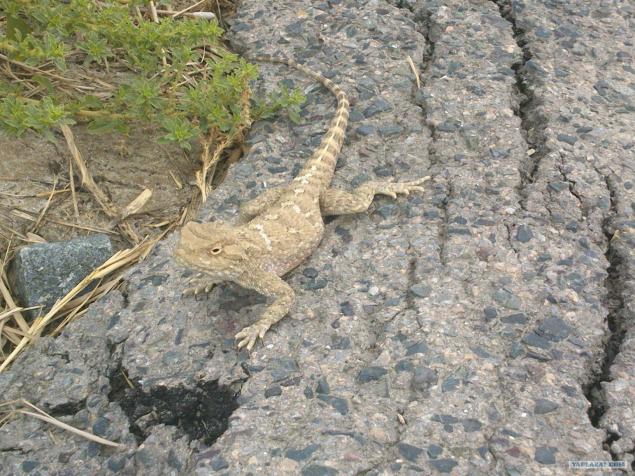 Tsobakeny.
Pets are prohibited to hold or feed on TCO facilities, but nevertheless sometimes rub the dog near the entrance. Heat rest in the shade of the trees.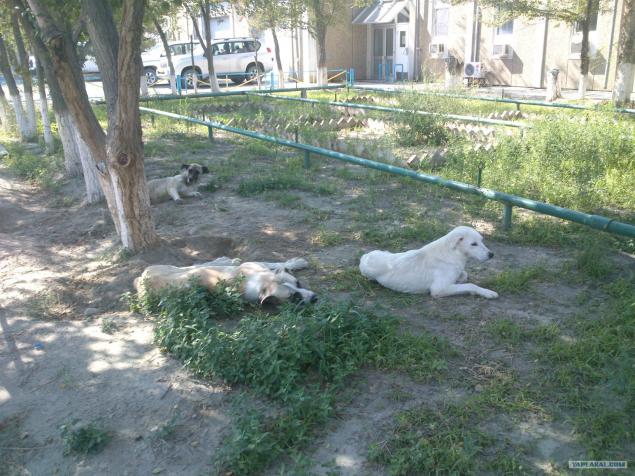 His Majesty kote.
I saw two koteek in PTSHO - not very sociable.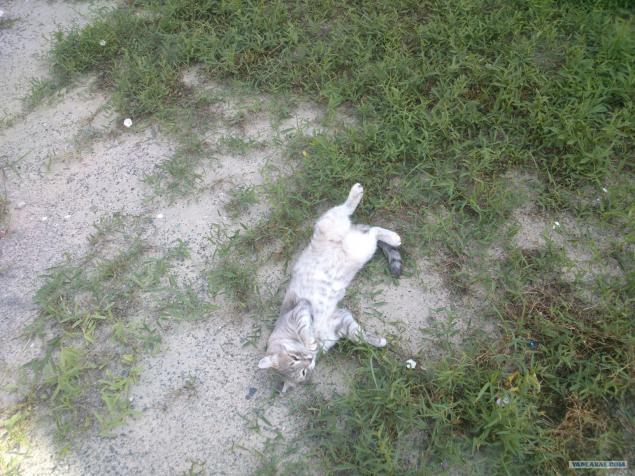 Zarlata
I have no right to disclose the amount. Let me just say that by the hour, night x1.5; x2 overtimes and red days on the calendar; + allowances for shift method for hazardous conditions, premiums Seyfti, 13 salaries, bonuses on the day of petroleum in the amount of salary.
In short, I think the average worker gets more than the average employee in Atyrau TCO's office, although I could be wrong.
Since I have not worked in the workplace, I not getting much, but my salary is more than srednekazahstanskaya. Each year, indexed, usually raise a higher percentage than the official inflation rate.
Social package.
Medical insurance for the family, payment of recreation for children, grants for education for their children and so on. I want to take advantage of a fitness program - you reimburse the costs of a fitness to 137MRP = 230tys.tng year.
Like all, you can komenty. Who can look missed something.
photo on the last hours before perevahtovki. We go home after 14 days of rest back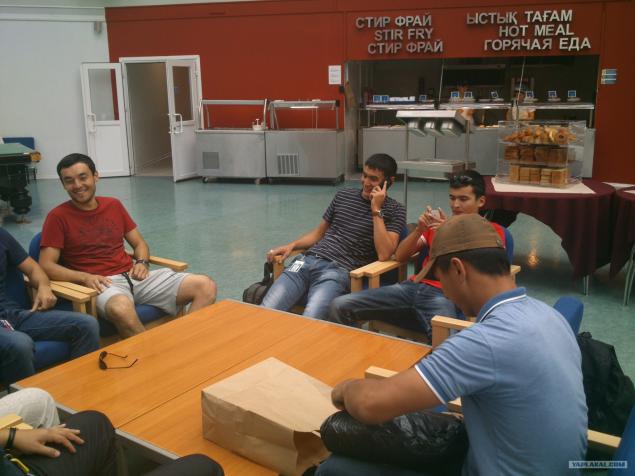 Source: