About Sakhalin say that everything is eaten caviar ladle of buckets. For breakfast, lunch and dinner. This is actually a myth and tales: red caviar is not included in the daily diet of the islanders. They, like us, people from the mainland, eat it on holidays and mood. The fact is that the eggs are not so readily available, as we fantasize.
But anyone who departs from Yuzhno-Sakhalinsk, certainly pulls with a few kilograms of relatives and friends. It's true.
I had a chance to visit the fish factory in the outskirts of the city Poronaisk. After this story you like caviar or even more, and once and for all stop it there.
23 photos will be to comment author
1 Fish enterprises on Sakhalin much, a few dozen. There are big players in this market driven products to the Russian regions and even sold abroad, there are those who work in the area. There are smugglers itself.
2. I have been on a medium-sized plant, which employs about fifty people.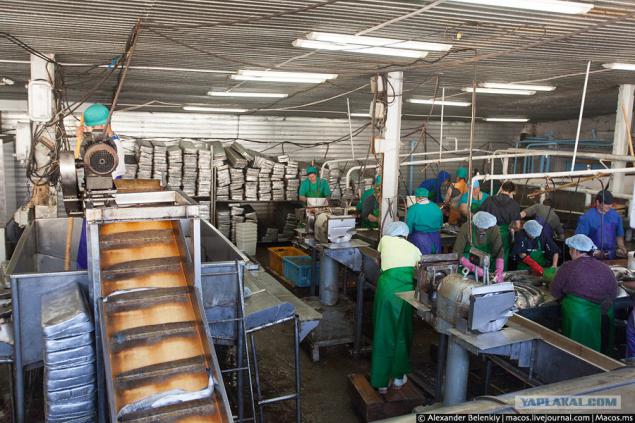 3. The work is seasonal, peaking in the summer, when there is salmon season. Then dozens of fishing schooners go to sea, and dozens of aunts in caps separated the wheat from the plёvel, ie eggs from fish.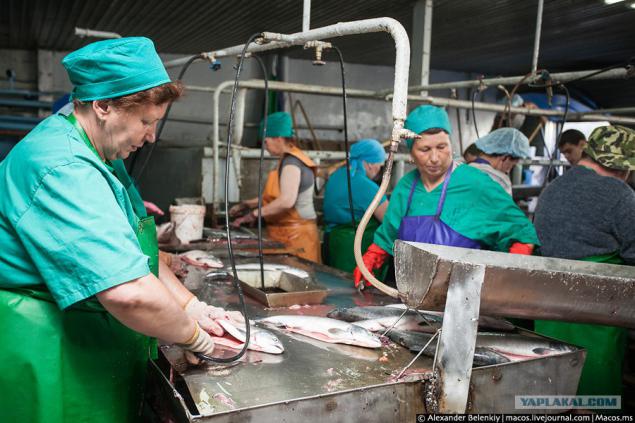 4. Can you imagine that somewhere in the eggs of fish discarded in the trash? But not in Russia, this is our national dish, which knows the whole world. By the way, some fools, on the contrary, fish discarded, leaving only spawn. As a rule, poachers, fish require further processing and storage, and they have neither the time nor the inclination.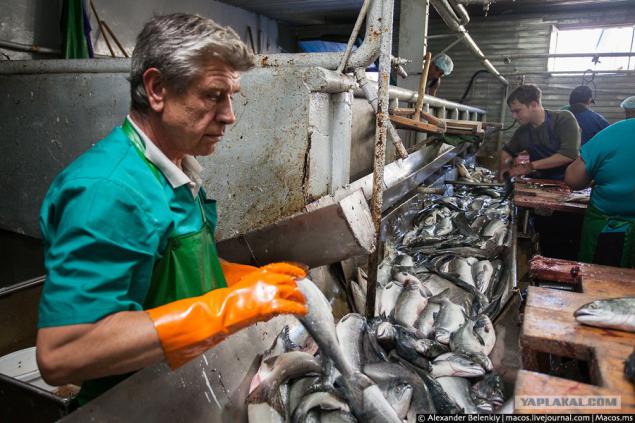 5 The first stage - just the office. Belly cut open with a knife, carefully take out the raw eggs and put in a bucket.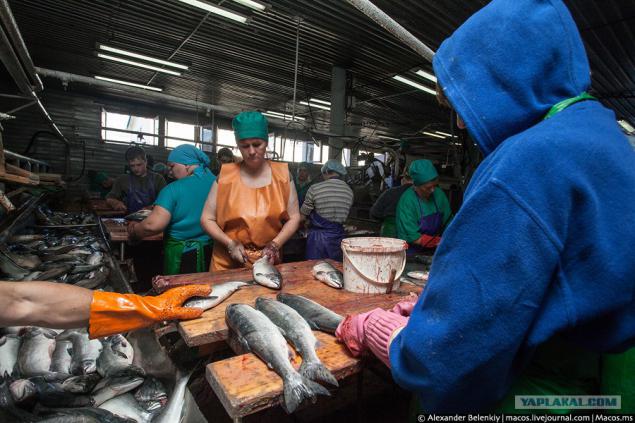 6 After that, the fish goes in one shop, raw - in the other.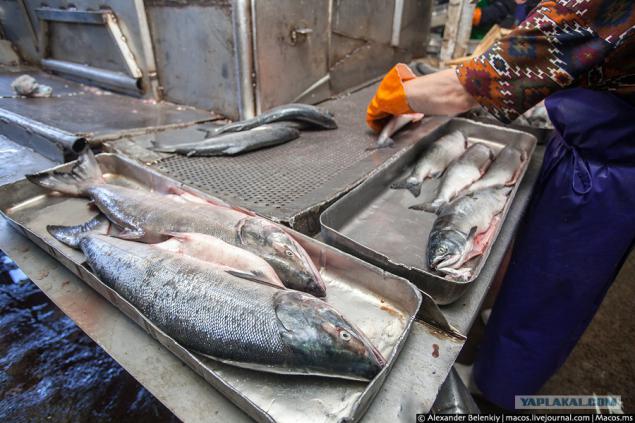 7 That something like that. Sorry, probably not very appetizing process, but it is a fact of life. Vegetarians somehow continue to eat fish, but they feel sorry for the little animals.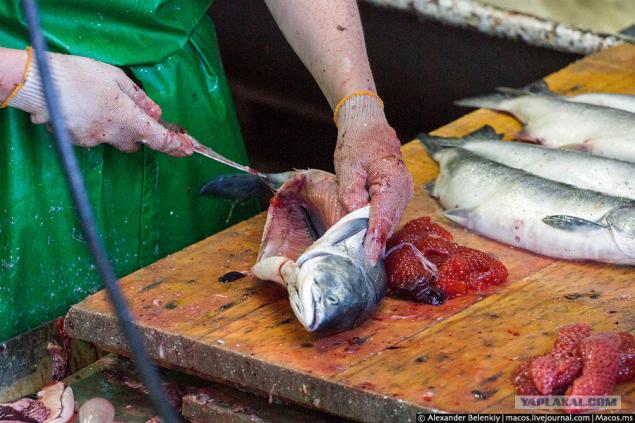 8 Some days the fish comes to the plant so much that it just piled on the floor.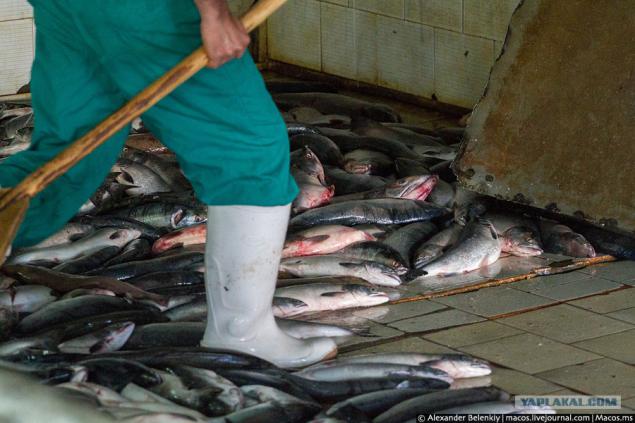 9 The crude product is collected, sieved in a colander.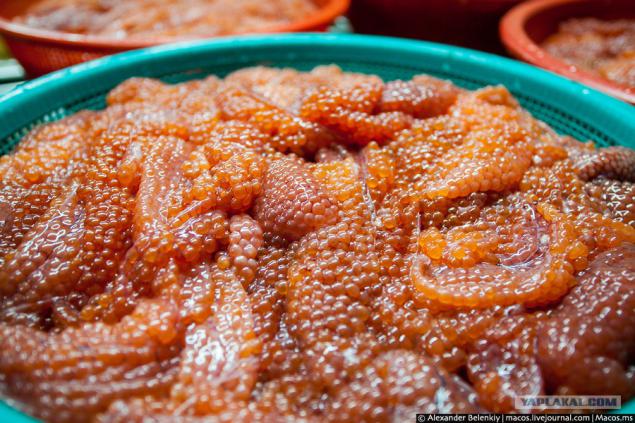 10 Then it several more times sieved through a sieve.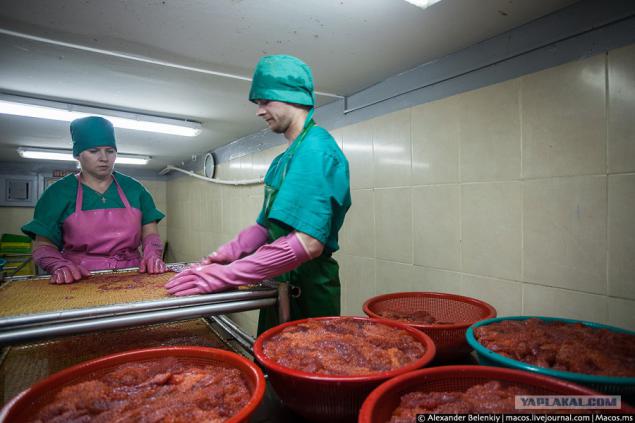 11 I do not remember, the essence of the entire process, so I can shamelessly lie and make mistakes. These photos are shot in the summer of 2012. During the first trip to the island of Sakhalin.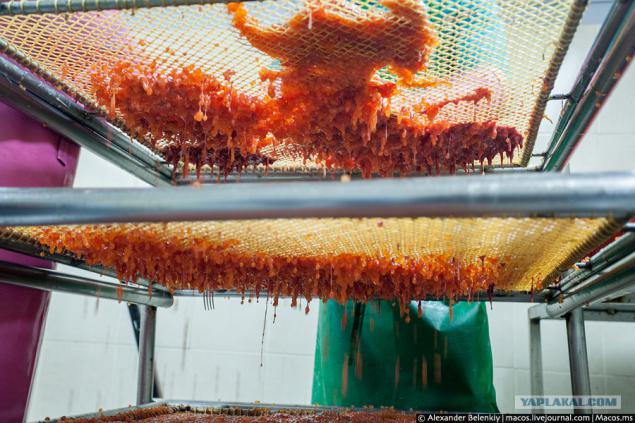 12 are almost ready to spawn. Now she needs to settle.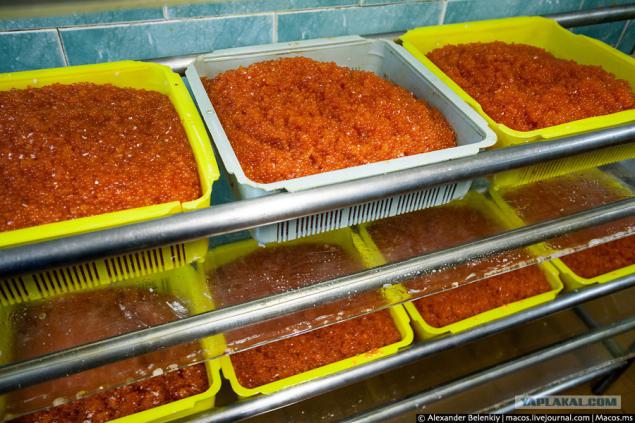 Source: