Writes yanbondar:
The first month
And what to do with it?
Well, here it is. Lies all. In the first two months of the children have no sense. Their functionality can be compared with settling alarm - screaming or yelling. All. Nothing else can.
Of course, I knew that we had right to fish will not go, and my father's advice from films such as "man, life will deal you a shock and no matter how many of them will be, it is important that after each stroke you could get up and continue!" - Let's early.
All that you can do with it, it is worn on the hand and walk him and in a wheelchair. You can certainly take pictures ... I've shot it a few minutes in the video when the hiccup. At that time, it was the funniest thing he had done in his life.
There is in this age of one plus - where the child left - there he is.
Well, I forgot the baby on the changing table, chattering too much on the phone, lunch, come back - nothing is.
In principle, when he on his hands, it is not shouting. And when the screams, then do not bother.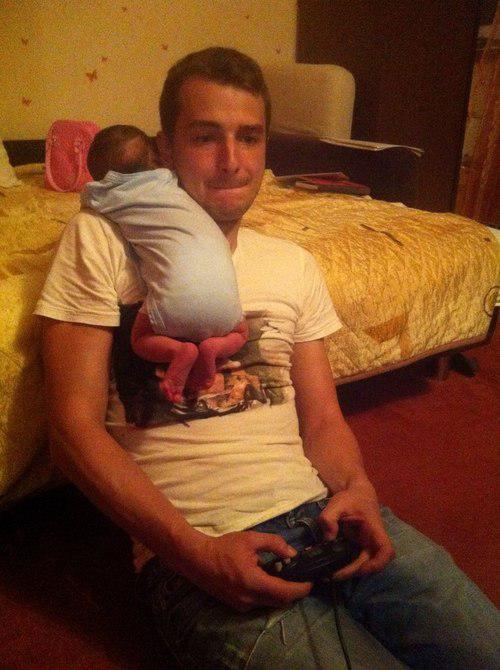 At one point he began to show me the funny faces, smiling and winking. I was very happy, but my wife said it was unconscious muscle reflexes. I was scared and I again took it on the changing table.
The dream is only a dream
By the way, in the very first days of life - they are very quiet, and it may seem that you are lucky and your child is special, quiet, and, as a normal kid crying just in case.
Fuck it. This asshole at first just looking as though waiting for the time to turn on the alarm.
Screaming mightily, with all my heart. Each felt a universal cry of bitterness.
I decided to cheat and secretly bought earplugs. However, once ... did not stick to his wife was ashamed of what I have to take time off from the night rocking. Yes, and they do not work a fig, frankly. Like wool. As with headphones.
Your free time becomes precious. In this period we are very loved cinemas, and each time managed to keep the baby, we had a long and carefully chosen film looked assessment IMDb, then to safely come and wake the entire session.
After a while I began to relate to the situation philosophically. Someday we will go on a fishing trip (though he never fished). And now I try to remember it every day, I keep his son in his arms and look in his eyes. It's cool.
However, each time it is getting harder to do, and now he is already half a year and it weighs like a small refrigerator. Game names
While my son was waiting for the birth, downloading the latest database information in the mother's stomach, the choice of name seemed to me an exciting game. I easily sketched dozens of names, which seemed to me funny. The lyrics sheet and then appeared: Thor, Harry Bruce, James and others. In general, James Cooper sounds good! And saw him riding on Aston Martin and catchy celestial women alone ... Cooper, James Cooper.
But the nearer the time of birth, the less began to slip all sorts of comic book heroes and fighters ... One begins to understand that he has to go to school. With rare name certainly will tease. And my mighty warrior of Asgard would simply "Thor - the ax in the ass"
I decided then to call Daniel. Well, Daniel, and Daniel - normal name. Start teasing at school, and then half of the class of Daniel! And combined with the last name. In short, we decided.
But the day after the birth, my wife called and just said - "it does not Danila! In Daniel it is not like ... "
Ёpsht ... of course it's not like Daniel - he looks like a plum compote in. How did the creation of the weight of over three kilograms can be like for a name? How does this logic? That child is born - well, the spitting image of Stas! Oh, well, you look at those eyes - it's Adolf!
My wife and I did not argue ... At Thor's son is also not particularly looked like.
Then she remembered one of the names that were in my wacky lists. Plato. I really do not remember it, but it was so.
I liked the name. Capacious. Strong. Other options were not.
Resolved. Plato.
We did a couple impulsive wife. In the wake of such creativity registered Plato Cooper, elevating him to the rank of humanoid. All documents are now kid. To be honest, I'm looking at right now is the intricate name, and ask yourself a question: whether all will be fine with my boyfriend?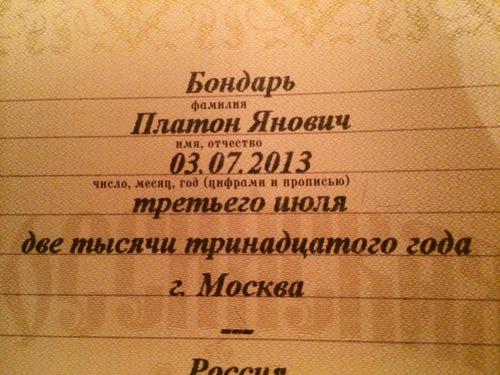 In any case, I will give it to boxing since childhood, he tried to prevent attacks such as Plato Baton Platon- or ... well, you never know what a rhyme comes to mind.
Here are a few brief conversations that I remembered:
Veronica (grandmother)
I Plato
Q: Well, you do not hurry to name something, it may still have some options.
Misha (friend of the family, type)
M: how to call it, in the end?
I Plato
M: Hueton no, seriously, how?
I: (pause) ... Plato
M: Damn, I'm sorry
Lev (grandfather)
I am a ... Plato
A: Plato, huh? Well, great! Here, for example, if you want to change the name, it's hard to do?
Gennady Yurevich (grandfather)
D: but it is not a Jewish name?
I am no
D: ok
I do not know his name like it or not. Well, if you want to change - let vary. I really believe that a man makes his own name.
In conclusion, I call the children as you like ... just do not Stas. This day
I was always scared moments in the movie, when a woman begins to give birth. In the movie, always give birth unexpectedly and at the wrong time. And the husband, violating all rules of the road, taking her to the maternity hospital. That, remember, if a pregnant woman in the film, she will give birth unexpectedly! Seriously, he shoots himself shoots the bad guys, and here on you - bore!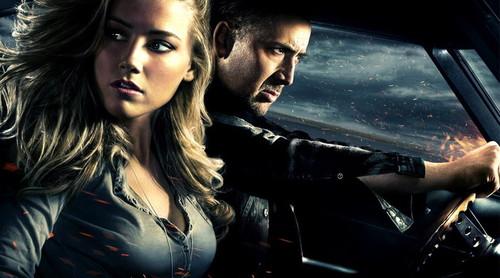 I really soared due to the fact that I also have to go at breakneck speed, breaking all the rules, the cries and sighs of my wife. I do not have the rights, and a taxi - not an option. How is it?
 - Give birth! Urgent! Str. Elan 2!
 - Sit down, let's go! Road show it?
Metro is also not particularly - born yet on any "Sviblovo" and I never will not forgive ...
But, in fact, everything was easier, the wife went to the hospital and left her there ... That then the husband, at breakneck speed, not carrying her to the hospital, but calmly with flowers came as well done. My husband was pleased with this-shuffling.
When the child was born is not known, and I went to work. During the day she called and said that I approached the evening after work, because it will give birth to a campaign. And buy water, said another.
She spoke with such ease about childbirth, if it is like to go wash wheelbarrow - a procedure troublesome, but not really. Her calm and passed me.
Gene. The director let me go early and spent cheering sight. He was born a year ago, the third child and he always happy and full of energy. He Che, any code knows not understand?
I went to see a friend, and we began to wait quietly. Being one the windows seemed too exciting. Probably I wanted to drink, but I felt uncomfortable at the thought of me will go fume when the son sees me for the first time. We sat chatting with a friend, when calls started pouring in. I did not understand and wanted to hear something specific. - Kot, you can tell me when you're straight you begin to give birth, so I went.
 - You Th, fool?
And SMS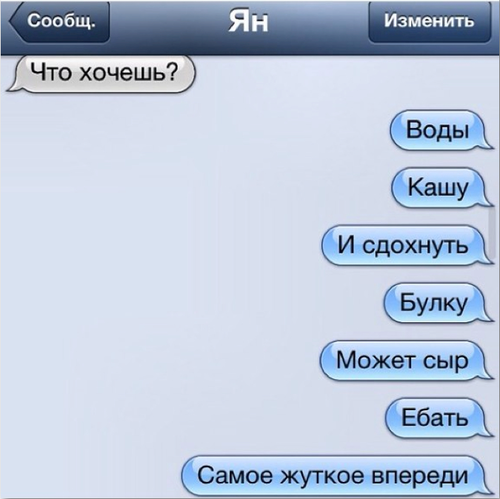 Well, then I definitely realized that I needed to go to the maternity hospital. Again, this is some strange feelings when you do not know what to expect, and how, and what, and generally mess in my head. All this turmoil is over, when I got out and I got a photo on your phone.
I gave birth. In a trembling voice, like a schoolboy on the exam, I told a friend that "all." His head was clearer, and he realized that you need to buy flowers.
Tip: You guys, get ready to leave in advance. Never, do you hear, never buy flowers around maternity! Bouquet of daisies sluggish, which has probably guessed, is 3, 500 ths. Rubles. It is better to buy an expensive but good, somewhere beforehand.
But I thought about already then, and as he ran up the stairs, because I had to show her son. Slightly overshadowed guard who dexterous movement stood in my way, and if the King of Westeros, ordered to wear shoe covers.
My son was born, and you and your shoe covers, I thought. But the king did not contradict, and with trembling hands pulled the blue bags.
First there was my wife. She was frazzled. For the first time in my life I had seen her so tired. I felt very sorry for her and I realized that over the meal they can forgive all the whims of this period. Let them eat tons of ice cream and capricious - it's worth it. A minute later, I rolled out a cart with the child. And in that moment, I felt a shock. Apparently the brain secretes some special substance, which really begins to "embed". Perhaps because it can be synthesized drugs. In short, I was in an altered state. At that moment I thought he was a lot like me, but in fact it was more like a Kachan cabbage. Kachan looked at me with such a serious adult eyes, I found myself on an ant that looks creator. The look did not last more than two seconds, but I distinctly remember him.
More of this view for the son I did not notice. There is a belief that children are born sages, such as ... Now, looking at the child in my life I will not believe in this stuff, but those two seconds I will remember for a lifetime.
I gave a bouquet of daisies sad wife and doctors, but could have the money to buy them at the hospital TV. We went back to the other and there I have allowed myself a drink like a pig.
Ahead was another two days before they will be discharged. These days, I identified his son with something holy. My wife sent me pictures and videos. Two days I lived with the idea that I have to take it in hand. The thought frightened me - he's a saint. After a short time, this feeling quickly evaporated, and the holy infant are increasingly behaving as flashy little shit ... But the day he was born, gave me a new ... like me, too, something was born. 9 difficult months. male gaze.
For a start it is clear ...
The gestation period is long over, but I want to endure history to get to the present, and has broadcast from a real-time, and not to remember ...
Although, of course, just to get around this time, I just do not have the right.
In any magazine, movies and TV shows are always saying how hard to be pregnant! But I never heard about how hard it is necessary to their husbands.
And now a few lines about the pregnancy from a different angle.
"Salads and fresh»
Pregnant women should follow a diet and she observes her precisely to "the moment." And "the moment" usually begins with the words, "So, I do not care at all - I want ice cream / burger / chips, potato / pizza / fries / muffin / bagel / muffin ... Any strict diet does not last more than two hours. It's true.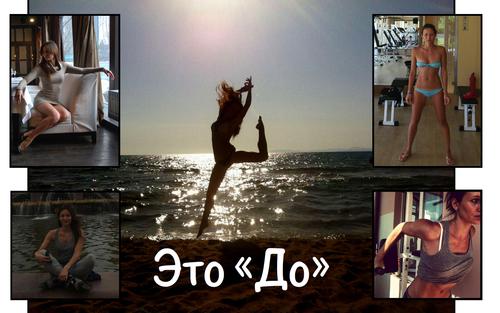 I do not understand why, but she ate the most junk food. Burger King to give my wife a real crown, not cardboard. Anyway, the word "eat", I would have replaced the "absorbed". Well, how do you explain ... Viewed 'The Hobbit' as gnomes devastated house dugout Bilbo Begginsa? So this dwarf is constantly running around our apartment. She scored 20 kg of cool Chiki into a bun. So I called her and.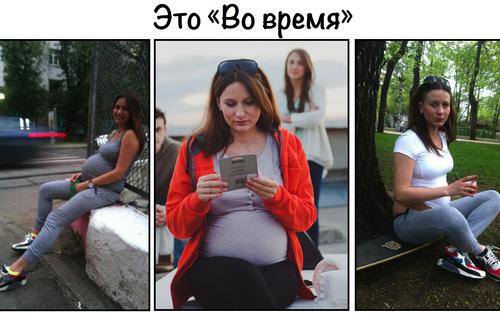 "I'm pregnant»
She never missed an opportunity to remind about it! He says even with the intonation, though reminiscent of ... And then, damn it, I do not see that she is pregnant. (I did not answer because she was afraid to wake the dragon).
Even when it has reached the point where easier to roll than to walk, she still regularly reminded me of her pregnancy.
"I can not get nervous»
I became a criminal, if any thought to drink beer or evening out. Pancake. I used to think that I can always convince anyone and do what I want. But the argument: "I am very seriously and want you stayed side by side," just do not find a normal response. Most often, these "stay beside" occurred on the day of my work on corporate parties and birthdays of my friends. And the cooler was planned parties, so suddenly, it became worse my better half.
Conclusion
Certainly any woman who has gone through all this could write much more about the difficult moments and read this will say that all this is nonsense and women through these 9 months is much more complicated. ... And it will be right.
In any case, these 40 weeks (at all of them is counted in weeks, not months) were funny enough time that I would be happy not repeated. Ok, let's from the very beginning ...
I will not describe the process of creating the son of the details, but my wife was pregnant.
You know, when she told me the news, the world has become like a richer, there were answers to many questions, and most importantly, you know that now you need someone ... is really needed! ... In fact, all this nonsense.
I did not think anything. You do not know how to react to the news. And it can not be prepared. Well, at least for 24 years.
Here there is a clear and understandable news:
The Russian team defeated the Dutch team. - It's delicious!
Team Russia team lost to Uganda. - That sucks!
I think that men just do not have in mind the function to properly respond. It is as if to get my old laptop and try to tell him, "My dear, we will Battlefield 4, what do you think?»
The laptop will start the game and hang tight ... That's how I crashed.
The only thing that I was able to kiss and this vague question - "One may buy what those vitamins?»
From that day information about the child sits in your head, even though you did not know how to use this information.
Source: