Since I got married on a yacht, June 1, 2011, my blog is mainly dedicated to our life together.
We are already in South Africa, Richards Bay. In the transition from a flurry of Madagascar have severed rudder, wind generator burned out, again denied coverage ... repair ...
Will be 80 photos and comments sea travelers. Author salt
Africa, Richards Bay. Friendly visit to MV «WILLIAM STRAIT»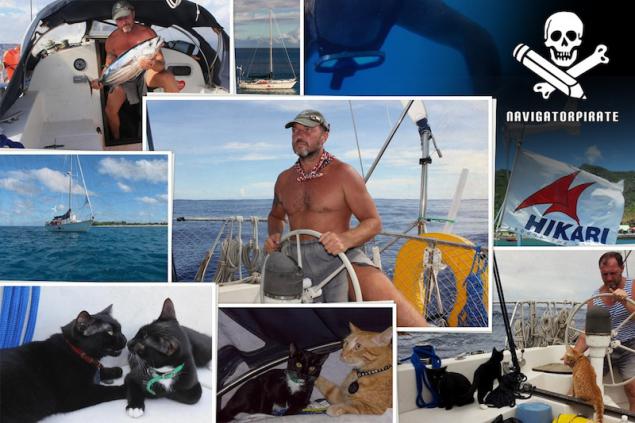 1. In the store heard very rare for these places Russian speech, came up to meet you. Guys with container «WILLIAM STRAIT» ...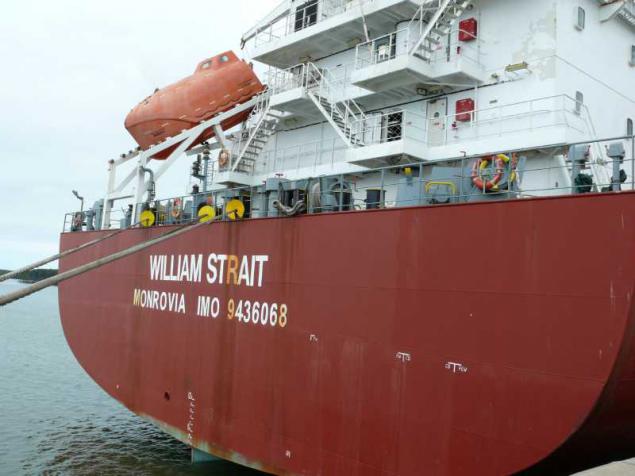 2.Priglasil to his boat. The next day they came, all Russian-speaking members of the vessel. We sat on the boat and then the guys were invited to the restaurant where we had a wonderful time ...
Alexander Nasonov, the captain of a container «William Strait»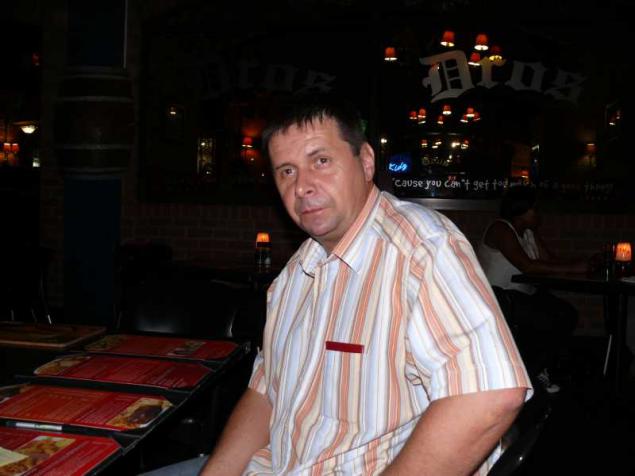 3.Grigory Alexandrov st.mehanik (grandfather)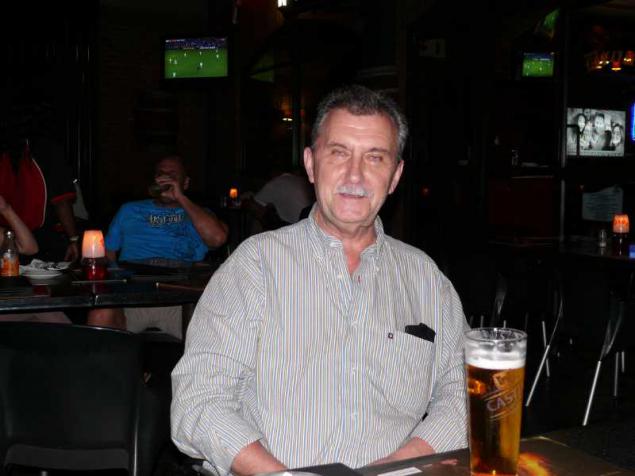 4.Aleksey Tarasov, electro-mechanical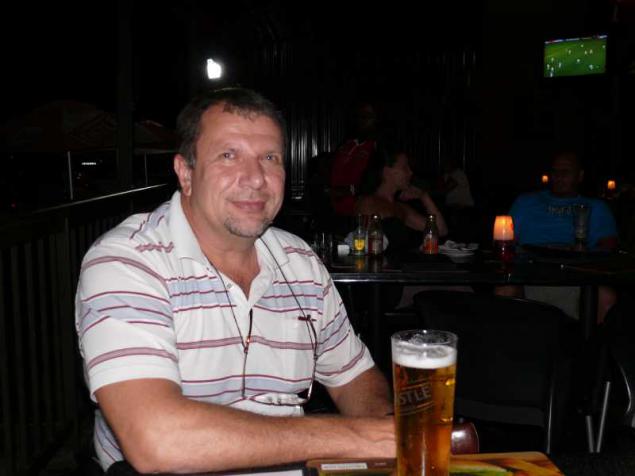 5. And they, and now my friend, the soul of the company and shipchandler living in South Africa for over a decade - Talik Tile!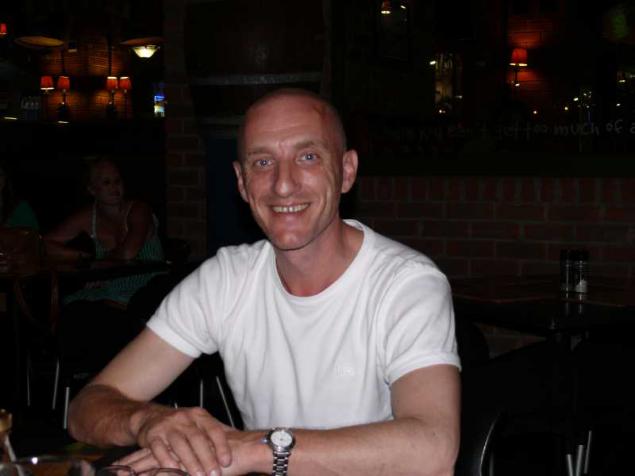 6.Kto be in these parts, it is strongly recommended to find it. If not for the work, just to socialize, get extraordinary pleasure! (no ads, friendly advice)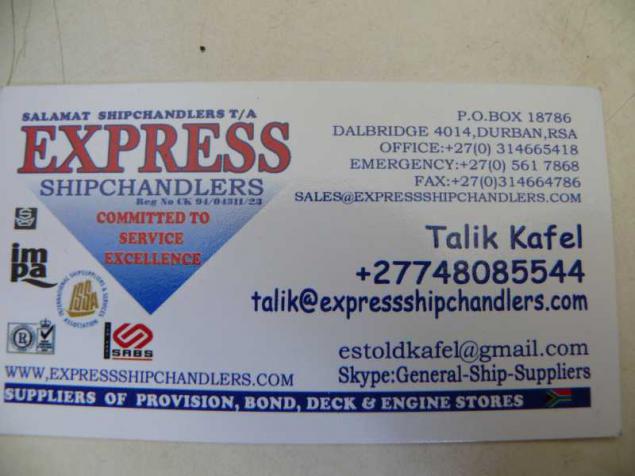 7.Proschayas guys invited me to her house for parahod. Of course I could not refuse to spend some more time in their company, and besides, I've never been on a container ship in, but disagreed with them, often in a pair of cables! So, the next day, taking my friend with a yacht club Len, we went to the port!
At the entrance of the port - security!
 - Skipping there?
 - There!
 - That paper ... (30 rand, which would not stand in line for a pass, guys and so on waste today go, time presses ...). We passed.
On the quay container 602 found «WILLIAM STRAIT»
8.Bolshoy!
Length: 176.83 m.
Width: 27.40 m.
Draft: 14.30 m.
Height: 49.0 m.
Displacement: 32 561.6 tonnes.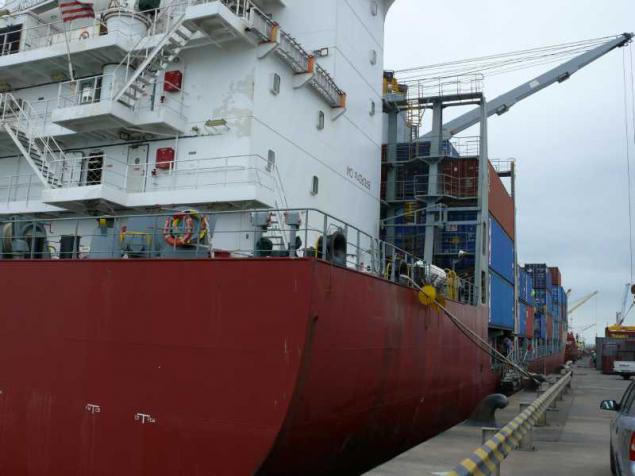 9.Pogruzka continues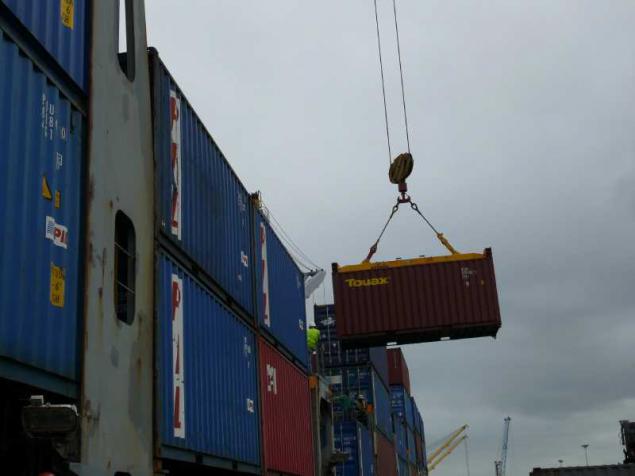 10.Rabotayut under the Liberian flag, port - Monrovia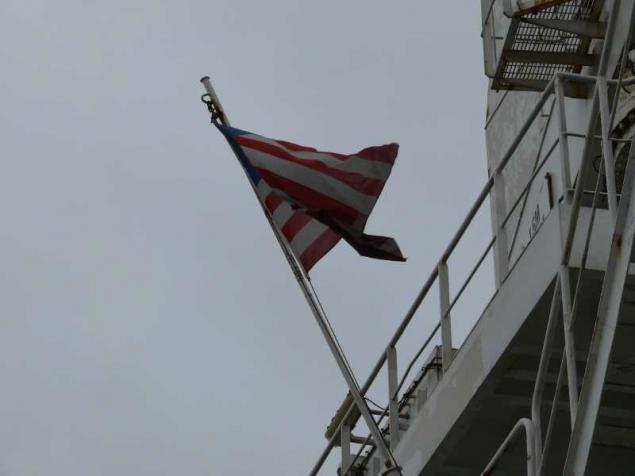 11.U ladder - matross, Filipino.
The crew - 18 people. Senior officers: Captain, st.mehanik, el.mehanik 2nd mechanic - Russian, the other 14 people - Filipinos.
 - Your name?
 - Sergei Morozov
 - Waiting for you ...
 - Aidi and sign here, the captain is now descend
 - Okay, order is an order!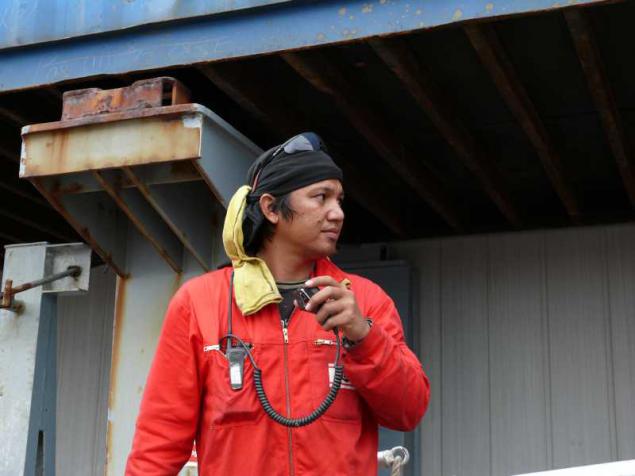 12.Cherez minutes later Alexander, Captain «WILLIAM STRAIT» ...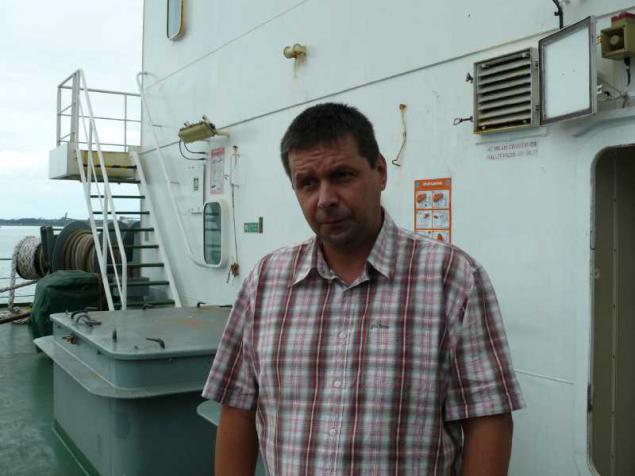 13.Esche through minutes later Alex, electro-mechanical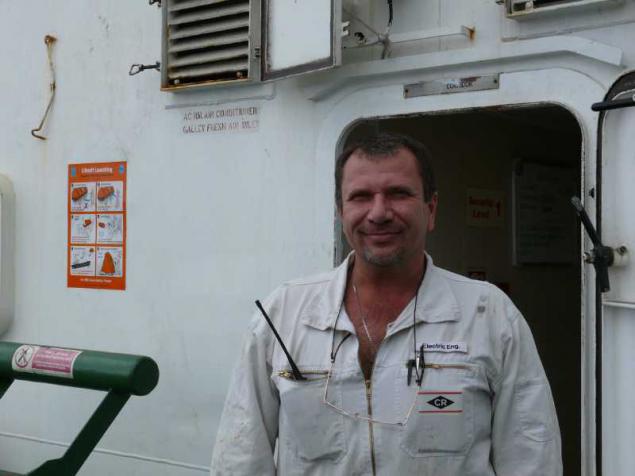 14. acquainted with XO: - Salvador Eduardo Mallari, Filipino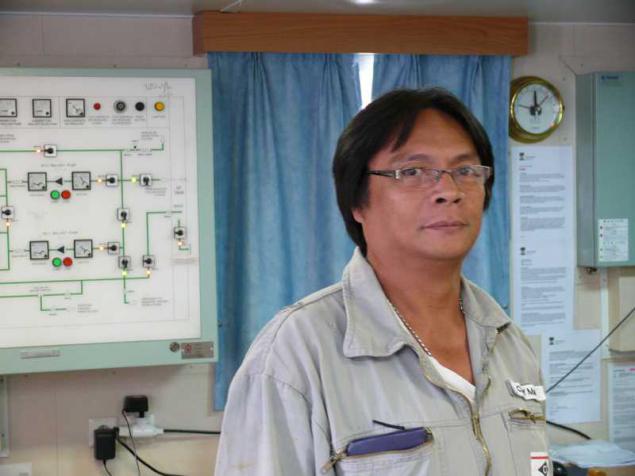 15.Mne liked it - an open mind, honest face.
He was working on loading ...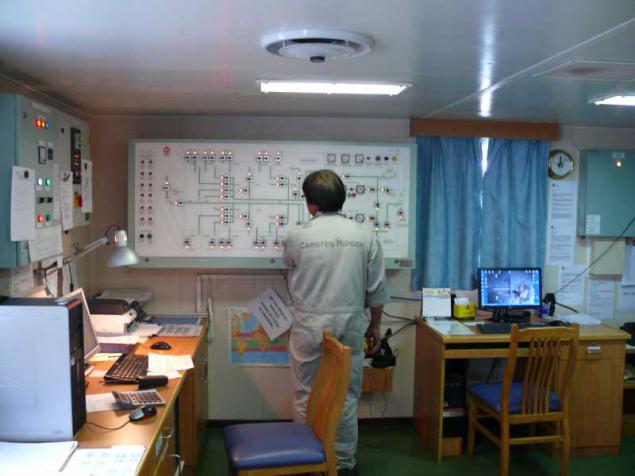 16.Do not become disturb him, went into the ship. Alex, elektro.meh offered a tour of his service on the car, we gladly accepted!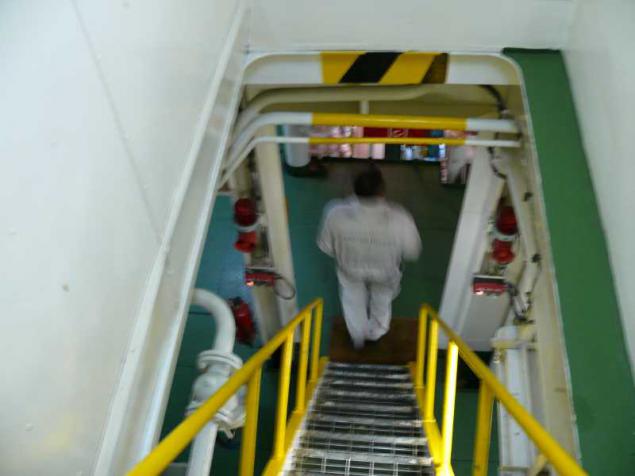 17.TSPU MO - Central control engine room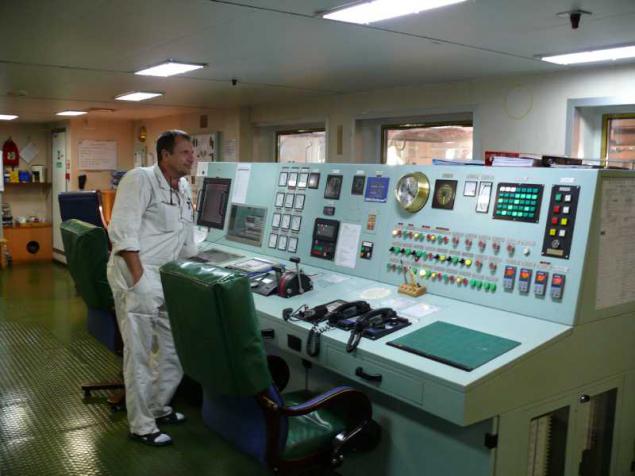 18.Glavnaya panel remote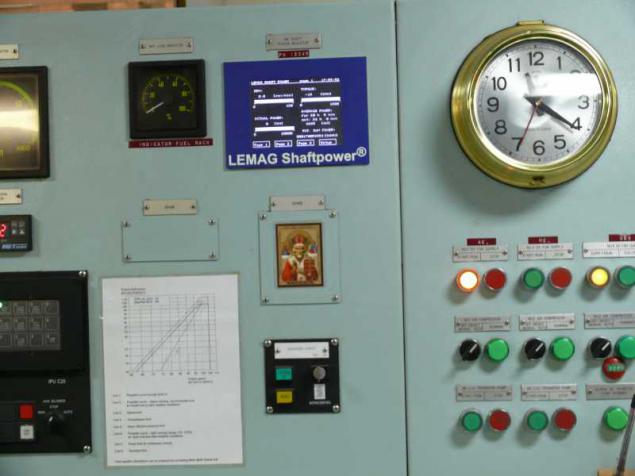 19.Pokrovitel sailors and all travelers - Nicholas.
I'm on a boat, he is also on the main site ...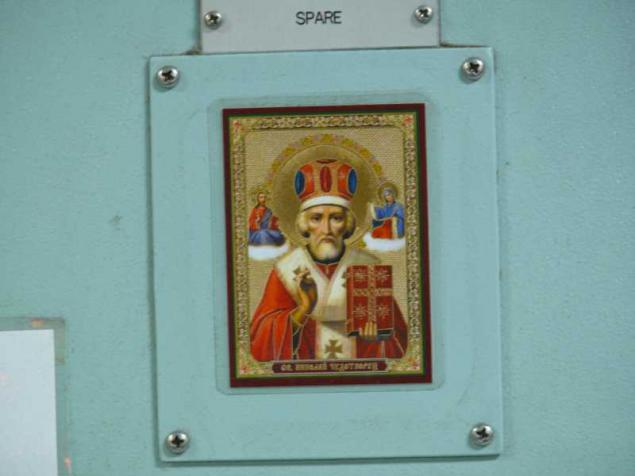 20.Elektro-mechanical workshop Alexei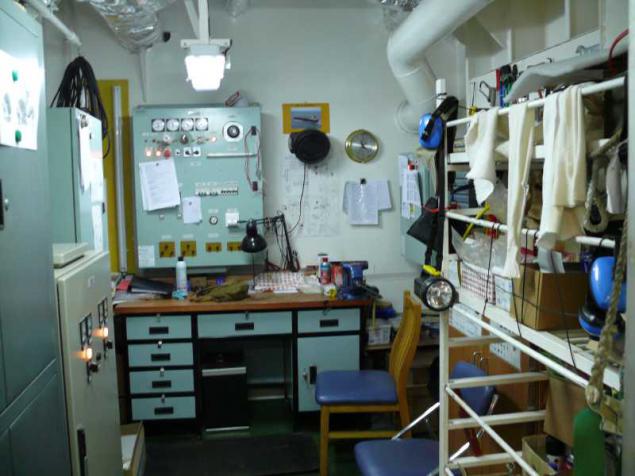 21.Sam DG - Main Engine: MANB & W 7S060MC-C, the upper part of
Seven cylinders
Capacity: 16 660 KW (105 RPM) 22.341 HP
Speed ​​in Georgia: 19, 5 kts
Speed ​​in ballast: 22 0 kts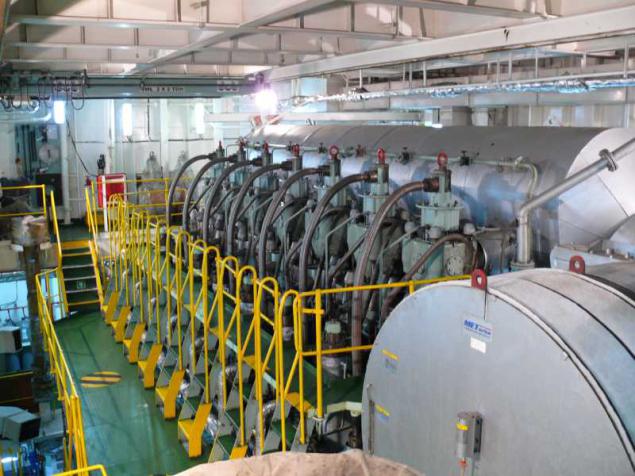 22.Separator (cleaner fuels)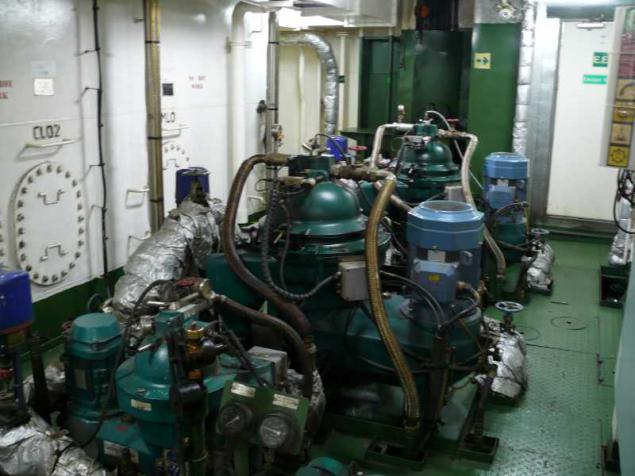 23.Tot the separator on the other hand, Alex and Len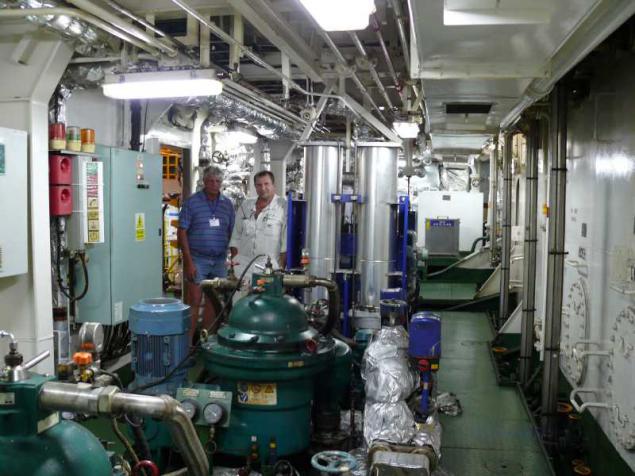 24.GD decks below, seven of the combustion chambers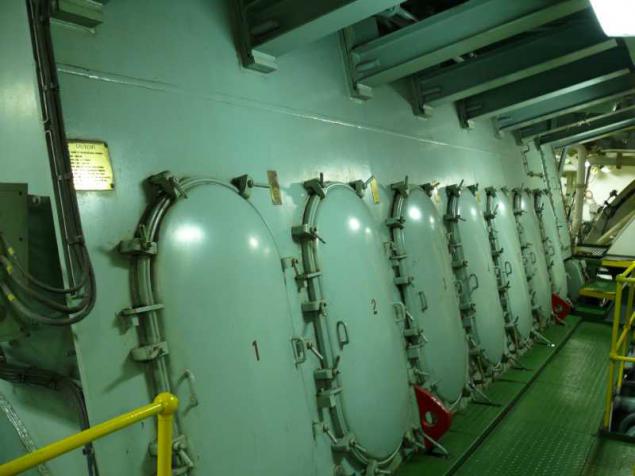 25.Kompressory right a broken connecting rod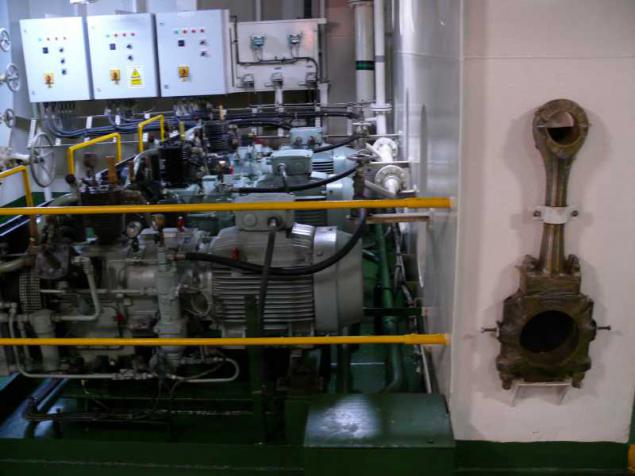 26.I such zhelezyaki break! And what about us? ZY It has a view of his yacht.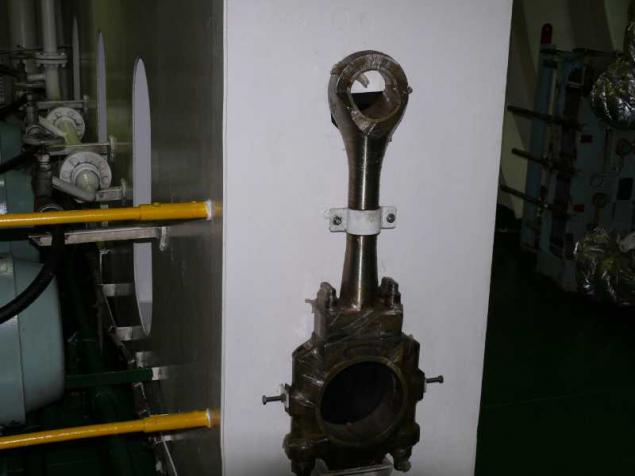 27.Pech incinerator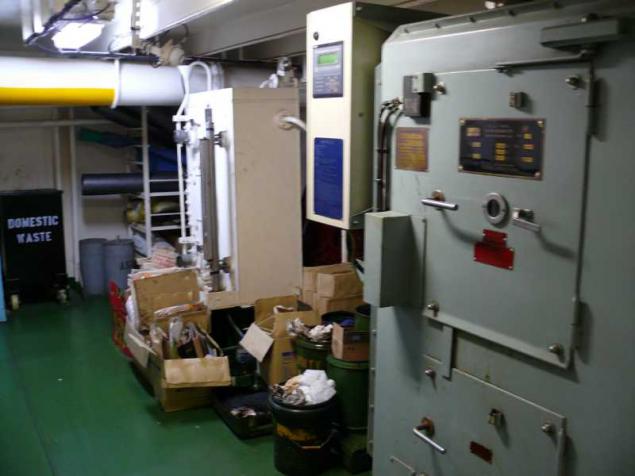 28.Po car like fast things inspected, went to the bridge.
Rises through a number of decks (floors) that Len suddenly asked:
 - Hey, guys, you have here that there is no lift? ..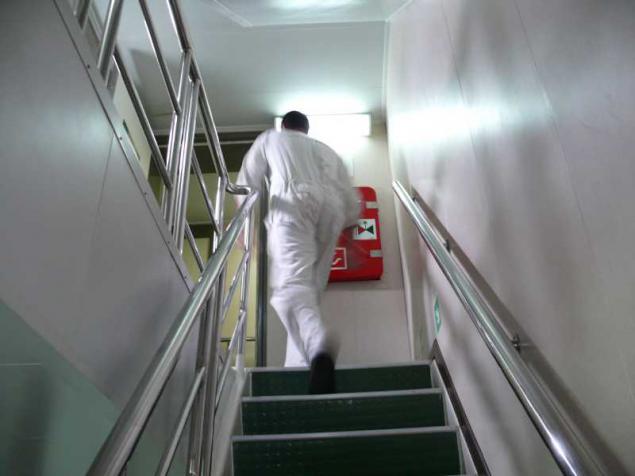 29.Mostik - workplace Alexander (Captain)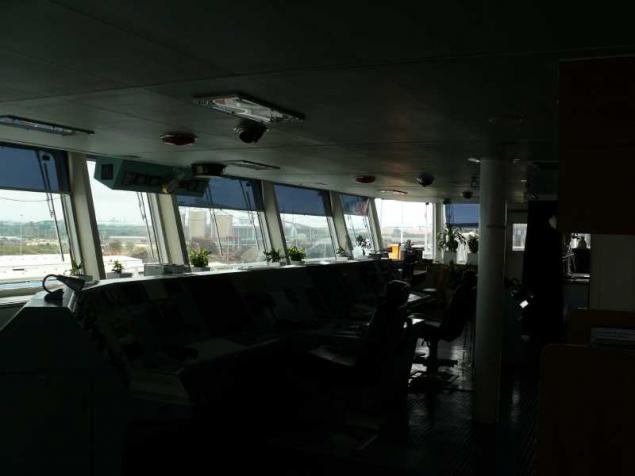 30.Mesto communications and weather forecasting, LB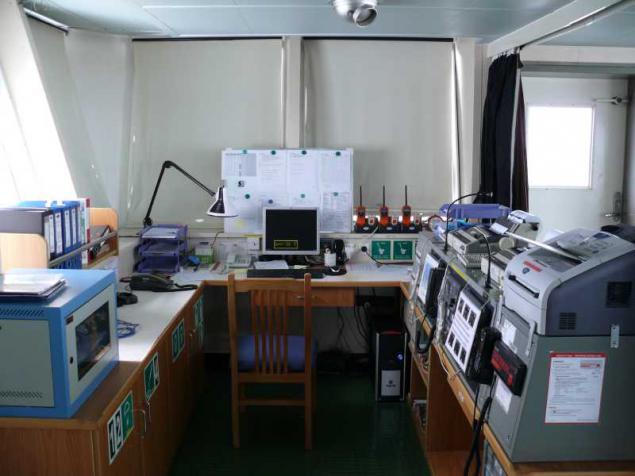 31.NAVSTAR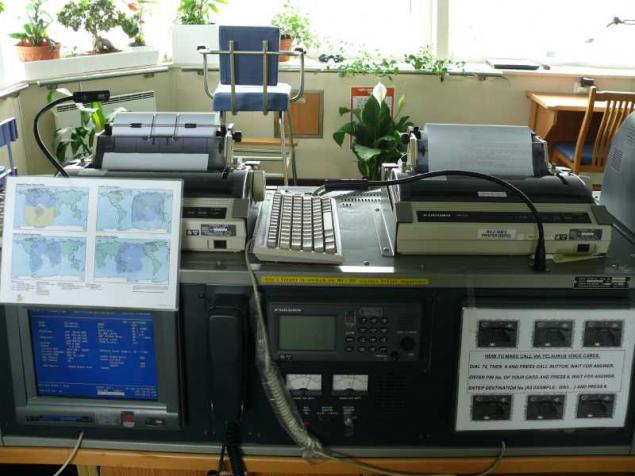 32.Aleksandr showed how they take weather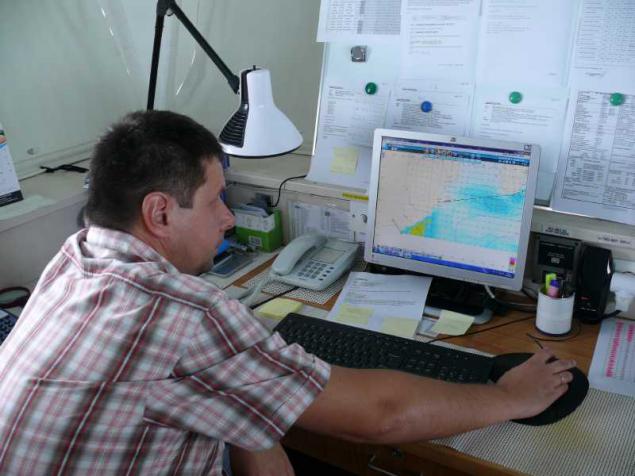 33.Po way of the following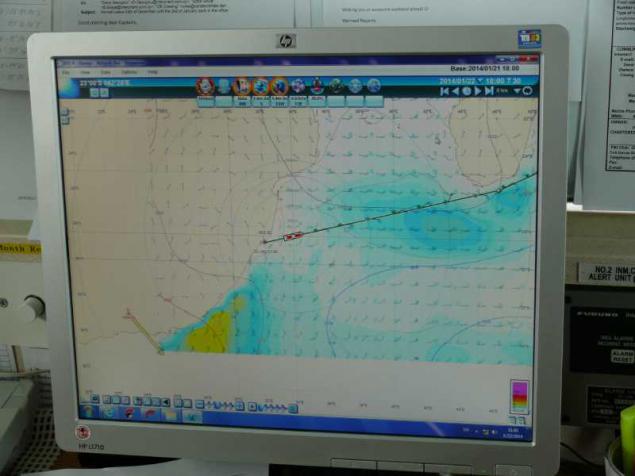 34.Sputnikovaya Us
35.IRIDIUM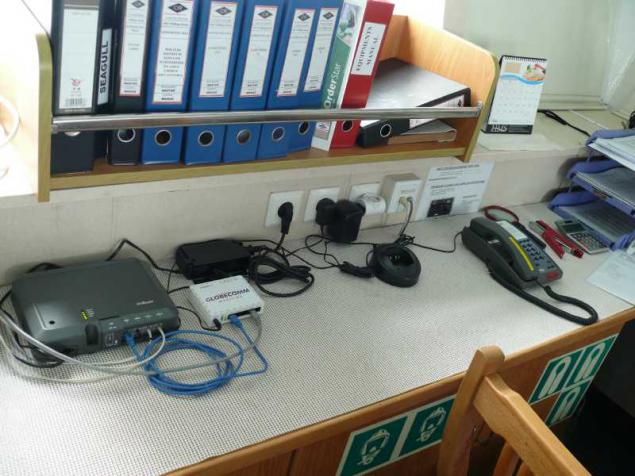 36.Flagi MCC and country visits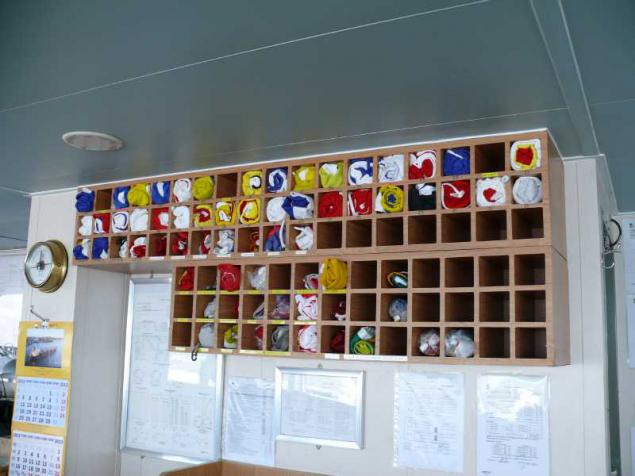 37.Shturmansky table pr.b.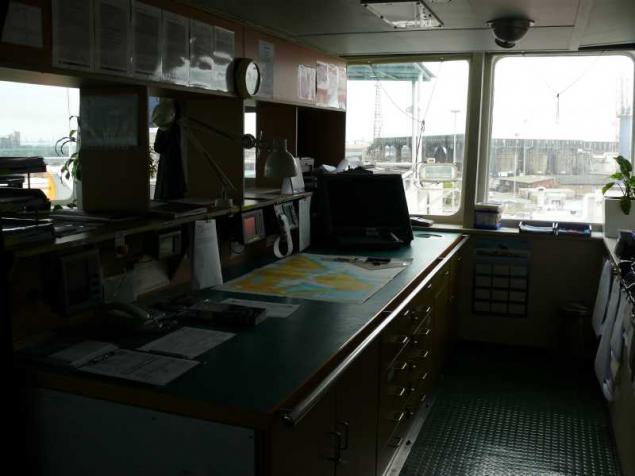 38.PROFI go and paper, do not hesitate, if you have such equipment!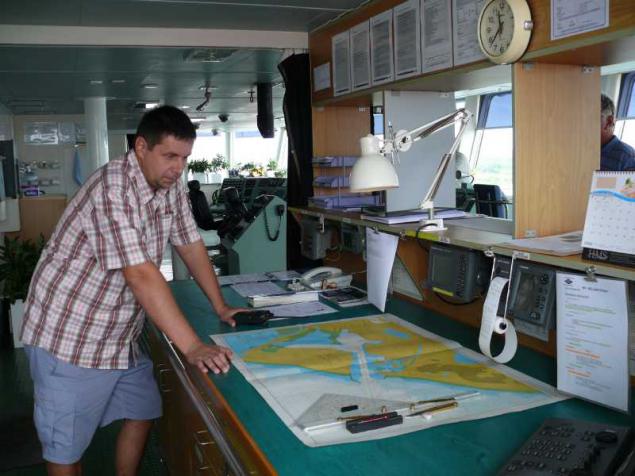 39.Eto NEW kapetanam to note that the so-called pros want, just finish the course, buying a captain's cap and always (!) Gloves, without which the deck and do not go. What ruchenki afraid to scratch?
Love faithfully and reverently electronics? Walk without paper?
Well, well ...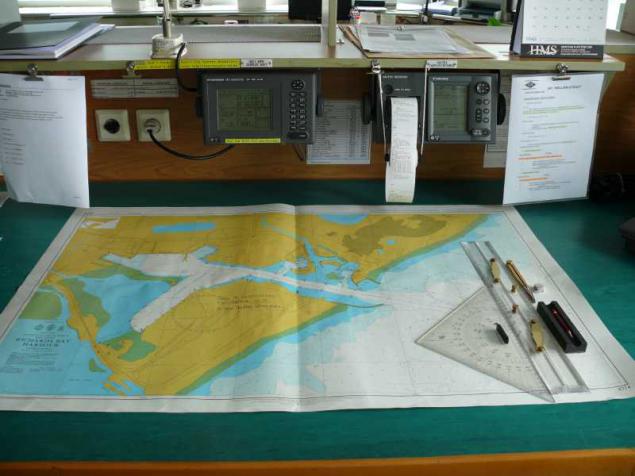 40.Perednie ilyuminatorov bridge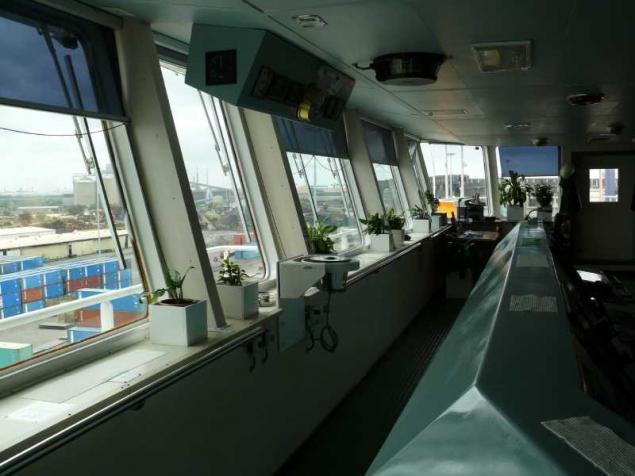 41.Vid to the cargo deck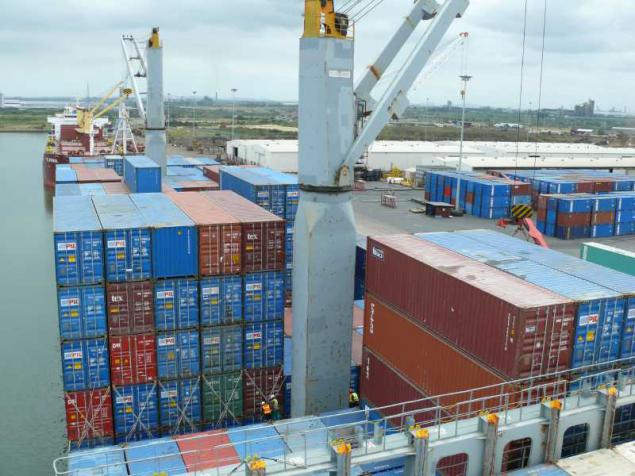 42.Kapitan Naconov Alexander on the wing LB entrusted to him by a container bridge «William Strait»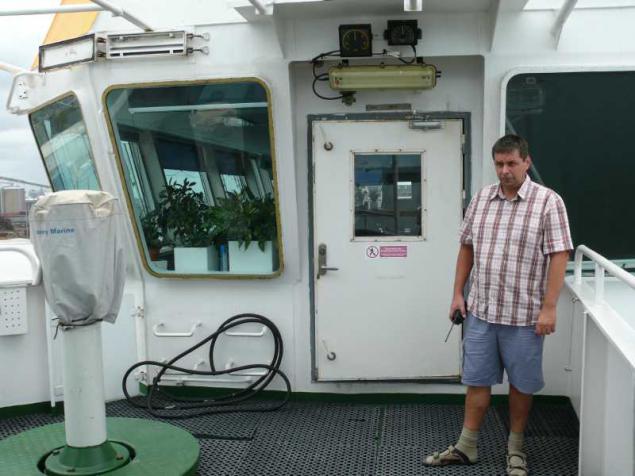 43.Foto memory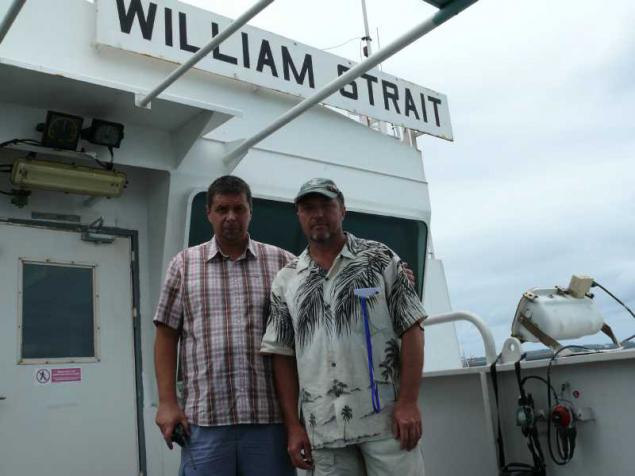 44.Vid to bridge LB on the boat deck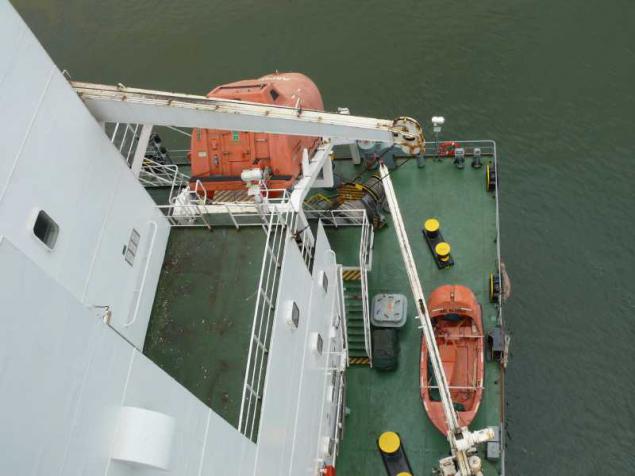 45.Vid aft on the port water area - someone else give birth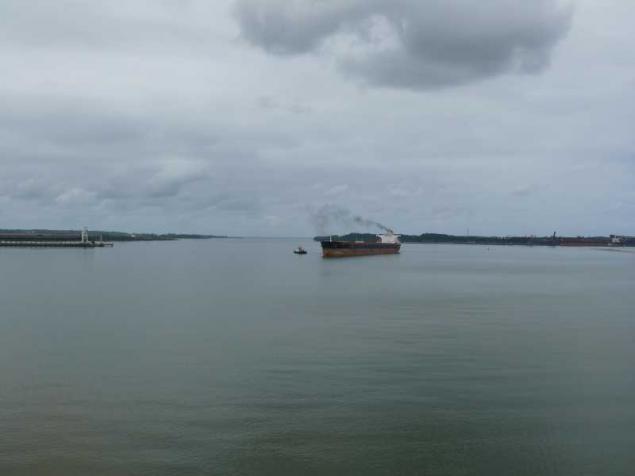 46.Na bridge we finished, Sasha decided to show us some of the crew accommodations.
Just come for lunch, we were invited to storovuyu kom.sostava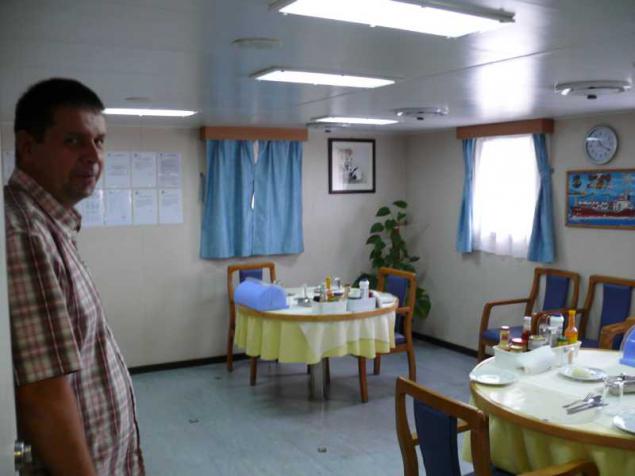 47.Kambuz (kitchen), there are two rights: the chief and assistant. Women on the board is not at all!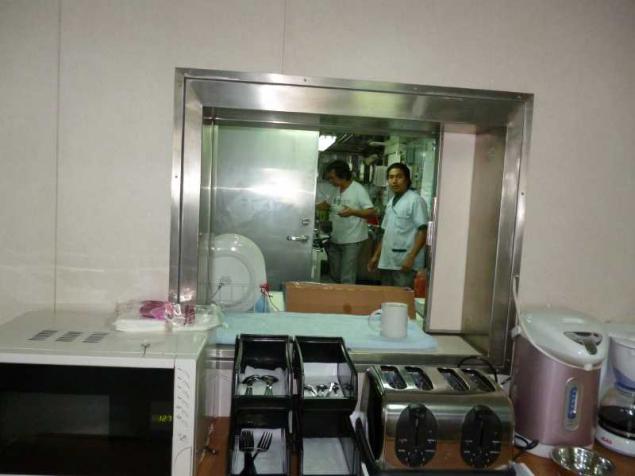 48.S the side galley - dining room privates, all eat from the same pot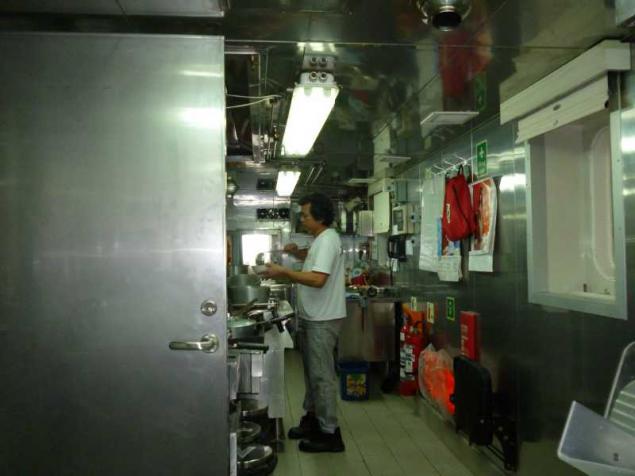 49.Moyka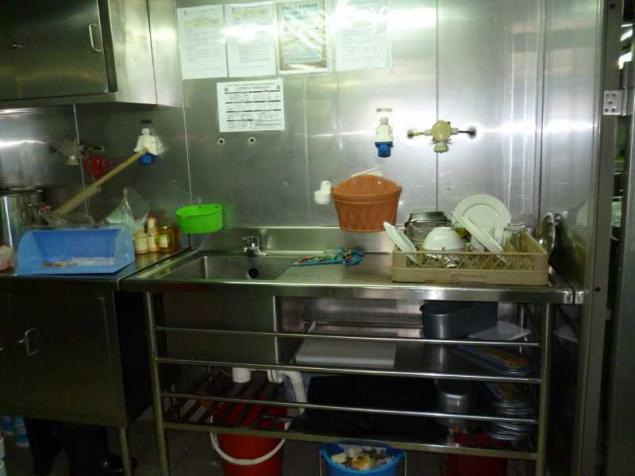 50.Priglasili table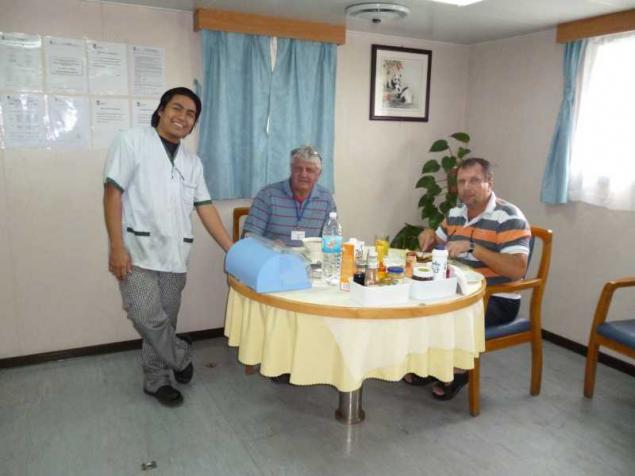 51.Segodnya for lunch: soup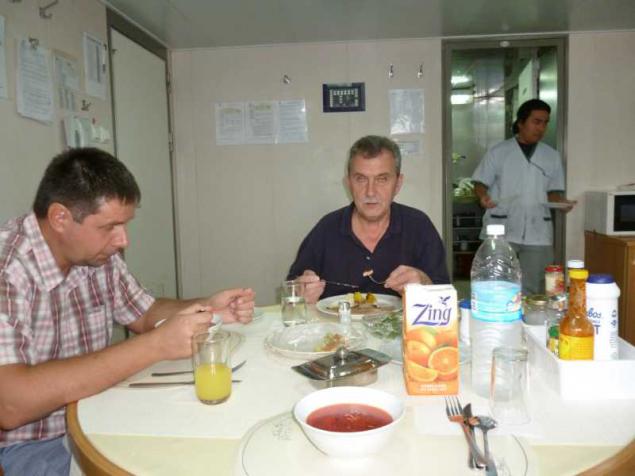 52.i pork with vegetables!
The ship set Russian-style meal - instead of lunch - three-course meal.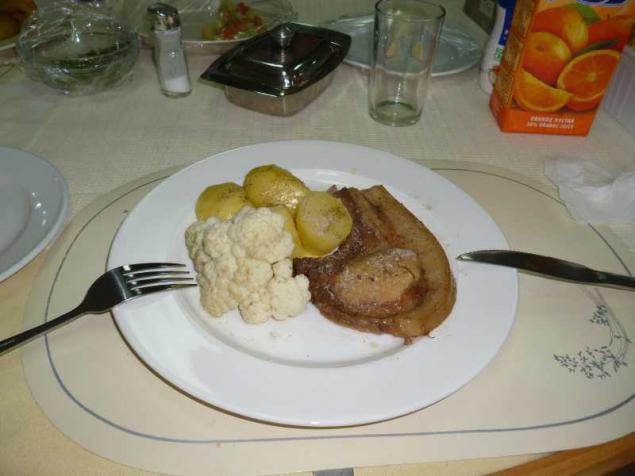 53.Odin crew member drew parahod which for many are the years of work, life, life ... hang out in the dining room kom.sostava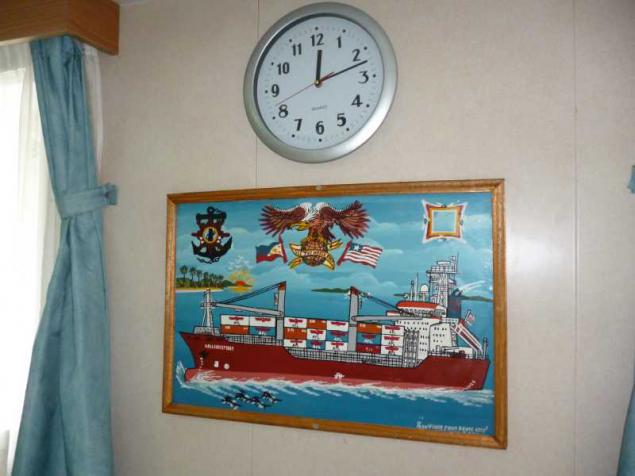 54.Poeli, it was very tasty!
Thanked the captain and galley workers, went on the ship
Dining enlisted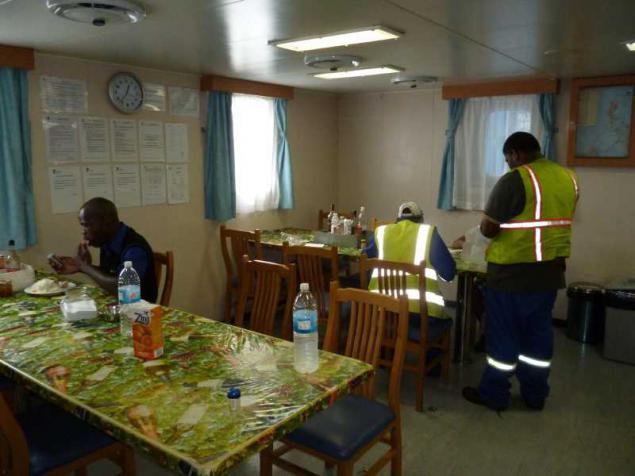 55.Sportivny room, albeit small but there!
Table tennis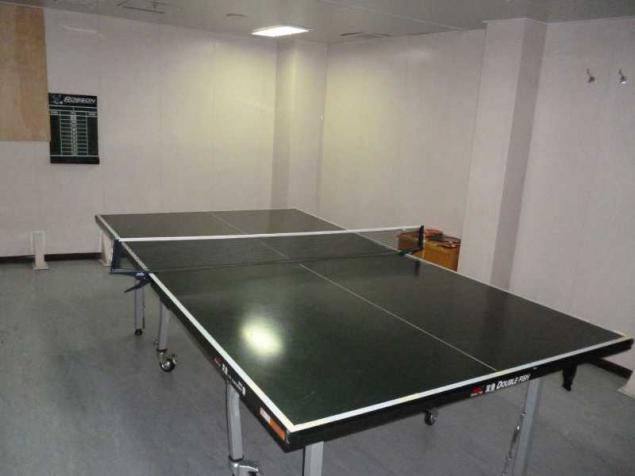 56.Nemnogo iron disperse blood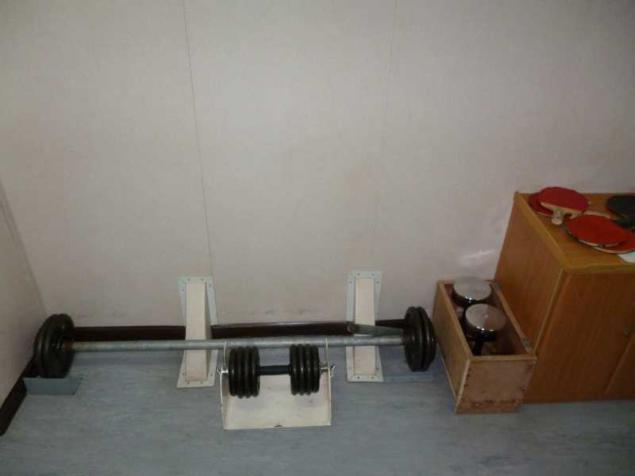 57.Darts, for those who love to hit the target!
58.Ryadom laundry enlisted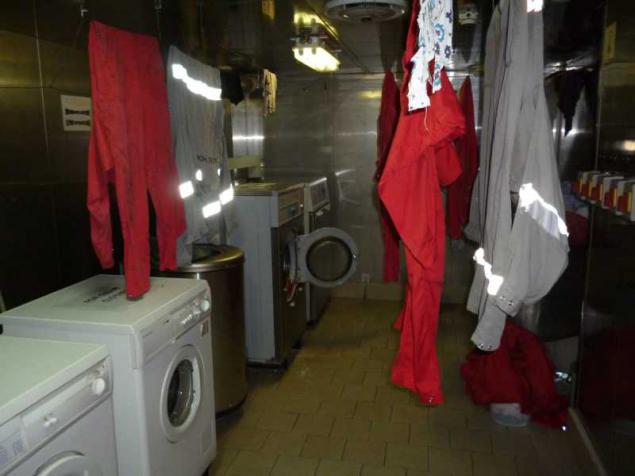 59.Otsek garbage disposal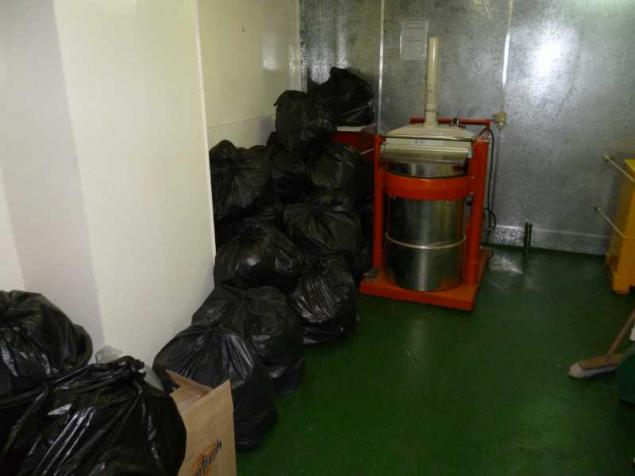 60.I emergency generator, which in the case of flooding Ministry of Defense will provide the necessary electric power boat.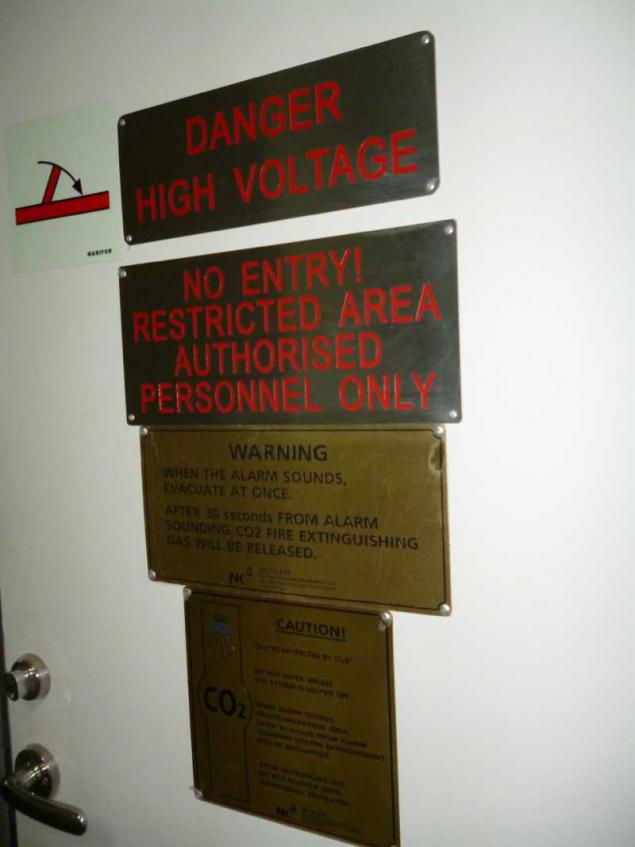 61.Poetomu it and placed much higher voterlinii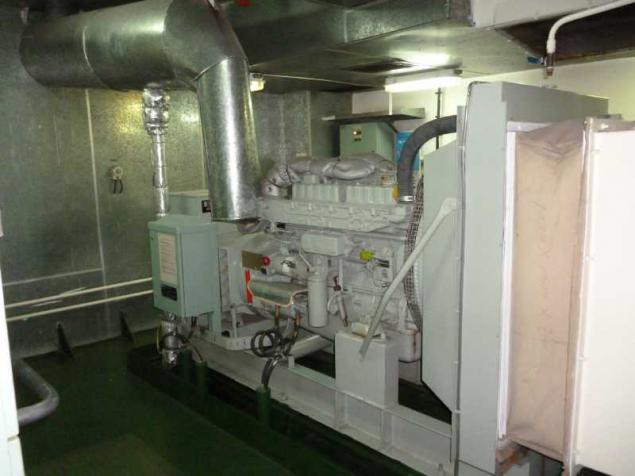 62.Nedaleko located dayroom privates.
There waiting for his time the guards, who will inspect the vessel on the presence of "hare." Yes, sometimes making their way on board wishing to leave this or that country, that the shipowner is a lot of money! Cheaper to pay for job security guards with dogs. Dogs keep up the work in a separate room.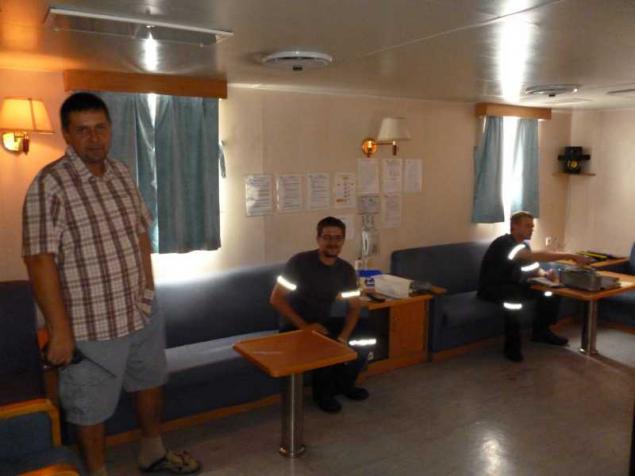 63.Ochen all sensible and comfortable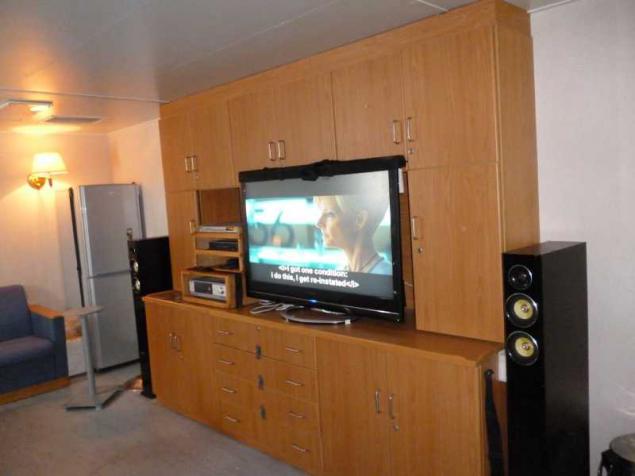 64. Even the guitar is! Interestingly, one of the crew plays what?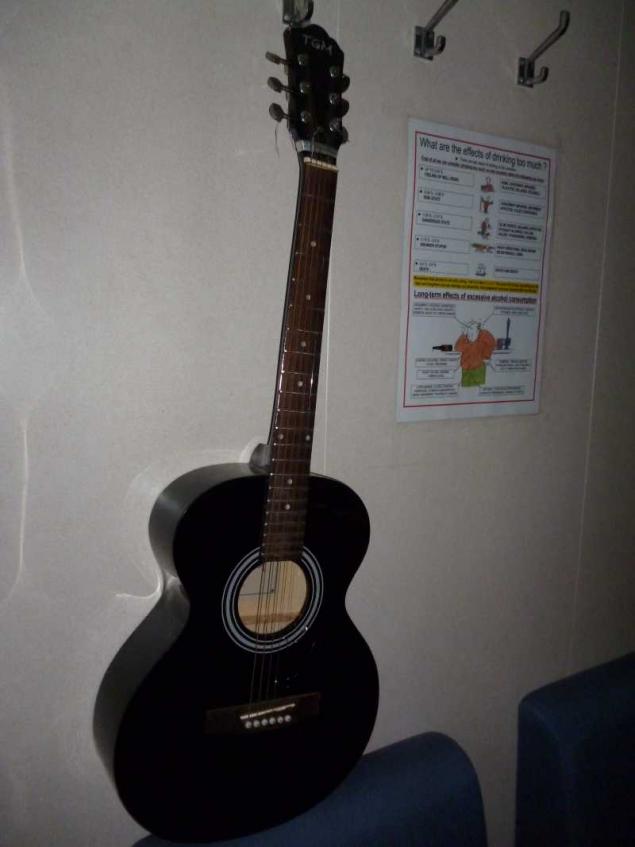 65.Esche one deck above.
Here are: simulator cabin, alas, there is a cycling simulator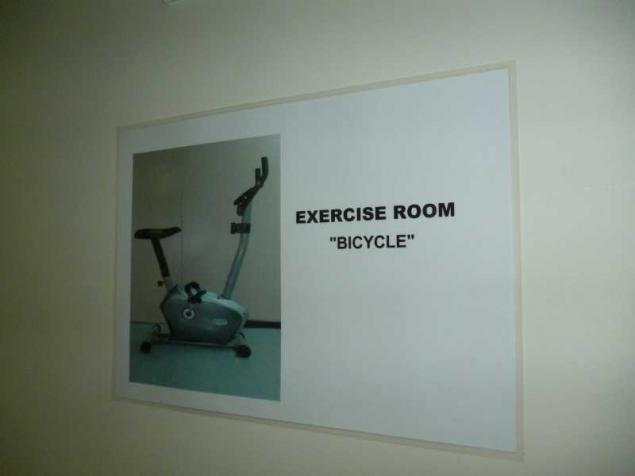 66.Prachechnaya kom.sostava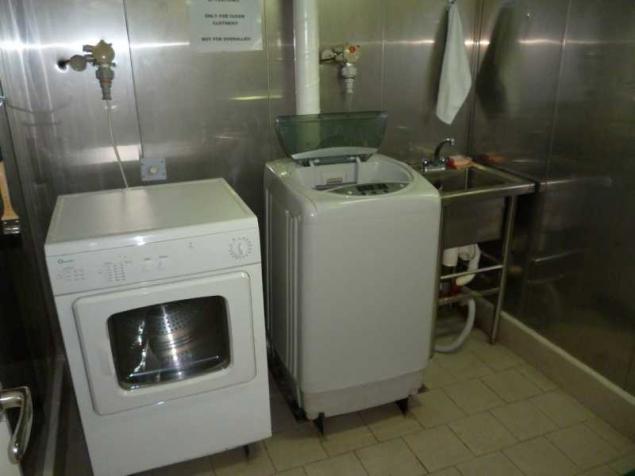 67.Kazhdy services yourself! As it is put in the sea and ...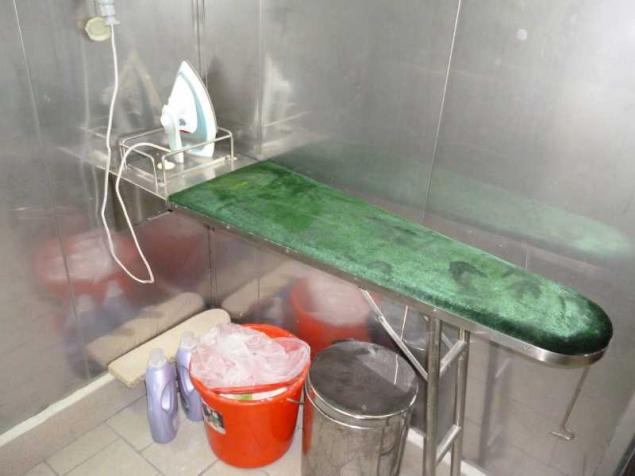 68.Komnata rest kom.sostava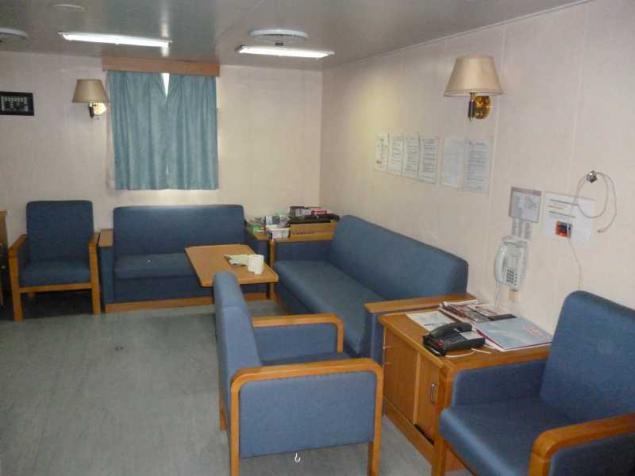 69.Vezde very clean, although Alexander said - that we still trodden on shore. In the sea we are much cleaner!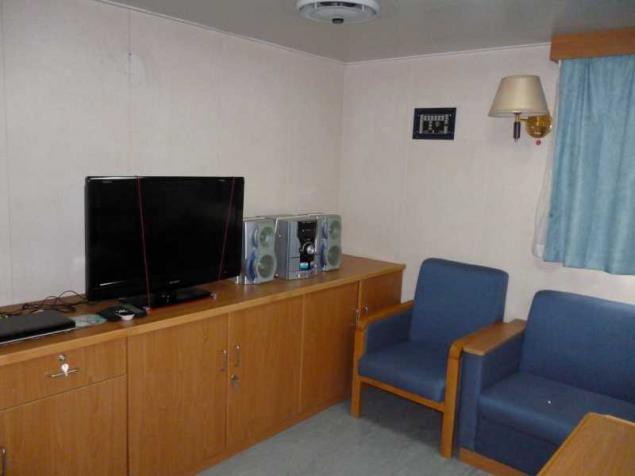 70.U me, by the way, the sea is also much cleaner!
No coastal dust, dirt ...
Here is also a figurehead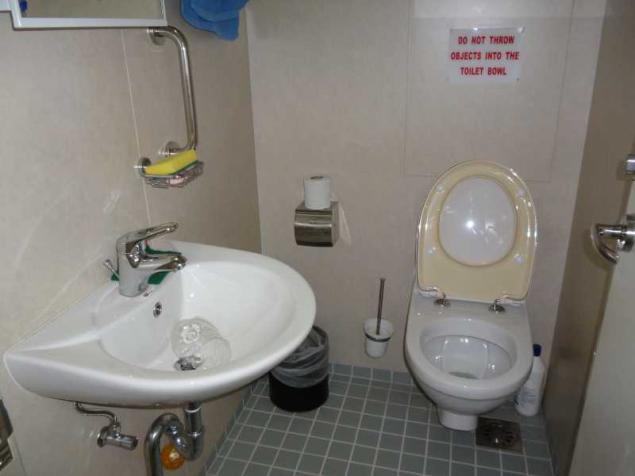 71.Esche one deck above, and the captain's cabin!
Cabinet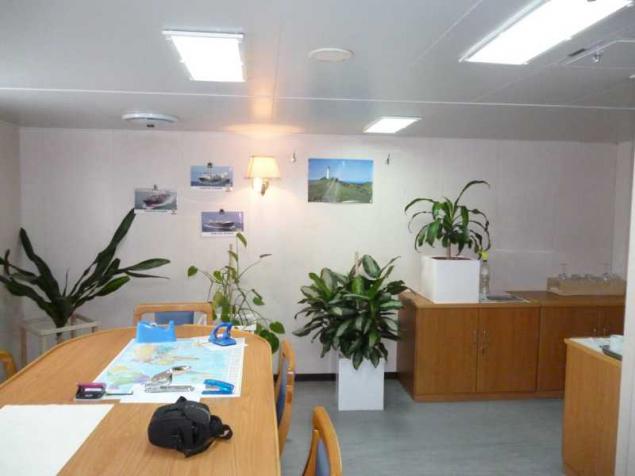 72.Na table - the computer.
Alexander shook me to the flash drive several collections of music. Thank you, Sasha, listen on the road ...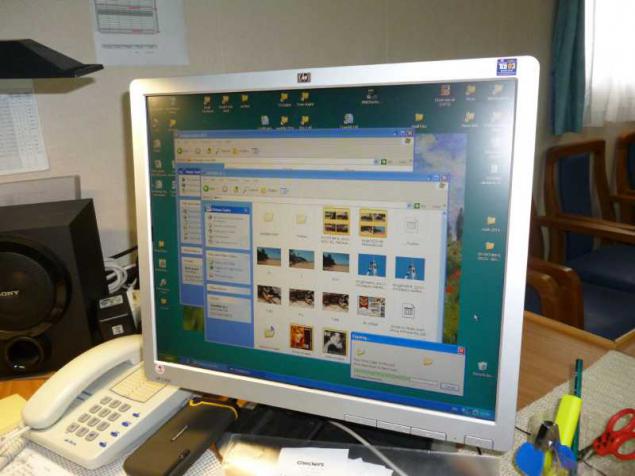 73.Kapitan allowed me to walk, take pictures ...
Court where he worked, flowers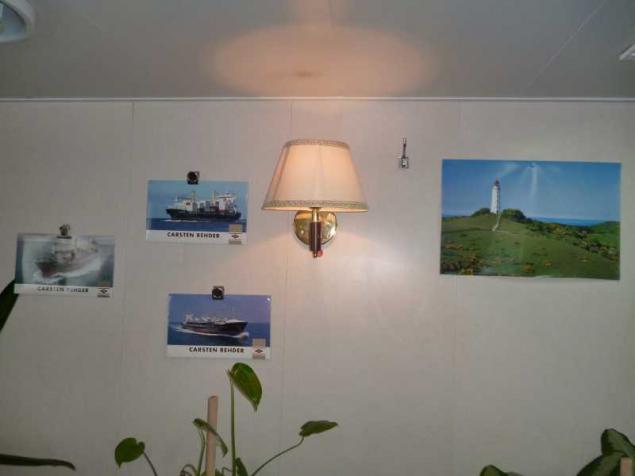 74.Gostinnaya or dayroom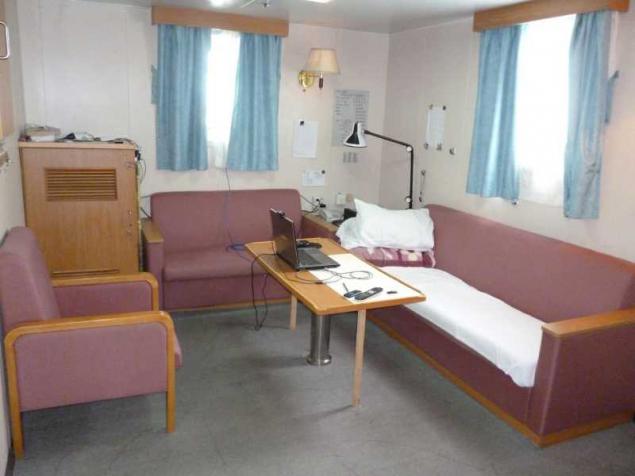 75.Televizor, exit the office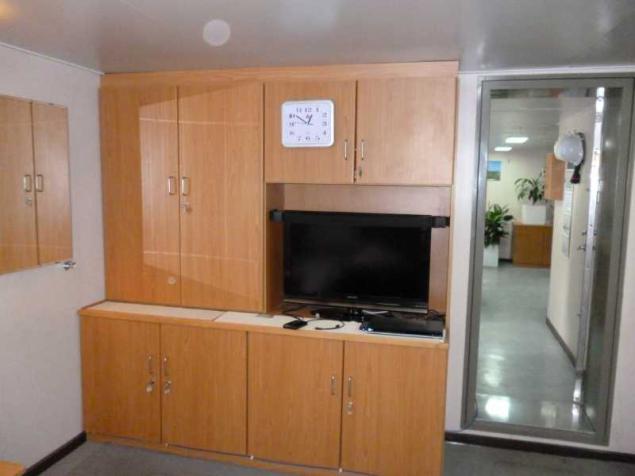 76.Tut same latrine, shower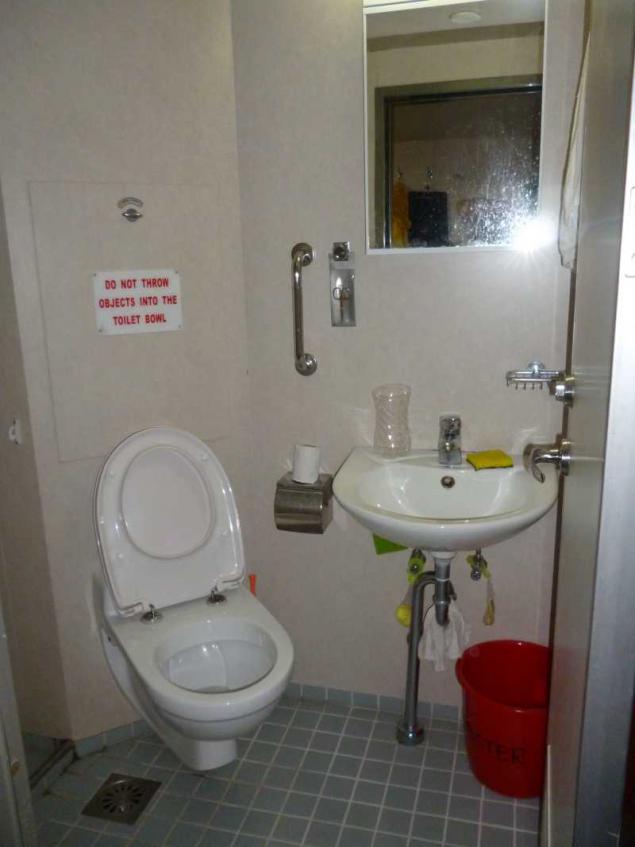 77.Spalnya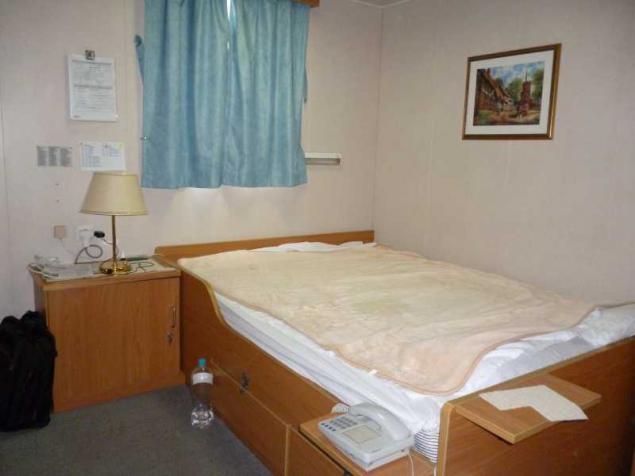 78.Kalendar ...
Yes, already 22 January, 2014.
We in South Africa have two and a half months!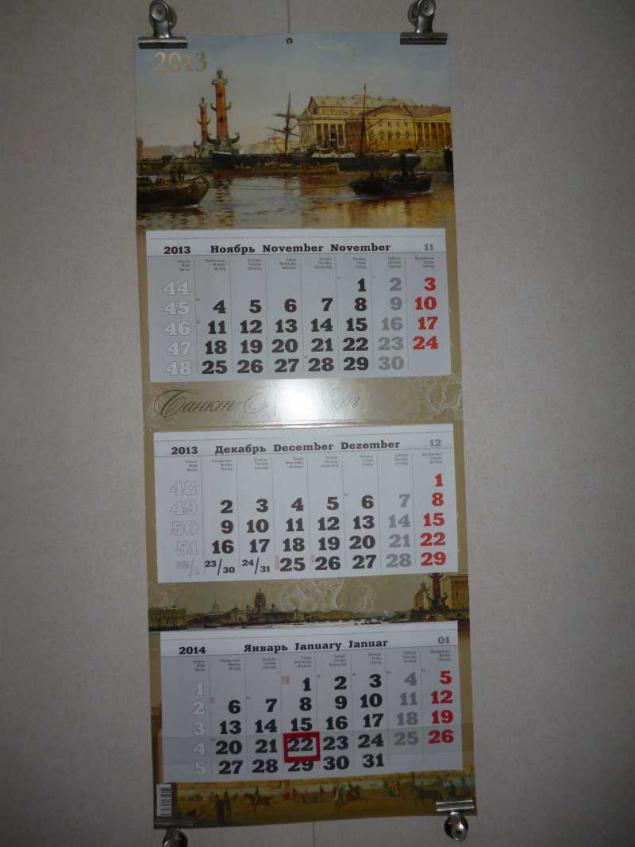 79.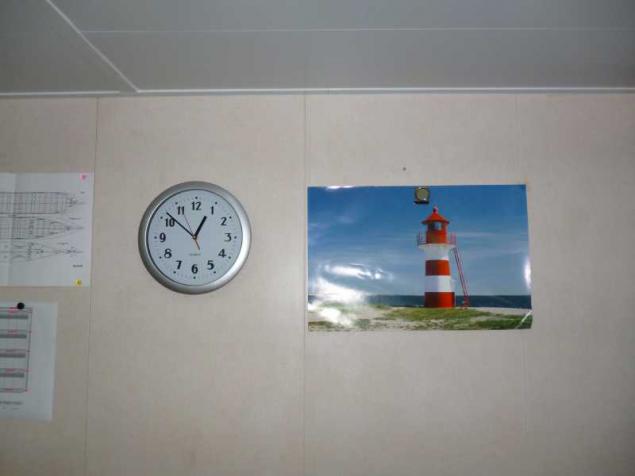 80.Nashe time is up. We must say goodbye. A couple of hours container «WILLIAM STRAIT» goes through the Indian Ocean to the east, to Singapore. Two weeks of transition.
We do not want to interfere, begins predothodnaya hassle, as always.
Thank you for great time with your colleagues!
In parting, Alexander gives me a bottle of red wine, I moved to the depths of the soul and promise to open after the passage of the Cape of Good Hope. What is it and let you know via the IRIDIUM.
Accompanied us up the ladder. Thank you guys for everything! As the house went ... a little chat, I warmed up. You look and intersect somewhere in our sea lanes-road. Seven feet under the keel you and seven (thousand) pounds in his pocket for small expenses!
And say hello to my distant but no less beloved homeland and say that Serge remembers and misses her ...
Bored to tears at times ...
That's all. Thanks to all.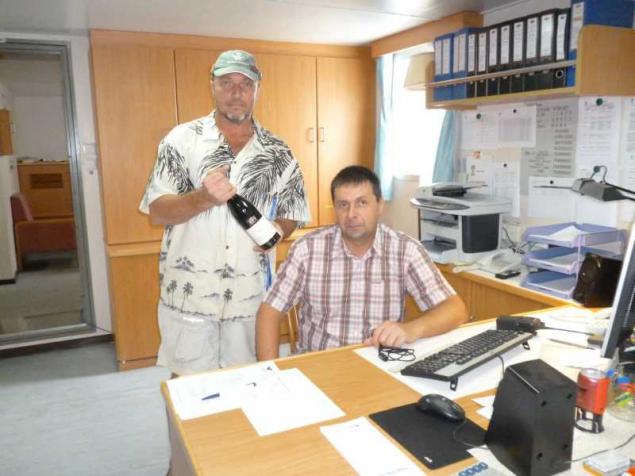 Source: