On motives of the History of Flight.
At this time, we will travel together to the site and its users YaPlakal online.
The car is the same as Ssania R420, trailer KOGEL
Tonight move out from Moscow to Vladivostok.
Many will wonder why landscaping ??? Yes, everything is simple, we are taking to tree seedlings, so the city was even more beautiful.
Topics to be 2 to the topic was interesting and readable, it will
is closed for comments.
.
Resolution of the administration of the site is received and it will be a non-format to Yap.
Describe what is happening undertake to 2-3 times a day as the receipt and availability of the Internet. Comment, give advice on travel, and just discuss will be the next topic to be created later. Who would wish to meet, socialize write in the comments.
The move will be along the route Chekhov - a108- Vladimir - Nizhny Novgorod - Cheboksary- Kazan- N.Chelny- UVA Chelyabinsk-Omsk-Novosibirsk-Kurgan Kemerovo-Krasnoyarsk-Khabarovsk-Vladivostok The reader Irkutskenergo.
The theme for comment.

A little background.
As you remember, after the last flight I stayed home.
Although the flight had to go myself, but in agreement with the partner (Valera) flight decided to split (it sezdit in Europe to unload and load and I will go to Russia dovozit), Valera wanted to sit in the house on the anniversary of my mother.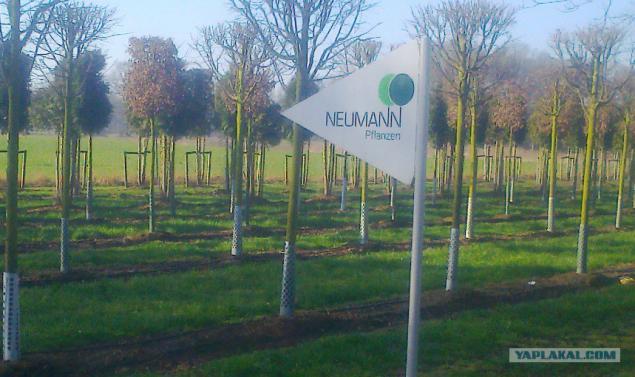 Time to rest, greeting his wife, mothers with Women's Day, and other household routine was enough.
One morning the phone rings with the office telephone that rarely happens when you nahodishsya home.
-Hello Konstantin is Irina (new person in our company and operates more recently), about it later.
I was surprised by this call.
-Hello, Irina. It is no afitsioza as saying at the time Director: all the firm sisters and brothers, but I Evgeny (he did not hear the drivers trying to speak).
Irina agrees.
Next dialogue:
Gold Coast we'll ship to Vladivostok.
-Where ????????
-You Do not worry, we'll give you an intern!
-Who ???????????? If I go, the only person I know who I trust.
-Do you have, someone in mind?
Yes, I find. I think it would be Anton Asokin.
Are you sure?
-YES.
-Sozvonimsya Pozzhe.Do goodbye.
I called Anton, he was not against it. In this and decided.
Later, there were many calls, approvals, and everyone was waiting for when the machine is booted.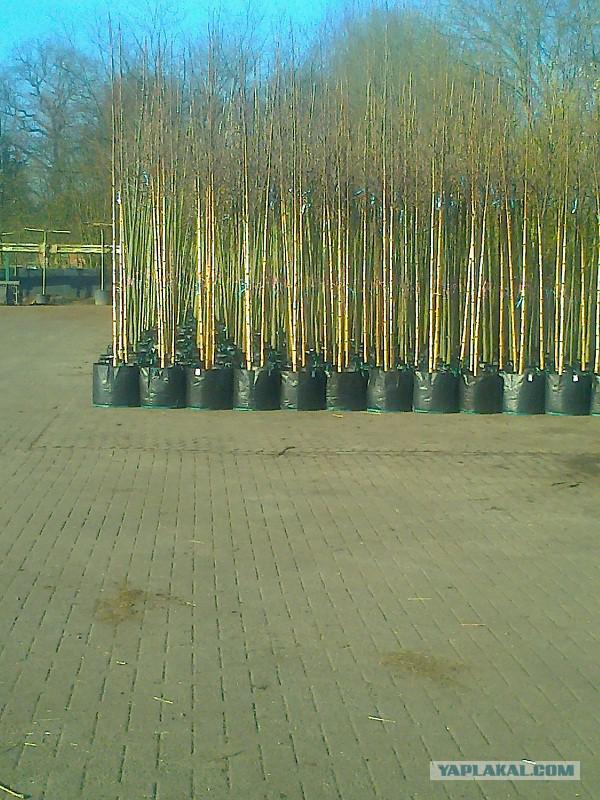 Since I myself was not present at this procedure, describe it and I will not.
But a couple of pictures of nursery in Germany I still have.
It is the largest plant nursery in Germany.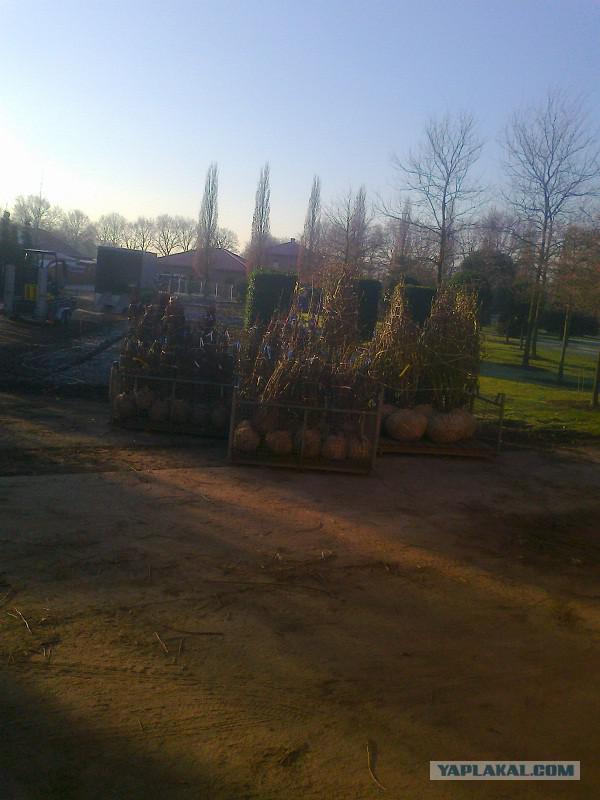 2.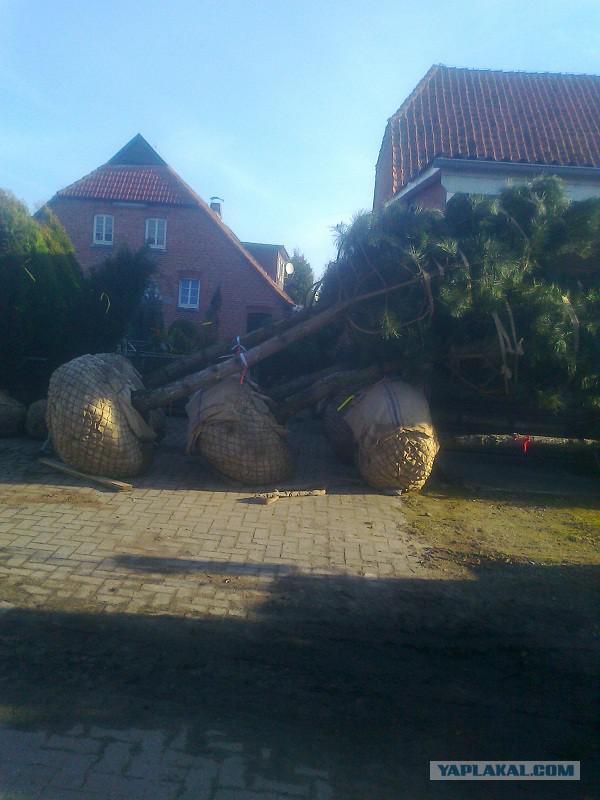 3.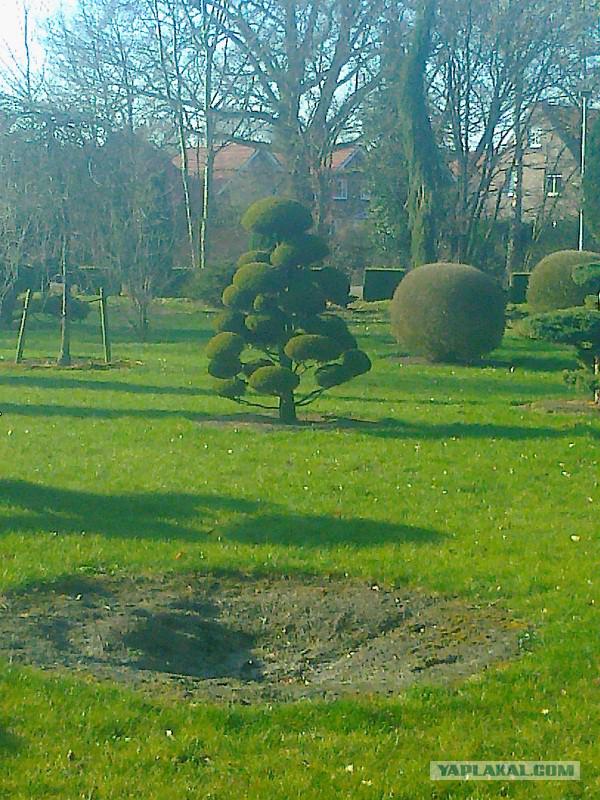 So it is downloaded.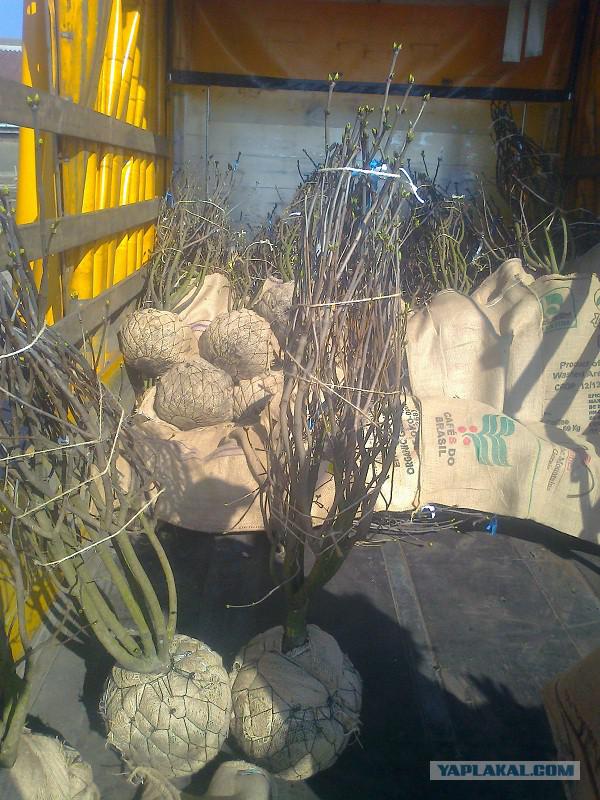 According to the partner of Georgia and manually and tap.
Total has been downloaded 210 seedlings, weighing 18 tons. Frankly I am shocked and I myself really wondering how they will travel that distance.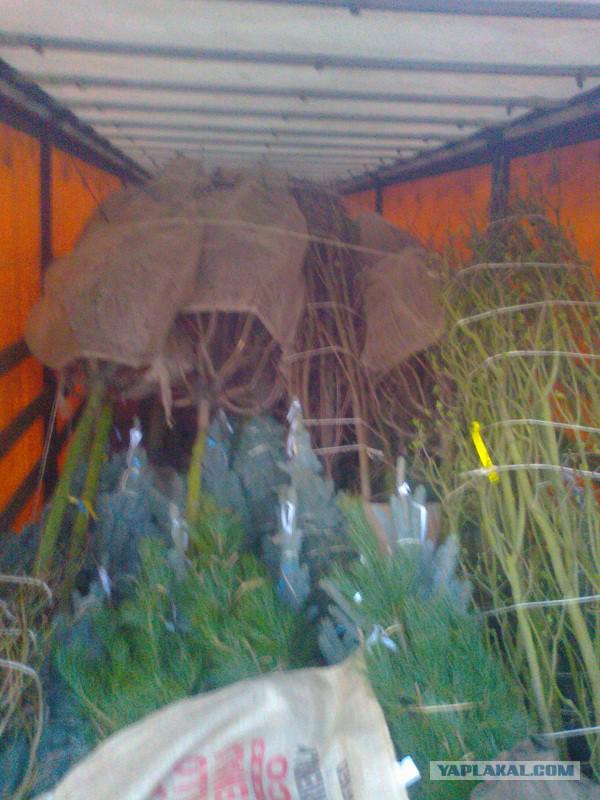 That's what a beauty in the nursery.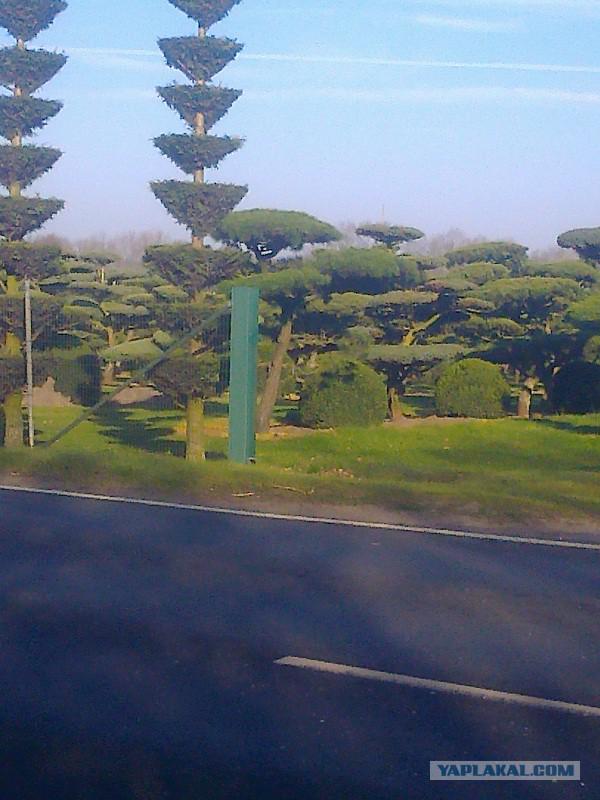 Our flight began with the transfer of a car in Bobruisk, where we and lives.
The consequence of night riding, about which I told you in the previous parts. I jumped in the village dog to bark, bumper smithereens. Valera did not take pictures of these horrors. For Yap this area.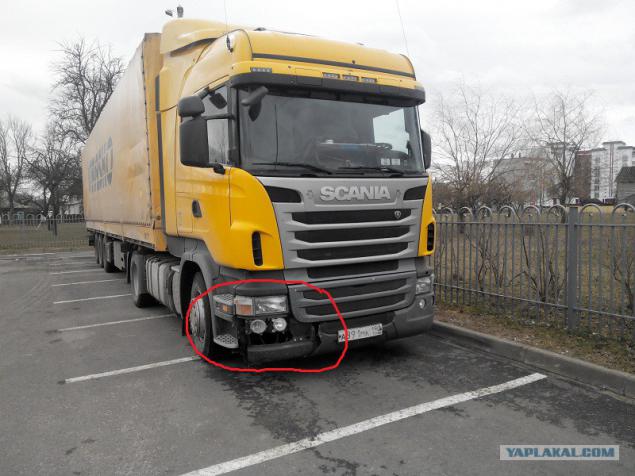 Zatar with food for most nimogu. We leave in Krasnoznamensk at customs.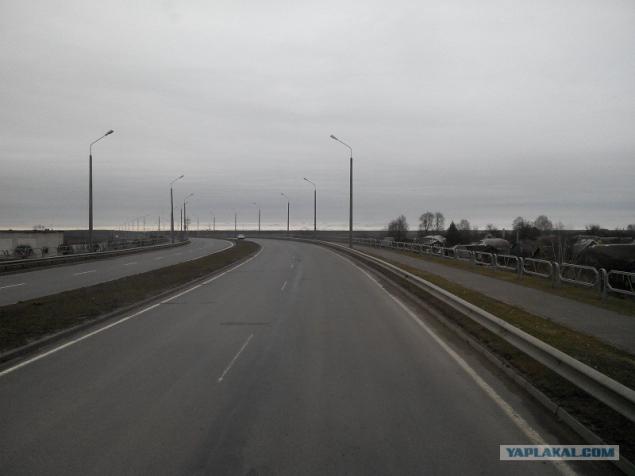 Normal dry coating can not but rejoice. While I was trying to take pictures of Anton helm.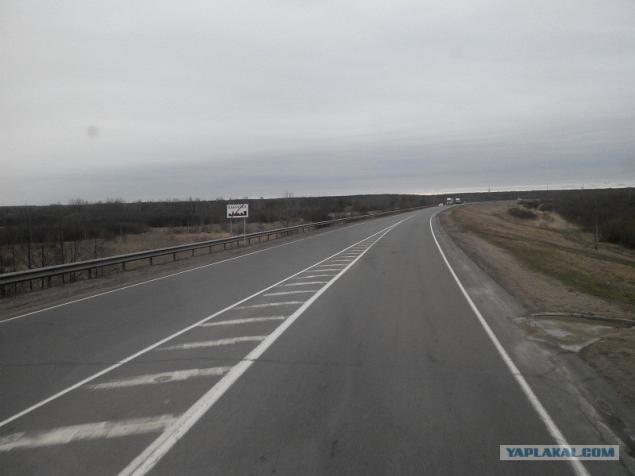 Bobruisk yacht club. Berezina this year, banks will not, and many residents it pleases.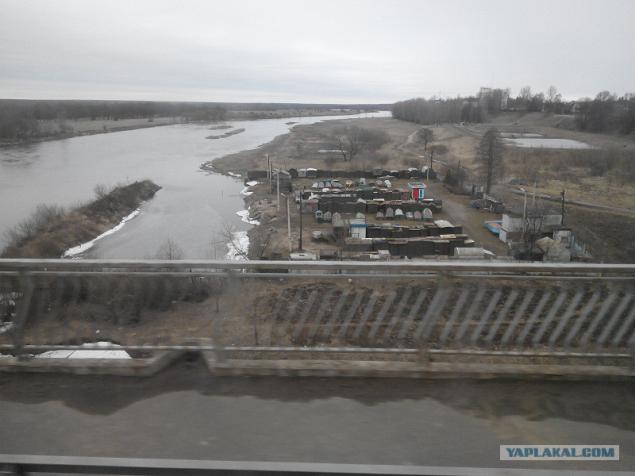 On elections, we do not get, but oh well.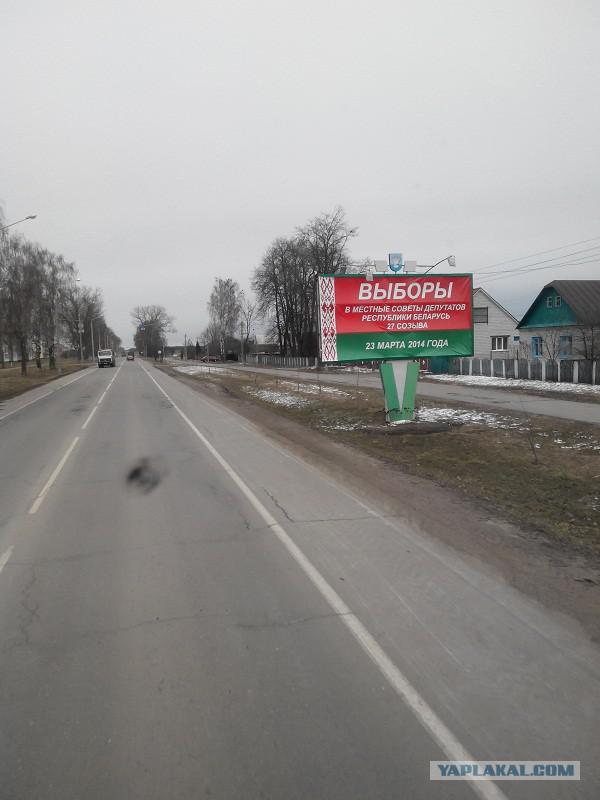 Closer to Mogilev began to snow, and the weather ceased to please.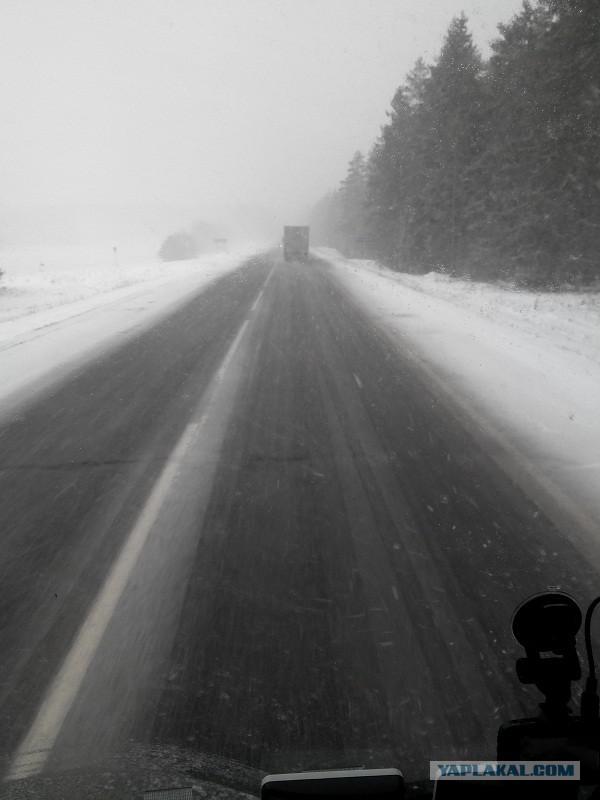 With gas silicate Mogilev to Moscow will ship directly from the furnace hot.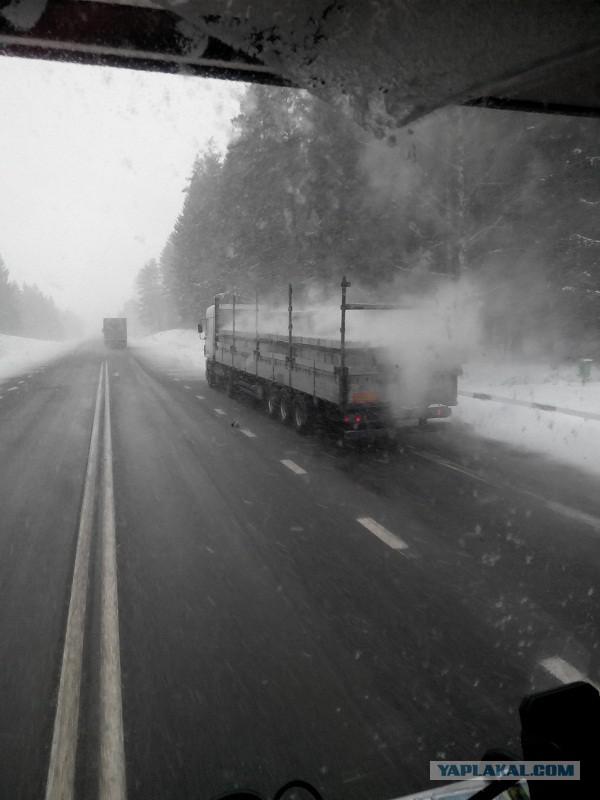 Later the road was getting worse and worse.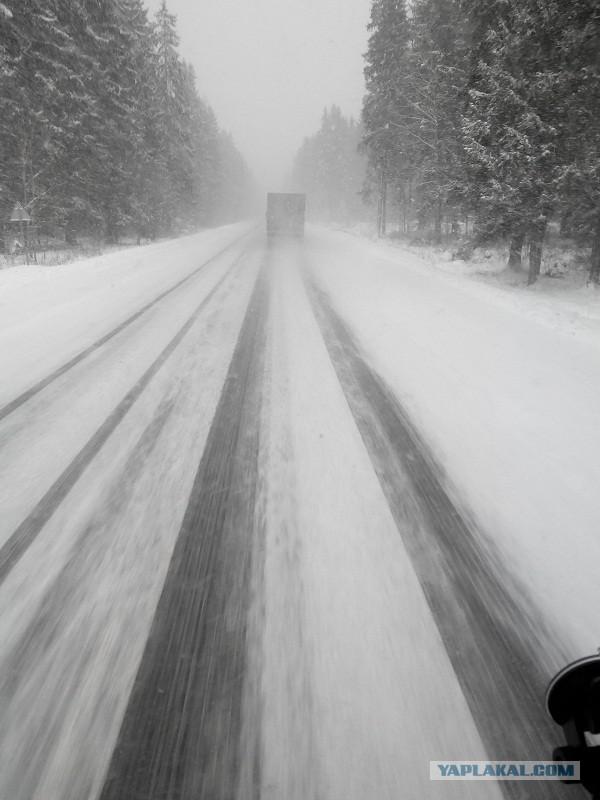 The velocity of the fall, the distance increased.
The guys on the radio said that the Smolensk sun. So just hit the small cyclone.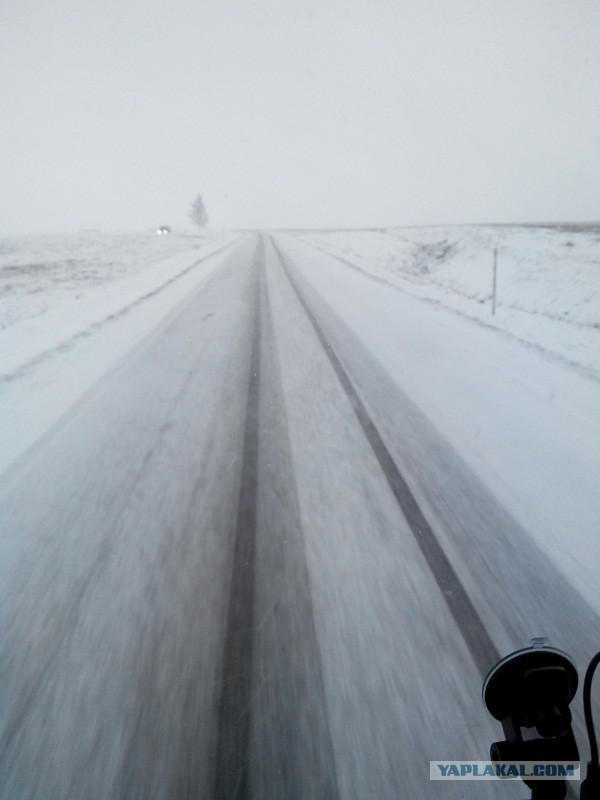 In Belarus began to make refueling of German standard ...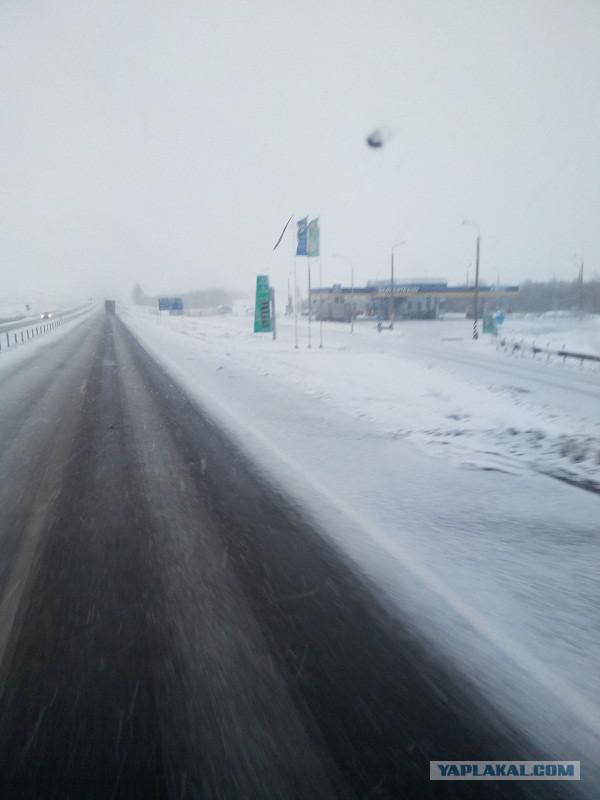 with parking in the form of Christmas trees. Well done.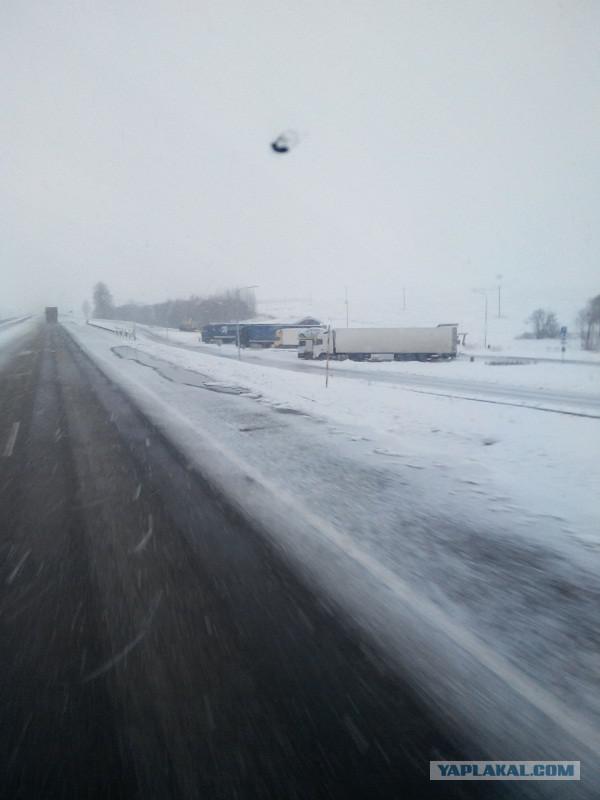 On the border guards are present, check the passports of drivers and passengers of passenger cars. To get into disfavor border services of Belarus, even very easy. Enough 2-fines are not paid by the traffic police. Bailiffs have to score in the database does not veznyh and then or on another border crossing have deployed back.
At our company we take place on the transition from Ukraine. (sent the driver to change it), and in the next nevypuskali company of Kazakhstan, and the joke is that it let in Kazakhstan, and no back.
As always refueling and drove on.
On customs we arrived late at night, though the guard was surprised that we have a perishable delivery in 72 hours and the temperature in the 7 to Tarpaulin trailer.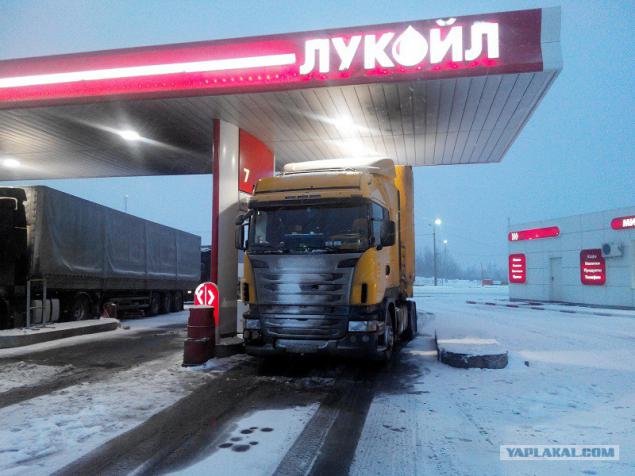 We arrived at 3 am, 8 had to hand over documents. For more than an hour late, you can get a fine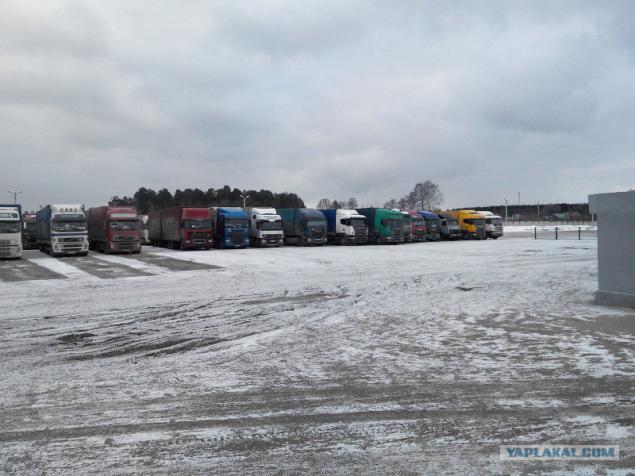 For perishable there is a priority. There are constantly released as flowers. Well, we got into this stream))))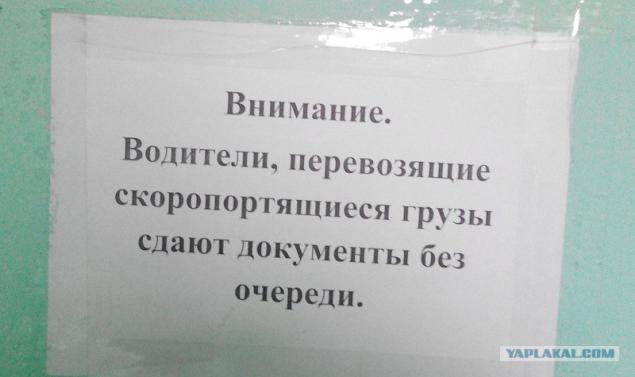 Civilization is present at the terminal, and it's not bad. Sometimes it is not a normal toilet.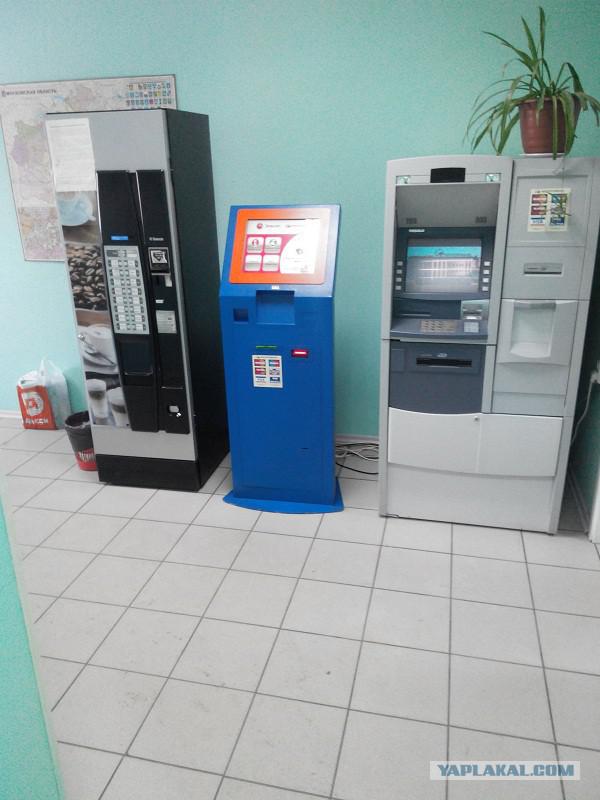 Customs terminal is very large and trucks vlazit abound.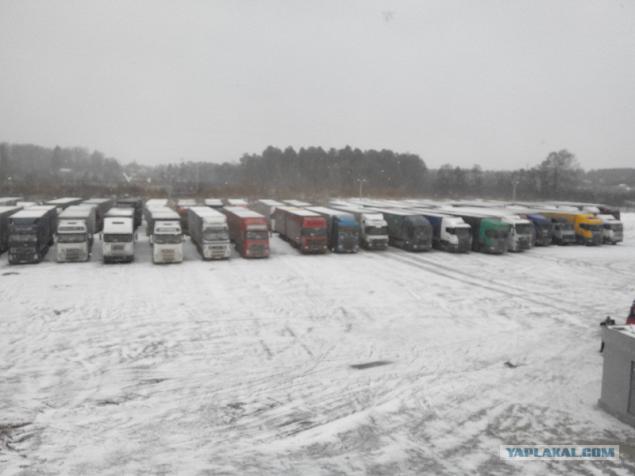 2.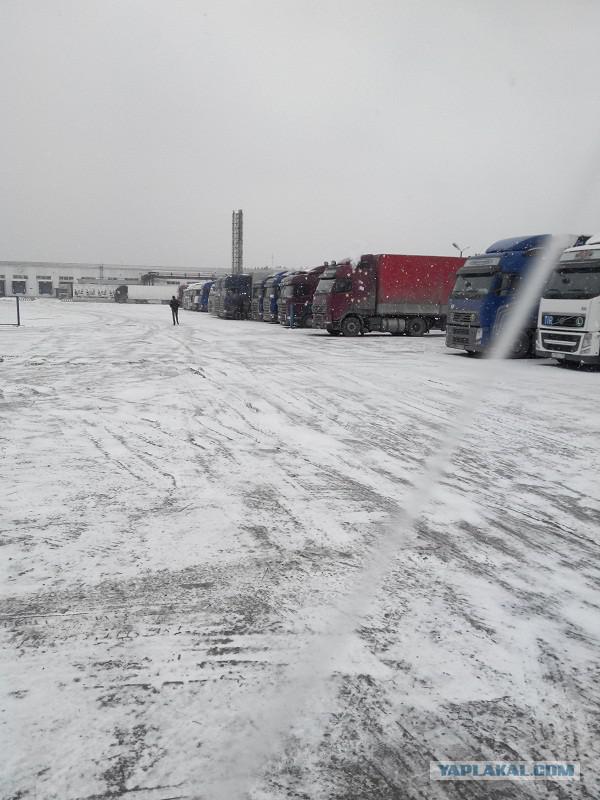 This is a lucky district prefecture and views.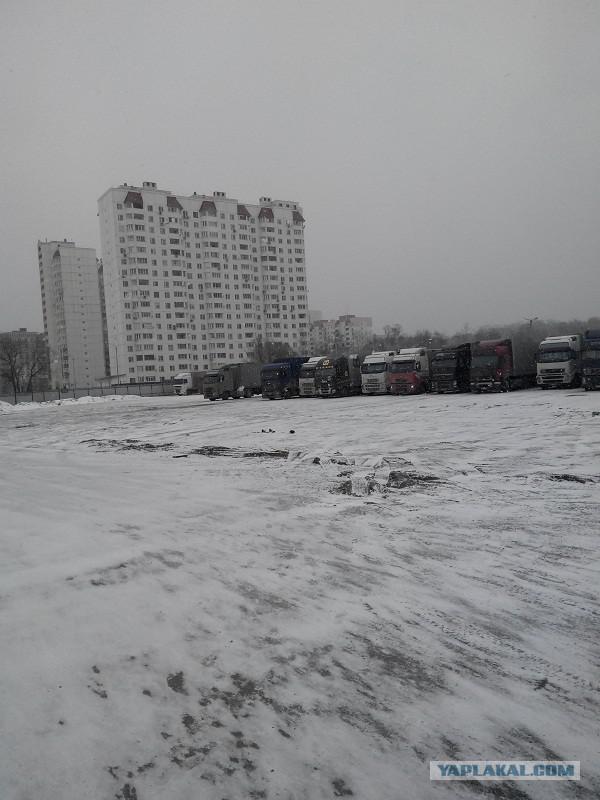 Cargo customs cleared very quickly. 4 hours, for Russia it is not a bad result. At customs, and can serve a month.
Immediately we shut down and noted international instruments as the customer was Moscow. On the road we have issued invoices for shipments to Russia.
That freed us from the regime of work and rest.
Next we went to Chekhov in the service, about which I wrote in the last part. To prepare the car for the trip and bring your spare wheel and consumables.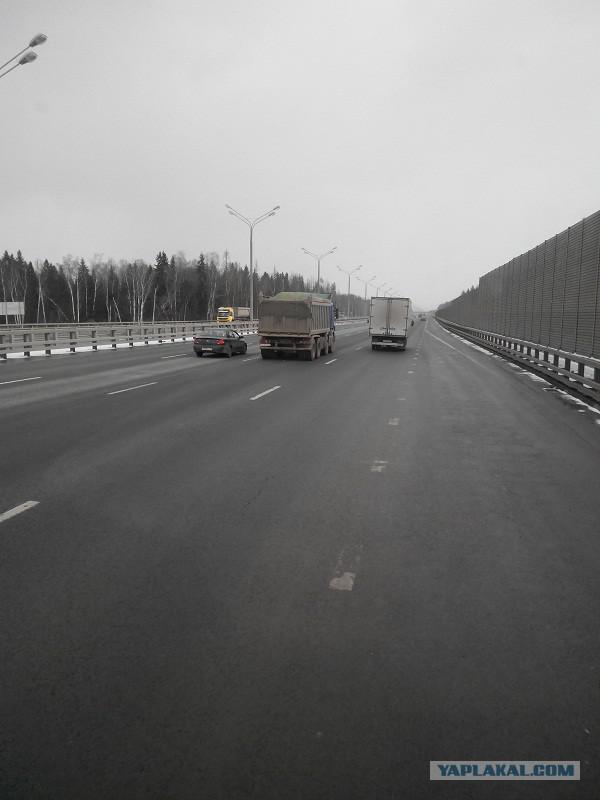 Meet is Anton.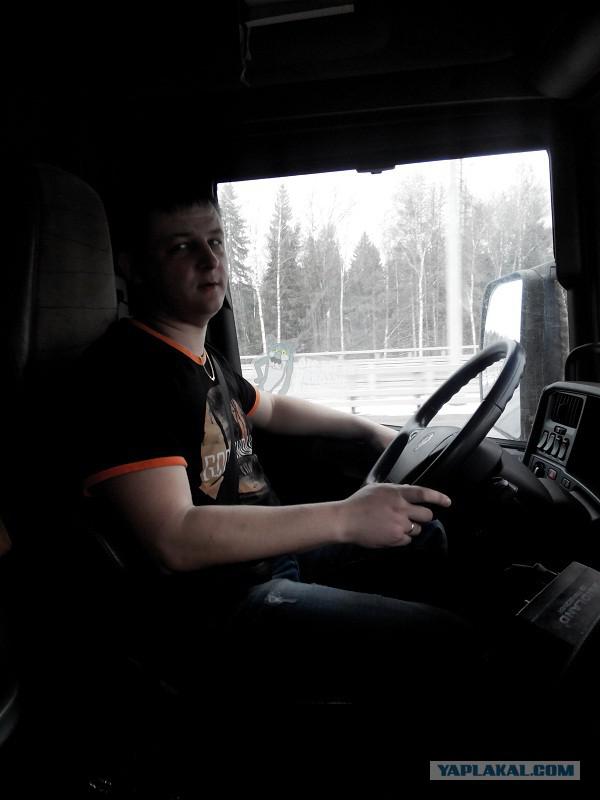 Since the Ring Road is closed to Krasnoznamensk to Chekhov have to go for 107. A sensitively decided to cut through Krёkshino.
Stir in zamkadya daytime very labored. Plugs everywhere on svetaforah, railway crossings.
Posted in [mergetime] 1395284212 [/ mergetime]
90km we drove 3, 5 hours. Most certainly were. And it became clear that all will not have time to prepare.
A 107 is generally a solid plug.
Posted in [mergetime] 1395285027 [/ mergetime]
But in addition to the service we still had to get to the central office in Arkhangelsk that near Krasnogorsk. Anton is ready cars.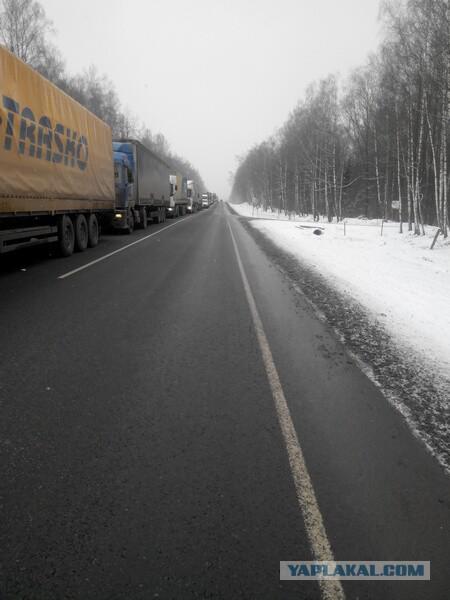 About our service I described in the previous topics.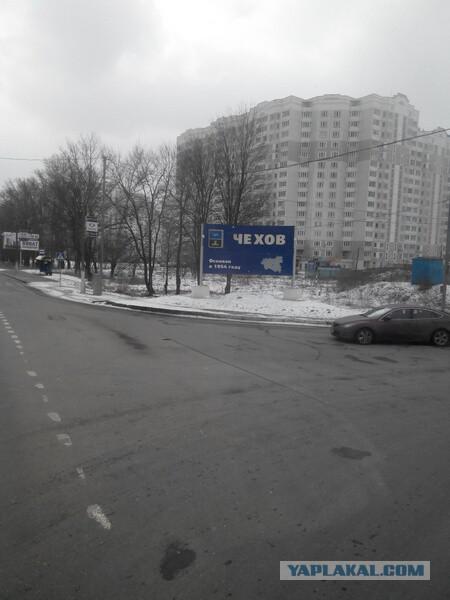 In order not to drive a truck and not to waste time I sit down at the little and blow in Arkhangelsk.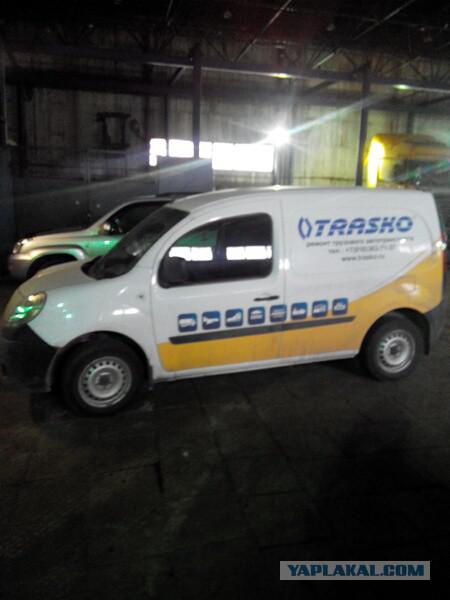 Moscow stood as always. Like trucks and removed, but nothing has changed.
More noticed a pattern, a large number of fast and half the time they move in pairs. Ie * nai little comfort, so more and armed with a carry.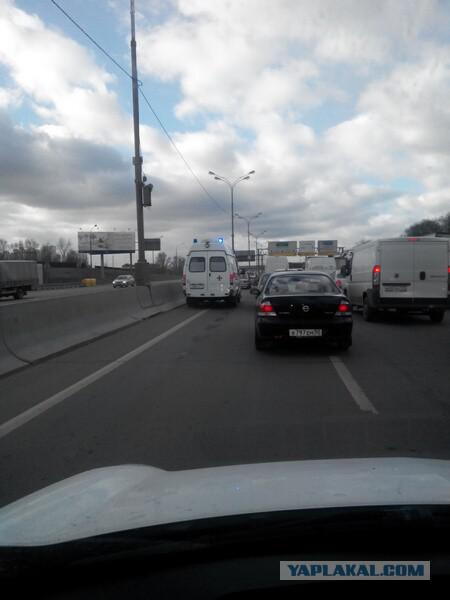 At the office received instructions, missing documents and Chekhov, I returned late in the evening.
If all had to do on the car, we could go and pass the night Moscow. But the mechanic said to change all the welding on the trailer and some more rasskhodniki dopoluchit.
Losing a day.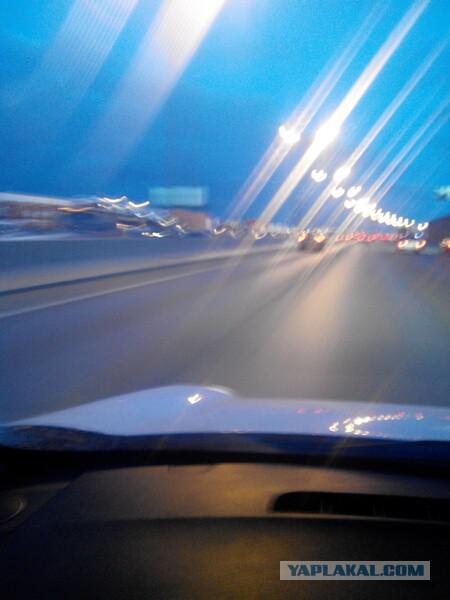 We collected thorough. 4 spare wheel, a set of filters, belts, rollers, pnevmoresory, all sorts of small things so as not looking at the road. Crammed full car.
Yesterday, before leaving the snow started, and we thought we had to postpone the departure until the morning.
But with an Internet service to the problem and to start writing, we decided to move into a zone of confident reception Ineta.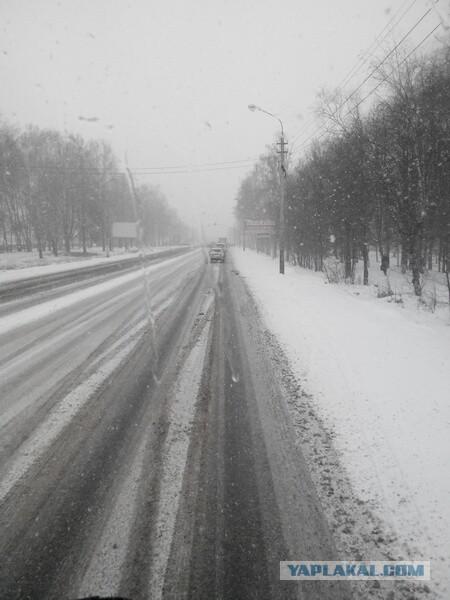 A lot of 108 better than the 107 but traffic jams are also on all crossings, as they are closed after 5 minutes, so more and beaten. Pass their accounts at the minimum speed.
In the district of Kashira move we have defended for almost an hour and 20 minutes at the intersection of M-5.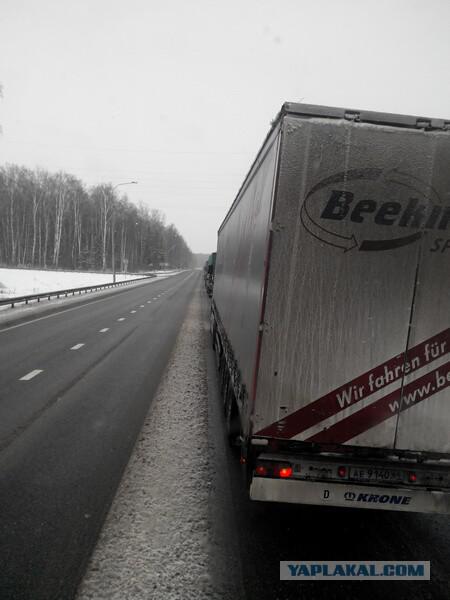 They arrived at the Voskresensk and decided to become the first park that caught all over.
Yandex showed that more more fun, all stood before M-7 as well as on it.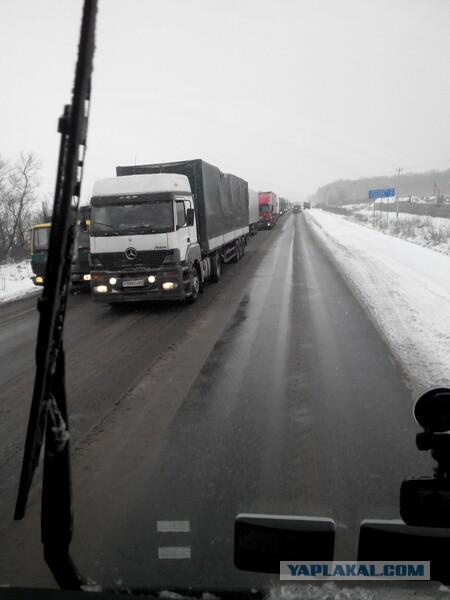 This morning, got up at 4 am, breakfast and go. While taxis Antiochus I'm trying to catch up online))) With nouta on the go to write does not work, it is necessary to convert pictures on the laptop and on the phone fold.
In the past often ask for photos of the domestic situation of the car. I will spread slowly.
My bed)
Posted in [mergetime] 1395291932 [/ mergetime]
The road is free and we thought that we were lucky and slipped cork.
But not so smooth as we would like to focus on the repair of Vladimir. Stopper 3 kilometers and that at 7am.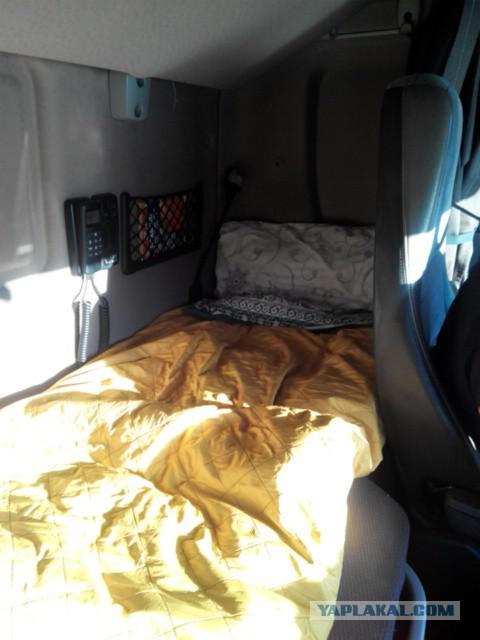 Tugged hour.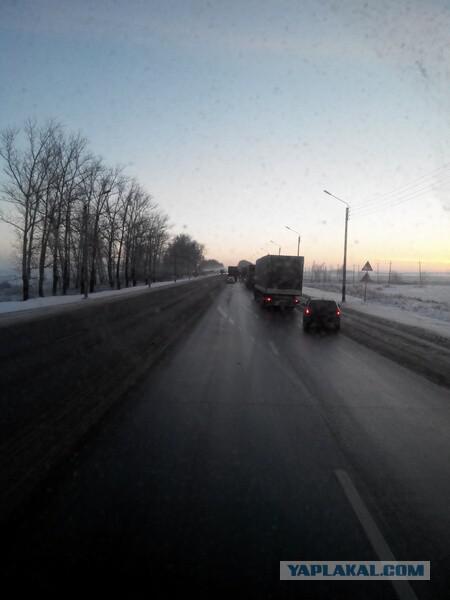 2.
Posted in [mergetime] 1395292375 [/ mergetime]
All would be moving much faster, if not obochniki. Really we pulled up.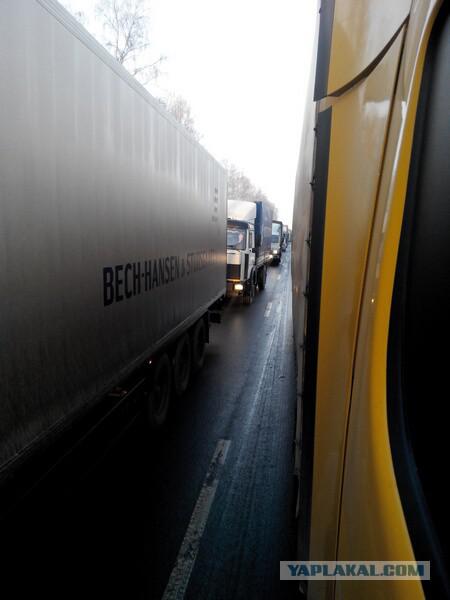 schemyatsya, morgayut.signalyat. Otrobe.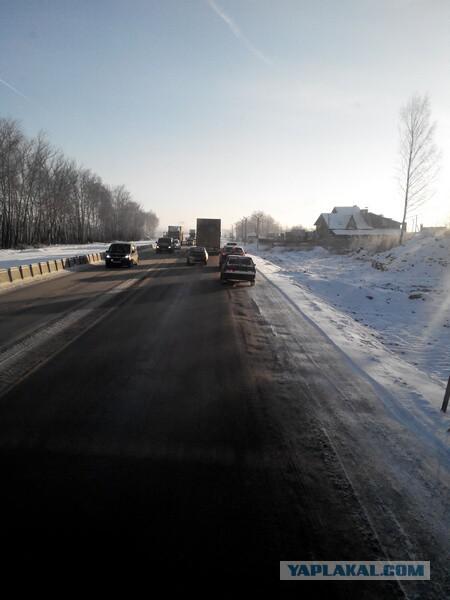 But in Moscow's side are now all sorrow. On repairing the car broke down they are trying to remove.
Posted in [mergetime] 1395293448 [/ mergetime]
They are hollow.
but then was all ass. Because of the contraceptive exit from the bypass and turn was blocked for 10 km. The radio was such that I had to do pizdezh for quieter.
Posted in [mergetime] 1395304251 [/ mergetime]
On the floors are actually pulled up. What is there for the navel of the earth must go, so people were standing on the road for 2 hours.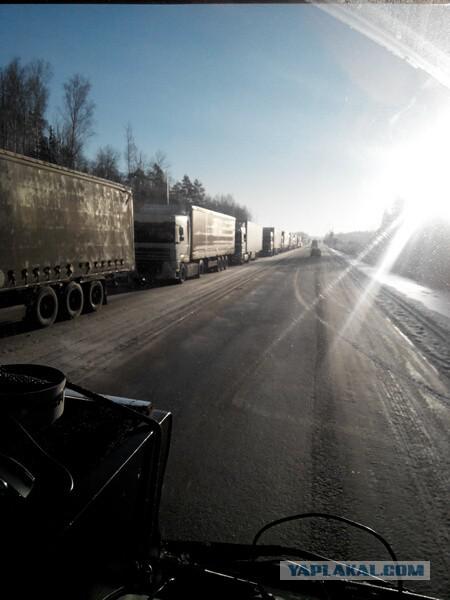 2.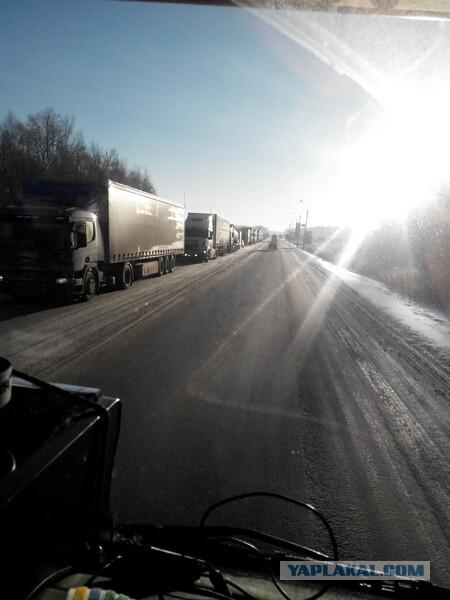 trucks stood on the side of the road you can go to relax. To be told to keep 10hours.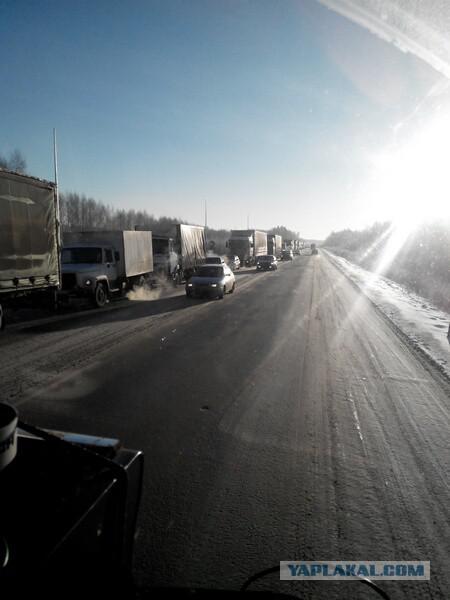 And we slowly we skip for seven. The road to the Gorokhovets beaten. But you can go.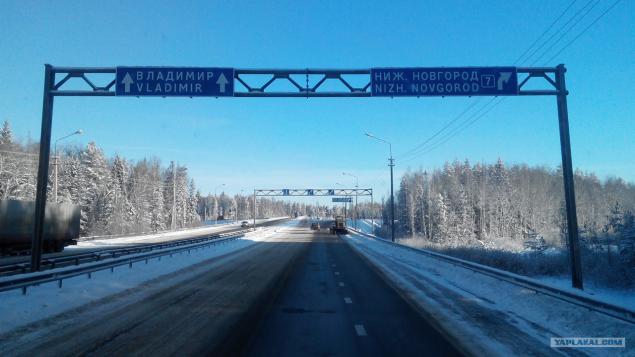 Hello Gorokhovets.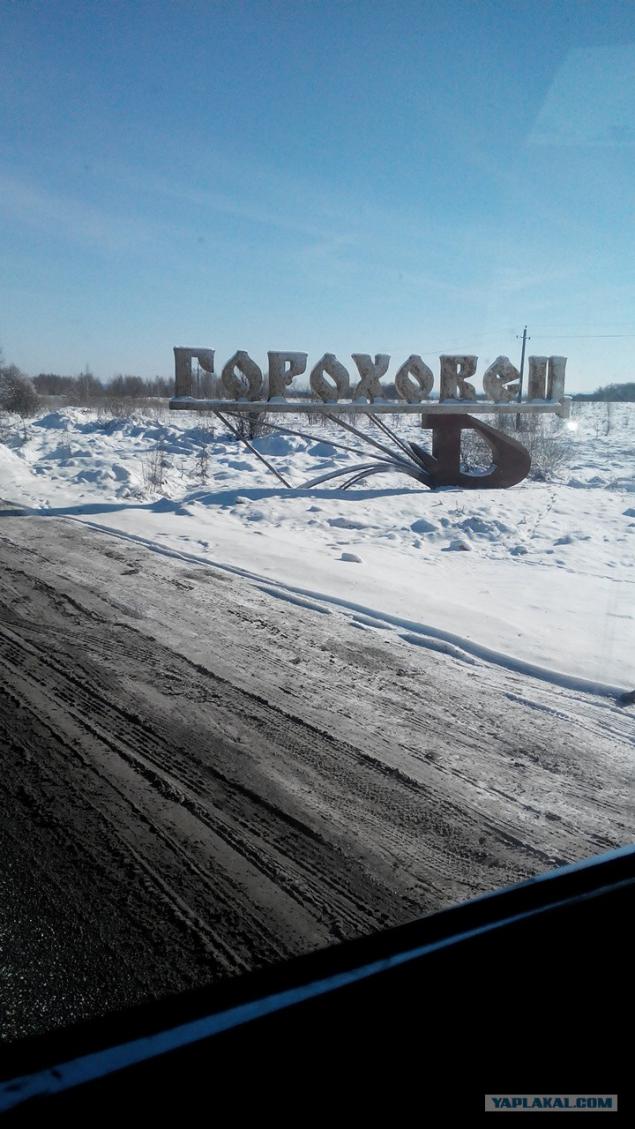 To the bottom of the road becomes better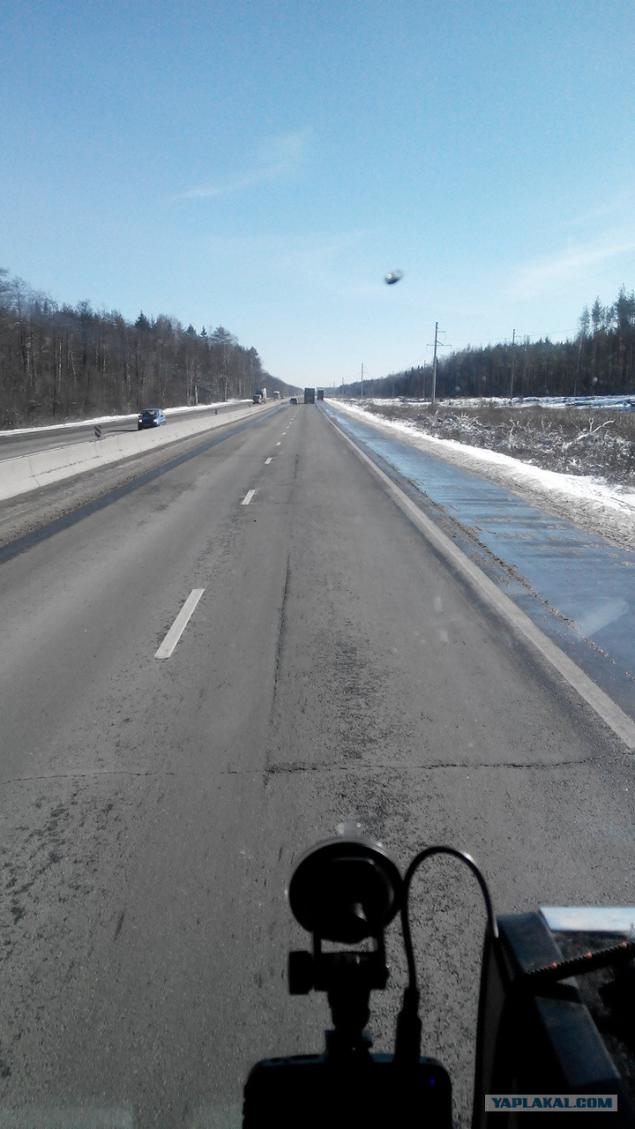 Since Nizhny accident on the bridge (the guys on the radio said) we went through Oka on the old obezdnoy.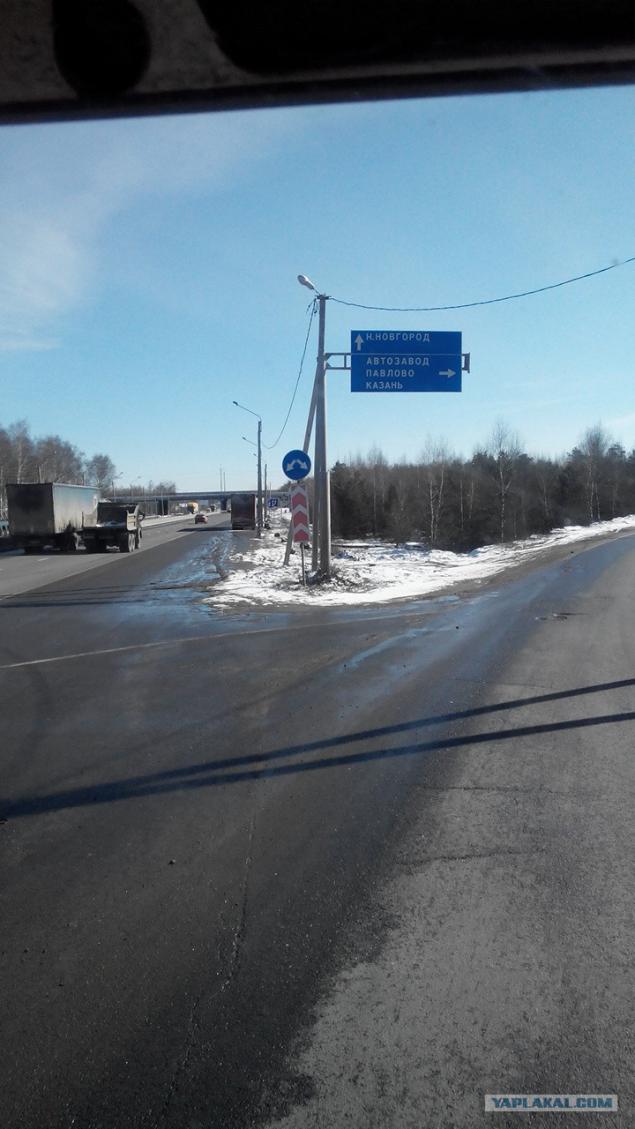 it is to 4'5 km long and on hills. During snowfall there better not turn up.
Yesterday a colleague apparently complicated.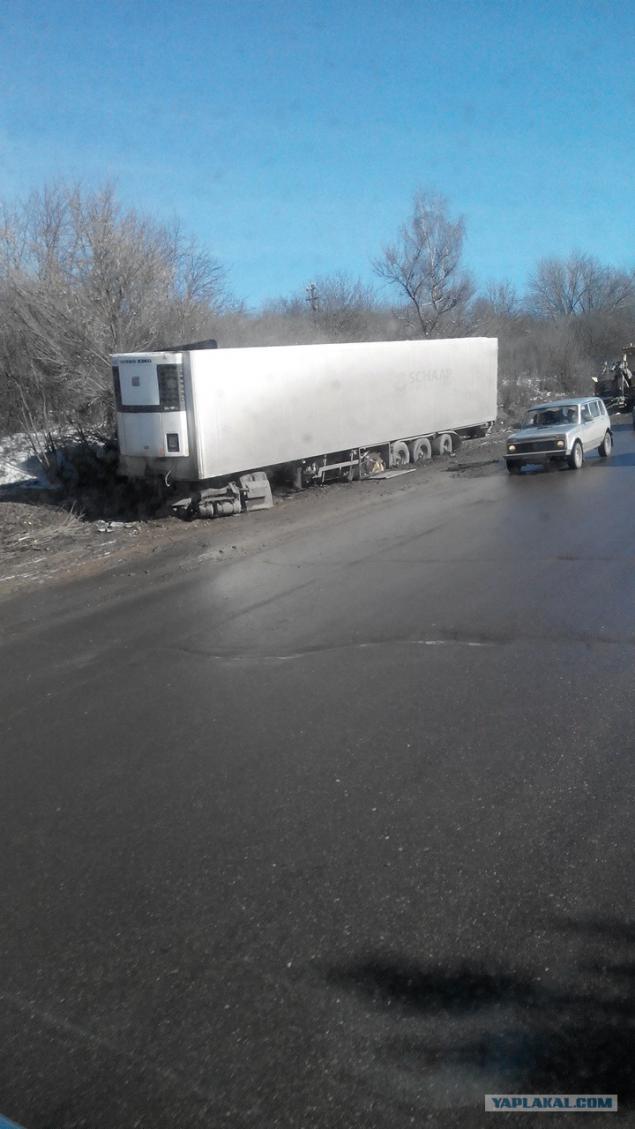 Source: