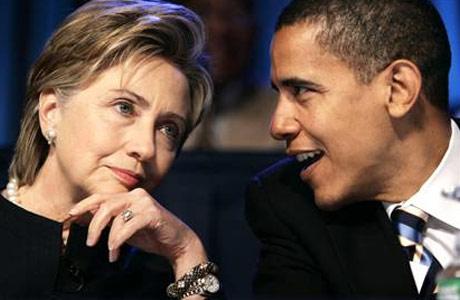 Hillary Diane Rodham Clinton was born on October 26, 1947 in Chicago, Illinois, and grew up in Park Ridge, in the same state. She has two younger brothers, Hugh (born in 1950) and Anthony (1957). They were brought to the "traditional values ​​of the Midwest: family, church on Sundays, respect for elders, good study, exercise," once said Hugh.
Hillary Clinton was the only first lady, is called by subpoena, and it was due to her involvement in a case of conflict "Uaytvoter" in 1996, and gave an affidavit during the investigation and civil investigations into the Trevelgeyt (Travelgate) and Faylgeyt (Filegate). Hillary and Bill were the first presidential couple, who the FBI fingerprints.
Shortly before she married Bill Clinton in 1975, Hillary tried to enlist in the Navy may have to make a political move. Specialist recruitment rejected it on the grounds that it is already out of the age, she had poor eyesight and she is a woman.
Jennifer Flowers, which presumably had 12letnyuyu relationship with Bill Clinton, when asked how she felt about the fact that the vote for Hillary Clinton in the presidential election, said: "I'm for a woman to become president. I just can not imagine at this point it ».
In the early 1990s, when Bill Clinton earned 35 thousand dollars a year as governor of Arkansas, Hillary received 100 thousand from its practice in a law firm and by commissions. She received part of the salary of the Lafarge cement producer, which was later fined for excessive pollution of its plant.
As a child, Hillary wrote a letter to NASA asking her to enroll in the astronaut, but she was told that the girls "do not take into astronauts».
Around Hillary Clinton during her youth rumors that she was a lesbian based on her energetic manners, lack of interest in their appearance and surrounding companies, who called herself only as «HERC and girls" playing with her initials HRC.
When Hilary was a teenager, she organized a group to look after the children of Mexican migrant workers living in the countryside in Illinois.
In the ninth year of schooling Hilary sometimes appear in class Scout uniform. Perhaps that is why she later became a supporter of the widespread introduction of wearing uniforms to school.
By submitting documents and Hilary went to Yale and Harvard. When it represented one of the most famous Harvard professor of law, he said, "Professor, this is Hillary Rodham, and she can not decide between us and our nearest competitor." At Harvard the teacher replied: "Firstly, we have the closest competitors, and secondly, we do not need the girl." After these words, Hilary stopped choice on Yale.
Along with Hillary, Faculty of Law at Yale University has learned only 27 women out of all students.
As Hilary met with Bill Clinton: She got up from her desk, walked over to him and held out his hand and said, "If you keep looking at me, and I do not mind, to look at you, then why would we not meet ? I - Hillary Rodham ».
When the mother of Bill spoke disparagingly about appearance Hilary, he replied: "I also need someone to talk to. Do not you understand? "His connection on the side, however, was about to become some times cause the divorce.
October 11, 1975, Hillary and Bill Clinton were married at the Methodist church canons.
When Hilary asked that it attracted in the Bill, she said: "He was not afraid of me».
Many biographers and commentators have expressed the suspicion that the marriage of Bill and Hillary was based on political ambitions and a desire to revolutionize the Democratic Party and to the presidency of Bill rather than love.
In 1988 and 1991 Magazine of the State the right to call Hillary one of America's most influential lawyers.
After graduating from Yale University Hilary passed the examinations for admission to the bar in Washington and Arkansas. In Washington, she did not pass, but the Arkansas Bar Association have accepted it.
In 1977, Hillary got a job at a law firm Rose Little Rock, Arkansas. The firm was founded in 1820 and is one of the oldest and most prestigious companies in the west of the Mississippi River.
One biographer Clinton wrote that she would like to have more than one child (daughter Chelsea), but it was not possible for medical reasons.