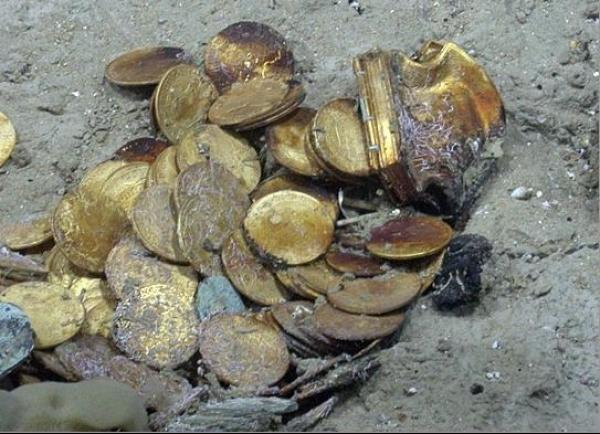 Treasure carry on board two Spanish military C-130 aircraft. 595,000 silver coins and a huge amount of gold should land at the air base in Madrid after a 24-hour flight with two stops on the road - in New Jersey and the Azores.  
"Today the path that began 200 years ago is finally finished. We are restoring historical justice and return of our treasures. It's not the money. This historical legacy "- said Spanish Ambassador to the United States, Jorge de Dezkallar Mazar after the aircraft took off.
The treasure, consisting of silver coins of the 18th century, weighing more than 17 tons, hundreds of gold coins and various items made of gold and other artifacts, has been at the center of fierce international legal fight since was discovered in 2007 by underwater robots of Florida Odyssey Marine Exploration, is engaged in search of treasure.
The find is estimated at 500 million. Dollars. US - the "rich" shipwreck in history - the treasure was processed and shipped directly to the United States.
But the company, which, according to the report, spent 2, 6 mln. Dollars. To extract, transport and storage of the precious cargo, was not able to take out the silver and gold coins from the warehouses of Numismatic Guaranty Corporation in Sarasota, Fla
Immediately after the treasure was recovered, Spain filed a lawsuit claiming that the jewels were in the 36-gun Spanish frigate "Nuestra Señora de las Mercedes", which sank off the coast of Portugal in 1804, with 200 passengers on board after a fight with four British military ships.
According to international maritime law - namely, the principle of immunity of warships, military and non-vessel belonging to any state or remain the property of the country owns them. Spain, thus, claims exclusive rights to the wrecked ship and its cargo.
The company Odyssey, insisted that this flight was carrying commercial in nature and most coins in the possession of private traders. But after a five-year proceedings and stunning "revelation» WikiLeaks, a US federal court found that the United States does not have jurisdiction in this case and decided to return the treasure to Spain.
Cargo plane took off with the treasure, despite the desperate call Peru to the United States Supreme Court. It was stated that gold and silver were mined and minted into coins in Peru, when the country was part of the Spanish Empire.
The Supreme Court has not said whether he will respond to the application, and when it happens. However, American courts have rejected similar claims before the descendants of the Peruvian merchants who owned the sunken riches.