The young man now 10 years old looking for a girl he liked, but the search did not produce results. However, the guy was not discouraged and is now willing to pay 7,000 dollars to anyone who will provide at least some information about the pleasant stranger. Details stories read under the cut. In 2004, "Komsomolskaya Pravda in Belarus" wrote about how a young man trying to find your favorite girl. Ten years have passed, and Minsker Dima has not forgotten about his dream
 - I thought, since "Komsomolskaya Pravda" once tried to help me, suddenly agree to do it again? - Journalists met with Dima almost in the same spot where he saw a beautiful stranger whose image he still can not forget.
In the metropolitan Independence Avenue, little has changed, and Dima easily shows where it all happened. That day, April 16, 2003, a young man remembers the minutest details.
 - The girl left the cafe "Stove-Benches" or "Spanish codend" accompanied by two women and two girls age 6 - 7. That's when I saw it and, but since she was not alone, come and meet not dare - he recalls .
Nevertheless girl crossing a road, turned around and waved at the guy hand. Soon her company split, and the girl with one of the women and the little girl came to the train station and boarded a bus №36.
The guy decided to keep and jumped after them in public transport. All the way she looked back at the young man.
Despite the fact that it has been 10 years, Dima remembers everything that happened then literally in seconds. Remembers how she came to the middle door, came out at the stop "Krasnodonskaya" and how again waved. Then, together with his companions went to the house of 25, Building 1 on the avenue Zhukov. And more Dima did not see her.
"My car was called" Mashaiskatelem »
A few days the young man sat in the car in front of the very entrance in full confidence that sooner or later, "Masha", as he called himself a Woman will appear. But it did not come. Friends of Dima on his description to draw a portrait of a stranger. The guy did not despair: throughout the area hung fliers with a picture of "Masha". It was all to no avail.
Then Dima bought an old "Ford" and with the help of friends performed on the hood airbrush portrait of a stranger. Car jokingly dubbed "mashaiskatelem" and placed at the entrance, which included a girl like a billboard. But the car had to be removed soon - tenants did not like this neighborhood ...
Extraordinary story hit the media - in February 2004, journalists have written about star-crossed lovers. Then there was the story in the Belarusian television.
My mom came to the girls
Thanks to the hype in the press began to call Dima and girls, the most surprising - mom girls.
 - I even agree with one of them for a meeting. On the date a girl came with her mother. Seeing the pretty girl with long hair, I was surprised after all, a stranger with a portrait short hair! "Are you at that time were in the cafe, and then went to Zhukov?" - He said. The answer is a little surprised, "No, do not be. But we thought, you never know ... ».
 - How much time continued the search for "Masha»?
 - About two years. And then somehow life went on as usual. I met with the other girls. Even managed to marry and divorce. But still somewhere deep inside hoping that someday meet her. Once on the eve of 2014, I was chatting with friends. We are talking about the fact that each of them would like to change in your life, if I could. I looked around and thought, I have everything. No only "Masha". And most importantly, for myself, I realized that if you do not put an end to this story, you just can not live a normal life further. Yes, you can find a good girl and try to build a relationship with her. But at the slightest conflict will always arise the idea that I could find, "Masha" and all, it might be different.
Dima decided to keep looking, because today thanks to the Internet capabilities are much greater than it was 10 years ago.
Professional artist on old sketches painted oil portrait of a girl, as close as possible to the image, remember Dime. Portrait, description of "Masha" and details the history of the 10-year-old posted on the leaflet, which are scattered in the mailboxes of the house on Prospect Zhukova, promising rewards in 7000 dollars to anyone who can help out on the trail girls.
 - I naively thought - complains Dima - that people will be more loyal to the story! Aggressive reaction we even could not imagine! Some people have even suggested that I'm a maniac, or that the girl I'm looking for, owed a large sum of money.
 - Speaking of money. Why is that such amount offered for the information about the girl?
 - To be honest, I am willing to offer, and a large amount - just so much I have in stock. Money did not mind. Of course, I - an adult and understand that it is quite possible, she is married, raise children, left the country. But while "Mary" is not found, something is safe to say nobody can. Who knows how it might end, because life is unpredictable.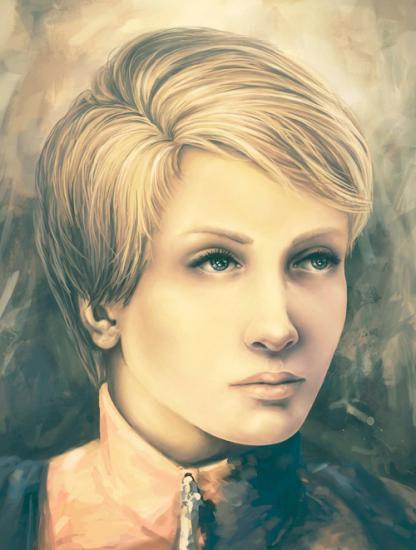 Source:
www.kp.by