The most unusual and expensive lots auctions worldwide. People pay money for simply unrealistic seemingly ordinary things.
1. One bottle of beer «Lowenbrau» and a jug of milk found in the wreckage of the airship «Hindenburg», which burned down in 1937 in New Jersey.
This bottle of beer is considered the most expensive bottle in the world. (Henry Aldridge and Son)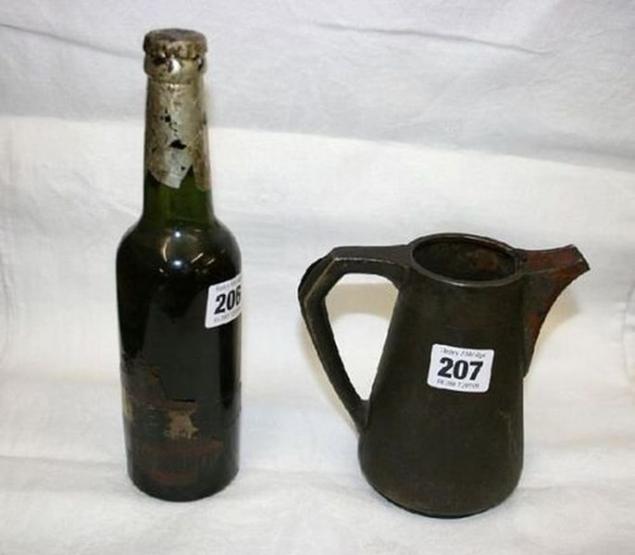 2. Rare miniature of Peter the Great in a diamond-encrusted frame was sold at auction in New York on November 2 for a huge bag of 1, $ 3 million.
George Roberts from Arizona had bought it from a London dealer in 1951 and was unaware of its importance, has not yet made an assessment this summer.
In this photo you can see the front and back of the portrait. (Sotheby's / AP)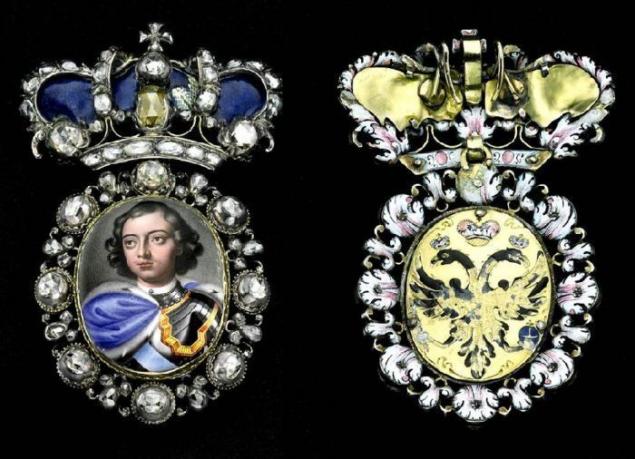 3. This diamond is a square shape, emerald-cut 32.01 carat in was sold at auction on October 21 at 7, 7 million dollars.
Billionaire philanthropist Leonore Annenberg, who died in March, got it on your 90th birthday.
Auction house «Christie's» did not want to disclose the name of the buyer.
Ring planned to sell for as low as 3 to 5 million dollars. (Christie's / AP)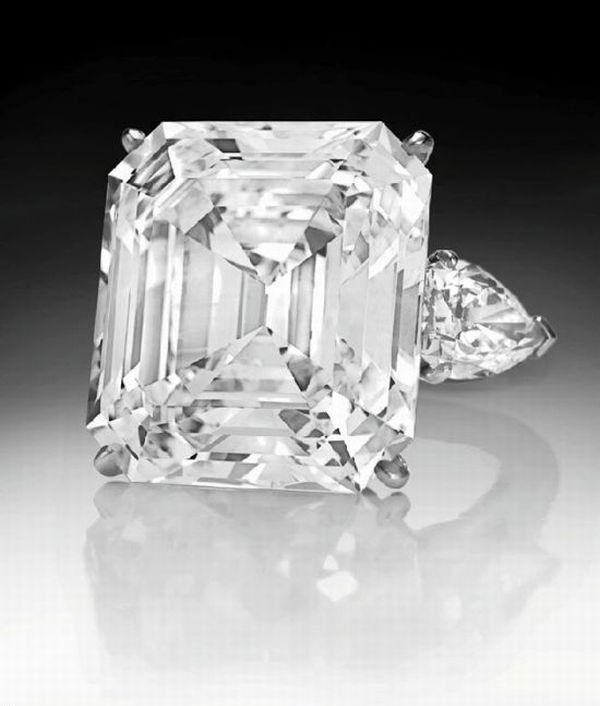 4. Doctor New York - paid 12,713 dollars for the September issue of the newspaper «Datebook» 1966, signed by John Lennon.
The newspaper has a popular quote Lennon that "The Beatles" is known Jesus. (Courtesy of rrauction. Com)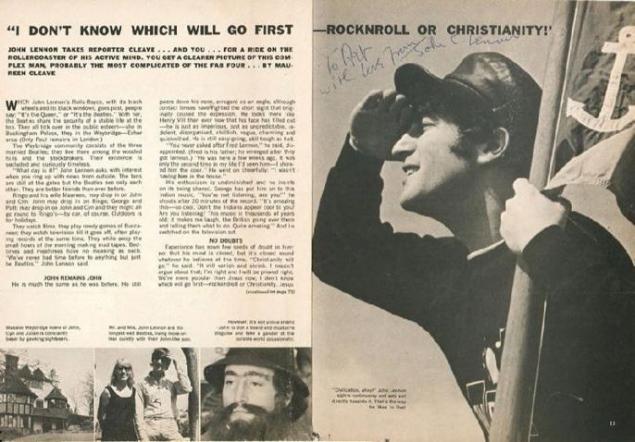 5. A signed copy of Adolf Hitler's book 'Mein Kampf' went to auction in England on August 13 for 34,900 dollars.
The buyer wished to remain anonymous, to make a deal on the phone.
The book was signed in 1924, when Hitler was serving a four-year prison sentence.
This copy is the second edition, which Hitler gave his cellmate in 1925. (Barry Batchelor, PA / AP)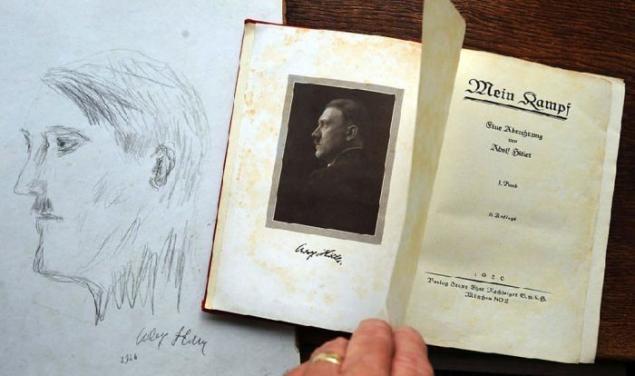 6. One of the most famous, original photographs of Albert Einstein, indicating the language of photography, was sold for 74,324 dollars at auction in New Hampshire on June 20.
When Einstein signed the photo, he said that his gesture was addressed to all mankind. (RR Auction, LLC. / AP)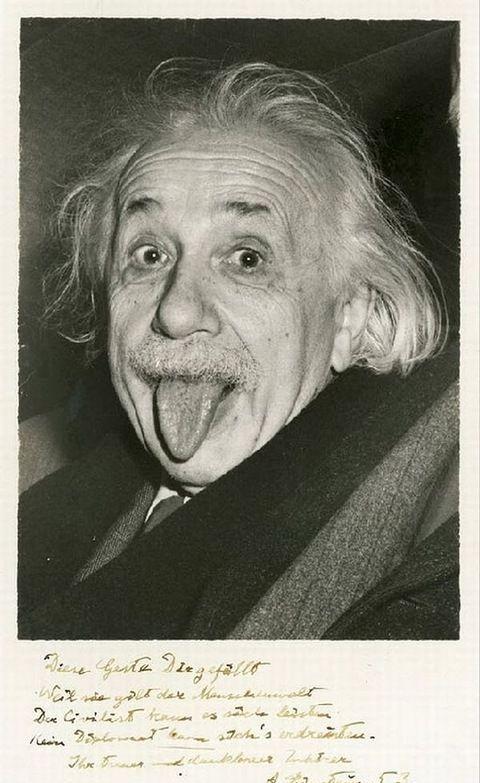 7. Rare stamp with a portrait of Abraham Lincoln went to the auction in New York for US $ 431,250 on June 13.
Lot known as the "Brand of the refrigerator," as an envelope on which was pasted this brand, was sent from Boston to cold stores in India in 1873. Mark was stolen from its original owner in Indianapolis in 1967, and 39 years later found in a house in Chicago. (Robert A. Siegel Auction Galleries / AP)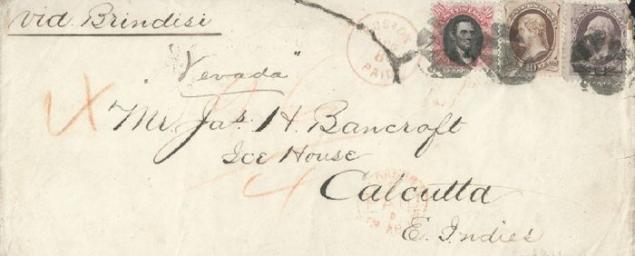 8. Rare Audrey Hepburn stamp with a cigar sold by auction on May 26 in Berlin for 93,800 US dollars - more than two minimum rates.
There are only five copies of this brand.
Most of them were destroyed after Hepburn's son gave a refusal to sell the copyright to the image in 2001. (Fritz Reiss, AP)
9. This rare blue diamond at 7.03 carats was sold at auction in Geneva on 12 May to a record price of 9, 49 million dollars.
This item was the most expensive of the precious stones.
The stone was found last year in the historic Cullinan mine in South Africa. (Martial Trezzini, Keystone / AP)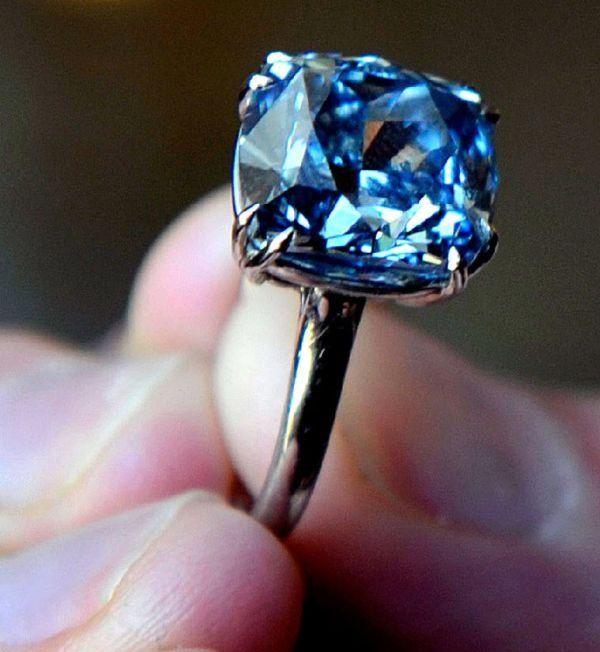 10. This silver coin 1804 Adams-Carter - one of the 15 and unissued coins.
Silversmith was bought for $ 2 million in a private auction two years ago, went to the auction Cincinnati on April 30 for 2, 3 million US. (Heritage Auction Galleries / AP)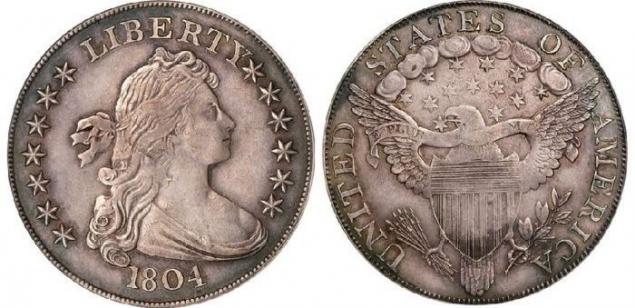 11. This rare coupe version fighter «Spitfire» World War II, was bought at auction in London for 2, 53 million on April 20.
Adventurer from Britain Steve Brooks, who paid for the plane a record amount, said in an interview with the London newspaper «Daily Mail», he believes that "these things are designed to ensure that they were used." (Alastair Grant, AP)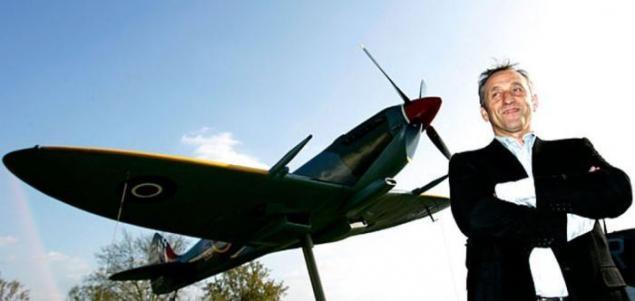 12. At the daguerreotype dating from 1848, photographed by a lone house built on the site, which is now known as the Upper West Side of Manhattan.
This is one of the oldest images in the world was sold at auction for 62,500 dollars to an unknown buyer March 30 in New York. (Sotheby's / AP)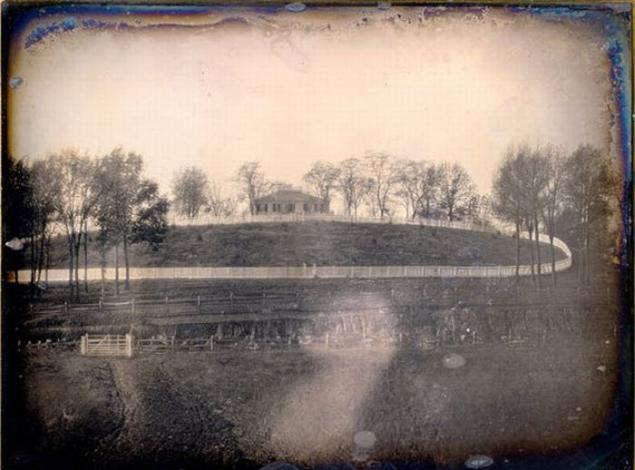 13. Apparently the crisis has affected even dinosaurs.
This complete skeleton of a dinosaur, which 150 million years old (right), has not found a buyer at auction in New York City on March 21.
2-meter-long dinosaur skeleton, joined in this picture to the other items that are sold as well, was to be sold for half a million dollars. (Josh Chait, I.M. Chait Gallery / AP)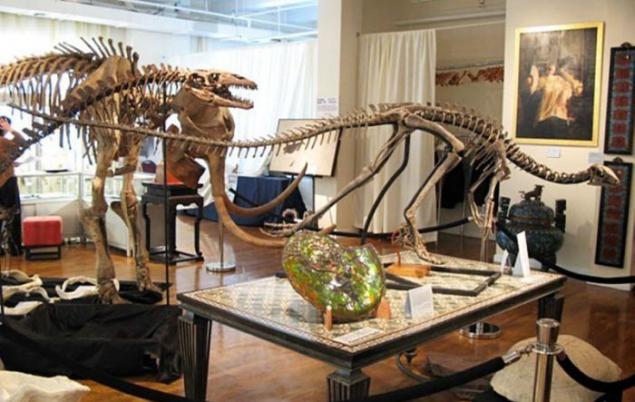 14. Back in the 1950s, 9-year-old boy left for this comic 1938 35 cents.
It was the first comic book in which was depicted the famous Superman.
March 13 drummer «System of a Down» and a fan of the comic book John Dolmayan bought this comic for 317,200 dollars. (Metropolis Collectibles / AP) 14.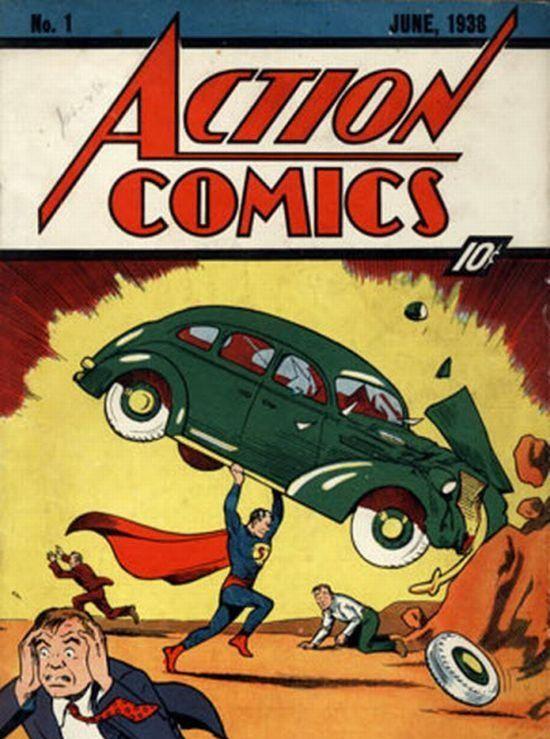 15. The relatives of the deceased person found this rare car Bugatti Type 57S Atalante 1937 issue in his garage in Gosforth, England.
This is one of 17 of the existing vehicle model.
He left the auction for 4, $ 4 million in Paris on 7 February. (Bonhams / AP)
16. This conventional tuna was sold for 104,700 dollars at the fish auction in Tokyo on January 5.
The fish was huge and weighed 127 kg - 370 dollars per kilogram.
It is the most expensive item on the fish auction in 2001.
The buyers were two owners sushi bar - one of Hong Kong, the other from Japan. (Kyodo News / AP)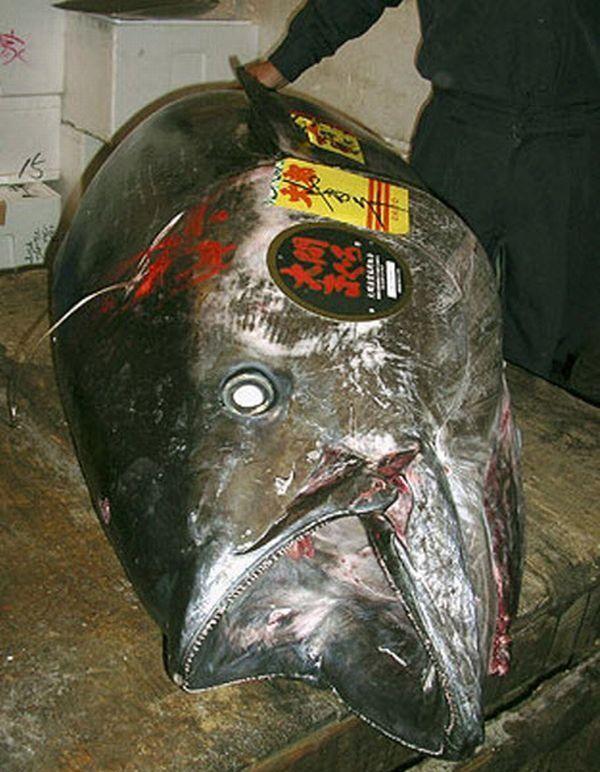 17. Zhao Danyang - fund managers from Hong Kong - bought the right to have lunch with billionaire Warren
Buffett for 2, $ 1 million in June 2008 at a charity auction on eBay. (Saul Loeb, AFP / Getty Images)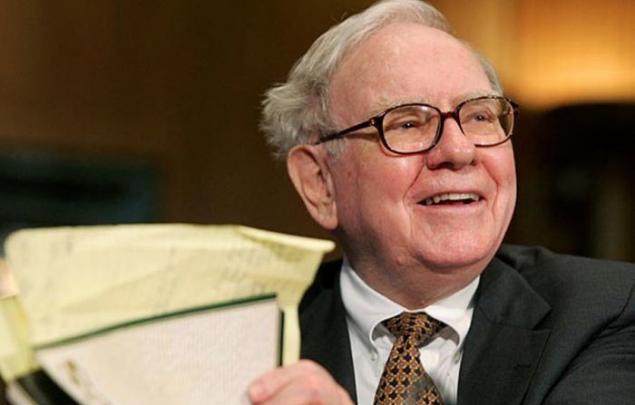 18. The unused life jacket from the famous ocean liner "Titanic" was bought at auction in New York for 68,500 dollars June 25, 2008.
Vest found on the shoreline of Halifax after the ship sank off Newfoundland in 1912. (Christie's Images, Ltd. / AP)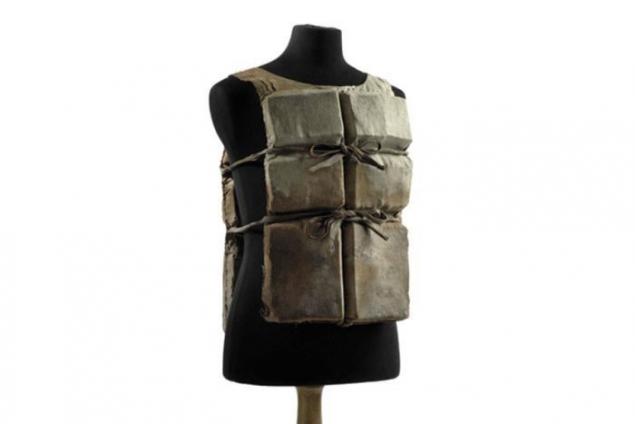 19. Painting Claude Monet's "pond with water lilies" went at auction in London for more than $ 80 million June 24, 2008.
This picture of the artist in 1919, one of the four series of works dedicated to water lilies. (Lefteris Pitarakis, AP)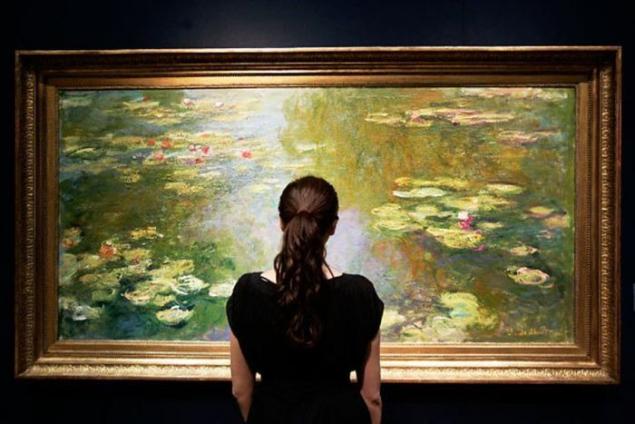 20. Fifteen 20-dollar bills were sold in Dallas June 14, 2008 for 37,000 dollars.
Bills whose value exceeded the nominal value of 120 times, were from foreclosure thief DB Cooper, which he received in 1971, before the jump from the plane and remain uncaught. (LM Otero, AP)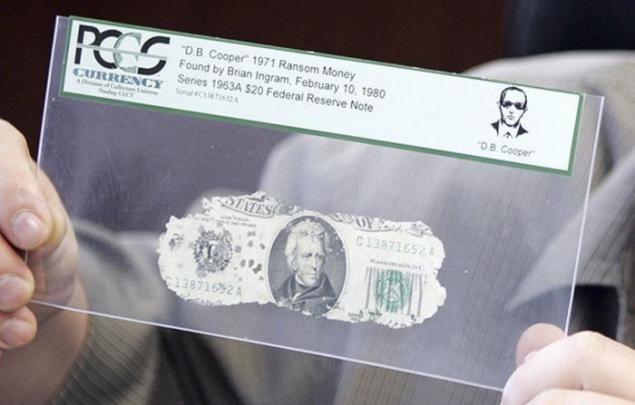 21. This golden thicket, which for years was stored under the bed grandson unknown junk, was sold at auction in the UK for $ 100 000 5 June 2008.
This cup - Persian artifact depicting the two-faced Roman god Janus. (Dukes Auctioneers, Handout / AFP)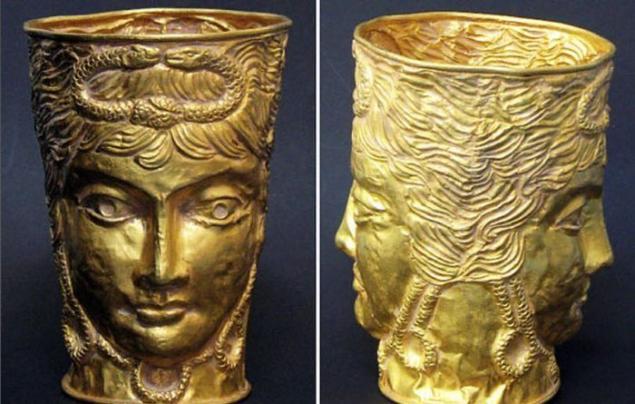 22. The largest over the past few decades, colorless diamond was sold at auction May 28, 2008 in Hong Kong.
101.27 carat diamond tiara left in the auction «Christie's» private buyer for 6, 21 million dollars. (Wally Santana, AP)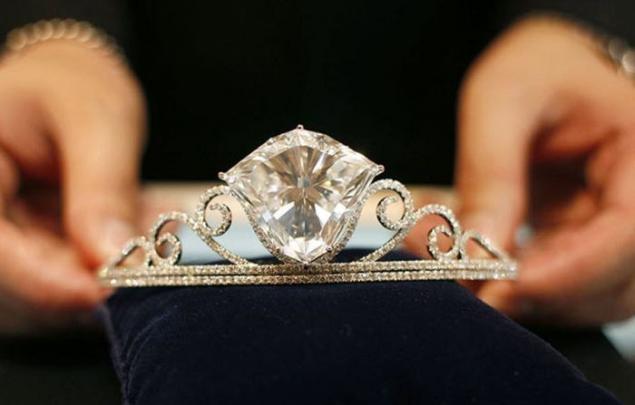 23. Ferrari California Spyder, 1961, the former owner of which actor James Coburn, was sold in Italy May 18, 2008.
Vehicle was purchased at the price of 10,894,900 dollars and then became the most expensive retro car. (RM Auctions)
24. In this letter, Albert Einstein wrote his contempt for religion, it was sold at a London auction for 404,000 dollars May 16, 2008.
Buyer's described as "a collector with a love of theoretical physics." (Bloomsbury Auctions / AP)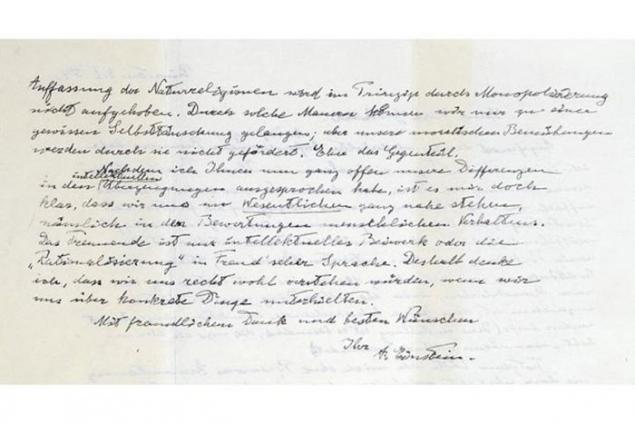 25. The picture of the artist Lucian Freud «'Benefits Supervisor Sleeping» was sold at auction «Christie's» in London May 13, 2008 at 33, 6 million dollars.
She became the most expensive work of art of the artist during his lifetime. (Emmanuel Dunand, AFP / Getty Images)
26. Painting Claude Monet's "F / A Bridge at Argenteuil" went at auction at Christie's in New York for US $ 41 million May 6, 2008.
This price broke the record for an auction of French impressionist painting.
The previous record was set in 2008 for the painting "Nymphs" - it was sold at auction for 36, $ 5 million. (Matt Dunham, AP)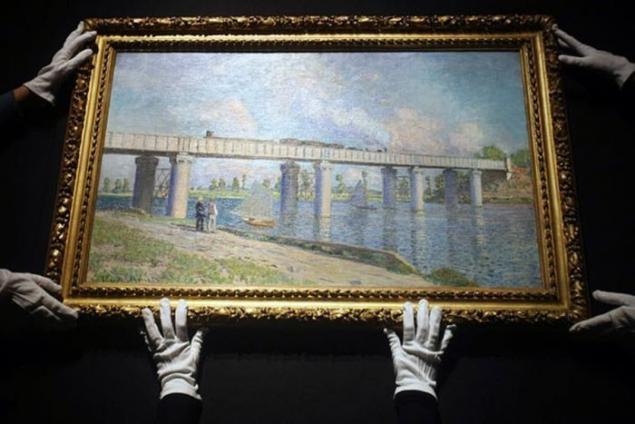 27. The developer of the Oklahoma City gave for this ferris wheel running on the pier in Santa Monica, California in 1966, 132 400 dollars.
He walked five rivals on eBay in April 2008.
The wheel should be part of building in Oklahoma City. (Pacific Park Photo / AP)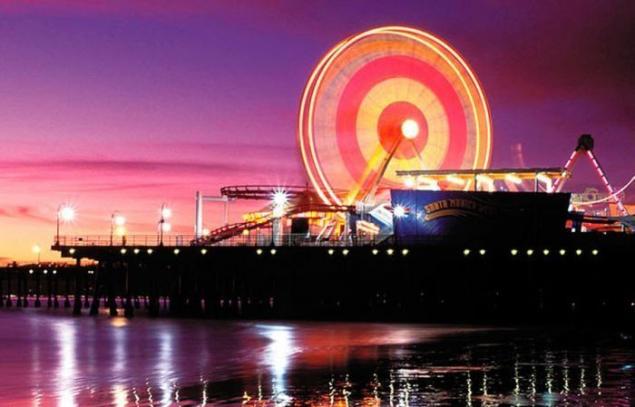 28. You would pay 1350 dollars for corn hlopinku in the form of Illinois?
That is the amount suggested that one of the girls on eBay in March last year to find a miracle in a pack of cereal destined for breakfast. (Donald McIntire / AP)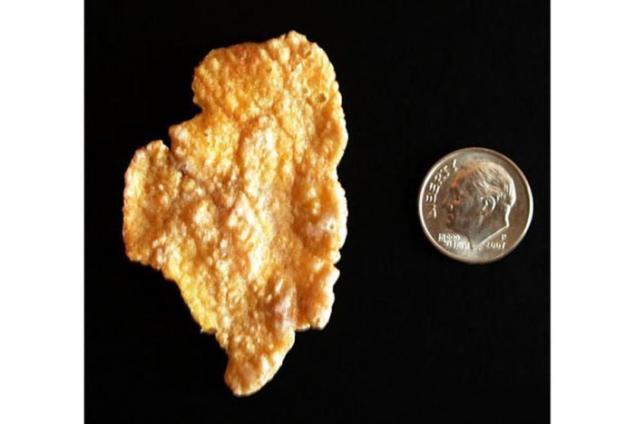 29. The rich man from Abu Dhabi gave a fortune for a license plate for a vehicle with a single digit "1».
He paid for it $ 14 million, beating the previous record of 2 times for a license plate with the number "5". (Manuel Salazar, AP)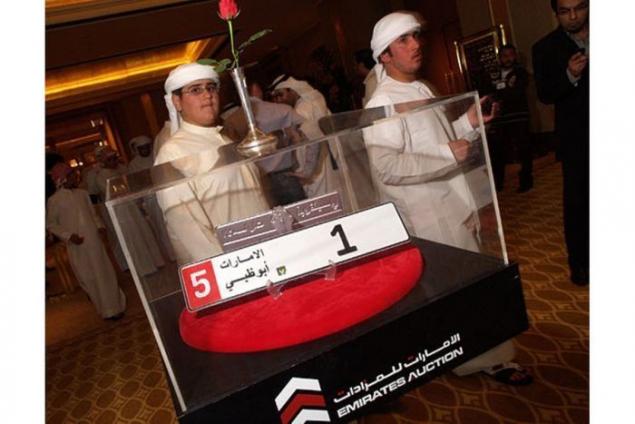 30. The auction «Sotheby's» in New York sold this copy of the Magna Carta in 1297.
She left the auction for 21,321,000 dollars in December 2007. (Stephen Chernin, Getty Images)
31. This prototype coin 10 cents was created the US Mint in 1792.
Bought it at auction, along with other rare coins in the collection of a private buyer for $ 30 million in November 2007. (Heritage Auction Galleries / AP)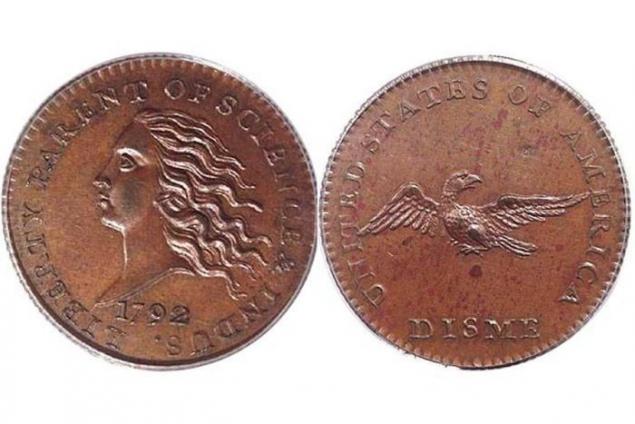 32. This truffle, incredible size, weight 1, 50 kg, Italian mushroom pickers found near Pisa in November 2007, went at auction for 330,000 dollars.
The proceeds from the sale of truffles were donated to organizations specializing in the care of people with hereditary diseases. (Andrew Medichini, AP)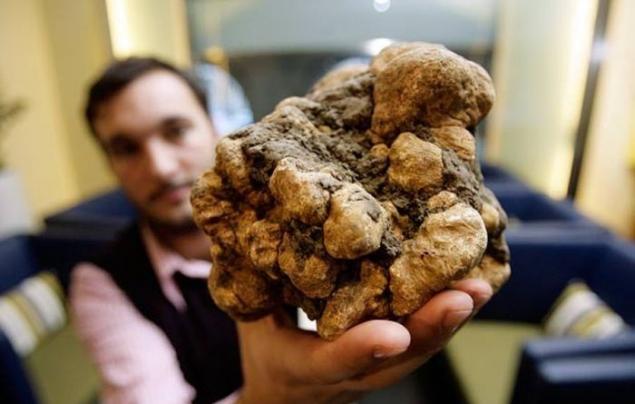 33. This globe that once belonged to Adolf Hitler, it was sold at auction by Greg Martin in San Francisco for $ 100 000 in October 2007.
American soldiers stole this souvenir from the house of Adolf Hitler in 1945. (Eric Risberg, AP)
34. Ferrari 250 GT Berlinetta Lusso 1963 issue, was previously owned by the actor Steve McQueen, was sold for 2, $ 31 million to an unknown buyer in October 2007. (William Claxton, Keystone / AP)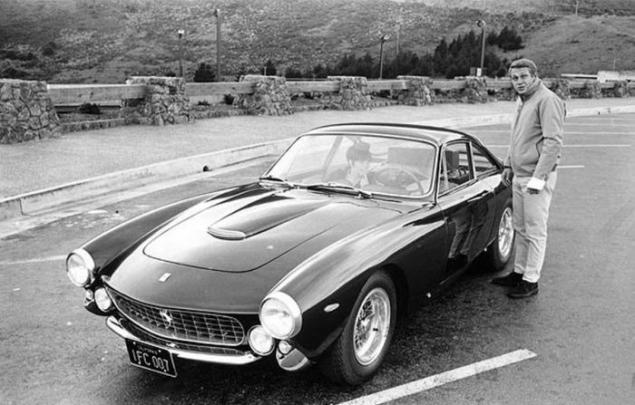 Source: live-imho.livejournal.com