Here is a list, which included the most expensive works of famous street artists of our time. Largely thanks to his street art today enjoys wide popularity in Europe and the United States. Banksy «Keep It Spotless» (2007)
Price: $ 1,870,000 Sold in 2008 (Sotheby's)
While the work of Banksy remains the most expensive in the career of the artist. It is noteworthy that her estimate was "only" $ 250-300 thousand.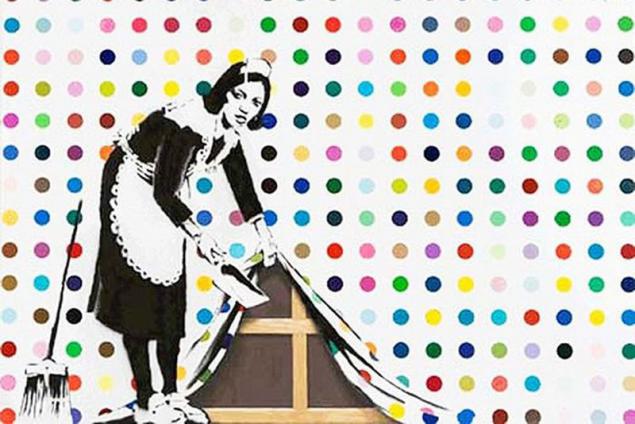 Chaz Bohorkez «Señor Suerte» (1979)
Price: $ 50,000
Sold in October 2012
Chaz Bohorkez - American artist from Los Angeles, one of the "veterans" of street art. He was born in 1949 and has received serious academic education. Bohorkez studied sculpture and ceramics in Guadalajara (Mexico), and then studied architecture and mathematics at a local high school. In 1969, he joined the art school Cal Arts School and began to learn calligraphy with Master Yun Chung Chang.
Graffiti, which was influenced by Mexican culture and calligraphy skills, he began to make to order in 1969, and in 1986 carried away and illegal street art. His work can be found in 35 countries (in the late 1970s, he went on a world tour), as well as solo and group exhibitions.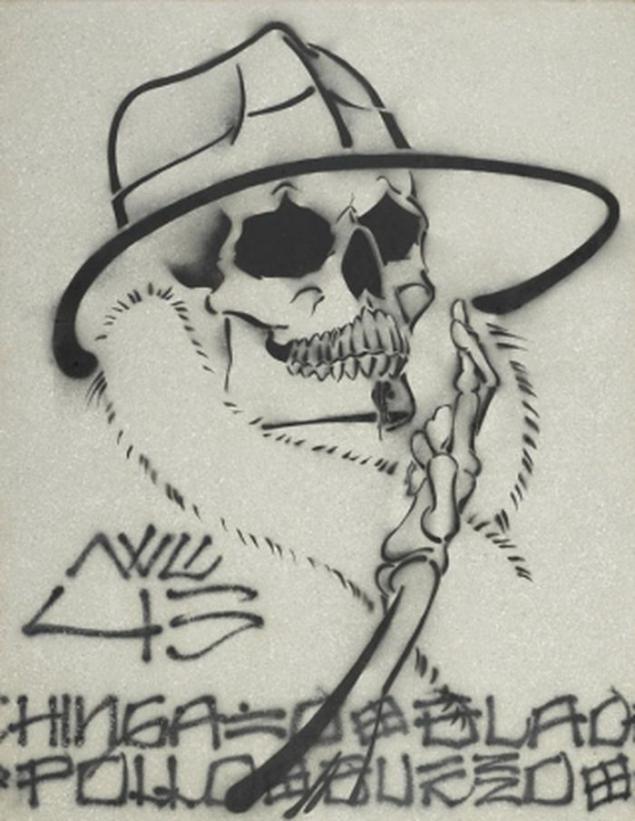 Shepard Fairey «Duality of Humanity 2" (2008)
Price: $ 52,350 Sold in September 2011
American Shepard - author of the picture that millions know: he created portraits of Barack Obama for the 2008 presidential campaign with slogans «Hope» and «Change».
The artist was born in Charleston, South Carolina, in 1970. He started painting on T-shirts and skateboards, when he was a teenager. Today he is a recognized artist whose work has been exhibited at the Museum of Modern Art in New York, and a family man who has two daughters. At the same time he was not arrested for the creation of graffiti in public places.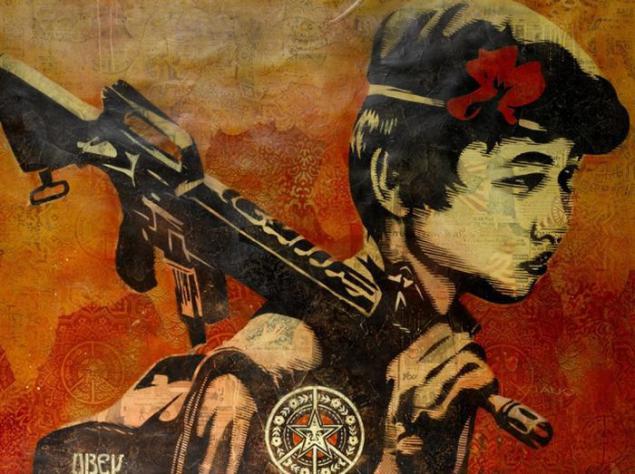 Nick Walker «The Morning After» (2007)
Price: $ 54,205 Sold in October 2008
Nick Walker - one of the pioneers of street art. He was born in 1969 in Bristol, UK, and was famous for having brought the streets of the city stencil graffiti back in the 1980s. In the same city, but in the mid-1970s, as they say the media, I was born a man hiding under the pseudonym of Banksy. Therefore, it is believed that Walker had an influence on him.
Like Banksy, the British received international recognition and has achieved commercial success. His work was first exhibited at the Bonhams auction in 2008 in Los Angeles. If you believe the biography of the artist on the site, followed by collectors lined up.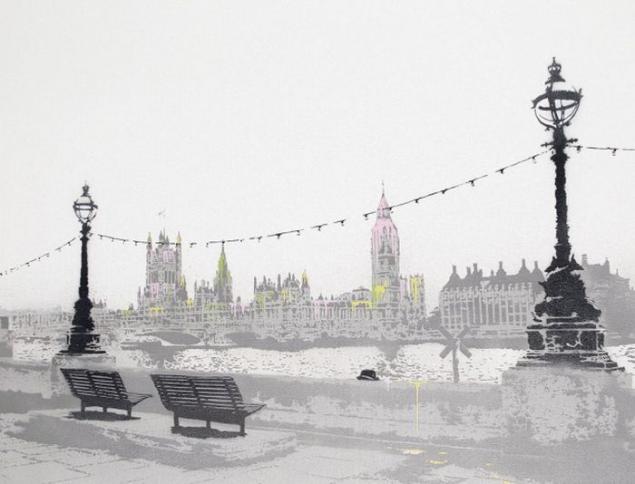 Adam Neath «The Apprentice» (2007)
Price: $ 69,692 sold in February 2008.
Briton Adam Nita British newspaper The Telegraph admitted themselves one of the famous street artists of our time. Neath was born in Colchester, UK in 1977 and now lives in London. It was on the streets of the British capital in 2007, his work - paintings, old cardboard, which he left in different areas - journalists noted. The artist says that during the night could create about 20 jobs. With such efficiency and acquired popular Nita has every chance to make a fortune. Today, street artist exhibited in galleries.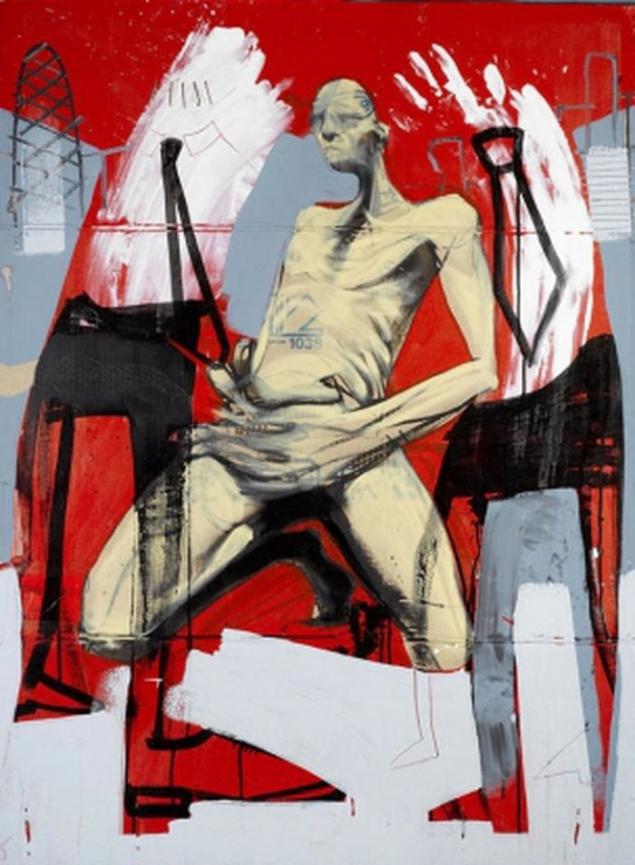 Nick Walker «Moona Lisa» (2006) Price: $ 87,116 Sold in February 2008 Parody of the work of Leonardo da Vinci was sold at a price 10 times more expensive than the estimate. This is one of the most celebrated works of the artist. The image of the mysterious Mona Lisa Walker beat and less provocatively turned her into the heroine of "The Simpsons." But it has caused a storm of criticism from the picture battened down the skirt.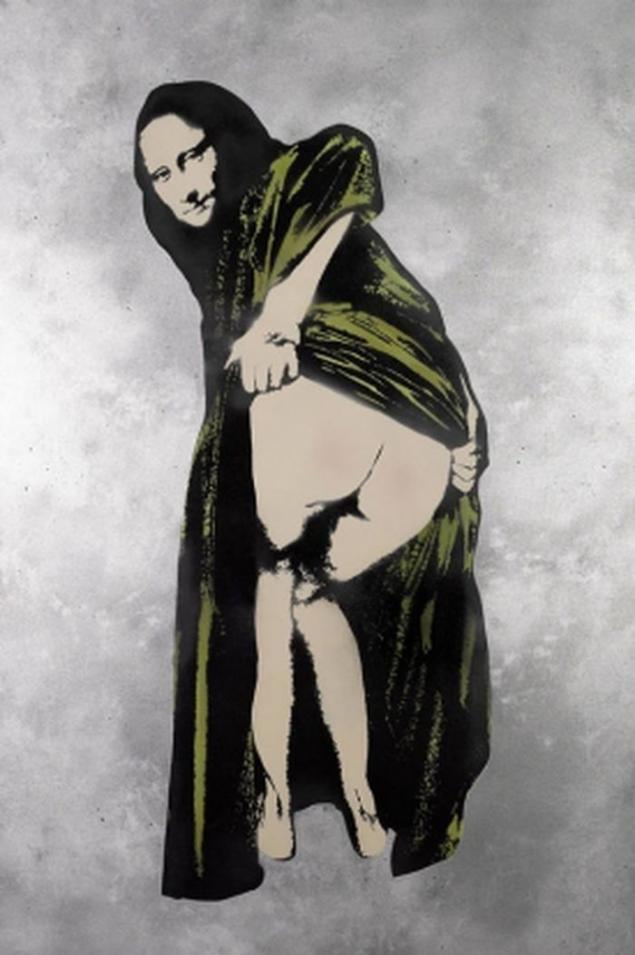 Art group Os Gemeos «O Aniversario da Meretris» (2008)
Price: $ 118,171 Sold in March 2012
Os Gemeos - this twin brothers Otavio and Gustavo Pandolfo from Sao Paulo. They were born in 1974. By the street art craze brothers pushed hip-hop culture as a teenager.
Among the works of the brothers, there are scenes of family life, and political cartoons, as well as one of the distinguishing features of their style - yellow faces of heroes and characters from Brazilian folklore. However, their work appear not only in his native Brazil Pandolfo graffiti can be found in Miami, and in Europe. The brothers did not hide their faces, and even agree to work to order: at the request of the government of Sao Paulo, they, for example, painted the subway cars.
And in 1993, Otavio and Gustavo Pandolfo received diplomas of the local Institute of Arts.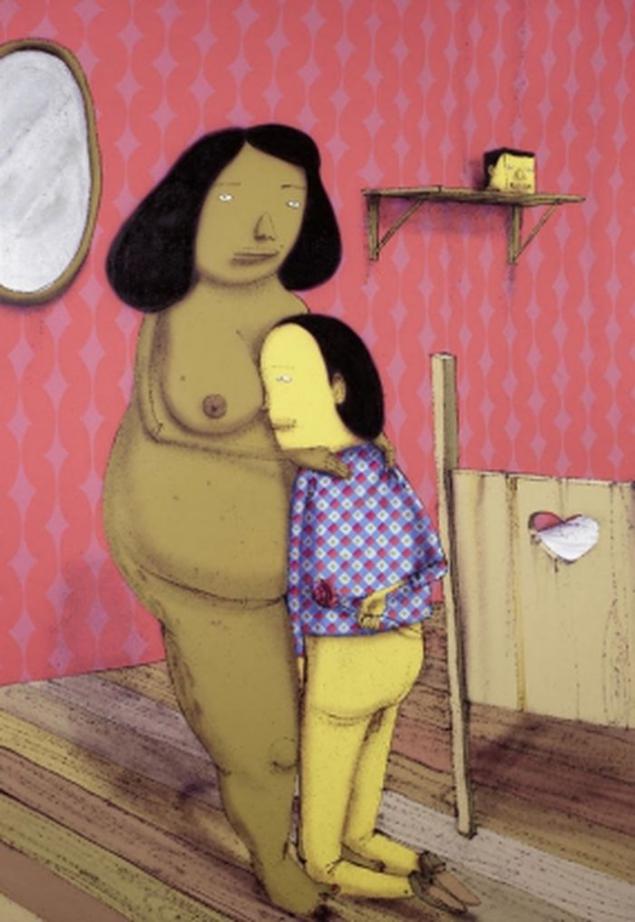 Adam Neath «Suicide Bomber» (2007)
Price: $ 126,612 (auction Sotheby's) Sold in December 2007
This work went much more expensive than the estimate (it is made up of $ 16 000 to $ 24 100). This «Suicide Bomber» - just one of the 103 Nita works sold at auction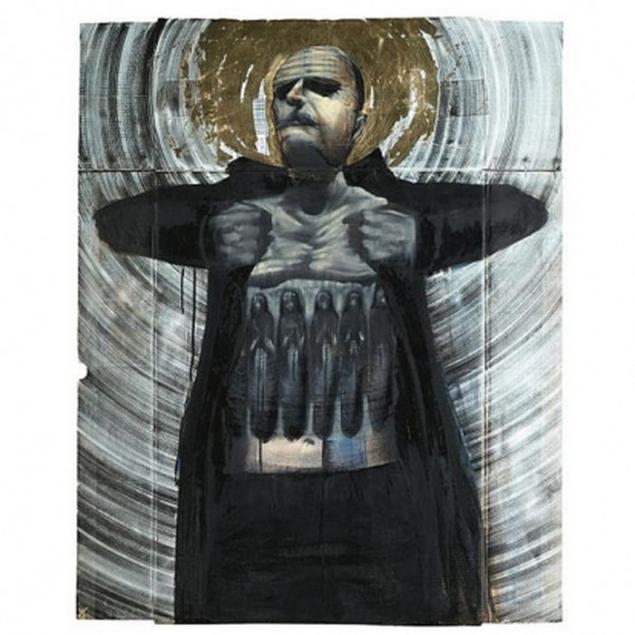 Banksy «Simple Intelligence Testing» (2000)
Price: $ 1,265,120 Sold in February 2008 (Sotheby's Contemporary Art Day Auction)
The most expensive work sold at auction Banksy in the range from $ 300,000 to nearly $ 1, 9 million. A few dozen have gone under the hammer for tens of thousands of dollars. If you scroll through the list of works sold at Urban Art auction house Bonhams, you will find that most of the lines takes Banksy. The artist himself, having learned how much went his painting at an auction, drew a parody with the inscription: "I can not believe you morons actually buy this shit».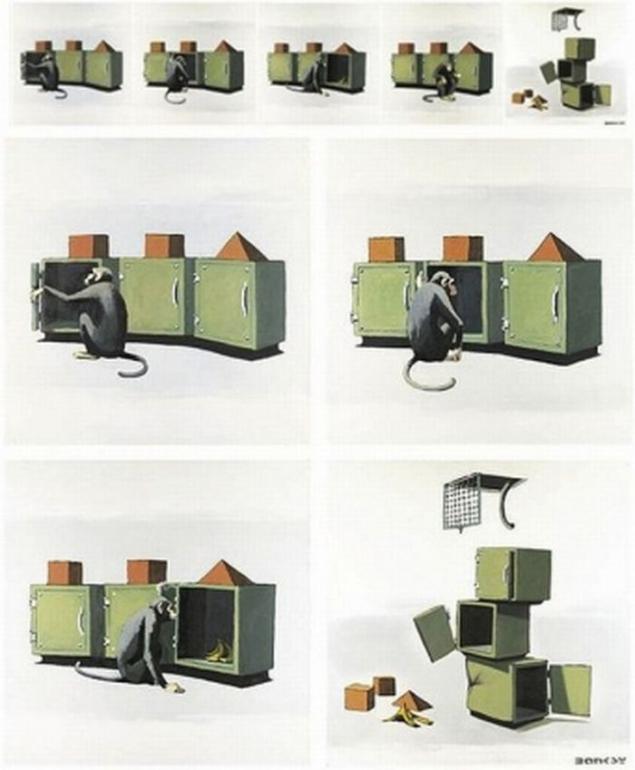 JR «Street Kid, Favela Morro da Providencia, Rio de Janeiro, Brasil» (2008)
Price: $ 50,333 Sold in January 2011
Frenchman JR revealed only their initials. It is known that he was born in 1984 and lives in Paris, where most of his work and find (though the picture on the photos he made in Brazil in the framework of a "retreat" of the project). JR with 17 years working in the style of flaypostinga, putting up black and white photographs in large format in public places. He does not consider himself an artist, preferring to use he himself coined the word photograffeur (mix graffiti and photographer).
One of the most high-profile projects JR - «Face to Face" - where the artist exhibited great photos of laughing Israelis and Palestinians in eight Palestinian and Israeli cities on both sides of the Israeli separation barrier. In his native Paris, JR famous project "Portrait of a Generation": from 2004 to 2006, he was placed in affluent areas of the French capital photographs of young Frenchmen.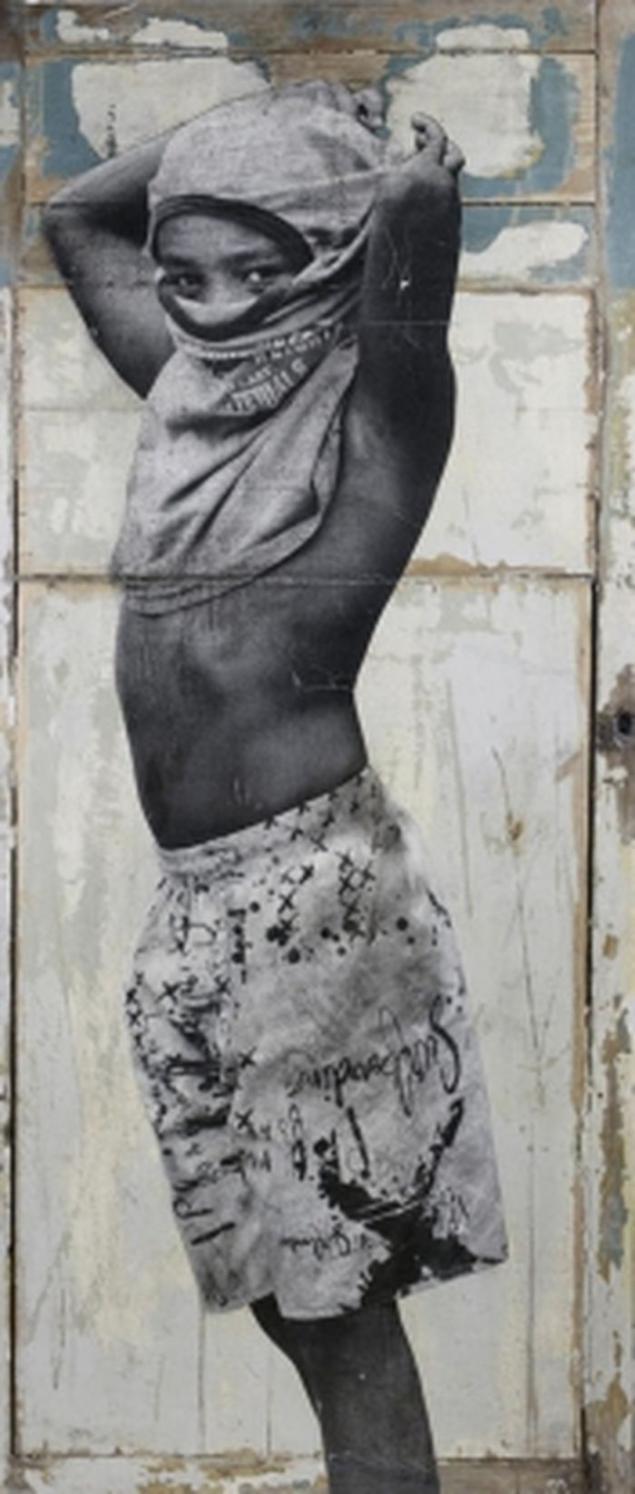 Source:
www.forbes.ru