We want to show you London with a very unusual side. The fact that its streets have long since become the most real gallery in the open air, and paintings on the walls are literally changing every day.
We offer together with the author of this photo essay stroll through the streets of the capital and see the most famous and untouched works.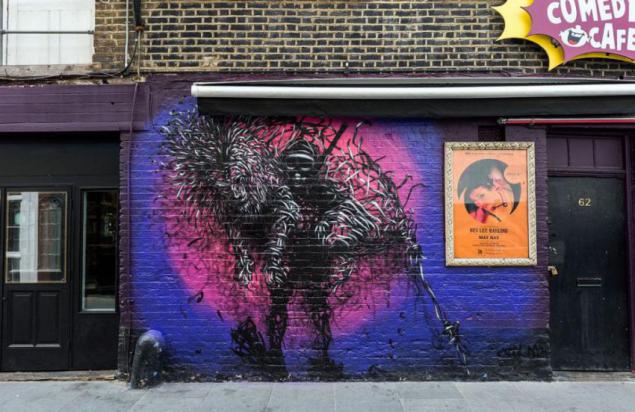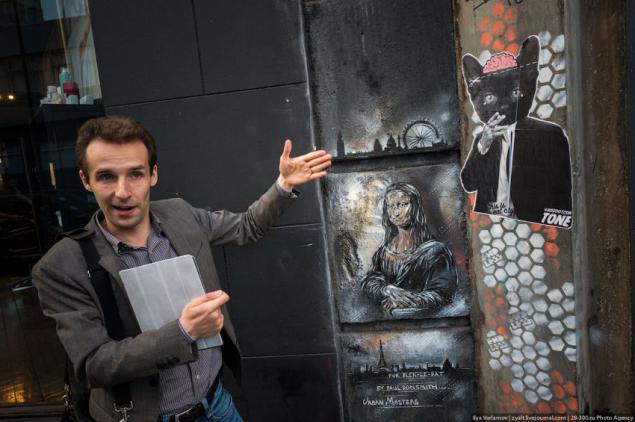 In the east of London, near Shoreditch, in the main streets almost no living space. Street art live their lives. Every week, there appear many new works. Some quickly disappear, some "hang" over the years.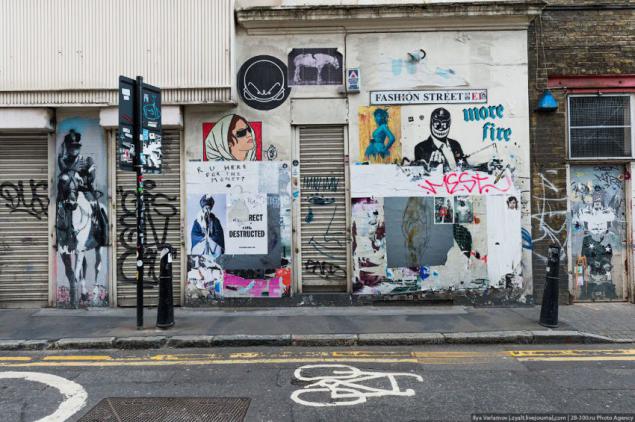 For example, the work of El Mac - amerikanskigo artist. He paints by hand (ie without stencils). For almost two decades, drawing on the walls formed a completely unique style - smooth translucent lines. And if you've ever tried to draw spray, then you know that it turns out that anything but straight and smooth lines. Smudges - please. Irregularities - indefinitely. Stripes of varying thickness - millions. But the smooth flowing lines running parallel to each other, beautiful crossing, merging to form a stunning shade - this skill.
Mexican farmer (he, of course, named Jose) remains untouched since the summer of 2011.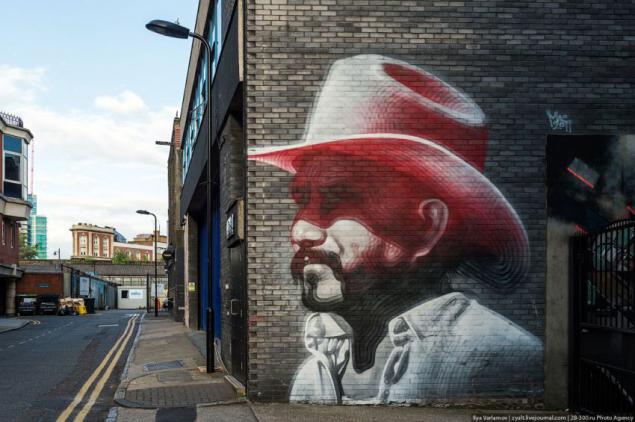 Street art now - it's not just spray and sprays. You can draw anything and somehow.
Portuguese Vhils, for example, working hammer, chisel, screwdriver, and sometimes even dynamite in the wall literally hollowing his work of art.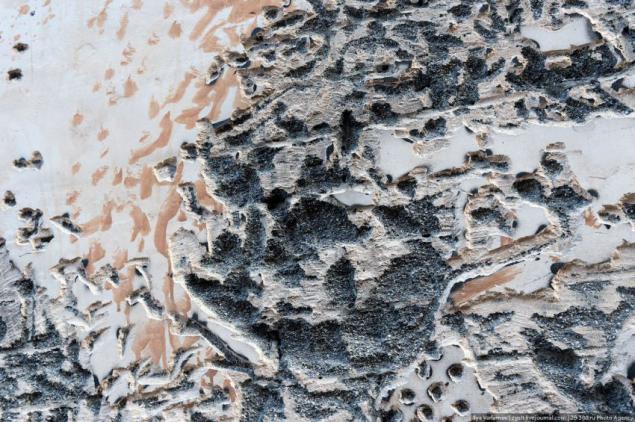 Past street art by Vhils can easily pass by without noticing the battered face on the wall. But it is worth to see it once, and you have it will never forget.
One of his works is the way in Moscow Savvinskaya Quay.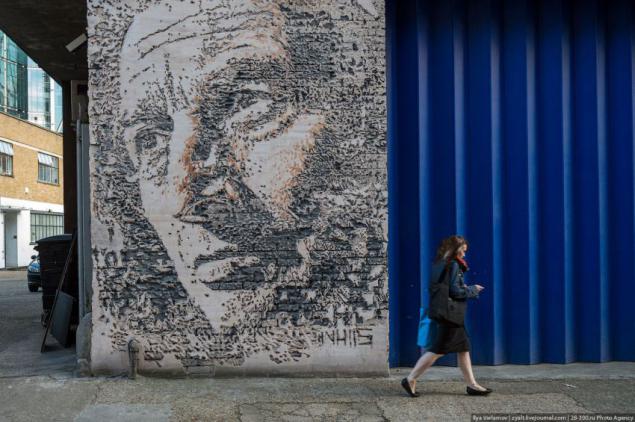 Works by Irishman Conor Harrington - it is almost always full dress uniform, male figures, full of pathos, dignity, greatness and masculinity. All this is quite fit perfectly into the urban environment, I must say.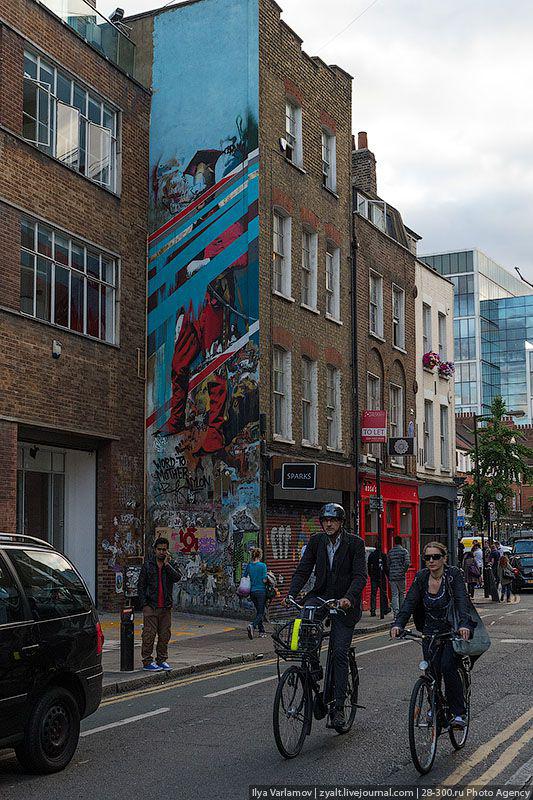 Please note that most works Conor individual characters are not visible. Sometimes they allegedly accidentally painted over another street art work.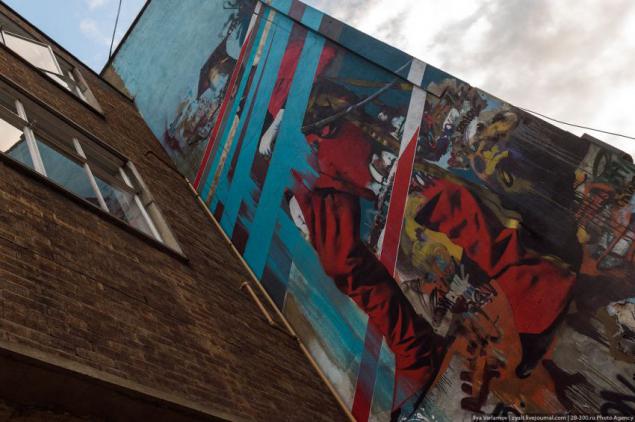 Sometimes the person allegedly falls the shadow.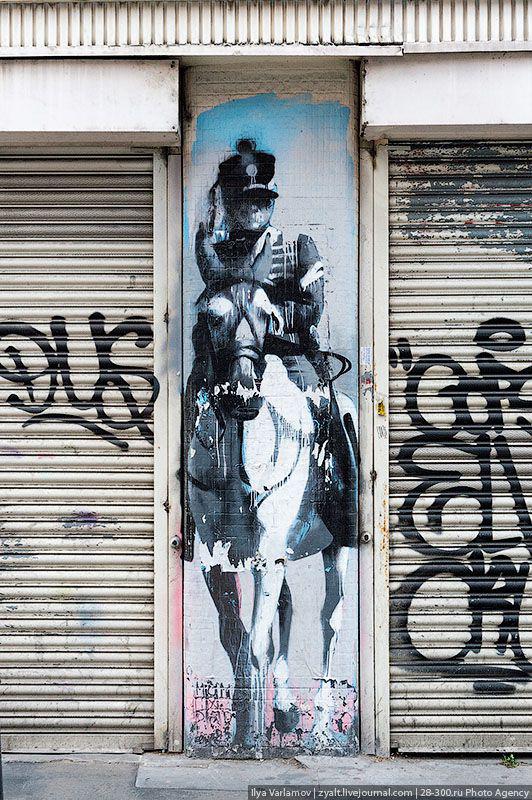 And sometimes even it looks as if over the wall mock shkolota instead mustache pririsoval dakfeys.
In fact - it is at Conor was a period of creativity. He strongly reveals the theme of anonymity in street art. He was always amused by the fact that people can walk past years works of street artists, see their artistry in various parts of the city, even the recognizable style - and while it does not know anything about the actual street art artists. Do not see their faces.
In this case, the way the work - the so-called collaboration (ie, teamwork) to Ronzo (monsters left, which, like Kutuzov, seven nurses).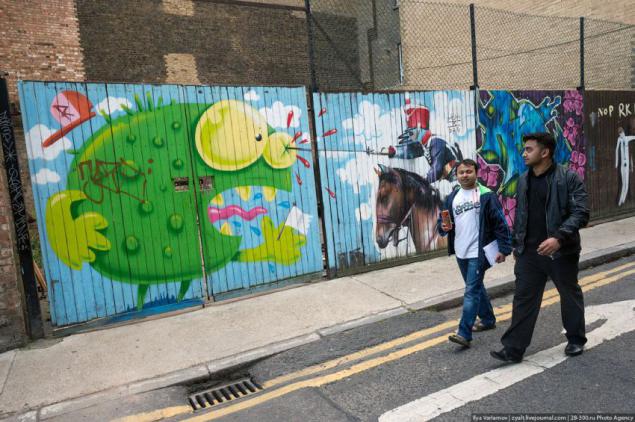 And this is one of the last works of Conor. Here are just the opposite - Conor draws exclusively face. And all around the face - the handiwork of Maser, colleagues in the street art workshop.
Note the smudges. Conor often pours his work with solvent, thus removing plaque glamor with its inspirational heroes.
And this - the work of a French artist. He calls himself Invader. And it works ... tile, revealing the theme of space. In this case, accordingly, the famous scene from "Star Wars» :)
I must say that without a miss Invader beats in the hearts of hipsters, who grew up in the cinema watching the scene, and young adults - playing computer games about the same graphics :)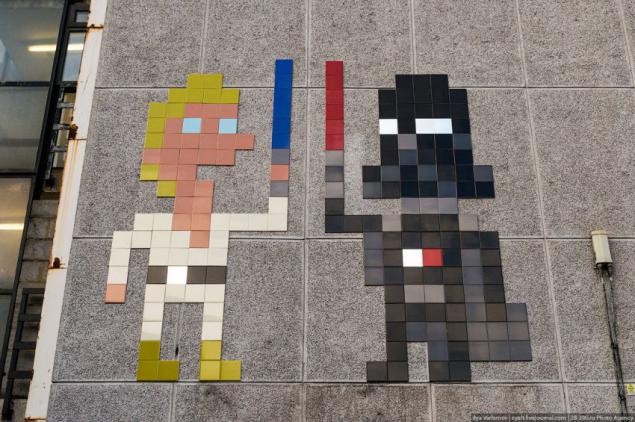 Most of the works Invader - that's such a format. Pictures of Alien cult computer game Space Invader began appearing on the streets of Paris in the late 1990s. Since then, a stranger in France alone captured 31 town :)
Dinosaur on the right - is already familiar to you Ronzo.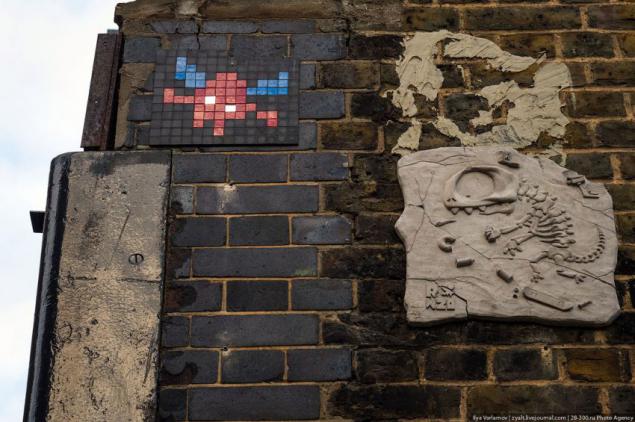 When come off in the photo 12 from Manneken Pis, look up. There's favorite color Hilton - another, this time the amount of work Ronzo. The author calls this pink monsters Crunchie - diminutive pet from credit crunch. So officially called in Britain the current economic crisis. Crunchie, according to the authors, is the mascot of this crisis (and you do not like mascots Sochi!). Mascot who eats our money from morning till evening.
Red, black and cream work for Crunchie - this is a cool American street art artist - Shepard Fairey. You know everything his most iconic work - a portrait of Obama with the word HOPE. Most big-eyed fans of street art have probably noticed one more of his work on the photo just above. Then in the comments prompt, it is interesting.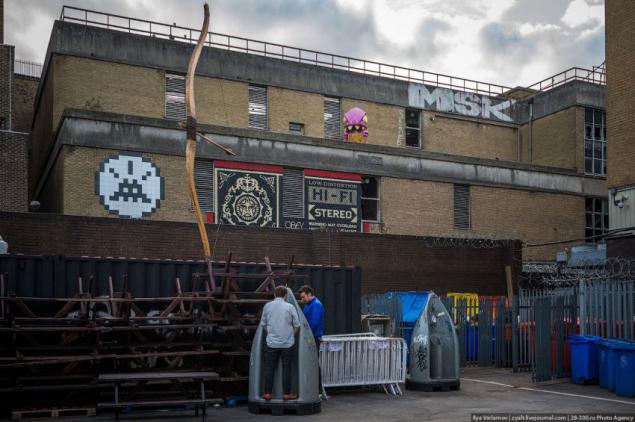 ROA draws incredible magnitude and beauty of monochrome animals.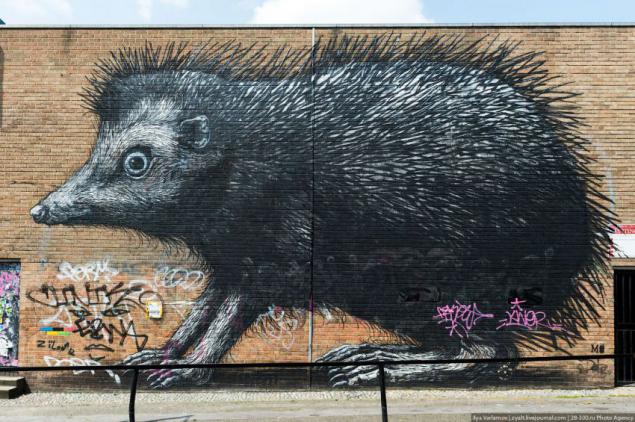 Street art - it is also an instrument of the proletariat :)
London has not yet reached the flying wipers, cut elements of political propaganda. But artists are quite skillfully forge posters Conservatives :)
See how qualitatively logo inscribed :) mustache, glasses and yuh on the forehead - had another brush artist seems :)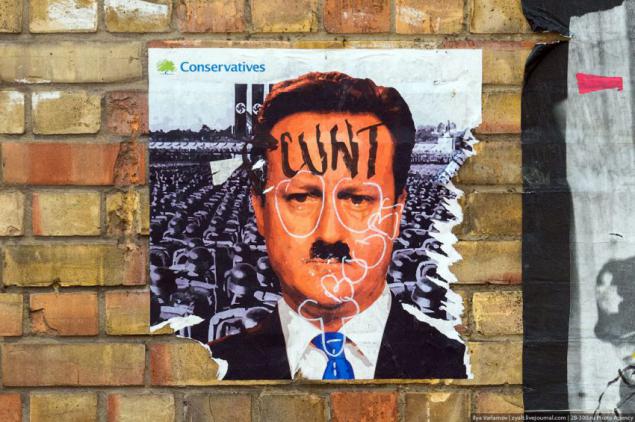 You, of course, ask: "Excuse me, dear! And where is Banksy? »
From Banksy in Shoreditch been left alone a trace. Once upon a time on the glass of the machine patron street art movement all over the world have drawn death with smiles, but the side window was stolen.
Banksy has now become so popular that in London are literally cut out whole wall with his work. The last piece of the wall had gone at auction for 1.1 million dollars.
So Banksy in London has almost gone.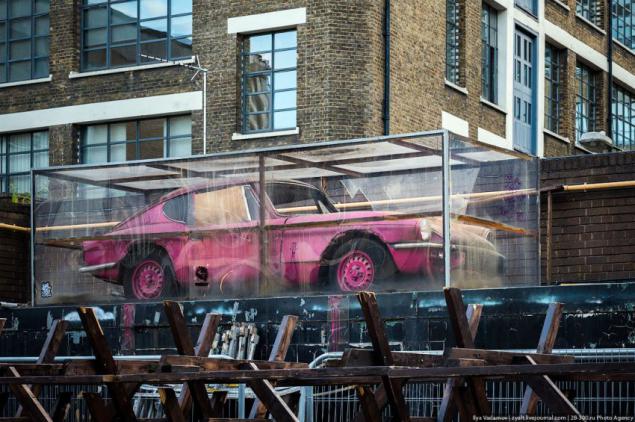 But no one alive Banksy street art.
For example, there is still Escif. Simple at first glance, the work, but the more you look, the more you feel. Black pieces do not immediately notice all.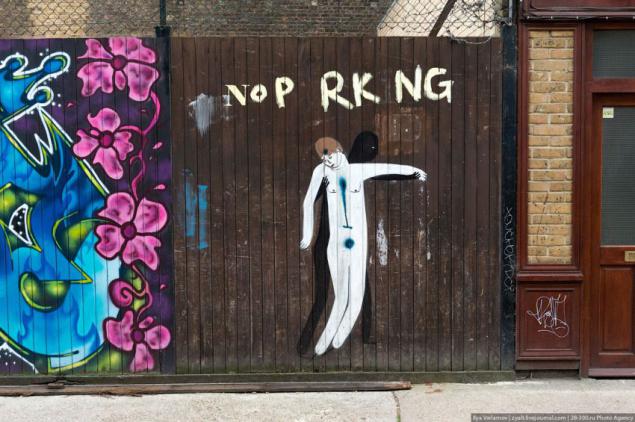 Fashionable people of east London by work in the style of socialist realism SmugOne photorealism :)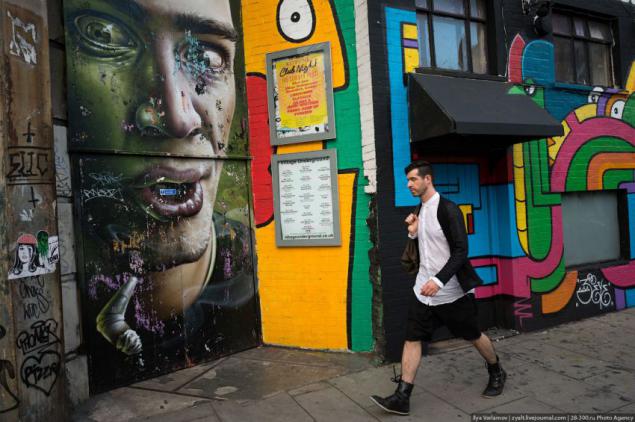 Street art is becoming more and more international traffic. The most iconic artists endlessly travel around the world and paint the walls at various street art festivals.
This, for example, the work of Chinese DalEast. He often depicts animals from metal shavings. This work is not the best, I think. Supposedly Tiger Leaping into the water. Firshtein?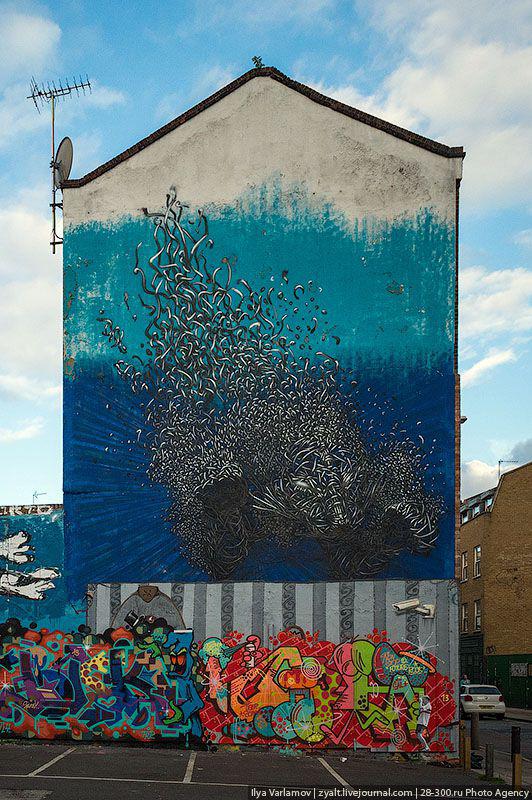 C215 - it's incredibly prolific Frenchman. Izrisoval portraits of people and cats almost all of Europe.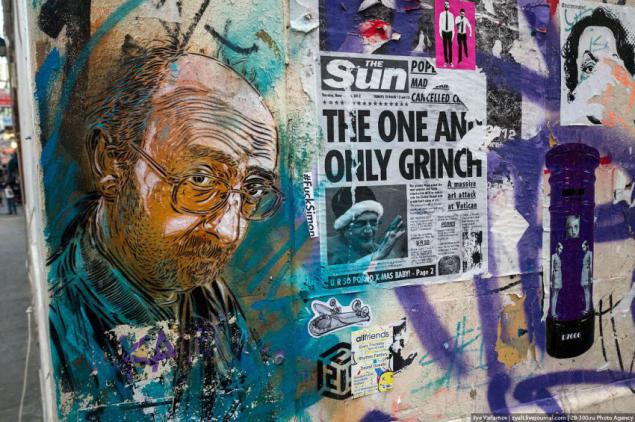 No less productive and with a very similar technique - Briton Paul Don Smith.
He no longer left the streets. And any information occasion missed - Royal Jubilee? Hold! 200 years of Dickens? Come to the wall, dear Charles :)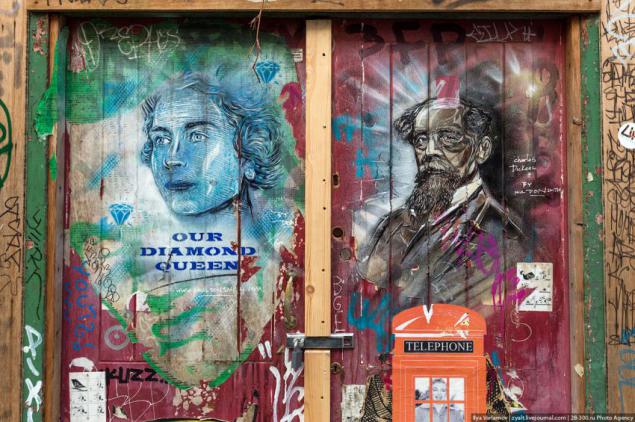 Gold won the British track and field athlete at the Olympics? Climb the wall :)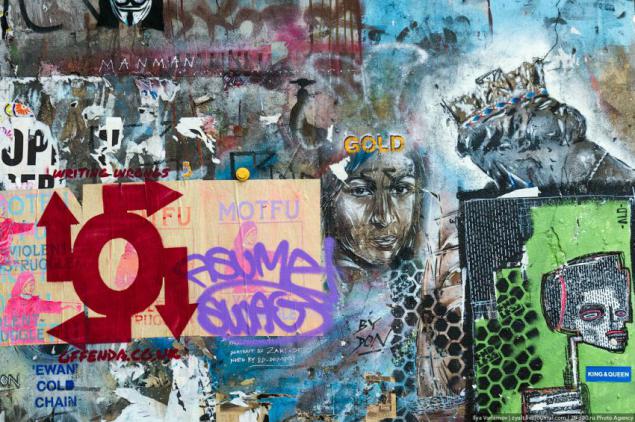 Paul Don Smith does not really hesitate. Mona Lisa - yes please! London Skyline - yes plenty :)
Well, the technique allows to reproduce the work in every corner. Don draws stencils, finishing work already in hand.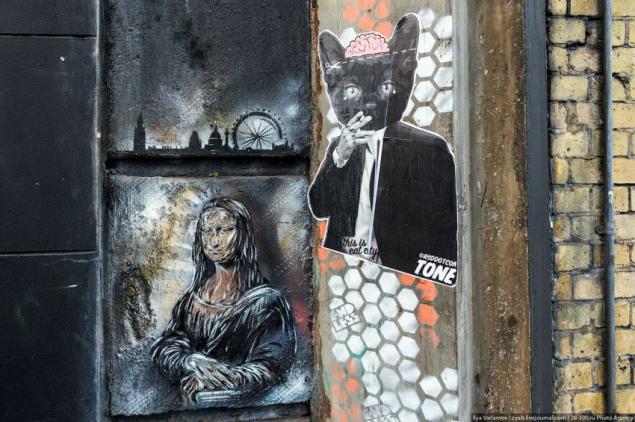 Stik - is an example of minimalism in street art. All work Stick - a man. There is nothing but four limbs, a round head, two eyes and body. This instantly understand how this man feels. It's amazing how much can be as simple heroes ascribe uncertain posture, fearful and cautious outlook and wariness.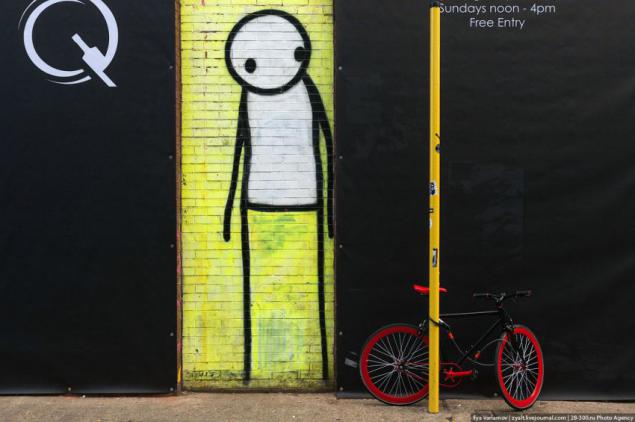 Or vice versa :) Ceiling relaxed, childlike, and in some cases even self-confidence :)
Stik - an internationally recognized artist who travels around the world, draws its men on the walls of the best cities in the world. Now it is hard to believe that not long ago he was almost ten years literally lived on the streets of London. Without a home.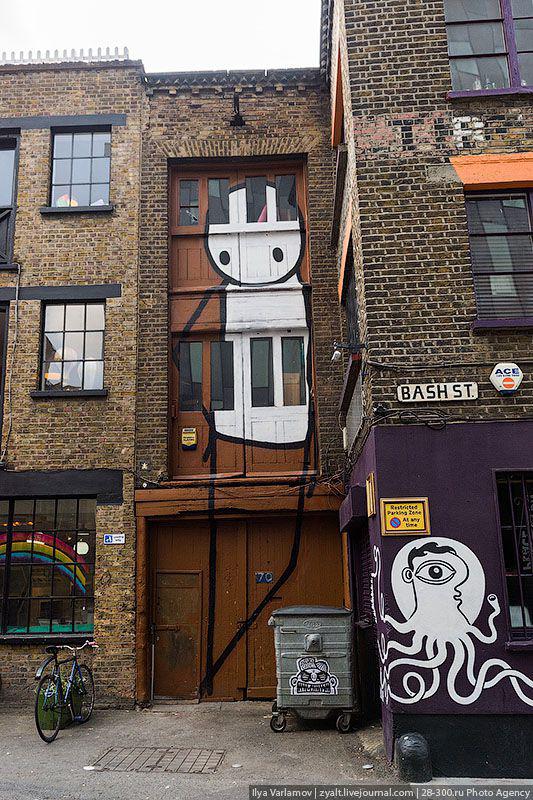 This is the way to street art is not a unique case. The author of the following works, for example - JimmyC, another person really knows what it means to sleep on the street. However, homeless JimmyC was in Australia. But still. I think that few people can return to normal life, being on the street.
My work JimmyC by the way - is a tribute to Australian traditions. One technique drawing Aboriginal - it's just work from the point.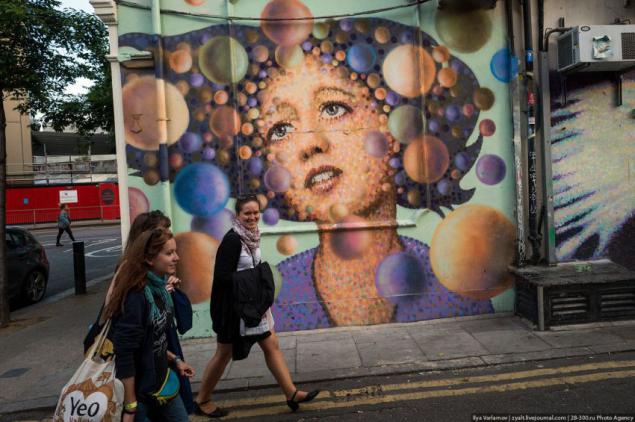 In London, the culture park for decades ahead of Moscow, but nevertheless sometimes leaves much to be desired.
Advertising agency in Shoreditch creatively approached the opening theme "No Parking» :)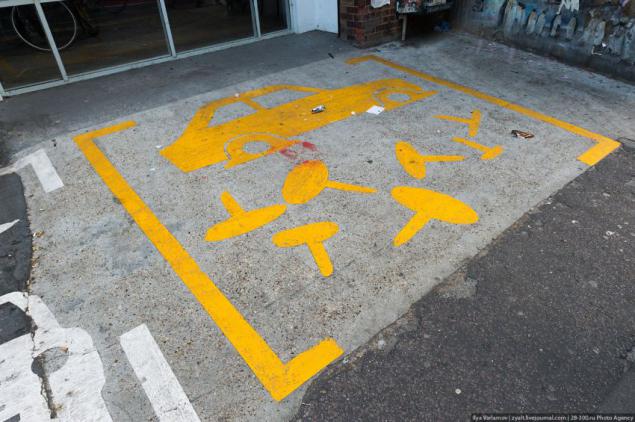 Moscow authorities should learn from the London experience is good. British scientists have long brought a special kind of pigeons :)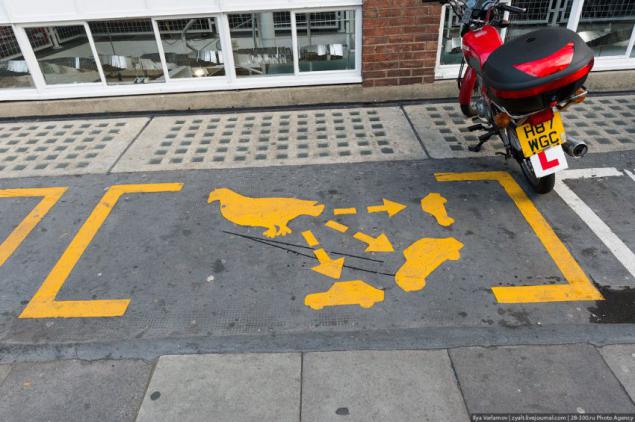 And passers-machines do not stand on ceremony :)
Cult graffiti character - Ain Ben (Ben Eine), the man who for decades ran from the police, and then with the same enthusiasm ran from auction houses, art galleries and journalists as one of the works of Ben gave Obama Prime Minister of Britain. All of the "art" then looked sharply at Bene artist and decide exactly what Ben - a new Banksy.
And it does not believe Nadia Tolokonnikova of Pussy Riot :) wonderful series New York artist Dan Witz on behalf of political prisoners in the world. The work is one of the usual doors in London. And only if you stand at a certain angle and you look closely, you can see the person behind bars Nadi.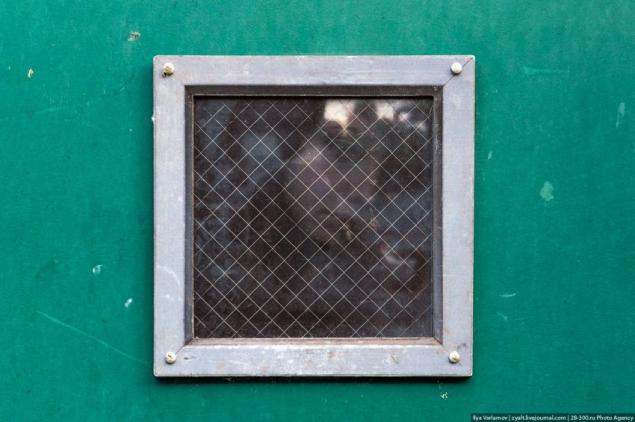 Absolutely terrific job Phlegm. This Briton, who was born in the industrial and moved to Cardiff for at least an industrial Leicester. Therefore, many of the magical worlds Phlegm adorn the walls of abandoned factories Kingdom.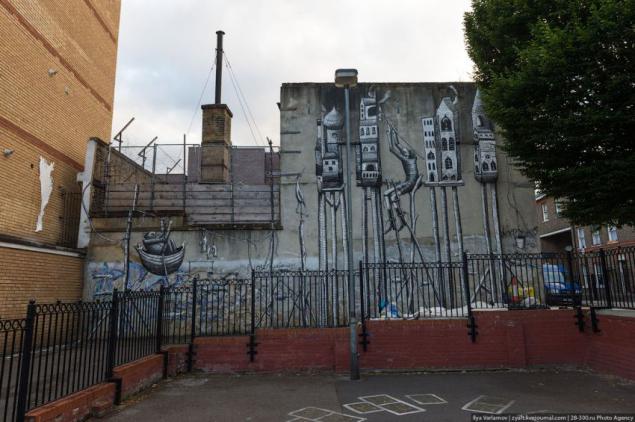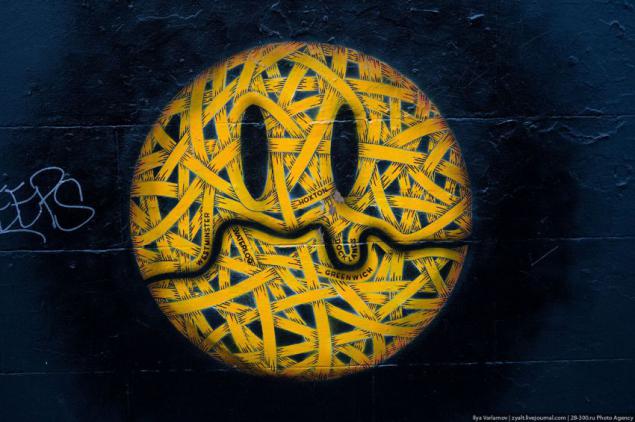 Source: zyalt.livejournal.com