Today - a good Minsk.
It's funny to read the comments to the post about bad Minsk. Readers somehow bend over backwards to prove to me that "in Moscow (Russia) also all bad." This is often the case, and not only with Minsk dwellers. But with Minsk, it appears as a particularly acute. I wonder what would have written if I had not come from Moscow, and Copenhagen, for example? What would have consoled themselves with many commentators? Is all the same, worse or better Minsk Moscow. In Moscow, a lot of problems and I often write about them. We're talking about Minsk. Here, in Minsk, for example, horrible yards. They are terrible in themselves, and not in comparison with other cities. Of course, there are cities where the courts even worse, but really from that someone may be easier in Minsk?
Despite the fact that the whole city I did not like it, I found a lot of pleasant moments. And some positive things I would like to take over in Moscow.
Most importantly - clean. At the birth of each citizen of Minsk told that he lives in a very clean city in the world. Places of the city really sterile. But not as Singapore. In Minsk has its own special, barracks sterility. Especially in terms of purely visual garbage. After Moscow and other cities of Minsk right in a European tidy. There are no wires, air conditioners and satellite dishes. Very little advertising, and it's pretty neat. Practically there is no squatter. The city can be seen. Minsk - it licked city with Soviet postcards.
60 photos + text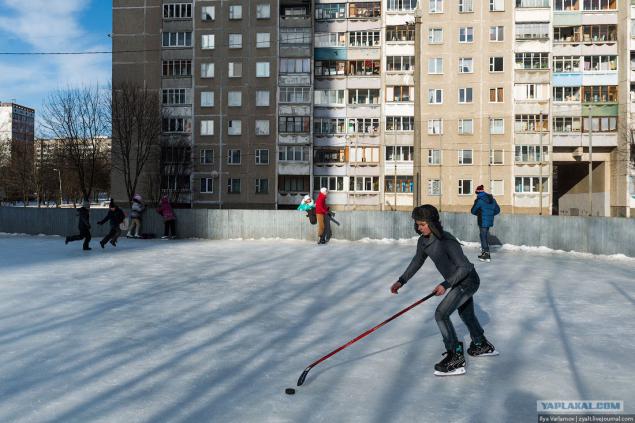 2.
01. We fly to Minsk ...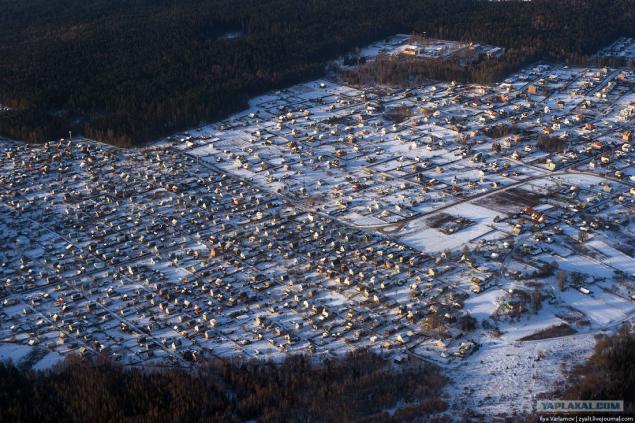 3.
Independence Avenue, the former Stalin Avenue. The main street. In the previous post, I wrote that there are no trees, but there are stupid subways. Trees do not. More precisely, there are some small brooms. Apparently, recently transplanted. But few of them.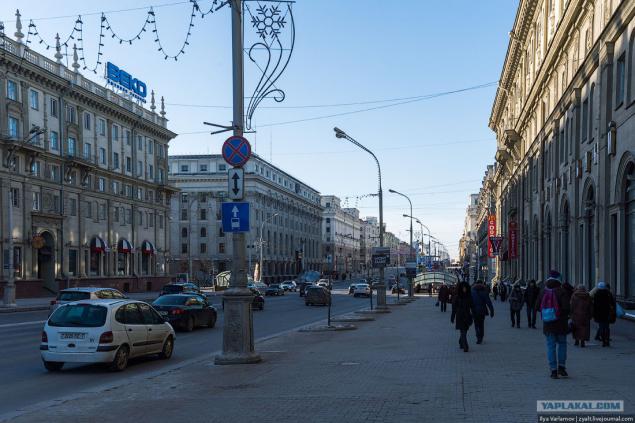 4.
See how it was before. And the transitions used to be normal, no people not to drive into the ground. Those who will be clever that through such a broad line it is necessary to do the underpass, I advise to pay attention to the Nevsky Prospekt in St. Petersburg or the Champs-Elysees in Paris.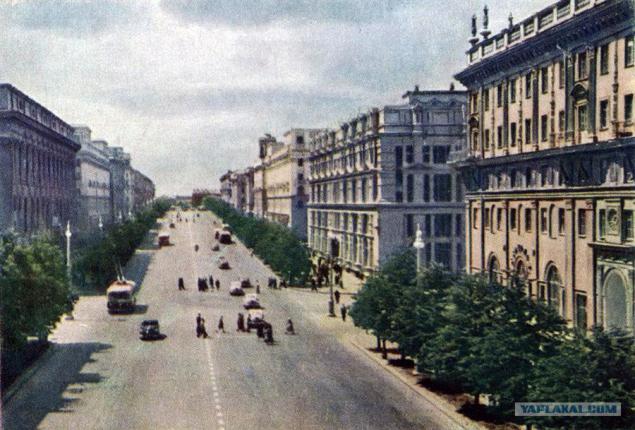 5.
Take the Lenin Street. Not a bad accomplishment for a wide street. Sidewalk separated from the noisy road fence, good shops, lights. In summer it must be very beautiful.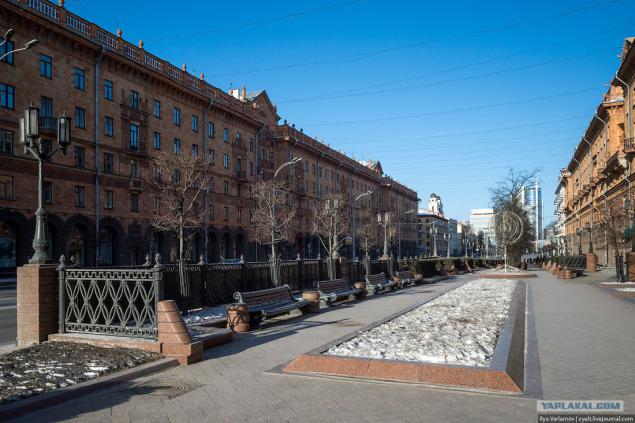 6. In Minsk able to hide the pipe into the pavement!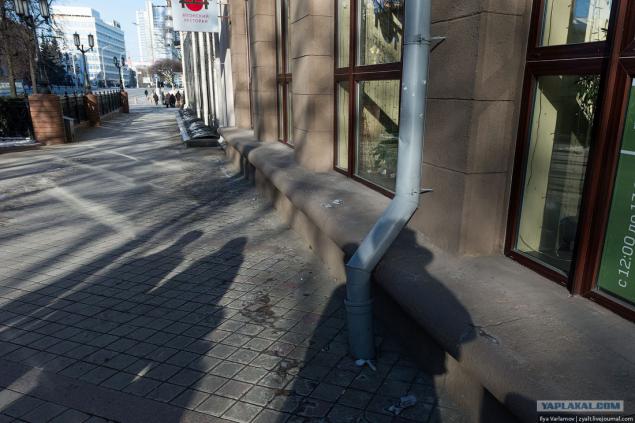 7.
We as usual? The pipe does not reach the ground, and all the water flows from the roof to the pavement. Winter frost formed in the spring mud, impossible to walk. Around the world have long drainpipes are displayed immediately in the drain. In Russia, every time whine that "we have a frost and it is technically impossible." In Minsk proved that anything is possible.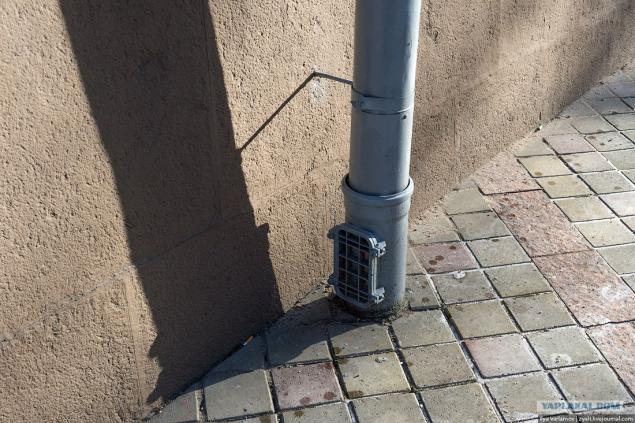 8.
In the center there is a small quarter of the old city ...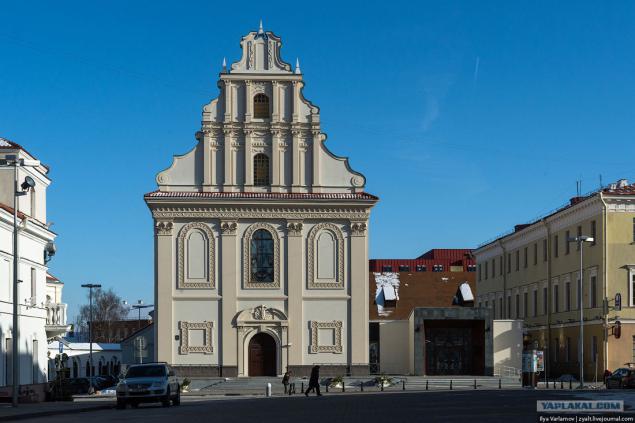 9.
. ... Paid parkovochkoy.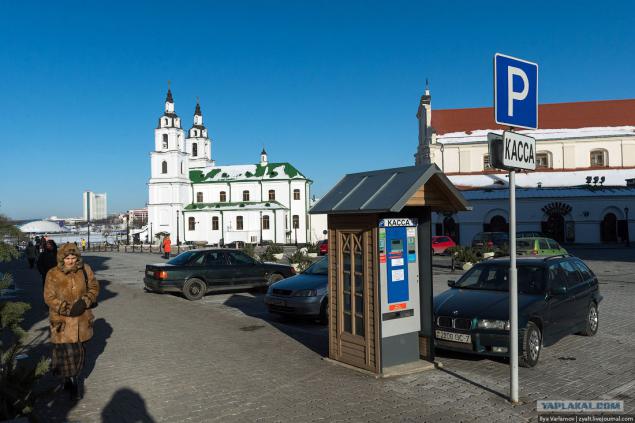 10.
With restaurants ...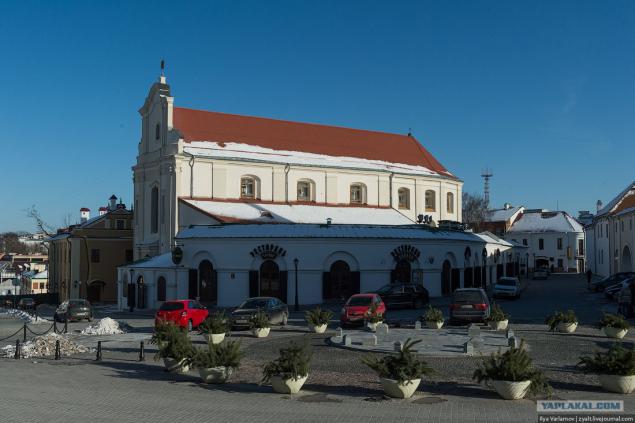 11.
European landscape in the reserve scoop.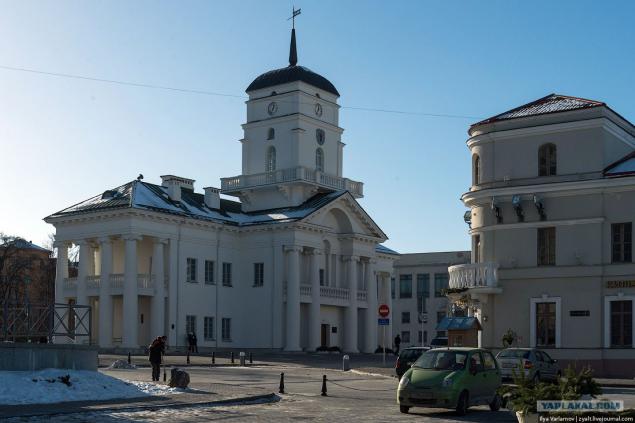 12.
It's all a remake, but very good quality.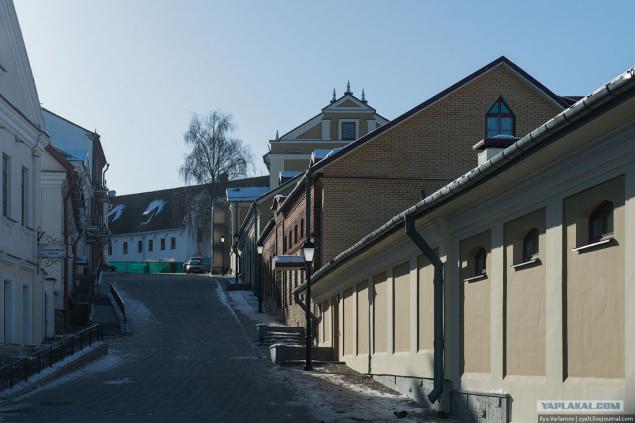 13.
The coolest: Minsk all wires hidden under the ground! Even if the trolley line on the street is, wires minimum.
14.
Usually the streets look like. In Minsk, see the sky without worrying about tangled wires! In Russia, too, said that "it is technically impossible, as the expensive underground live evil moles, and generally bunch of wires in each column - it's beautiful." In Minsk received. Envy.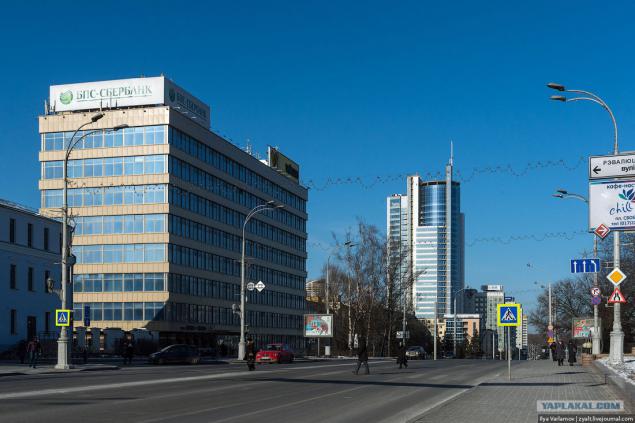 15.
(Sorry, that long spread - Internet brakes)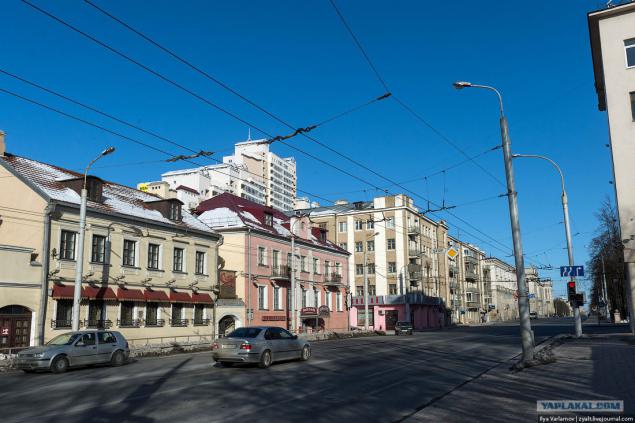 16.
Plitochki. The famous Minsk plitochki. Super. Almost all of the tiles very well laid. Tile everywhere, and it pleases.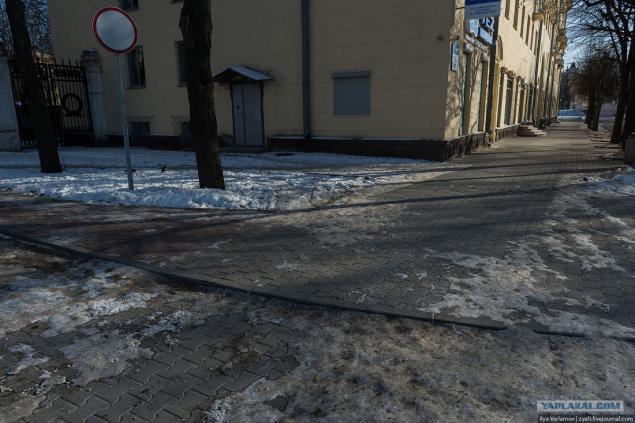 17.
See all neatly done in Moscow do not know how. What bordyurchik. Super.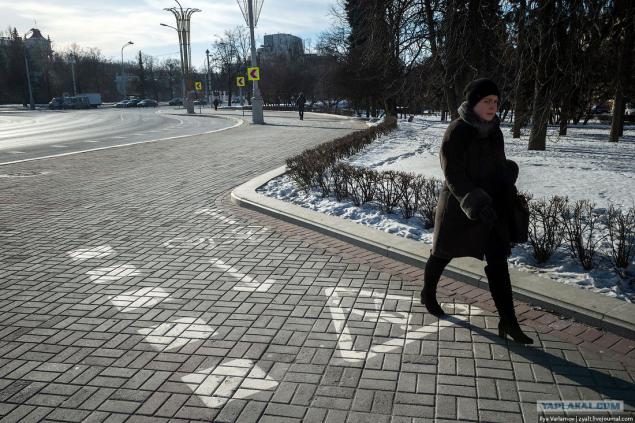 19.
Or here in the suburbs. Please note, there are no fences! Very good. We somehow made every piece of Zembla fence endless yellow-green fence.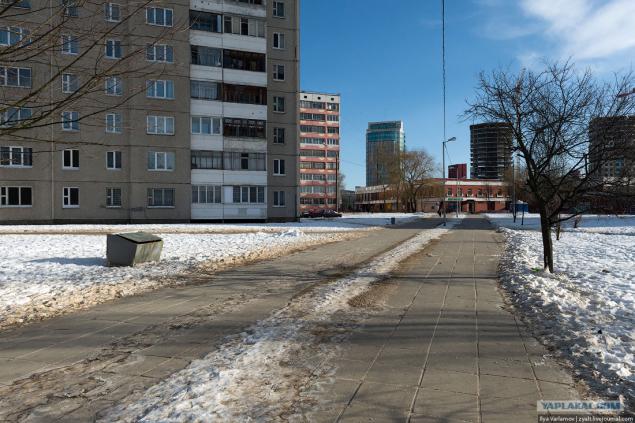 20.
Interesting places preserved Soviet details. It is a pity that in a bad way. Hopefully, there will be money to repair all this wealth and save.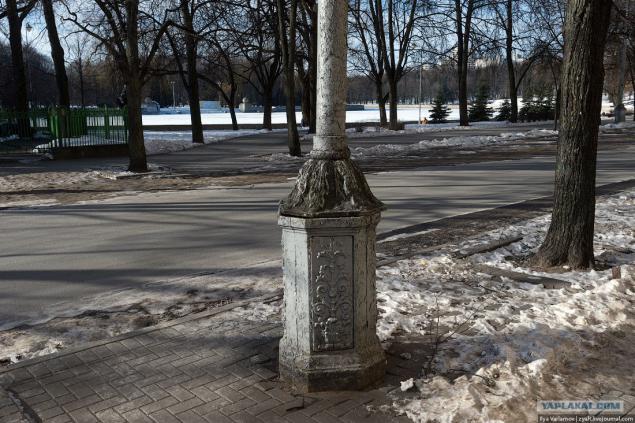 21.
Look at the gorgeous pillars on the left!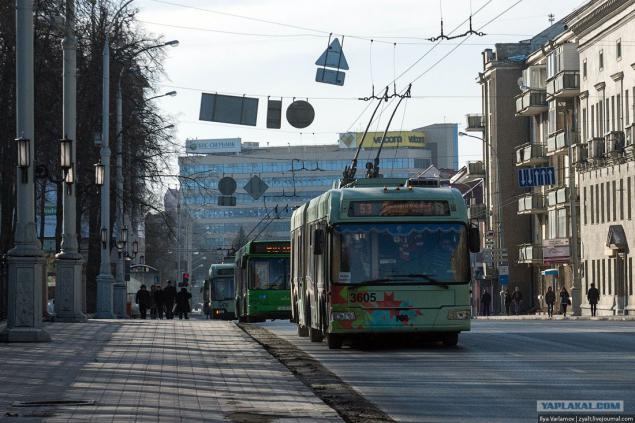 22.
Recently Belarus emperor decreed that in honor of the New Year all have to decorate the entrances to shops pine branches. And indeed, the whole city in these pine trees.
23.
. Everywhere you look, everywhere branches! We usually ordered to hang posters of each establishment. With branches idea interesting.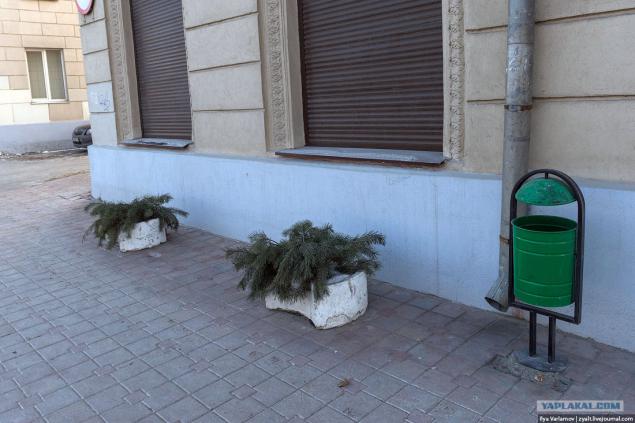 24.
Victory Square - and here branches.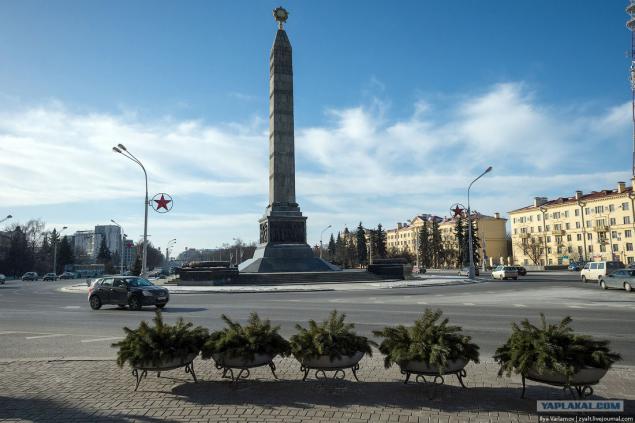 25. In Minsk, the largest number of boxes in the world. They immediately everywhere. Sometimes to the polls veloparkovki added. Unfortunately, all this is done under pain of death, so looks the part.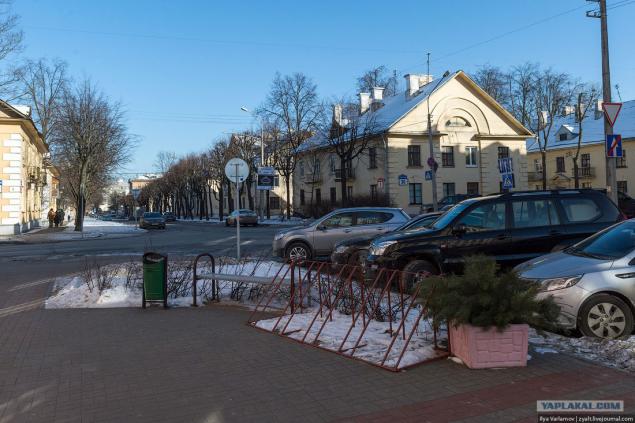 26
Even in Minsk many shelters. It's probably a good thing. Here in kindergarten ventshahty from bomb shelters so beautifully painted.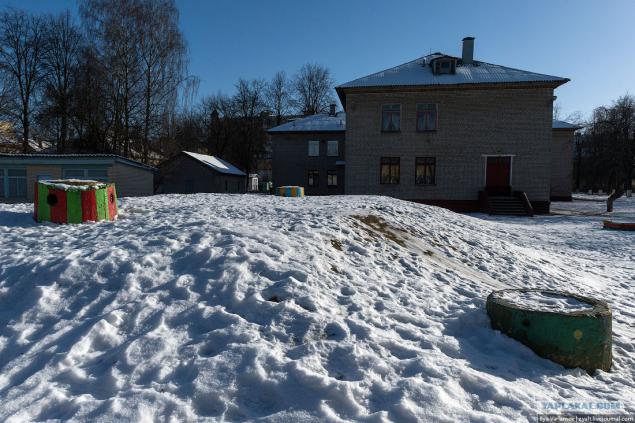 27.
In Minsk cool LED lights. I, of course, traffic lights do not really understand, but I liked it. Such has seen in Ulyanovsk. There, in my opinion, just the Belarusian traffic lights and stand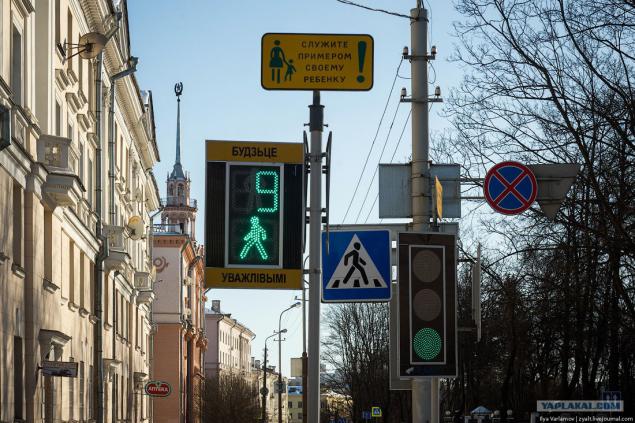 28.
House numbers are huge. Sami signage design disgusting, but they can be clearly seen from anywhere. Conveniently, when the city for the first time looking for the right house. In general, in Minsk some trouble with the streets. Rename streets here often muddled. It turns out the confusion. For example, the presence of two avenues Masherova Independence Square metro station "Lenin Square". In addition, the streets of Moscow and Mogilev located in fundamentally different parts of the city with the same name metro stations, Sofia Kovalevskaya lane perpendicular to itself, there are five streets Schorsa six lanes Orlovsky (third to eighth), eight viaduct, a lot of the Railway and one "first solid Lane ". In addition, there is a unique street with mozgorvuschim called "second line of the sixth."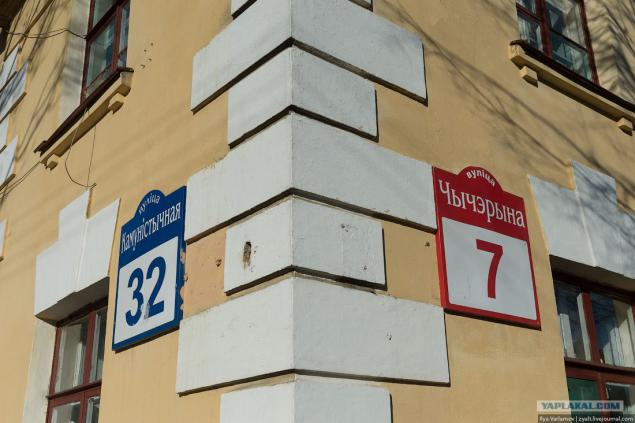 29.
Skating rink in the backyard. Good) at least some joy.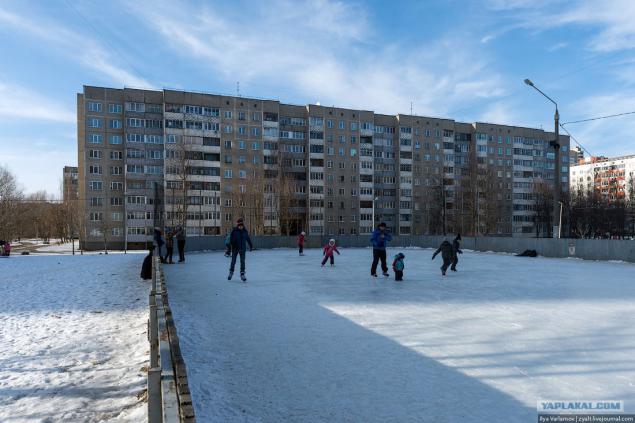 30.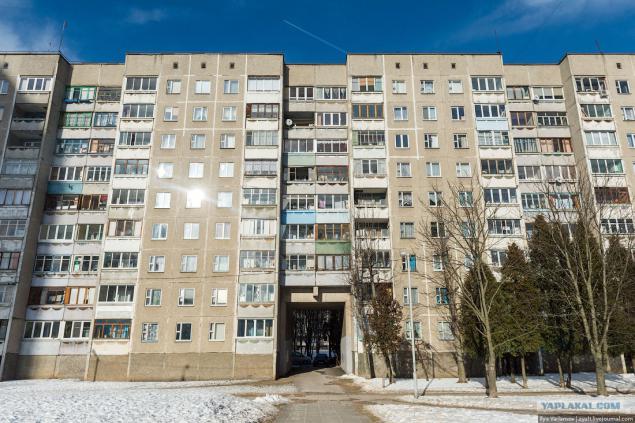 31.
Say, wise leaders for several years forbid them. "In the state. organizations it comes to the point of absurdity, for example in the administrative building of the Art Museum located on Lenin Street restoration workshops, in which you need to maintain a certain temperature and humidity. But here's the thing: shops in the historic monument - a typical impersonal structure of the late 50's, so the air conditioner hanging (sic!) In the hallway 4 floors, because of what the summer there temperature and humidity of 50 to 110%. "Historic" is likely to be able to withstand such a long abuse. »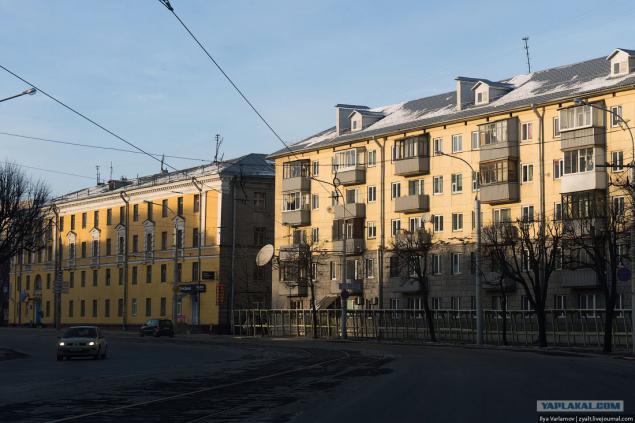 32.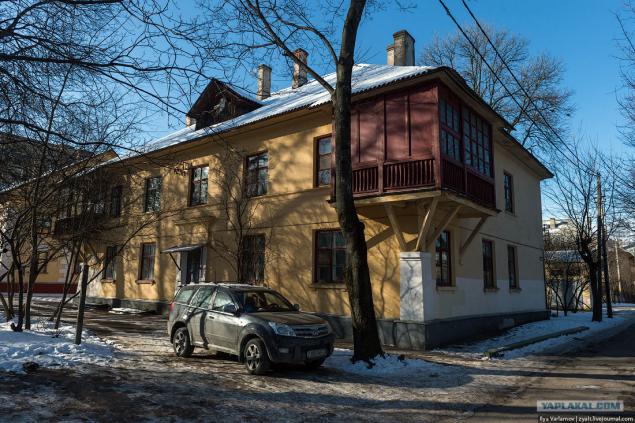 33.
. They say that the most expensive house in Minsk, apartments here cost a million dollars.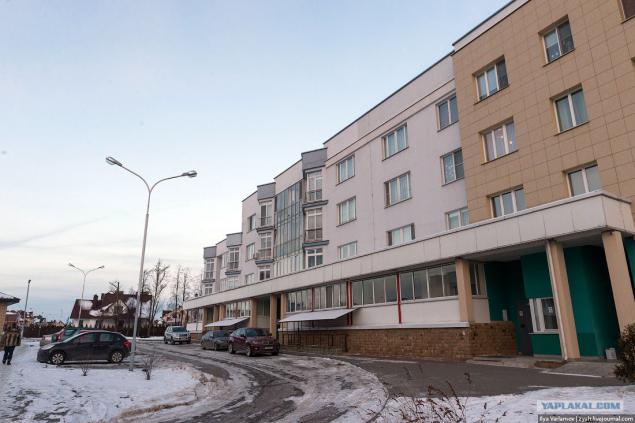 34.
Another luxury house, it has as many as two air conditioners!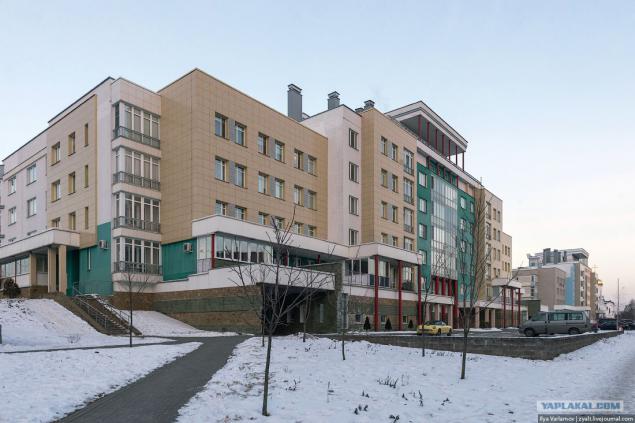 35.
And this is the most expensive street, it is called - "Gold".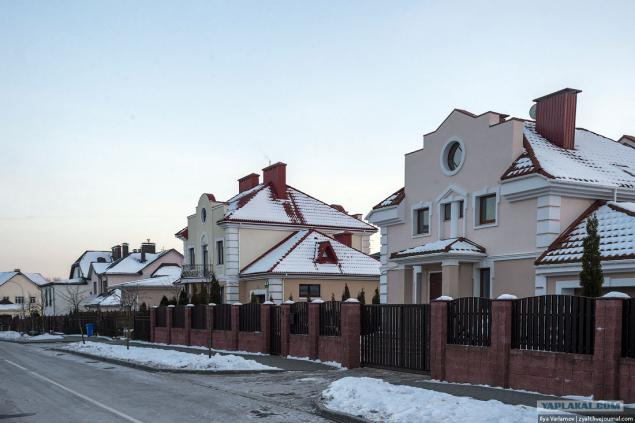 36.
Live here and approximate officials. House is worth two million dollars. As well as throughout the city, on Gold Street no wires, but there plitochki.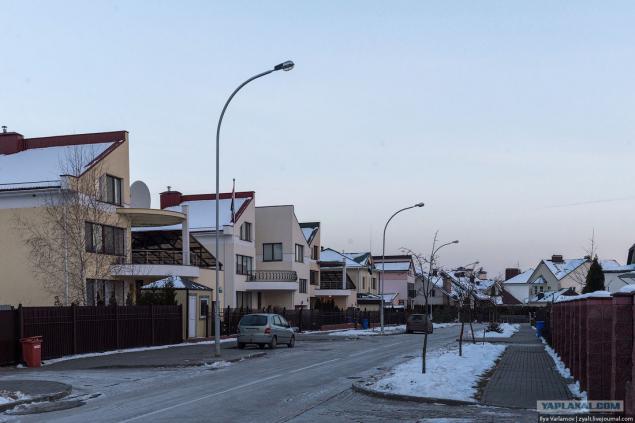 37.
New housing built on the site of the former prison. Good house with mind, even though I do not like such anthills.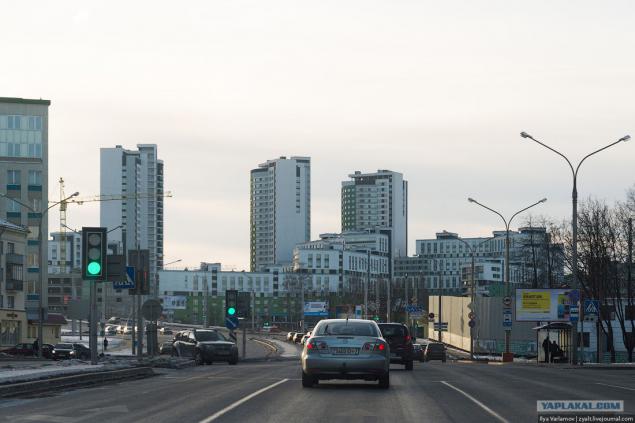 38.
. Some hotel. For Minsk tolerable architecture. On chetverochku. Still here build very cool building Kempinski Hotel. Local swear that he some kind of overlap there. I looked at the project - very cool. Hurry to build, come specially to remove it.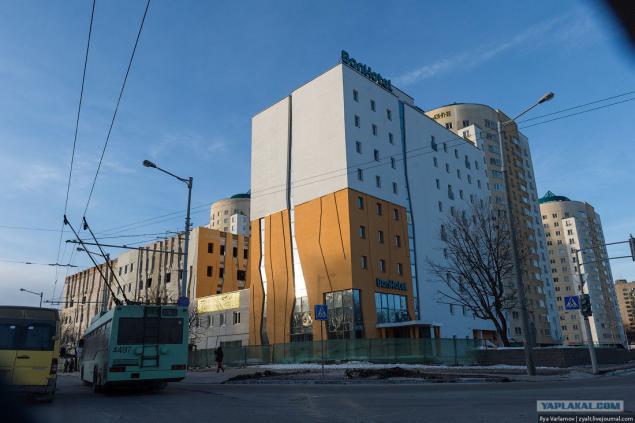 39.
General building lot. Even in Minsk me many proudly say that they have no migrant workers from Central Asia. Here they find that it is very good and cool. I do not know, maybe it is.
40
Minsk-Arena. The main stadium of the World Championship. Externally, the terrible and faceless. Stadium could do better.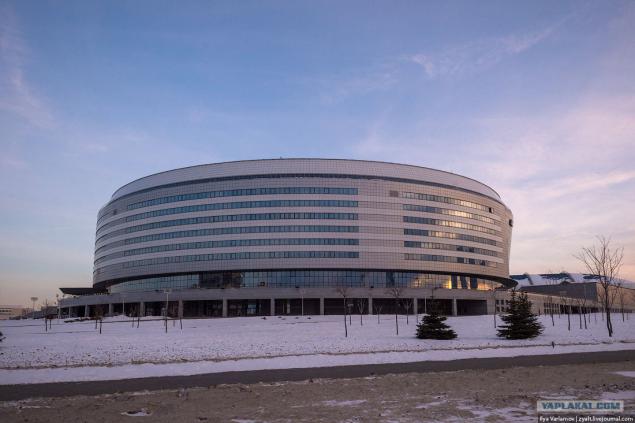 41.
In Minsk there are public toilets. Unfortunately, they are not automatic and scary. But there is a lot of McDonald's, so that problems with no toilet.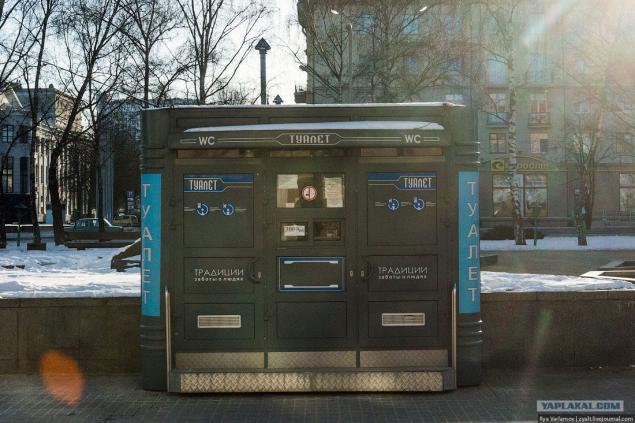 42
In Minsk practice separate collection of waste. Evil tongues say that of all the containers separately collected garbage at night take off in a big tank, so all this is blasphemy.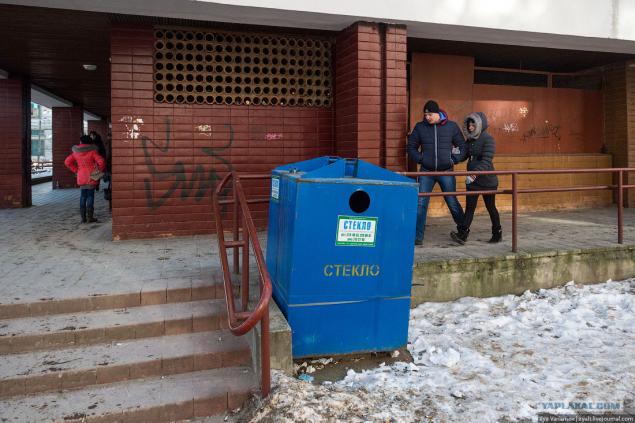 43.
I looked inside: despite the grumblings of skeptics really rubbish collected separately. Well done.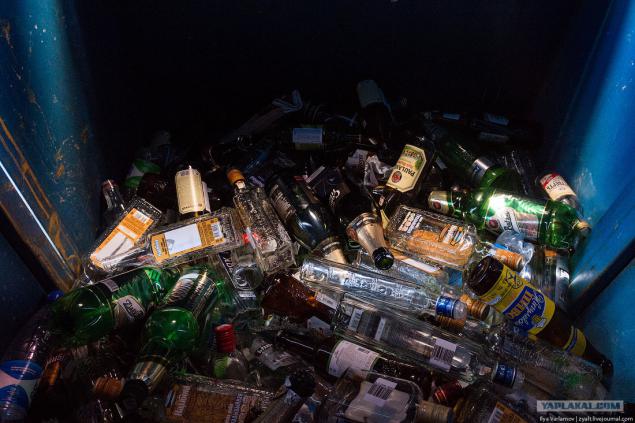 44
. In the center of nice stops.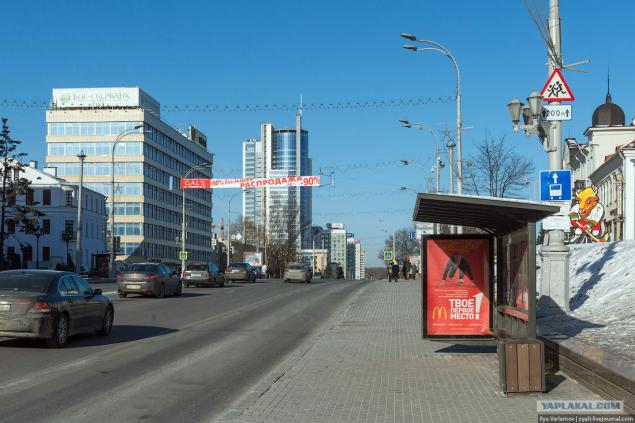 45.
Illegal advertising I have never seen. There's a bit on the edge, but does not stop glass glue, as we have. But too many legal advertising.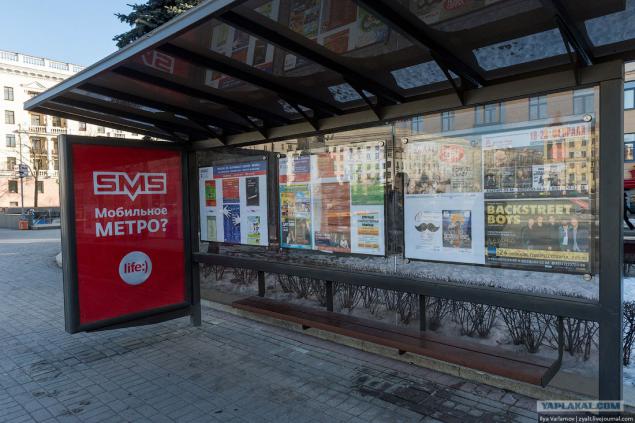 46. ​​
Entrance to the subway.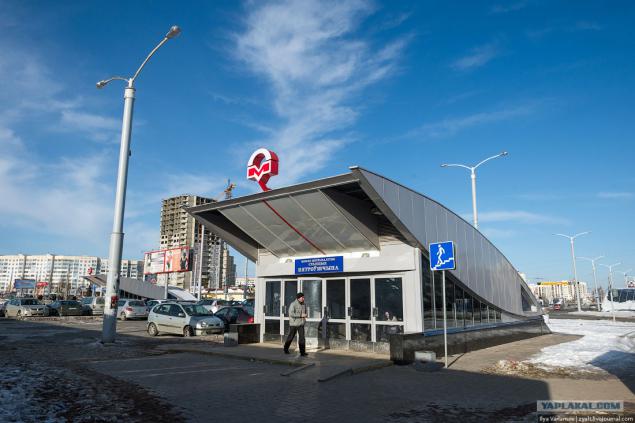 47.
Metro usual, as in all Soviet cities. Tickets cost 10 rubles.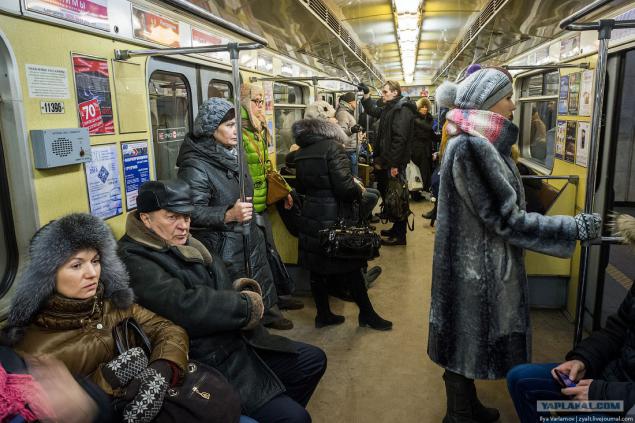 48
I learned that there is a vacancy "varschik syrup»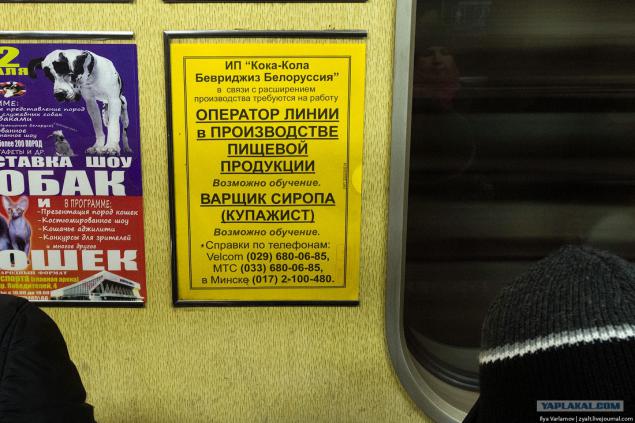 49
New station as a whole - is present plastic. But there is some good. Here a beautiful starry sky. Shoot in the subway is prohibited, so that other stations do not show.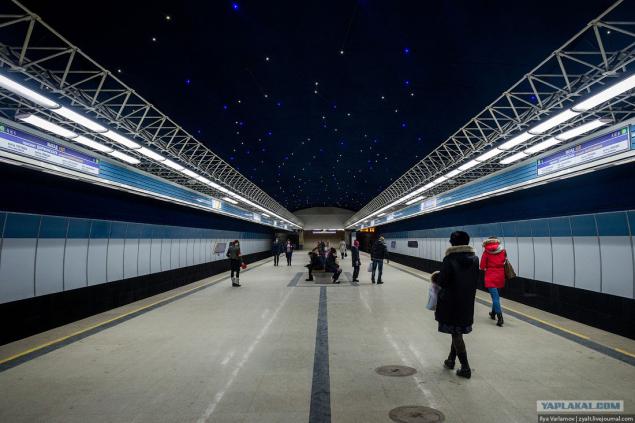 50
More on the new stations have elevators! It's very cool. In Moscow, so do not do.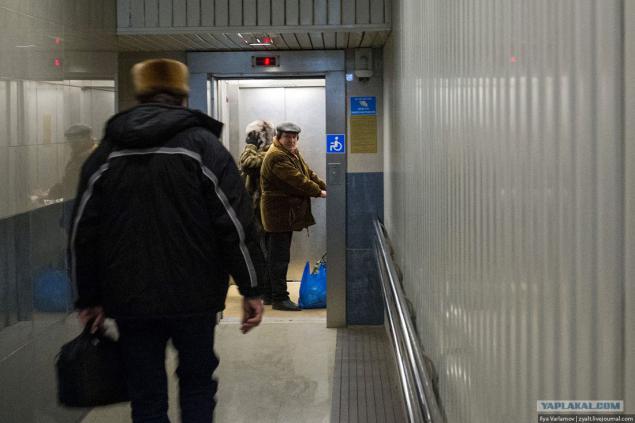 51
. For some unknown reason, elevators are not outside, but in the station lobby. Further, according to the designers, the disabled person must climb 3 flights of steep stairs.
(Courtesy UglyDemoN'll put it here nizhenapisanny comment:
Source: http: //