Lower Falls Kubalar or visor is located on the creek Kobalar-Su, which runs along the beam Kobalar Dere and then flows into the already Baydarskie valley. The historical name of the waterfall did not survive to the present day, it is known to us under the name Shade as a semicircular tuff ledge from which the water rushes down, really reminds canopy hanging over the grotto.
This waterfall is interesting because it is not included in most reference books about the Crimea and information about it on the Internet is almost there. This is partly due to the fact that the waterfall Visor active almost exclusively in the fall and spring when in full flow mountain streams, and in the summer completely drying up.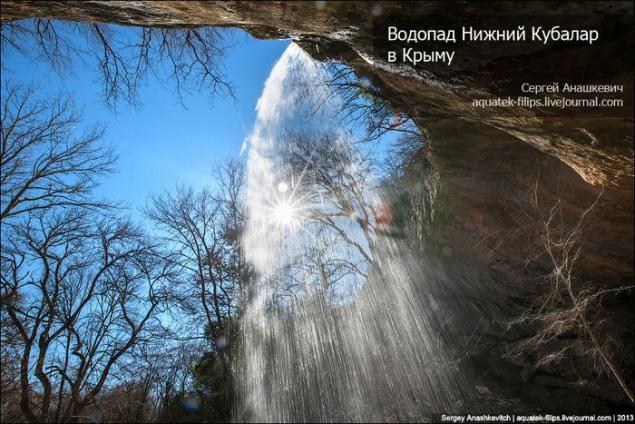 Waterfall tears stream Kobalar-Su into two parts. Flowing down the slopes of the mountain Kobalar-Oba, stream ends abruptly with a 10-meter height in the upper beam Kobalar Dere and rushes on to Baydarskaya Valley.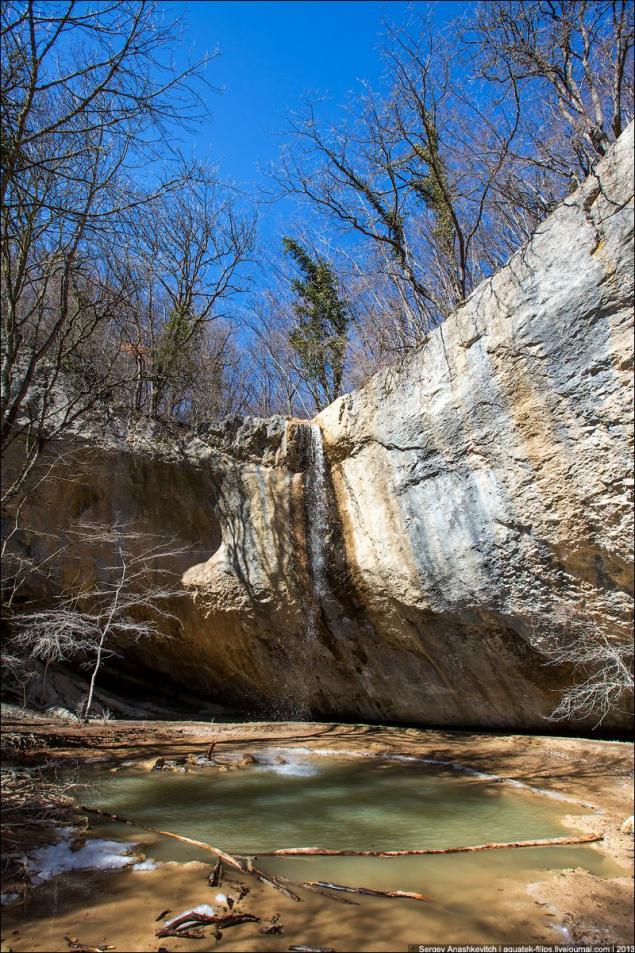 The name of the creek that forms a waterfall Visor, in Turkic means "cave". Upstream meet the natural grottoes, which accounts for the its name. Among them are the famous caves Fatma-cob and Shan-Koba. This prehistoric man in the Mesolithic (14000-7000 BC), they were people home or, more correctly, the abode.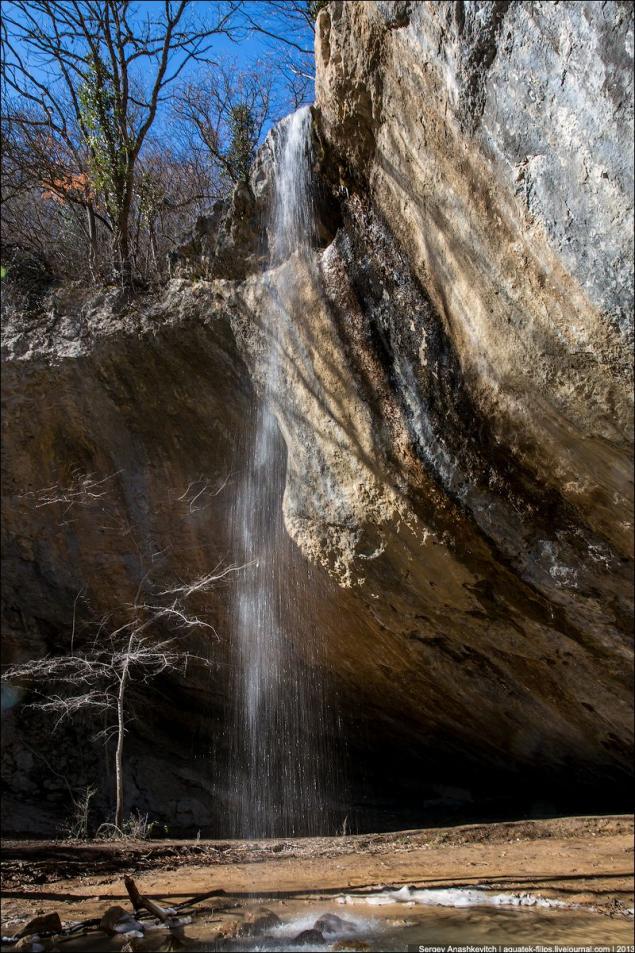 An interesting feature of the waterfall - the presence of tuff visor. He points out that Kubalar Su-filled from the karst springs. Unfortunately, in 2009, of the tuff visor fell off.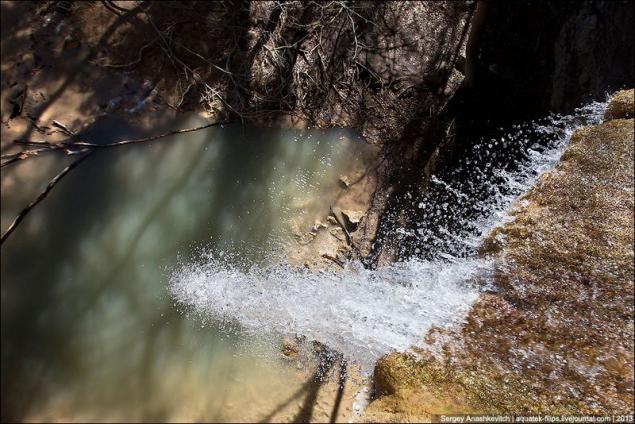 The place where the creek Kubalar-Su breaks down the 10-meter height. Or waterfall visor, top view
The neighborhood is very picturesque waterfall. In a huge tub with clear water, lying at the foot of reflected ambient light broadleaf forest, causing water acquires a beautiful emerald hue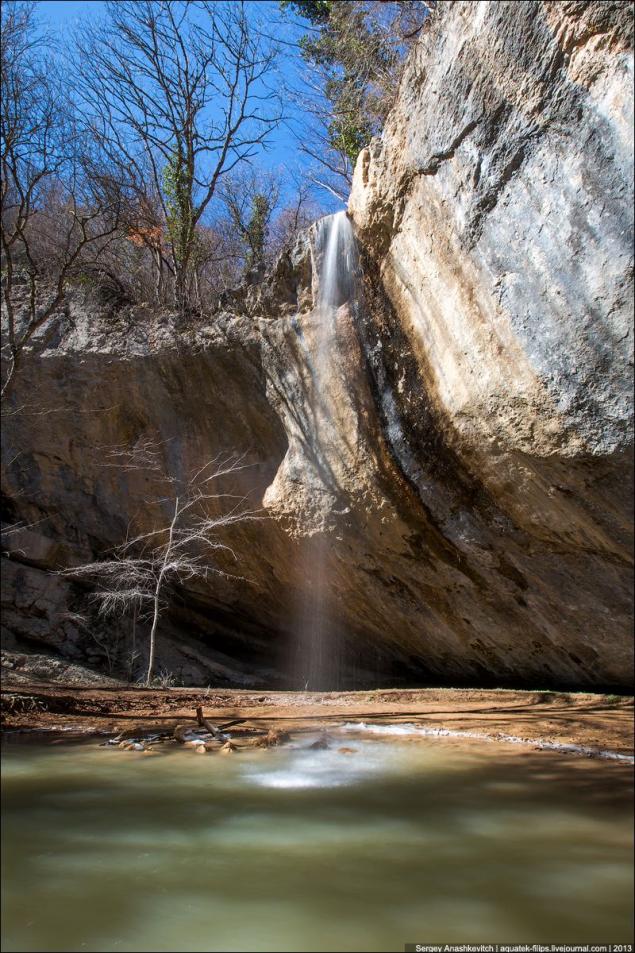 Morning sun over the waterfall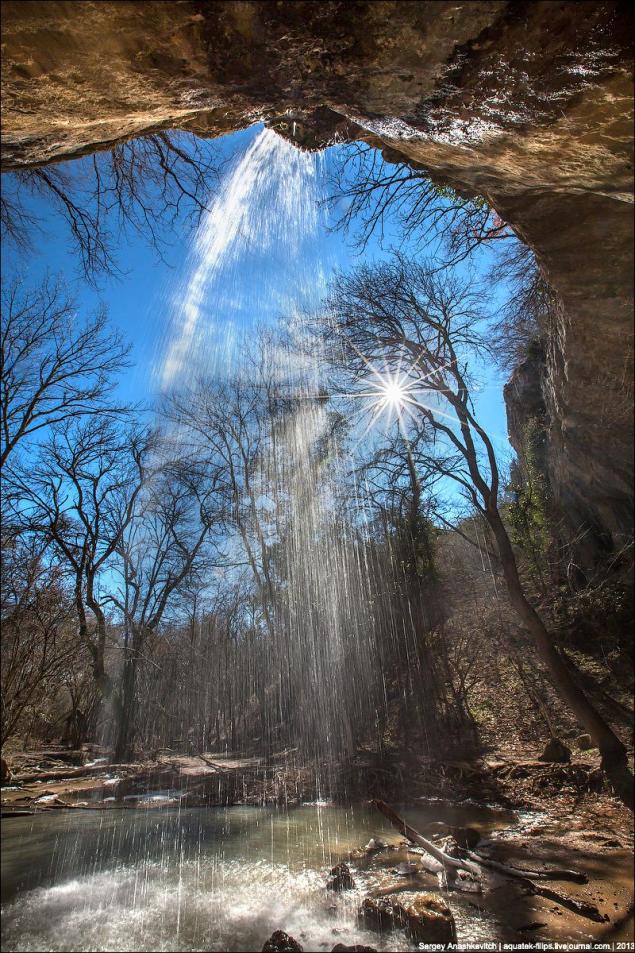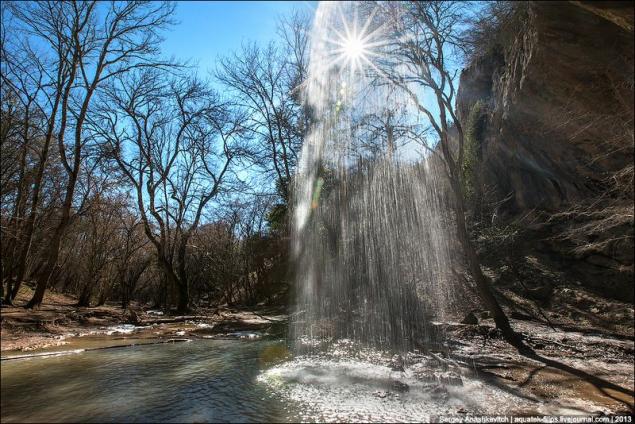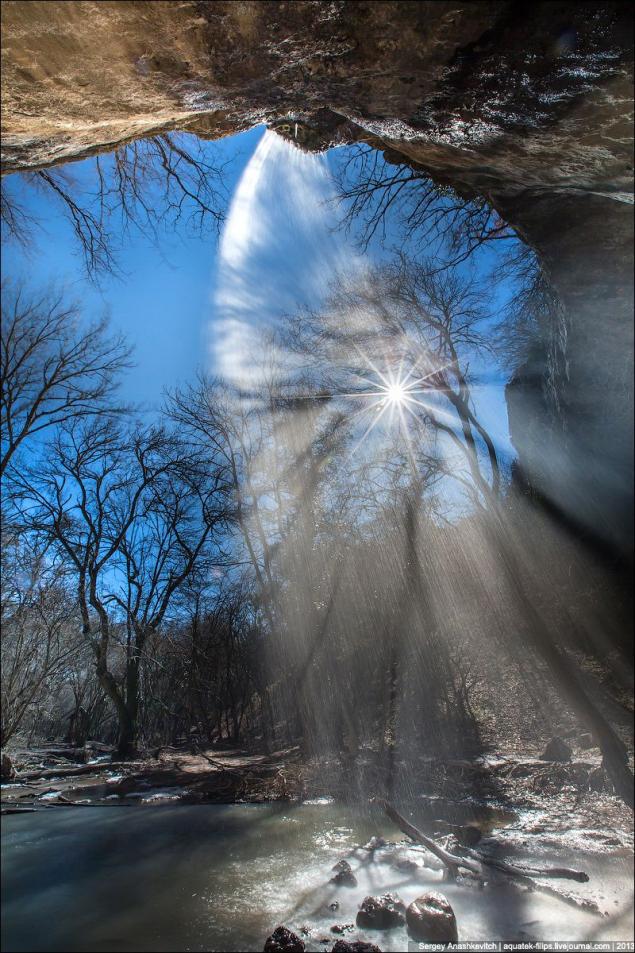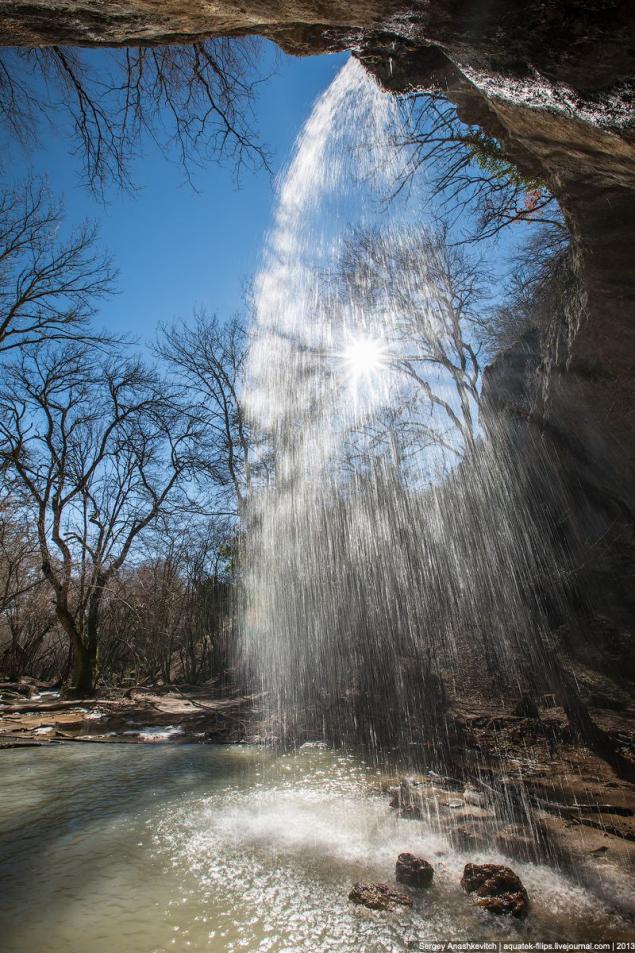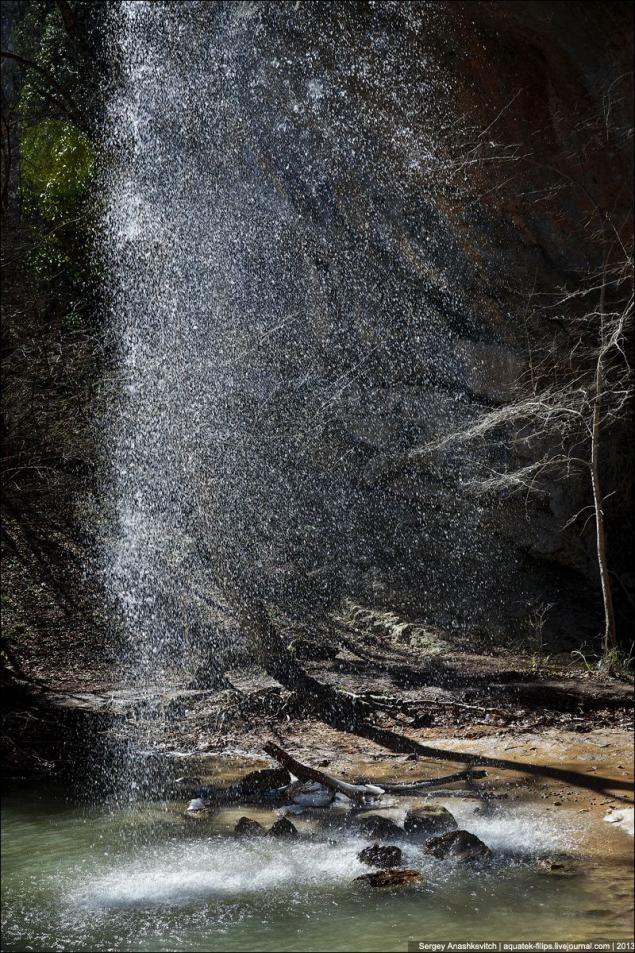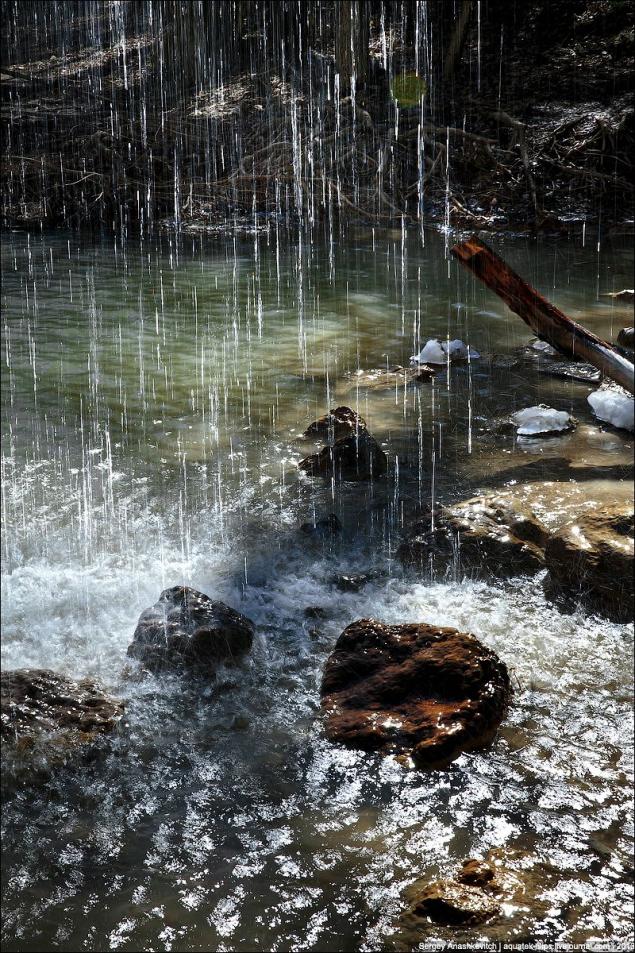 Source: aquatek-filips.livejournal.com