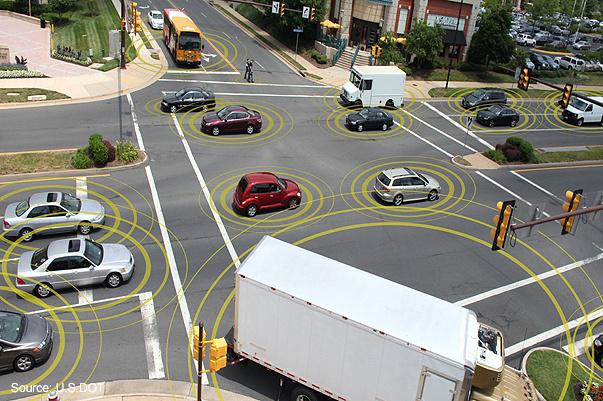 Ann Arbor, Michigan.
"Here the road bends. You most likely would not pay attention to it, but two years ago it shot down the offending person and could not find "- says Debra Bezzina. Our van driven by Rick Byrd, colleague Debra at the University of Michigan, comes to this, seemingly secure, in spite of the January freeze, bend. But Bezzina told how one man, driving at high speed here, rolled off the road. And he was not the first.
I was prepared to turn. There was something unusual: sounded the alarm with the dashboard light signal blinked in the corner mirrors. Also on display was a special show signs of a right turn on a blue background, which turned red, warning of the danger. Bird reduces speed.
What just happened was both simple and profound meaning. That's what the words Bezziny and Byrd, university staff at the Institute of Transportation Studies Michigan (UMTRI), can change the way in which American drivers are accustomed to reach the desired destination. Van, where we're going (UMTRI van with showy yellow sticker "Connecting the Future") is equipped with technology alerts the driver in various situations. In our case, the roadside equipment transmits the recommended speed to overcome the rotation so as our vehicles. The device in the car pick up a signal, assess the risk and to warn us of danger.
Van UMTRI are not the only car that has a futuristic equipment. I was in Ann Arbor last week the 18-month large-scale tests of the technology communication between vehicles. The test vehicle financed mainly by the US Department who wants to find out what benefits can provide security in such devices. Total 2,800 cars in Ann Arbor participate in the program, which is called «Safety Pilot». All of them are equipped with devices to transfer your performance speed and position in the same machines. And 400 of them also are on board system that I have seen in a van UMTRI plus camera to monitor the driver's reaction to the warning system. Cars, trucks, trailers, and even a bicycle connected to the system.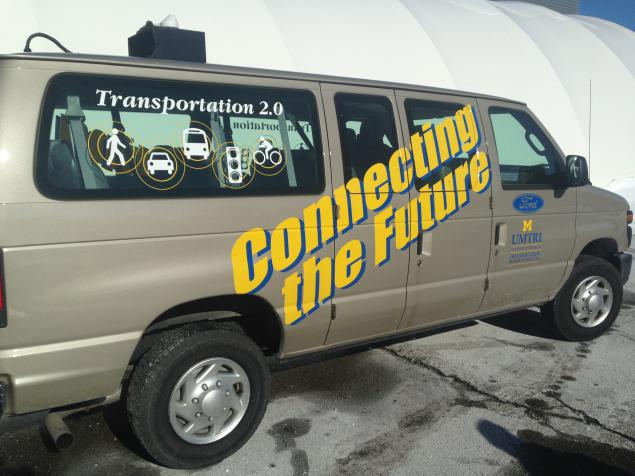 "This is the large-scale deployment of this technology in the world at the moment" - says Scott Belcher, chief community intelligent transportation America, a trade association, part of which is UMTRI.
Warning sharp turns are not the only type of alerts that experienced drivers in Ann Arbor - they had a whole set together with the bond between pairs of transmitters and vehicles along the roads. In a variety of complex situations, such as complex left turns, approaching trains at level crossings, maneuvering in a "blind spot", sudden stopping of the vehicle in front. With the van used in the UMTRI all this technology makes driving in such situations is much safer.
Many people today have heard about the research in the development of autonomous vehicles that travel on their own, guided by sensors. Automotive revolution, they say here in Michigan that we will soon see, goes from cars that "feel", and from the car, which "speak". Experts proclaim the coming of the "Internet car" - and according to some, it will be the biggest change in our usual trips, since the invention of cars.
First and foremost, it will - driving safety. The National Highway Traffic Safety Administration has estimated that communications technology in motor vehicles from the car-to-car-like those experienced in Ann Arbor, will help to reduce the so-called sober driver errors by 80 percent. "It's even more than they can give seat belts and airbags" - said Belcher. "In principle, it will be cars that do not fit in the accident».
Although it is still being processed data received from Ann Arbor, National Highway Traffic Safety Administration (NHTSA) United States recently announced that the use of these technologies in new cars will be mandatory. Automakers are signals that communications technology vehicles is a new phase in improving the safety of motor vehicles (nekotrye automakers are now able to offer low-cost devices to upgrade machines already released). Also consider concerns that can not talk about full security until such technologies will not be equipped with absolutely all the cars on the roads.
Spending enough time to survey automotive futurist, you will realize that such innovations may be just the beginning. Because as soon as you create a world where cars, roads, traffic and transport services will share information in real time, everything will develop more dynamic and creative as ever with the advent of the Internet.
Belcher and others are talking about small experiments that aim to resolve traffic problems throughout the country. In the center of the Manhattan users EZ Pass system collect data on traffic and regulate the time of traffic lights, thereby reducing the number of traffic jams. In San Francisco, uses sensors to change the pricing of parking spaces. Experts say an improvement of these technologies in the future and the development of new, to each car could share information about their location and speed.
Some futurists say about the occurrence of this transport utopia. In the new reality will be possible at all to avoid any accidents. Be rethought and design of the vehicle and its fuel consumption, business models. Will be possible to rent a car, which will bring up how you automatic taxi.
"If you have a communication platform, reliable and secure, you can use it as soon as you want, limited by your imagination" - said Belcher.
Of course, at the moment there are countless more issues to solve in Ann Arbor: how well the technology worked out? Some experts question whether forcing manufacturers to use the technology used in Ann Arbor - constraint c short-range, similar to WiFi, but as of today's networks such as 4G LTE, became widespread.
You also need to allay fears about the safety of confidential data. Apologists for safety must fully resolve these problems and explain to other drivers their opinion. The researchers say that these aspects will be more difficult to overcome than technological factors.
Some more details about the experiment
здесь
.
Source:
habrahabr.ru/post/212409/