Writes aquatek-filips: Today a little buzz - night altitude Istanbul. And the story of how it all take pictures for those who want their own kind and pictures.
Yesterday I showed you drop dead sunset, photographed from the tallest skyscraper in Istanbul.
My advice - do not be lazy to wait an hour or two on this roof to completely dark.
You get a real buzz on how Istanbul looks to night illumination.
Especially cool is that this skyscraper greatly dominates the surrounding skyscrapers, so, in fact, nothing prevents the review of 360 degrees.
All other skyscrapers you see and photograph from above.
How to get on the roof in the text below.
In Istanbul, in different parts of the city a lot of high-rise buildings, but there is one - the highest.
This skyscraper «Istanbul Sapphire», which has 54 floors and stands at 261 meters.
On it we will climb to photograph the sunset and night city.
The photo is a building on the right - the tallest. Get into it can easily be anyone. On the roof there is a terrace with a glass wall and a few cafes.
But the terrace is less interesting to me, we will shoot on the roof, where a fully open platform. Get on it can also be easily and although Saphira about it especially does not say.
If someone says that there is nothing to waste time and go here in Sapphire, do not listen.
It's really worth it !!!
Skyscraper built not so long ago - in 2011, so not so many tourists have visited on its roof.
Easy to get here - you need to come to the metro station 4.Levenl (this green line) to go up the right to secede. Will be taken directly to the underground part of Sapphire.
You need to get to level B1 - is -1 floor. Here is the office, where you have to pay 18 lira (about $ 9) for lifting the elevator to the top floor.
Rises to the top, and right in front of you is a terrace with glass walls. Many of her and limited, but ... you can climb to the roof. Not far from the elevator looking small white door with a sign "54 floor». Do not hesitate to push it and climb the stairs to the top.
Well, before you all Istanbul without any glasses.
Place the tripod and enjoy shooting incredibly beautiful night panoramas.
All these skyscrapers in night illumination from above will look so very cool.
I deliberately placed in the post this photo to show them a little farther from the top.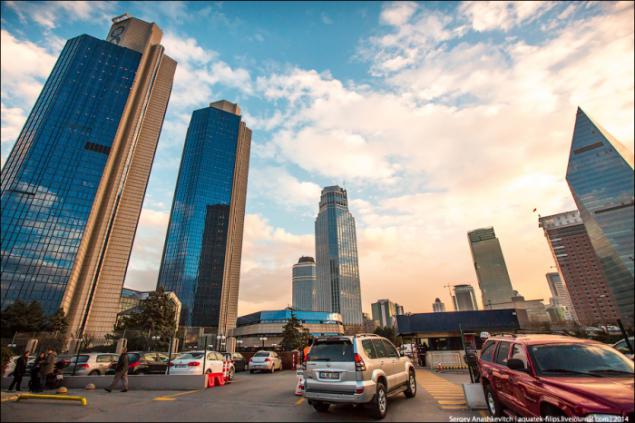 Sunset photo you saw yesterday, so I will not repeat.
Here are some perspectives show that previously did not show, as well as how the picture changes at nightfall.
Below us two skyscrapers on the right side of the previous photo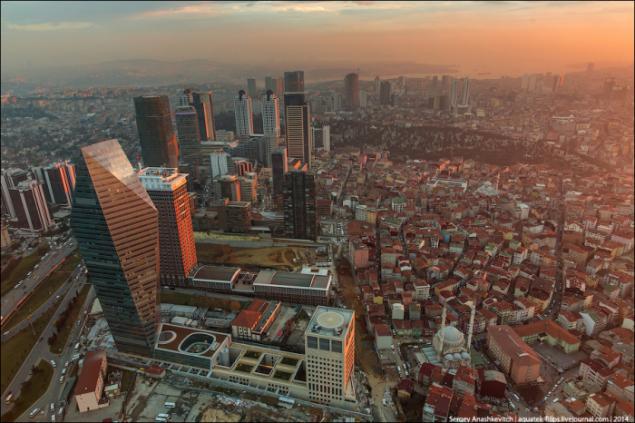 Houses at the bottom with a maximum magnification of my 100-400.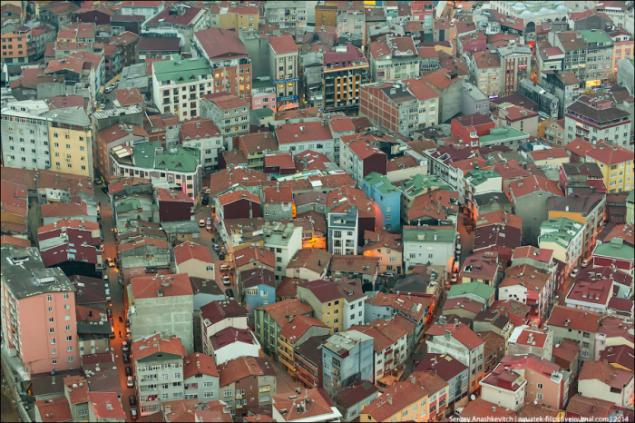 This two blue skyscraper with photos №4. (To left), and standing near them third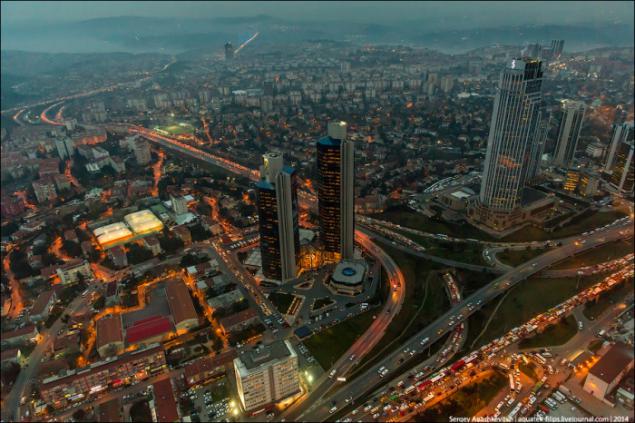 Moonrise over Istanbul.
Evening. The city is colored lights stronger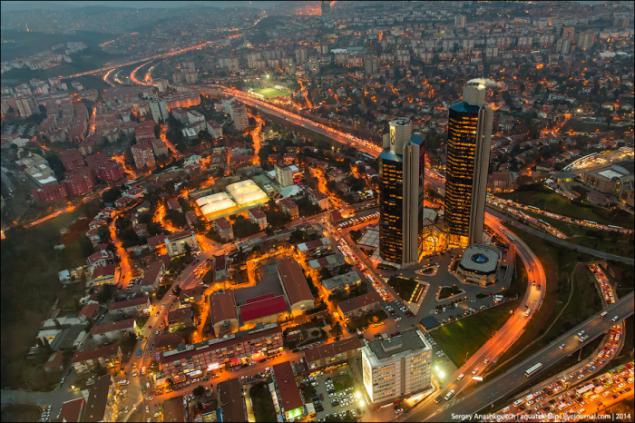 The vapor from the gas heating boilers. Those same two blue twin with the 4th photo.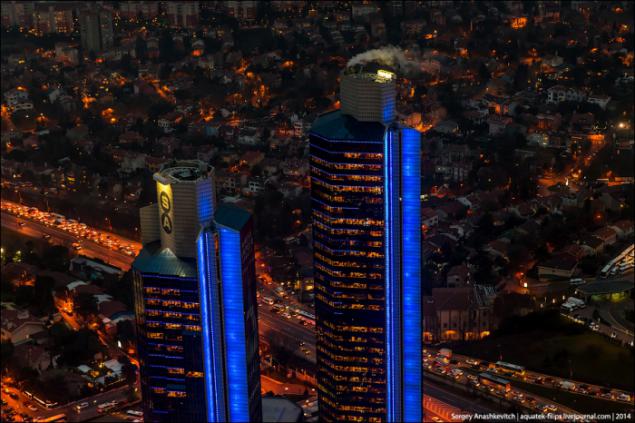 Full panorama photo №4, but now with the top point. Walked for about an hour after sunset.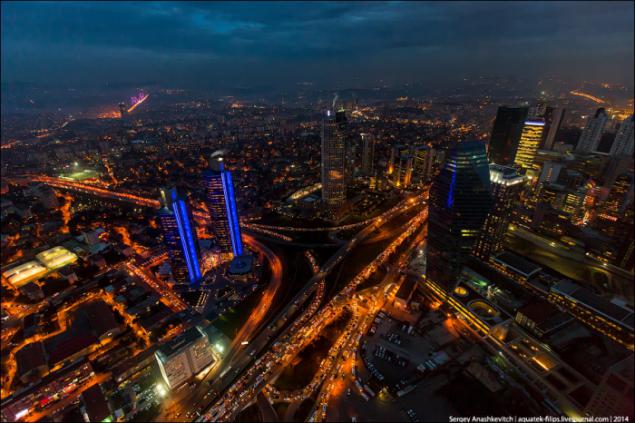 Lit streets and highways look like molten lava.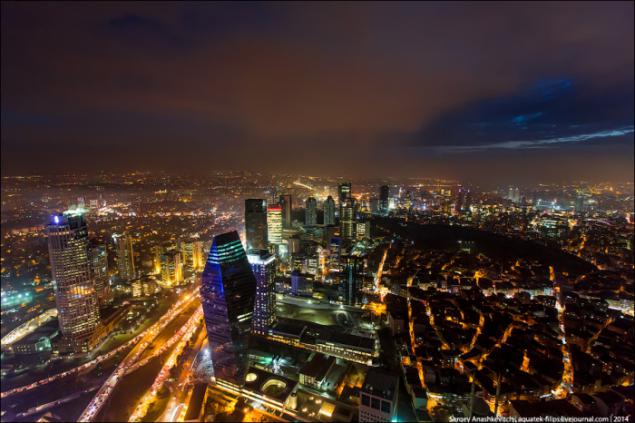 And this view at all, as if bursting with warmth volcano with lava rivers spreads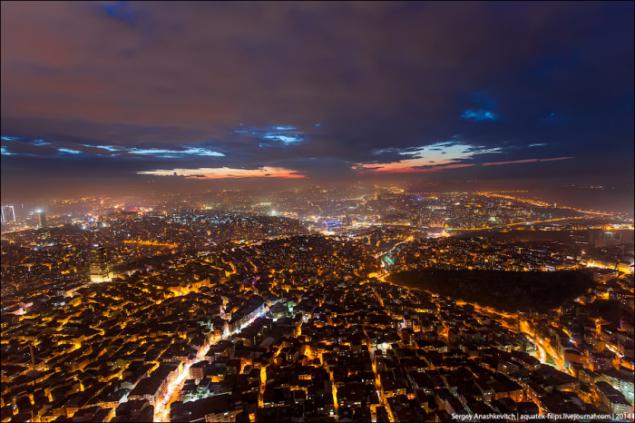 Chuuut longer endurance and more fire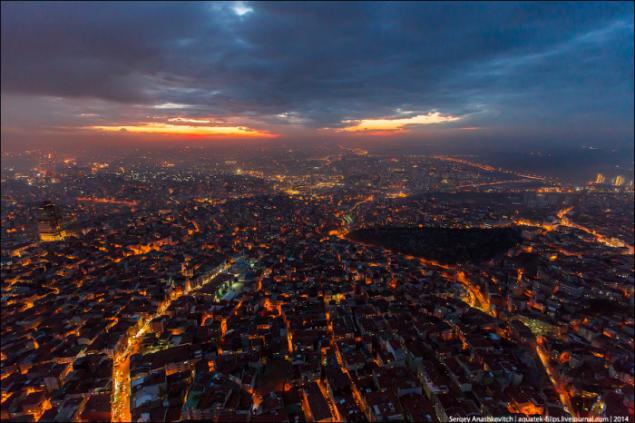 Istanbul fire flows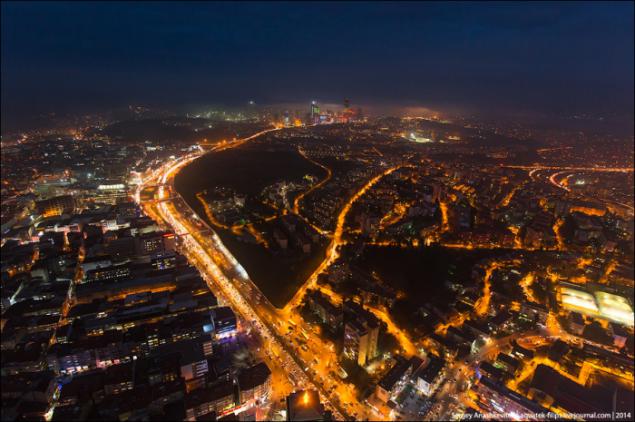 Skyscrapers somewhere far away in the district of Fatih Sultan Mehmed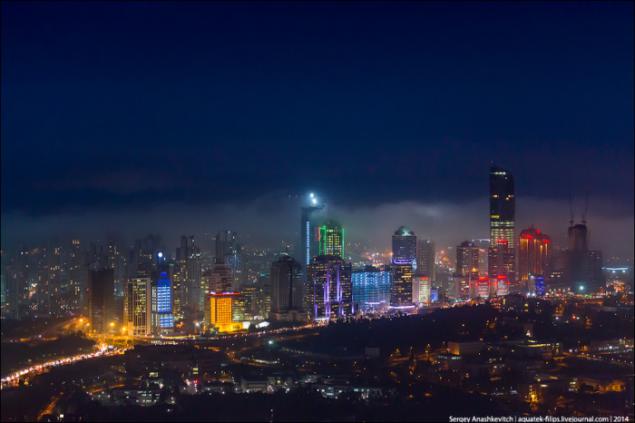 Night orgasm Istanbul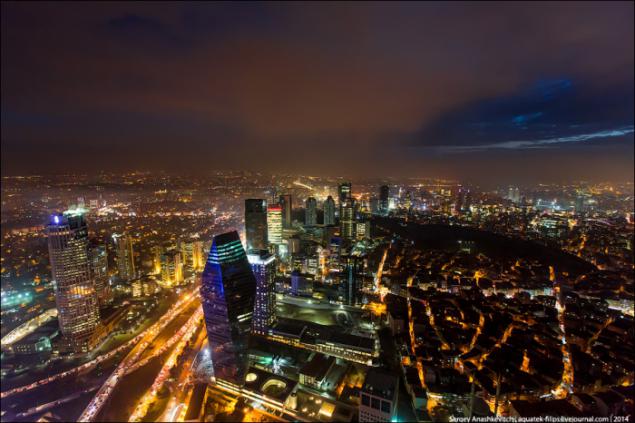 ©