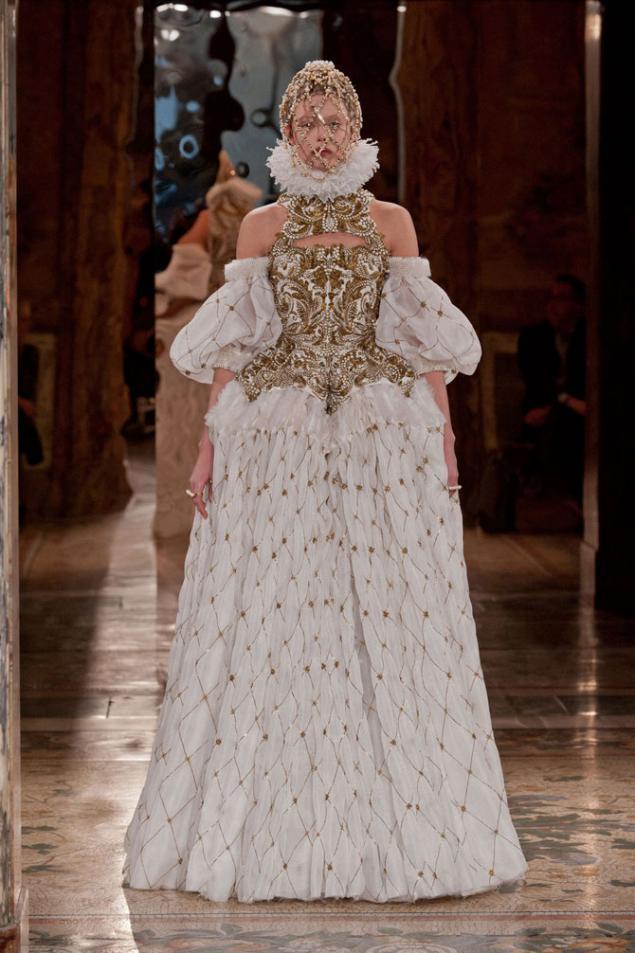 Due to personal circumstances creative director of Alexander McQueen Sarah Burton - she is about to give birth to twins - a display of the current was reduced to a presentation to a small circle of buyers and press. Actually, it was exactly 10 dresses - as always, very beautiful, made with imagination, at first glance seemingly rampant, but actually designed and strictly subordinated to its own logic.
If in the past the central theme of the collection were the bees and everything associated with them, - flowers, beekeepers and honey cell, then in this - the cell as a symbol of beauty, but bound in the ideal. Jewelry, studded with pearls, which, as a visor, cover her face models. Diamonds skew lattice anyway repeated on all ten outfits.
The first two white dresses, as always with Burton, almost indistinguishable from each other, embroidered with pearls and adorned with gorgeous embroidery and cutwork-collar ruff in the style of the XVI century, reminiscent of both the virgin maidens, and Snow White fairy tale. Sarah Burton likes to play with elements of historical costume - especially with hoops, crinoline and bustle - and does it in almost every collection. And this time, except for the collars as in the paintings of Velázquez, skirts were as in the paintings of Goya.
Following these heavenly creatures appeared harsh warrior still with the same visor on his face, but black. Pearls, however, remained, but now they are like thorns, covered with rigid dress in black leather and black silk suits heroines like some fantasy. Especially when combined with a hybrid gloves and brass knuckles to cover arms models, and metallic mesh that covered their shoulders like chain mail. This completes the tights of the same metallic mesh and high boots, decorated with all the same pearls-spikes.
Then followed the white dress with gold-embroidered bodice and fluffy skirts to the floor, shaded gold mesh. And ended up lush white ostrich feathers. Once there is a cell - must necessarily appear birdie.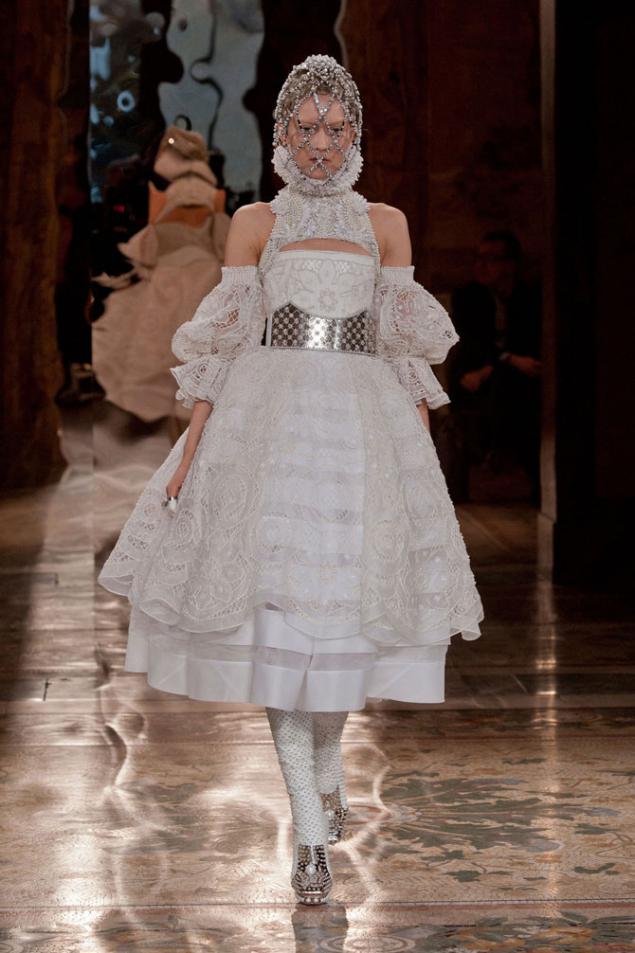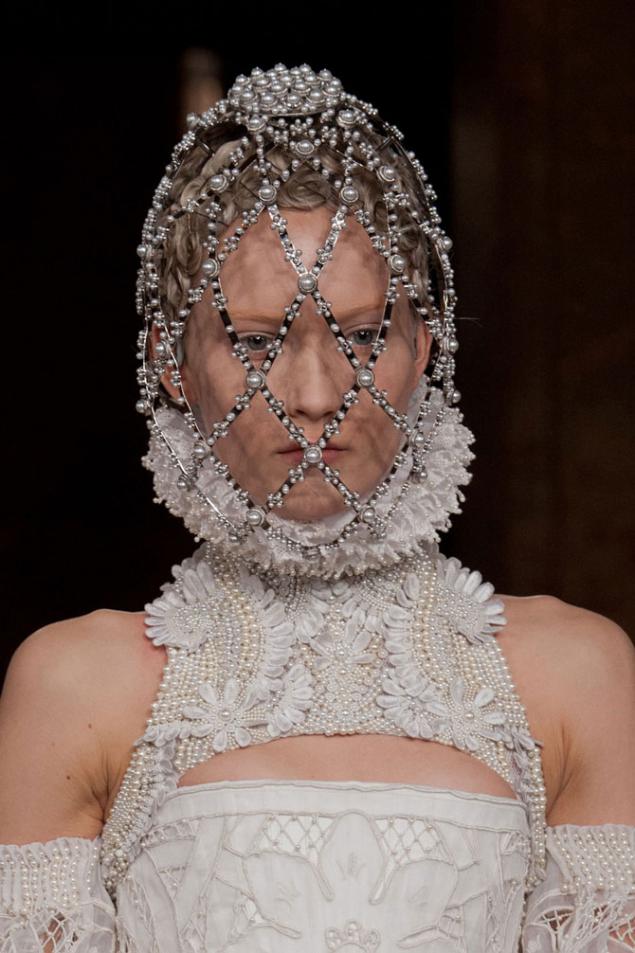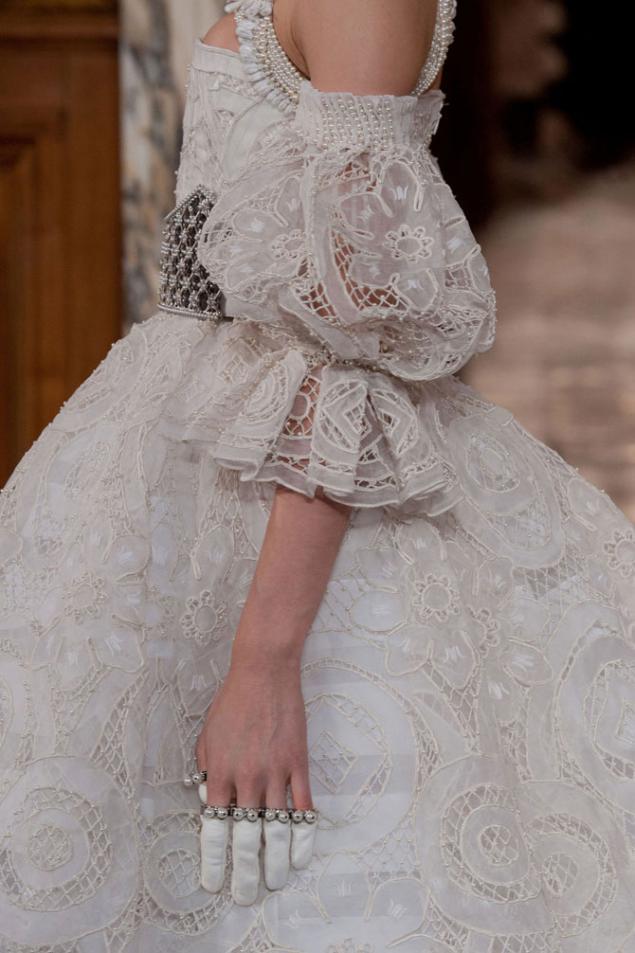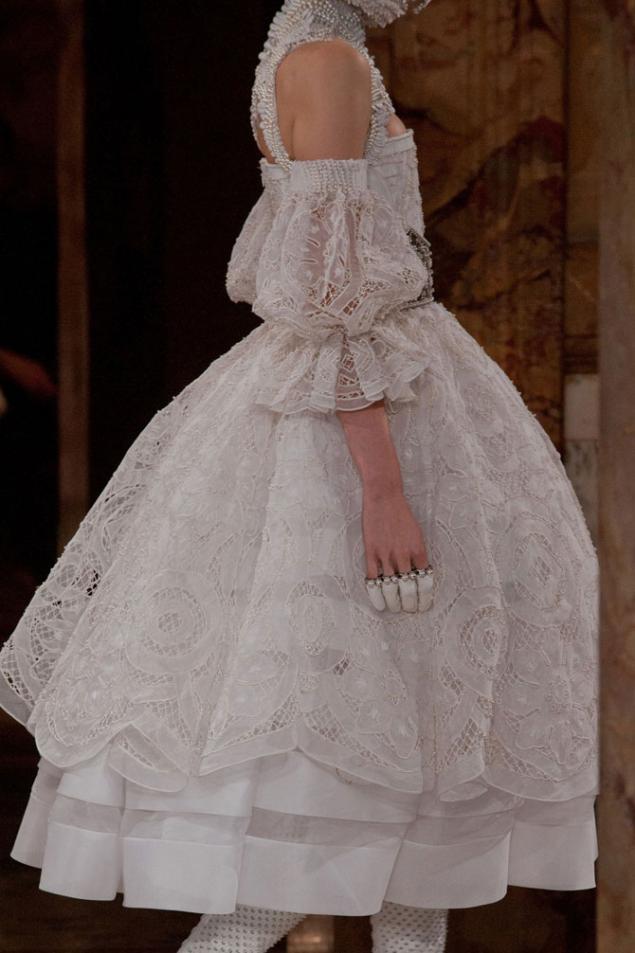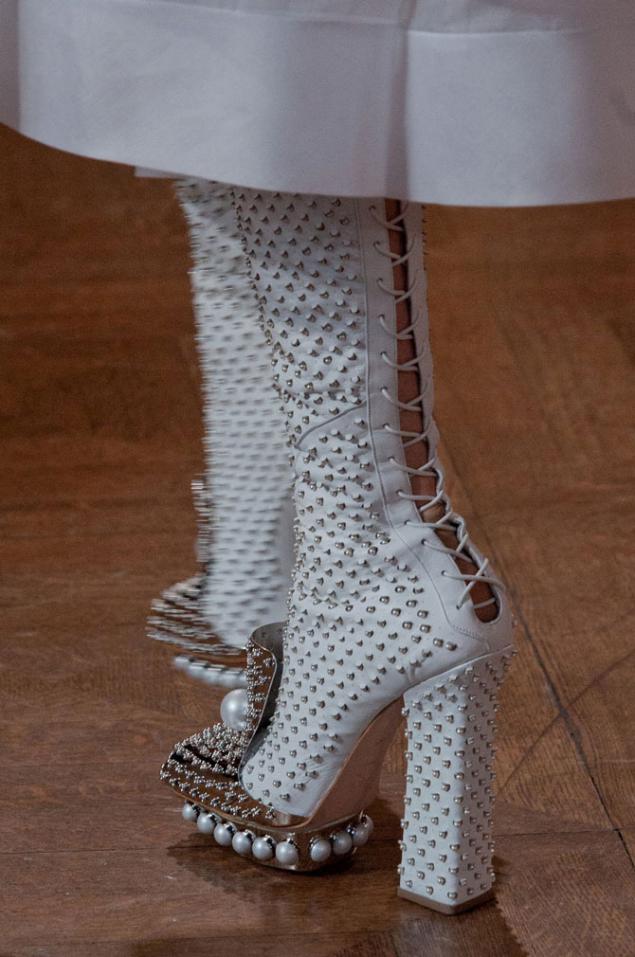 The plot of this fairy tale can be anything - doves and crows, angels and demons, Sleeping Beauty and the evil fairy, a princess and a knight or a strength and a weakness. It all depends on your imagination. Sarah Burton is a fantasy for all its eccentricity and even some madness never turns into a farce this extravaganza. The fact that it comes up every time looks unique, quirky and brilliantly executed and never descends to the stamps of mass culture and cheap theatrics. This uniqueness of the imagination - something in common that binds Sarah Burton and Alexander McQueen.
Well, even, perhaps, what a show for them - this is a brilliant concept that is rather arbitrary correlated with things that then appear in the store. That is why we have to wait for the collection of Alexander McQueen Fall-Winter 2013/14 in the windows to see what is in reality transformed this fairy tale.