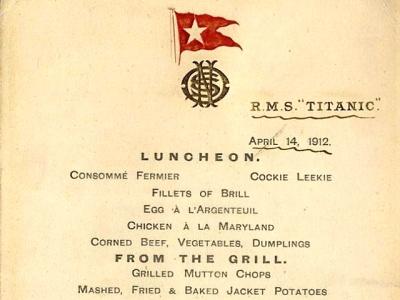 Menu with the passenger liner "Titanic", which sank in 1912, sold in the British auction house Henry Aldridge & Sons for 76,000 pounds (120,000 dollars).
In the menu, which was dated April 14, 1912, ie the last day of the ship, first class passengers were asked to choose from more than forty dishes. The document was preserved thanks to one of the passengers had escaped. She grabbed it from him and put it in her purse on the memory of the journey.
For the keys to the room in which the lights were stored for lifeboats, received 59 thousand pounds. In addition, the auction was sold a few letters that are written by team members of "Titanic". Total for auction about 370 different items that are associated with the history of the wreck.
April 1 last year in New York held an auction to sell the other related to "Titanic" things. Stated that the collection includes more than 5500 different items and is valued at $ 189 million. According to the court order, the entire collection to be sold as a single lot. Sincere exhibition turned out.
Recall, "Titanic" crashed during his first reysa.Gigant liner struck an iceberg. Of the 2224 people who were on board were killed in 1522.