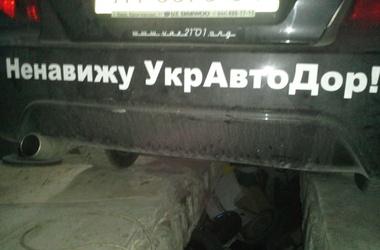 Took the same action announced before the office of Ukravtodor. People brought avtodevaysy who did not survive contact with our lines of communication - bumpers, tires, lights and so on. It is a pity that a little. Because the name Ukrautodor something to put it mildly, does not correspond to reality. Since then, what we drive, the roads can not be named in any approximation - is at best, hard-surfaced areas. Where failures have not resemble pit tectonic faults. And to call such an object expensive for some reason does not work. And if you do avtodortsy sincerely believe that this is the Thai way, you want to bring to their attention that they were deceived. The road - a path that can safely and without fear to go, and not to pass as the quest of unknown leveled, circling faults with the departure of the oncoming.
And what a year for repairs need 272 million hryvnia, and from them for twelve years was allocated a little more than 40%, so the question is, where do I pay the toll, which include a variety of charges. To assist you, we should understand.
So that the poster "We hate Ukravtodor" and spare parts warehouse at the door - it is, detail. Sorry, first deputy Nikolai Mezdrin did not come out to talk with the people. It seems that today could considerably expand your vocabulary of profanity.
A couple of days ago, Mr. Prime Minister expressed his brilliant idea that hatred is not constructive and advised "really report places on the road, send pictures, and they certainly will be used in the current work of road workers, and we will take care»
Joker.