Two editions correspondent worked as waitresses at the cafe, one in Moscow and one in the provincial. Both places are designed for customers the same level of wealth and social position - the middle class, both with a "coffee bias." Our experiment gave interesting results, being something of a test for humanity. Moscow and the provincial cafes show two opposing models of organization of society and human relations.
via
Letters lot
Continued below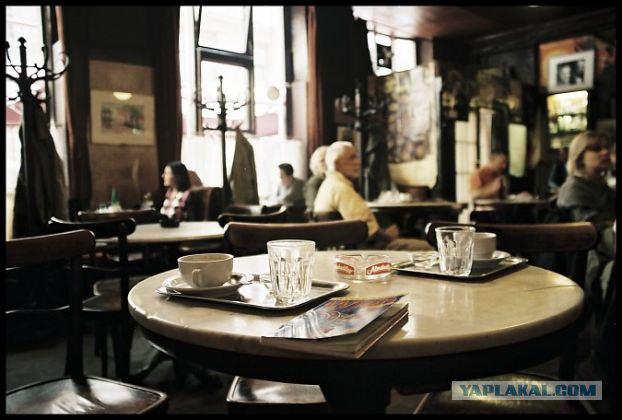 Moscow
Interview in "Coffee House" I went without any problems. Have I lost a couple of hours in the queue dreaming eat for free cheesecakes students hipster sneakers. They all fell for an ad with a photo of a smiling waiter: "Interesting work here." Take all those who have at least a little sociable. Personnel breaks my medknizhki of the Center for Hygiene and Epidemiology in Moscow - now I at least know that the network of stores employs people with genuine medknizhki.
- Schedule - five after two. Salary - 7000 per month. Tipping divide at all. Working with 8 to 16 hours.
On the cheesecake, chocolate drenched. Girl - training manager for the crib reads about "the mission and values ​​of the company" as a first grader poems about home, but here are the words "drive", "positive", "openness". Lyuba, disciplined office beauty game is training:
- Your first competency - customer orientation. Write on a piece of his cherished dream. Sitting opposite should, asking five questions to guess it.
The guy on the other hand thinks of the guitar. The girl next to - the smartphone. Next game lets you know that my future colleagues are interested in the exhibition Teddy bears. Work in a "coffee house" they are clearly perceived as a way to extend childhood.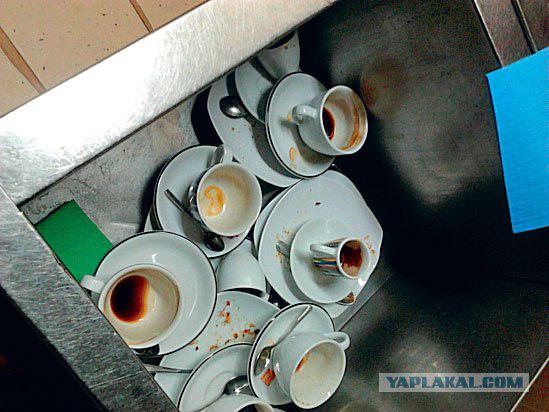 Rostov
With vacancies in Rostov no problem. After a few interviews, I choose "the coffee" - nice coffee shop, executed by copyright toys and old coffee makers. Rostov friends claim that this is one of the few places in town that are not held by Armenians. Well, and the second argument - in the neighboring "the coffee" building hangs a wonderful announcement: "buy old saiga horns. FRESH NOT ACCEPT! "During the interview, the administrator Larissa, low quiet girl, almost anything I have not asked," Come on training, we look at you, and you - to us ».
The first working day. Larissa leads me to the dressing room behind the bar. There Cupboards, chairs, a small table and a sink with an impressive mountain of dirty dishes. Larisa quietly came up to me:
- Did not you bring a form?
I was sent home with an indication back in black pants, a black shirt and black boats without heels. Such clothes at home, and I do not, not that in Rostov, so in the basement shop near buy the whole set and a half thousand rubles.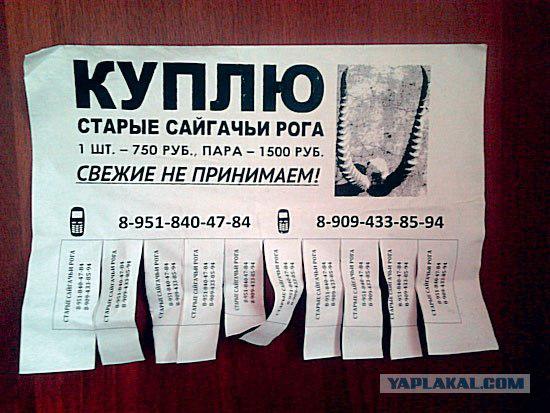 Moscow
- To go to work. Sasha was poisoned, the whole back room oblevala - calling her fat bartender Sergei smenschitsa. Green Sasha sitting in smoke-filled back room.
- I hope it is not poisoned? - I'm interested in.
- Not at home. But we can, especially if Savour vinegretik - warns my training manager of Light. It should teach me to control the terminal, to understand the composition of dishes, table setting and generally behave properly.
Company staff multilevel checks rankles. For example, to control the "licks" clients there is a "mystery guest". My cafe unsuccessful - "secret guest" gave us a score of 50-60, and it is necessary not less than 86. Managers deprived Prize.
Go to the kitchen. It seemed to me that in a coffee shop, which serves the "hot homemade dishes" kitchen should be large-scale. But behind the bar - a room the size of a kitchen in the Khrushchev.
- Give me the spoon out and the Wilk. Call me Aunt Marina - says browed cook thirty-five with an unpronounceable name east.
Instead dishwasher - Aunt Sonia another unpronounceable name. Clean glasses are dirty on the oilcloth. But cockroaches in the kitchen seems to be no. Plates are not. Only refrigerators and microwave.
- Everything is prepared in the workshop, we just warm up.
- A cream soup with mushrooms? My favorite?
- Do you think there is a mushroom? And the cream? - Light laughs. - There's a powder with boiling water. Okay, look: you need to wash their hands every hour. Crane close only elbow. My hands thoroughly with hot water and soap between three fingers.
- Where's the soap?
- Milo you yet? Nope sweet, cute in the toilet! - Snaps Aunt Sonia.
Except me Sveta several stazherok. Here, the constant rotation of personnel: more than six months is not delayed one.
- We are working to increase the average check: it must be more than 500 rubles. Therefore, we strongly suggest ordering anything else. But we never use the particle "no". You can not say: "I do not want to order the cheesecake?»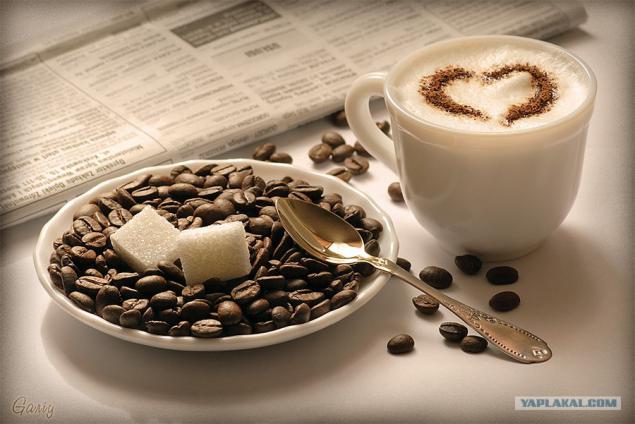 Rostov
The first step - to learn the menu. I leaf through a thick folder, jostle around my new colleagues. All young, in his 25 I am close to the upper limit of normal.
- And where are you from? The emphasis you have some non-local ... Wow, from Moscow! Why leave? Why I chose "the coffee?" Why do you write with your left hand?
Margarita - a tall, well-built, dark-haired, loud - machine-gun fire blurts questions. The answers are not listening. Near a gaggle of girls discussing important matters. One twists in the hands of a cosmetic mask with a large inscription on the tube "For décolleté».
- Is that - you come out of the bath and on the tits smear?
- No, it's first on the breasts, and then in a bath ...
- A brand of some unknown ... Right now we have her trial ...
Waitresses are immersed in the world of mobile internet. I draw your attention that the phones have better than me.
- He took credit - 30,000 - proudly explains Margot, caught my eye.
- Well done! - Enters conversation merry dishwasher fifties and immediately rushes to embrace a passing young konditershu.
- My child! Well you, my baby ...
- Is that your daughter? - I ask, to strike up a conversation. - You are very similar!
- Am I old enough for a grown daughter? - Offended companion. - I'm just here all the kids ...
On the bar is a stack of booklets with a proud inscription "from around the world, browned in Rostov." Companions say that "coffee lover" - the only place in the city where buying green beans of different varieties, and fry and grind them yourself. Owners of cafes, a couple, very proud of it. Twice a week, the hostess personally come to the coffee shop today is such a day - I show on the well-groomed woman with an expensive weave, which sits at the window reads "Kommersant».
Coffee really delicious (the staff can have a cup of cappuccino for 20 rubles, and I just use it), and in general a pleasant café, I would go myself here. Surprises only the absence vayf - yet the place has positioned itself as advanced.
- It is specifically to not be sitting here for hours utyrivshis in laptops do not take place, - says one of the waitresses.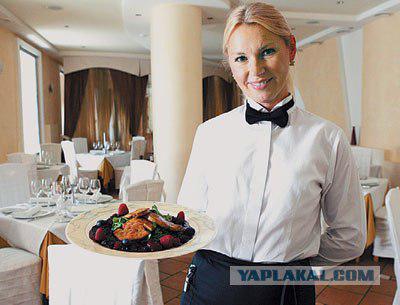 Moscow
The client is sitting legs crossed, leafing through the menu, shaking his heel. He keeps it under the table for the little finger. At this time, an ugly wrinkled pancake goes a short way from the refrigerator in the microwave, then under the fingers of Aunt Marina, water bowl with chocolate sauce. It appears on the white plate with mint leaves, and here a pancake has become part of the bourgeois breakfast.
At the bar my boss to alter the menu to change the winter spring.
- As always, all the tricked - mutters thick Serge bartender. - The same dishes named differently and made the hit of the season.
After three days of training at 7:45 I go out on the first shift. The waiter should be removed hair, face with understated makeup, manicures are not welcome. Ask permission from an administrator is necessary for every action, even going to the toilet.
I put on a tray of coffee glace, the device and head to the sweet old lady curly. The old woman says:
- Girl, why you brought me glace?
- You ordered it.
- Can you imagine what will happen with glace, while I eat cheesecake ?!
- But we always start serving drinks.
- Well, you see, I told her one thing - and it is more! Are you at home candy forward borscht're setting?
Browed waitress Rabia says sympathetically:
- Again, this bitch came ... Every day comes and rude.
Iced drinks Bitch, without waiting in the microwave accomplished a miraculous process of transformation of frozen cakes in the "freshly cooked" cheesecakes.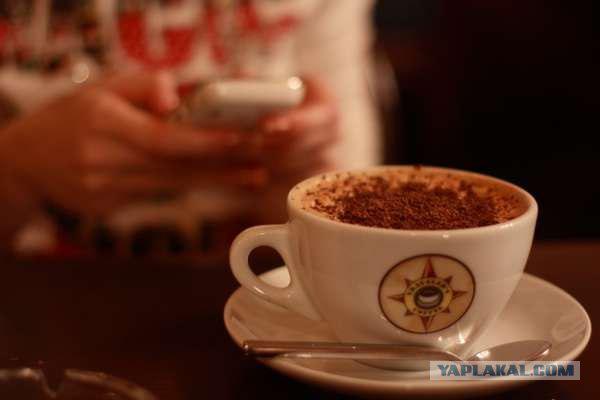 Rostov
Some days I'm the battle menu. A thorough knowledge of it - "a sign that our cafe is good." Soon I start to go crazy and feel sorry that did not go to the poor: some coffee drinks in the list of more than sixty. The unknown author came to the point, not without fantasy: there are cocktails with flowery names like "Dream of a brown bear in a quiet winter night" or "My favorite coffee Dmitry." Dmitry Anatolyevich, by the way, not one, and the local manager.
Exams me pedantic plump Valentine - the most experienced, the most responsible and the most senior waitress.
- Coffee mulled wine?
- US, cognac, hibiscus, honey.
- False.
The painfully deliberate, that what confused.
- US, cognac, hibiscus, honey - that's not all. Another cinnamon. Norman recipe?
- Coffee with Calvados and apple mousse.
- What is preparing applesauce?
- Apple juice and cream.
- Fresh apple juice and cream. - Valentine's emphasis on the first word. - Oh, and teaching and learning ...
Valentine also tells me about the conditions. Salaries there, waitresses receive 4% of its revenue (during the day, each is a personal account), all gratuities leave themselves. Total variation is very great - anywhere from 10 to 28 thousand per month. Schedule - three in three, from 8 to 23. As an intern, I work for free.
- Try to learn everything quickly and normally take shape - worriedly says Valentina. - You also need money urgently.
- Why did you decided?
- I know it's different does not happen.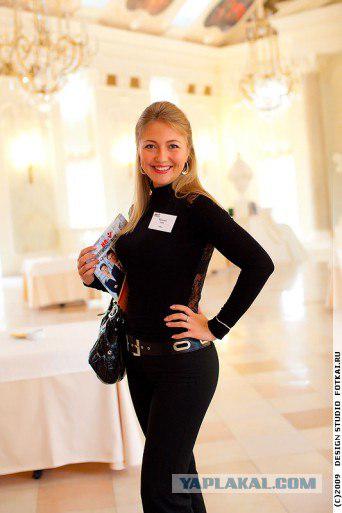 Moscow
I run to the administrator Zalina, girl oriental appearance.
- There's a customer ... He asks to recalculate the check.
- Go-of-the-spine! Customers - prostitutes! Why is he asking counted?
- I think I've broken the once US - out of breath, I say. On my black apron and a red sweatshirt with the logo of places.
- You know that in this case ?! - Hisses boss, her green eyes flashing. - Will be deducted from your tips.
- Me, please, chocolate fondue. - The guy with headphones hangs jacket, with her glittering snow falls.
- Take it to the eclairs - I suggest. - He's very gentle.
Of course, I myself have not tried it. Just at the beginning of every shift to put the problem: for example, to sell ten chocolate eclairs. It's that bad take or what the shelf life ends. During the execution of the target as a gift give expensive dessert. This is the first way to enjoy it for free. Second - to be a night shift as a waiter during a write-off of overdue cheesecakes and the first to run to the refrigerator.
- Why are you not bang stabbed ?! - Like a hawk, swoops down on me Zalina. - Get your hands where reached, you can not correct the hair in the hall! - Her own hair is dissolved. - Where did you go? Why do guests have to wait? That one man has looked menu catered for!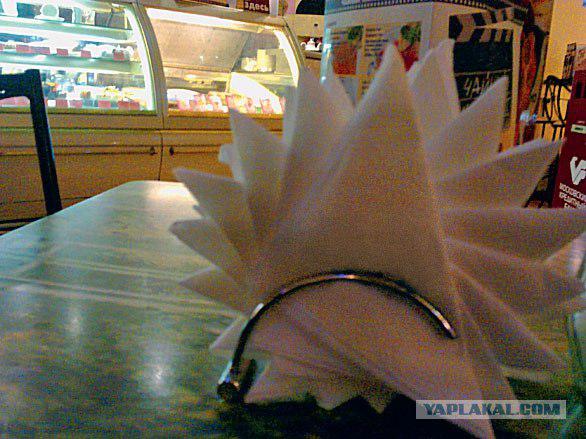 Rostov
- Say, Margot, that curly hair came to him as usual. - The café includes a new visitor, it curls standing on end.
The guests I suppose on the fourth day, it was allowed only to clear the table. Having started to work, I am convinced that growth - the city unexpectedly small, regular customers and acquaintances in the cafe is full.
- The doctor came, punched him Robusto!
- Oh, Stepan! Where there is a cup of his name? ..
- Ivan Vladislavovich granted. - Last pronounced with suppressed laughter.
- VLA di ALS-in-vich - cheerfully picks Maya, very beautiful, with high cheekbones, similar to Audrey Hepburn.
- What's so funny? - I'm interested in.
- Yes, he came to our taco-oh-oh-oh important hint that a very serious person, asked him by name calling ... And then we found out that he was just a taxi driver from 307-307.
Loyal customers are my headache. They must be calculated and in any case not to offer the menu: a particularly sensitive offended that favorite coffee shop they were treated as a stranger, instead of immediately bring the usual order.
My first table - solid men in suits, put on the table for three six mobile phones.
- What's your favorite meat dish on the menu? - Asks one of them.
I call the only thing to remember - on the hot resource my memory is not enough.
- Excellent recommendation! You have good taste!
I forget about napkins and knives for meat, salad bear after hot, and instead of green tea supplies ink, but in general I think debut, I even left a tip of 50 rubles.
The work does not seem particularly difficult. Driving unpretentious: take the order, he struck on erkipere (a huge machine with all the food and prices), ready to take in the kitchen or at the bar, broke the check cleared the table. The soup, by the way, nobody spits. The most that can afford - before you include custom guest fingers dig delicious chunks from the plate. What is really there, I also did a couple of times.
At first, it all fascinates me - I rejoice when new guests, and a model train walk: go with a full tray should be as smooth as possible, and then all fall down. One problem: erkipere names of the dishes are shown in abbreviated form, and I often misses, punching, for example, a baked potato instead of rabbit liver. The first time I thoughtlessly going to pay for itself an unnecessary order.
- Lost her mind! - Yells emotional Margot. - It will pay! Do not you have a lot of extra money? Yes, now we sell all!
So I know that if the shot is not something you need to quickly notify colleagues, after which all starting to offer extra customers, "Ah, rabbit liver, we have it today is particularly good ..." to help me with an unexpected enthusiasm - whether gambling, whether mutual responsibility.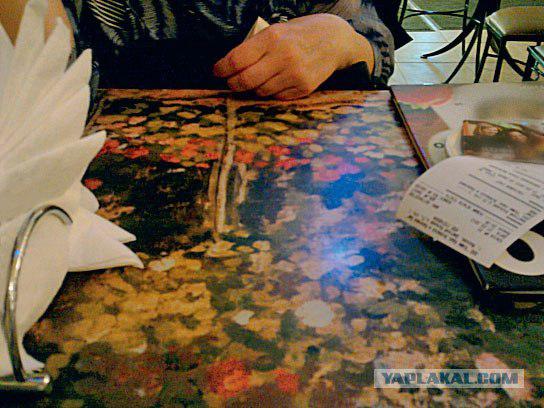 Moscow
Thick glasses guest dressed in a cheap jacket and asks the cheapest breakfast. Tipped him you will not wait. I bring him scrambled eggs with ham the size of a cover of the tin.
- Is that a portion ?! Girl, you have a rate of release? - He goes to the kitchen to make trouble. It turns out that the documentation scrambled eggs should weigh 100 grams, but in reality weighs 85.
By midday in a cafe full landing three waiter 75 tables and a working terminal (second hangs). I feel like a character in electronic game where the wolf catches falling eggs from all sides, and intermittent hare threatens him with his finger. With a smile on duty I throw over my left shoulder, "Hello!" From the right "Goodbye", eyes search the crowd ready to order. On the way I remove someone's dirty dishes; accumulated at the bar cooling down coffee, teas and casseroles.
- Girl! I waited for my coffee 40 minutes, I'm leaving! - Angry client brightly painted in a blue coat.
- No, wait, please! We had already struck - in desperation, I stop her, but the guests leave.
By removing one of the tables, I put on the corner of the tray with another dirty dishes.
- This is normal? No it's okay?! - Zalina ran up to me, she squeezes my shoulder and pulls to the side. - Do you remember what I told you today ?!
- You talk a lot. What a fool I am promptly by my mind at 22 years of age does not correspond ...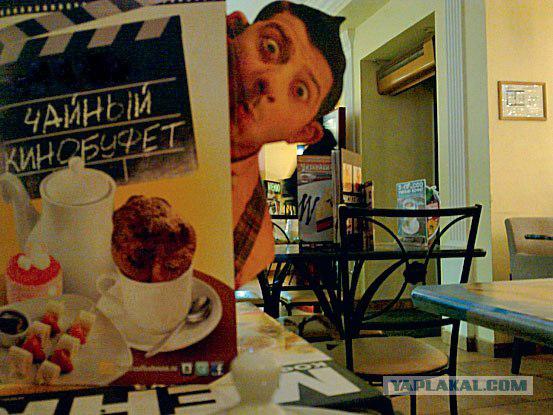 Rostov
Watch visitors curious at first, too. Two girls rush in school age, ruddy, and require "four PIROZHENKO and tequila." In the corner of the Rostov hipster intently draws in Moleskine. Leaning over the table, kissing young couple (I am tormented question - whether to remove the dirty plate from the serried heads or is somehow unethical). Intelligent-looking old woman in pearls take turns ordering all cakes showcases:
- And you can still tartaletochku ... No, no, there's the one with nuts ... And the icing is? And bring the pistachio cake ...
Near middle-aged man, apparently permanent, tormented Armenian woman Karina - the second administrator at Larissa quiet day off.
- Do you think that I would have to eat a diet? No, I do not want soup ... The doctor advised me to eat porridge with nuts, but I do not like her. And you're here to persuade me to eat porridge with nuts!
Grim athlete in a sports suit beckons me snap of his fingers. It infuriates me, and I pretend I do not see. He raises his hand above all clicks and clicks. It looks funny. Maya whispered reassuringly: "Goat».
When I'm at the end of the day going home, I'm smiling Dishwasher:
- Tanyushenka my settles!
Timidly I remind you that I have Anya.
- Anyutochka mine! - It is even more pleased. - Kisya!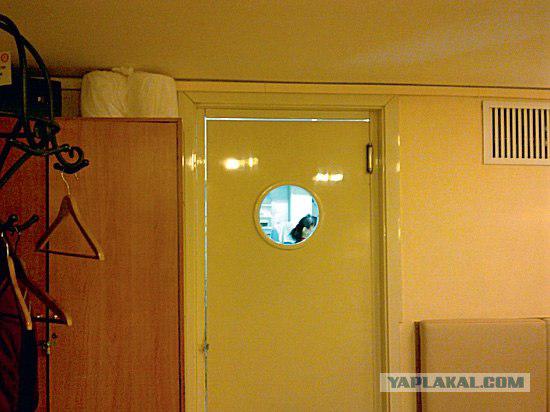 Moscow
Finally, I'm allowed to go on a break. Rest can be 45 minutes a day, and in the 45 minutes includes any crouching on a chair. I take off my apron and go to the same smoke-like room, utility room. Tipping on a dirty couch and close my eyes.
- I work alone here! - Rages near a waitress.
Source: