She did a great job, to talk about some of our favorite parts of the film "Operation Y and Other Adventures Shurik».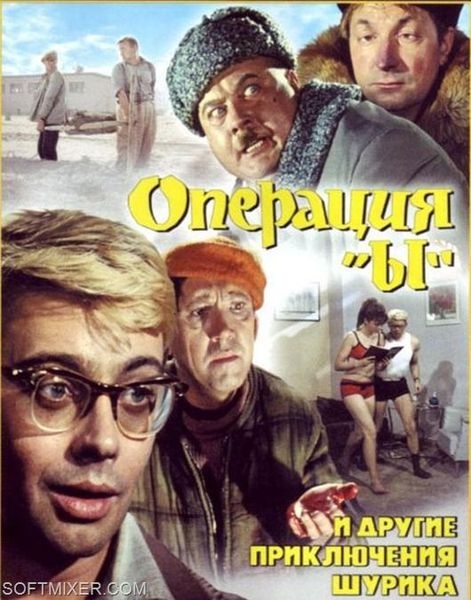 The film directed by Leonid Gaidai "Operation Y and Other Adventures Shurik" - these forty years as one of the most popular Soviet films. Moreover, the "Operation Y" has become for us the epitome of the 1960s - the time of light, naive, and has such far away ... I am interested in, any parts made of this amazing landscape, the streets and buildings as well as cars hit the frame. On the Internet on this subject could not find anything, except that the film was shot in 1964-65 years in Moscow and Leningrad, Odessa and Yalta. So I tried to do the job itself. Perhaps we should just note that I did not read about the shooting of the film is nothing but a couple of newspaper articles. Perhaps all we have written already widely known. But even if I did extra work, it will not disappoint - "Operation Y" is worth it ...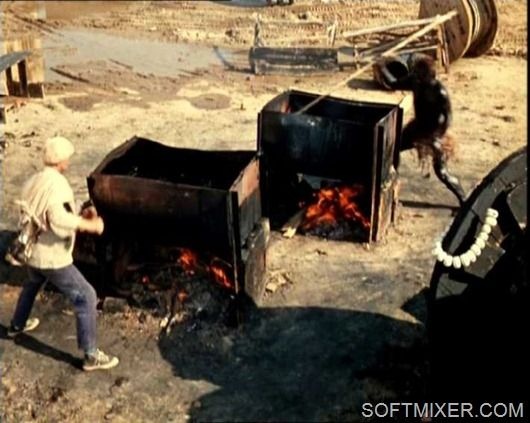 Sviblovo. Now at this point the yard of kindergarten
Of course, movies, starred in the Soviet Union, had little to do with reality. But sometimes they only can be seen for a long time changing views of streets, now destroyed home, interiors, cars, subways, trams, buses and trolley buses in previous years. "Operation Y" is very rich in landscapes, especially well removed buildings sixties ... Oddly enough, the role of chief Khrushchev area in the Soviet cinema played a untwisted Cheryomushki, or other well-known buildings of those years - Kuzminki and Khoroshevo, but much more modest Sviblovo, which did not mentioned in the guidebooks.
NaparnikPeyzazh first: bus stop "Knitting Factory»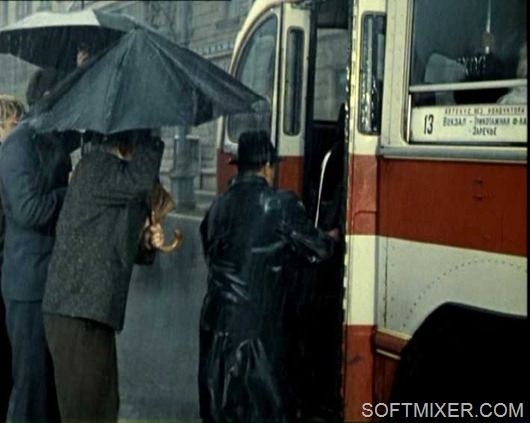 Thus, the film begins with the fact that the Shura waiting for the bus in the pouring rain. Why the bus was to be expected in 1965.? Diversity was not special, either ZIL / LiAZ 158 or ZIS-155
In the first frame of the film we see the ZIL-158. The inscription on the plate fictional route "Bus Station without conductor N13 - Knitted - district." Also in the frames flash "humpback" and "Volga" GAZ-21 prototype fake bus number 13 could speak bus №267 (now №818). He comes from the Kiev railway station to the farm district. On Skolkovskom highway almost at the outskirts of Moscow, it has a stop "Knitting Factory».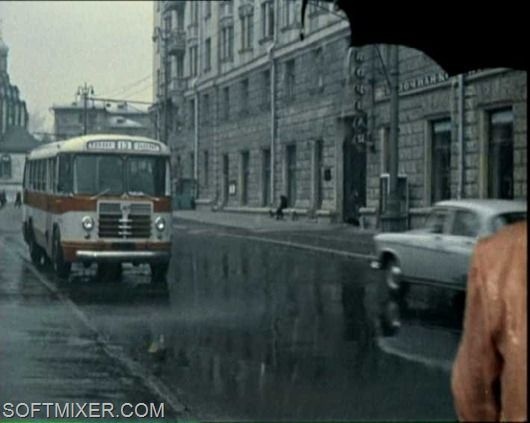 "This episode is filmed outside the house 5/2 of the Komsomol prospectus, on a small boulevard, going to the waterfront. Buses on it never attended stop sham. In the foreground is seen 5/2 house, built in 1954 with the "native", but a bit faded in 1960 guise. Bakery existed here until 1990, becoming an ordinary product. However, the word "bakery" on the sign can be seen even now, in 2006. In the background is the church of St. Nicholas in Khamovniki (1679-82), known for its "falling" the bell tower.
Landscape of the second: the fight on the bus