Mystery visitor restaurants anonymously talked about how much his work, which often admit mistakes waiters and why he eats four meals at a time.

On professionalism
Positions secret visitor to the market a lot. Basically we are looking for people willing to work for food. Professional secrecy visitors in St. Petersburg five or six people in Moscow, of course, more.
Secret visitors without experience are sometimes invited to the cost of network places like Subway. I'm so never went, but I think everything is easier. Type walked, if you do not smile and did not offer a potato, write on a piece of paper. How can we evaluate sandwiches with sausage and ketchup?
To deal with this seriously, you need experience. You can start with comments on thematic sites - they should not only experience, but also the fact that people understand what you liked and what is pushed. There are special rates, but I do not think it can be taught in six hours.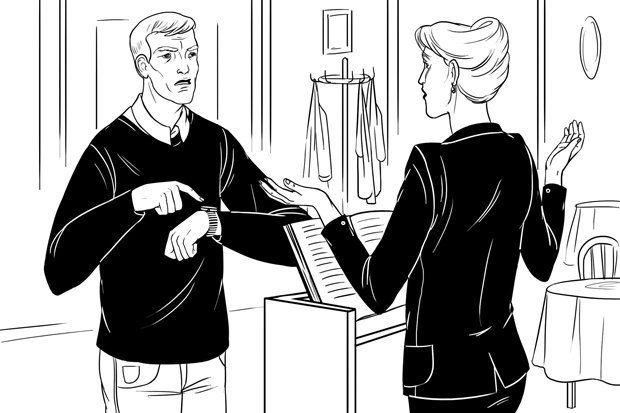 The meaning of all the secret visits to release the guest from the bad. Simply to operate and prevent a fire, keep control, then rake than its consequences. Unfortunately, the reviews, even the bad, writes every 200-300 th visitor. The rest did not complain about the restaurant online that beer is warm, but will simply stop going. That is, if you have already happened, and wrote one man, the waitress was rude to him, to be sure, she Khamila many hundreds. Just I decided to write one. Others simply deleted an institution from the list of "their».
Earnings and customers
Typically, the customer - a business owner or manager. More than the first, of course. For the control they need a fresh look. When the owner resides in an institution, it can not adequately assess the service and quality of services.
Secret Visitors are required in various institutions, from bistros to the tray in a network of business centers to upmarket restaurants. For the latter, it is absolutely essential other things: how to lie devices on which side of the waiter: they need to maintain the image. In general submissions Mystery shopper - a person who specifically provokes staff arranges scandal: if steak is not so fried, puts it on the head of personnel. It's too much. I always set out to come to a place more.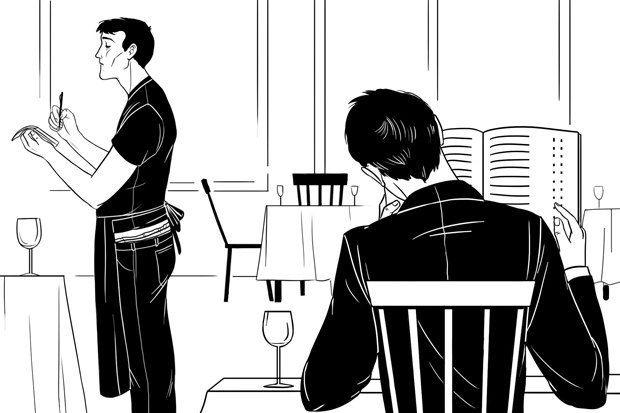 Services of a professional secret visitor is an average of about 5 000 for output. Either pay the account or not. Never place a bet - it's pretty sensitive information. I do not know the people for whom this work would be the main source of income. If such payment is necessary to have a fairly large number of customers - about 10-15 institutions simultaneously. Moreover, it is too unstable work: it is today and gone tomorrow.
Basic rules
I always know the schedule of work places where I plan to visit: what days, for example, there is no control - they are especially interesting. Somewhere it is important to arrive on Monday, when the still sleepy, and the kitchen is not ready. Pubs take my place for a week, when they know that the game will come and a lot of people - it's a good stress test. Some drew attention to the acquaintance, someone more interested in the waiters, someone - a new menu or chef.
At home I eat already seven or eight years. Since the institution I need to see the overall picture, usually take four dishes. Almost always I eat everything entirely, because I go with an appetite. If not, then do not walk in the catering and write a review - it is as if a vegetarian comes to a steak house.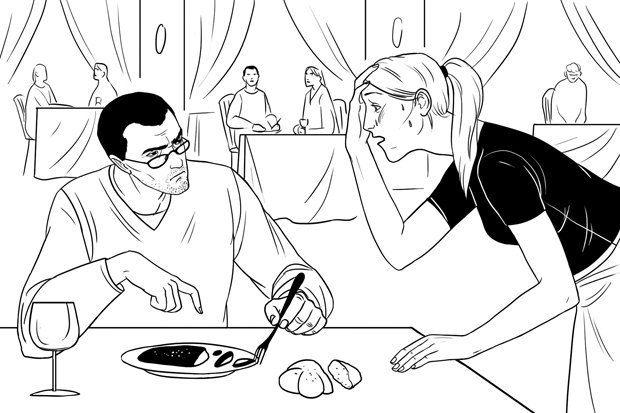 The most common places sypyatsya on some simple things that are repeated many times in a review. For example, lack of knowledge stop list - when the waiter does not tell right away that something was not, and only half an hour notify you need to make a new order. Often lose your reservation at the tables. Like everything was repeated twice, and come - it is not, because the hostess somewhere in that time went, recorded everything on paper and forgot to put in the book.
One noticed that the waiter stick panties on jeans - almost to the navel. And the institution in which I came, it was very serious: the entire staff went to an expensive form. The owner was in Germany, and it is important to know what happens to the object. Now he receives a report twice a month, gives the team and keep on our toes all the staff - managers only have time to wonder how he knows everything.
Reporting
The end result - a report for one customer. The first part - in the form of tables, which are exhibited in a special scale of assessment for the friendly staff, the feed rate of the menu. This is good, but to work with it is very difficult. Option Two - just text. Basically, it looks like the restaurant reviews on the site, but without a description of the interior. Manager or owner, it is important to know the exact figures - the time for the menu, the reception of the order.
There are places where they work with feedback and criticism, but there are others where it is not overlooked. The most common argument of the past: "And we have a good revenue." I do not believe that these services are needed by all institutions. But most need it. Asking friends, in this case - this is an obvious mistake: they do not tell the truth, but on the contrary, everything to embellish. Humans created the picture of well-being, and of the new institutions of 9 out of 10 closed for three years. If you do not receive competent professional fidbek, this probability is high.
--img5--
Source:
www.the-village.ru