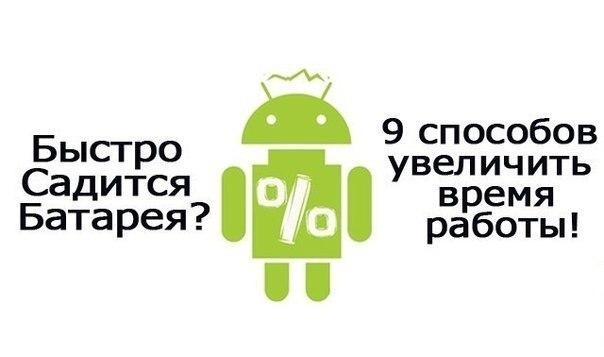 The problem of fast battery discharge familiar to every owner of the gadget running Android  
The first thing we need to do is dial * # * # 4636 # * # *, having done that, we will see the general information about the battery consumption.
You need to follow a few rules, to one charge will last for longer.
 - If your unit is equipped with AMOLED display, the dark background wallpaper save battery power.
 - Turn off WiFi, when you do not need, because they support the connection consumes a large amount of energy charge.
 - Also, if you currently do not need the Internet, turn off the mode 3G. Active Internet when the 3G does not stop, even if you do not use that entails the power consumption, or if you are outside the coverage area of ​​3G, the phone will scan the network looking for 3G, which is also very bad for saving battery power.
 - When you are in a weak coverage area of ​​mobile communications, your gadget is in constant search for a network, it's very fast "eats" the battery. Switch the machine off-line until the signal reception conditions do not improve mobile communications.
 - The same applies and GPS, it's probably very much power there is in your machine. Do not leave your GPS switched on unnecessarily.
 - The accelerometer is continuously awake module unit, of course, constantly consume energy. If it is not critical for you, I advise you to turn off this feature (Settings & gt; display & gt; autoturn)
 - Adjust manually the CPU usage of your system, even if the manufacturer has declared that the processor dynamically changes the frequency, saving energy. For this is a good program SetCPU.
 - Turn off the data transfer mode, if you do not need it, for example, at night
 - And one more tip for the owners of gadgets with non-rechargeable batteries, there are applications that discharge of the battery and allow the memory to try to disperse it again. For example, Battery Calibration.