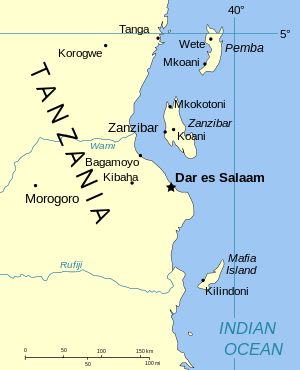 Armed conflicts in the world a common phenomenon. People without it can not. Some last for centuries. But there are quite short. A day or two - and hello. Naturally, when one of the parties exceeds opponent cyclopean. Of relatively recent recall will not. But who, after all, manage the fastest and over what period of time?
This war took place between England and the Sultanate of Zanzibar (it is in Africa, since 1964. Zanzibar is part of the United Republic of Tanzania) August 27, 1896.
The reason for the conflict was the fact that the new ruler of Zanzibar, Khalid bin Barghash of Zanzibar, has decided to cease cooperation with the United Kingdom and draw closer to Germany. A sort of a new vector in foreign policy. This decision did not suit the British in any approximation, and was an ultimatum, according to which on August 27 at 9:00 Zanzibar had to surrender. Small and proud decided not to give up. Army collected Sultan of Zanzibar, consisted of two thousand eight hundred people, and his fleet from one ship to another weapon. The British likely did not even notice. In this war were counted five hundred and seventy dead. All from Zanzibar. Since the beginning of the conflict to the complete and final victory of the British took 38 minutes.
This fact was recorded in the Guinness Book of Records as the shortest war in history.