Topic want to touch on how trivial, and so beautiful. Love ... What would have written without its Pushkin Natalia Goncharova (however, and would not have died, too, have not thrown in the face Dantes white glove, burning with jealousy)? And my favorite Salvador Dali could not have painted a bunch of crazy (but no less brilliant!) Paintings without his Gala. And Bonnie without Clyde would become a model housewife. And the wives of the Decembrists not be included in history. That if it was not love.
Almost all the sculptures have the same name - "Monument to love." Simple and meaningful.
So monuments in Russia:
1. Ekaterinburg
... As it turned out, very loving city. And very beautiful, by the way, a kind of Ural Saint - Petersburg (according to my personal feelings).
Thus, the "Monument to Vladimir Vysotsky and Marina Vlady»
Very touching memorial - Marina is such a fine, delicate, fragile, and Vladimir - infinitely young and free.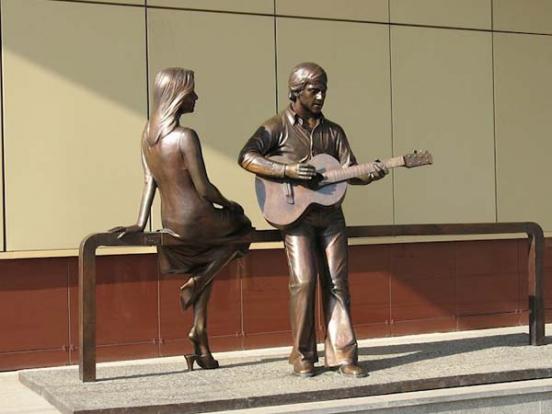 What they are wonderful: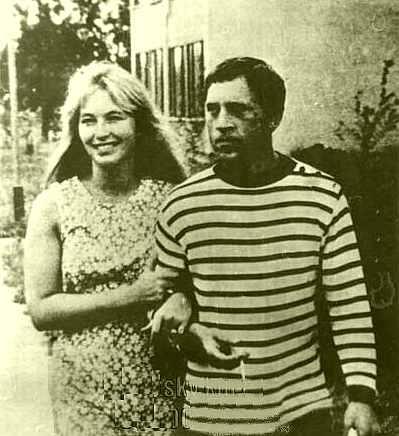 2. Again Yekaterinburg!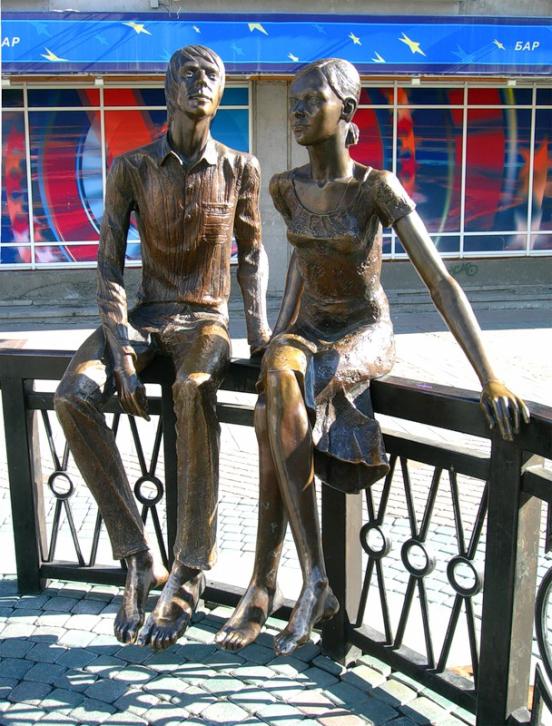 3. St. Petersburg
I enjoy this monument, it is very simple and gentle. Sculptor - a student of the 5th year of "Institute of Painting, Sculpture and Architecture. Repin ».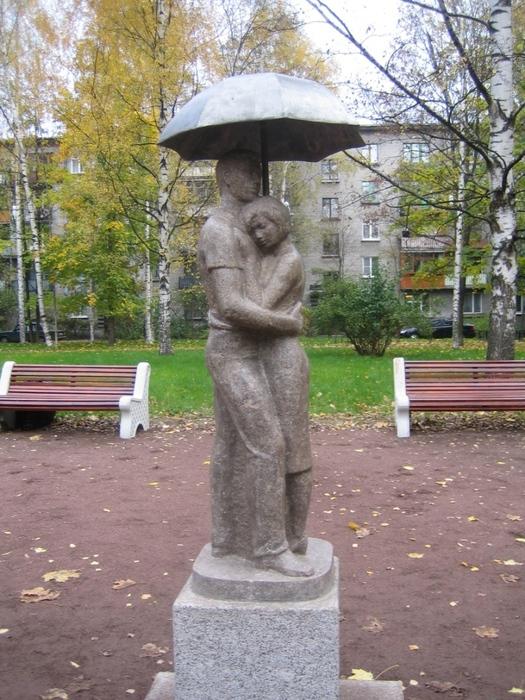 4. Volgograd
5. Saratov
The monument is very strange - two faces looking at each other. Their floor is difficult to discern (the anthem of homosexual love?) Couple love to hang on the tape is a statue - a kind of cute wedding ritual.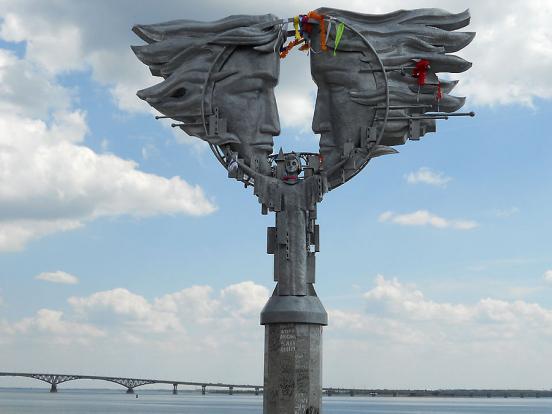 6. Gelendzhik
With this monument is connected a beautiful legend. In the place where now stands a sculpture beloved sailors said goodbye to their loved ones. One girl for many years, day after day come to the embankment and waited for her fiance, who had gone into the sea. One day, she was told that the ship sank with its sweet, and all who were on it - were killed. But she did not believe it and continued to come to the place to meet the ships. She came up with a ritual: to the longing and sadness sgryzli not it is necessary to throw a stone into the sea and put in this cast all the despair and grief that have accumulated on the heart. Then one day the ship appeared on the horizon with white sails, and with him gone - who do you think? - Yes, that girl betrothed. Thus here.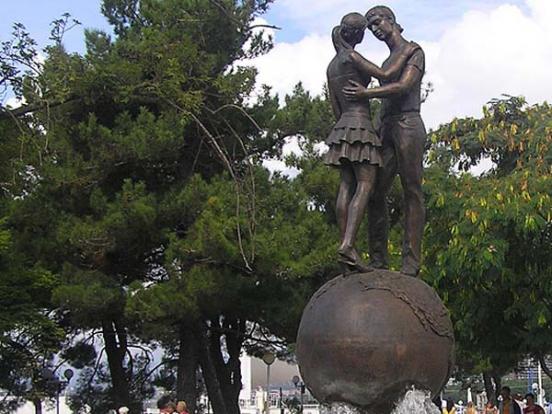 In the "Soviet Union» :)
7. Kharkov, Ukraine
Monument that many do not like - love, they say, here and does not smell. And the figures of people some anorexic-grotesque. But what can you do - "it" is still called the "Monument to love»!
8. Odessa, Ukraine
The monument is very "right" - sensual and pleases the eye!
9. Batumi, Georgia
This creative Nouveau from fellow Georgians, I did not expect! Man and woman are joined in a kiss.
10. Tbilisi, Georgia
Another monument in a modern style!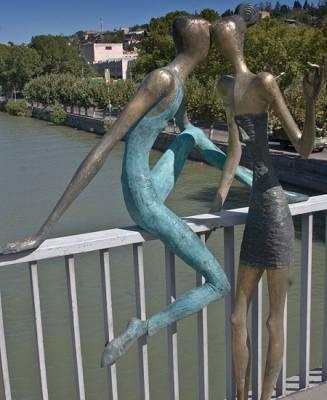 11. Estonia
Monument, Fountain, depicting lovers in the rain.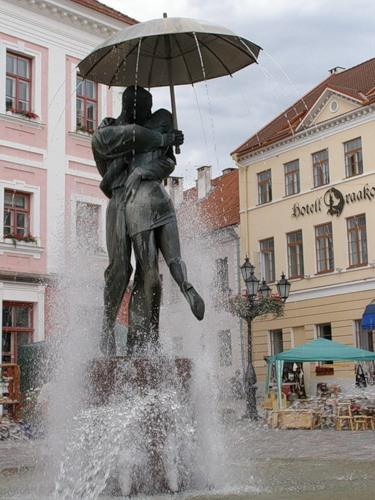 Worldwide:
12. "Station", Glasgow, United Kingdom
"The station has seen more sincere kisses than the registry office ..." as someone said.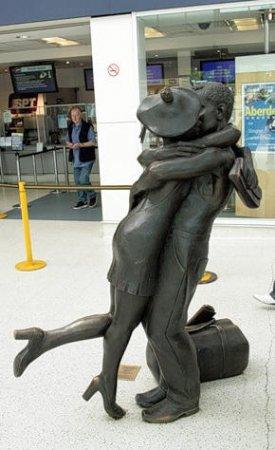 13. "Farewell Love" London, UK
And another Vokzalna theme from the British. They appreciate good Railways!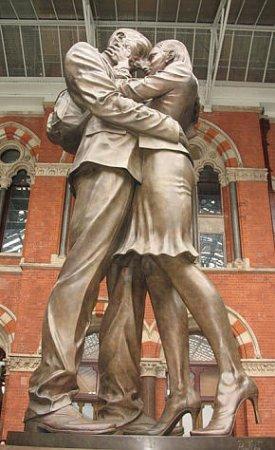 14. Bruges, Belgium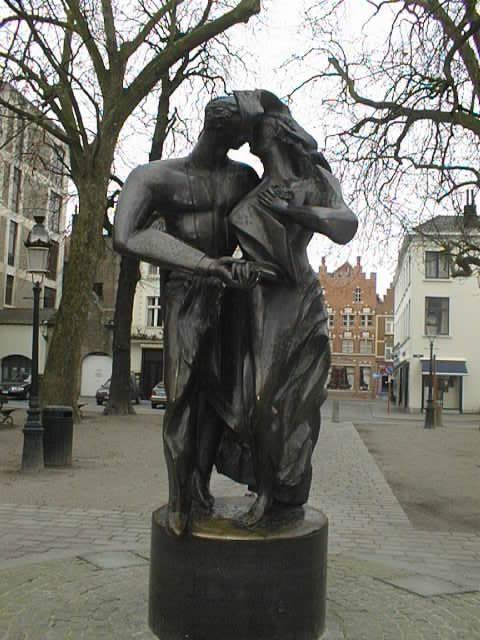 15. "Monument to love penguins," Tonsberg, Norway
Funny and cute monument in Norway!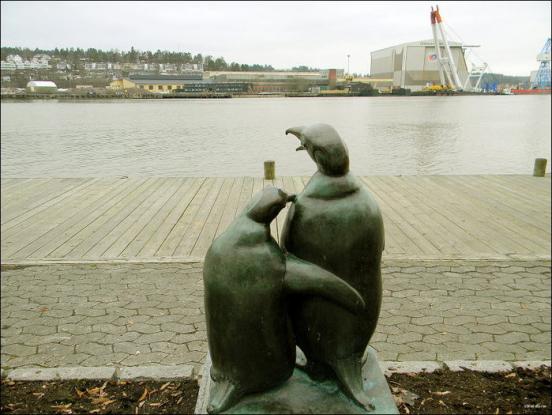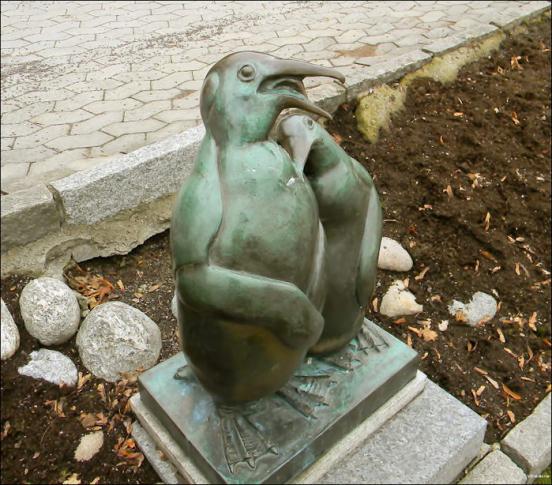 16. Montreal, Canada
Here is such a physiological monument!
17. Kemer, Turkey
18. Habron China
China - a country chaste, even monuments love them some schematics - you are no kisses, hugs, or (horror, the horror, the horror!) Naked genitals.
What is love without sex? Though it happens sometimes ...
19. "Land of Love", Jeju Island, Korea
Very naughty sculptures. Some gentle natures may even drive them into the paint!