It is said that changing hairstyle, woman changes her life, but the famous "seven Fridays of the week" and they change their images more often us. And precisely because of this they will know that they really fits and what does not, while many of us simply can not decide on major changes. I propose to re-look at the celebrities external changes (hairstyle makeup +) and find out what they really to face and, perhaps, to borrow the famous beauties successful variant hairstyles or wear make-up.
Katy Perry
Very nice girl, but these pink hair brunette ... Perry is much more interesting, more lively and attractive, and it is one of the many stars, chasing shocking, which is already fed up to the extreme. In all should be the measure and bright make-up brunette Perry would be enough, but why spoil your, emphasize YOUR hair? Of the two options I do not like either one, because I for Katy brunette!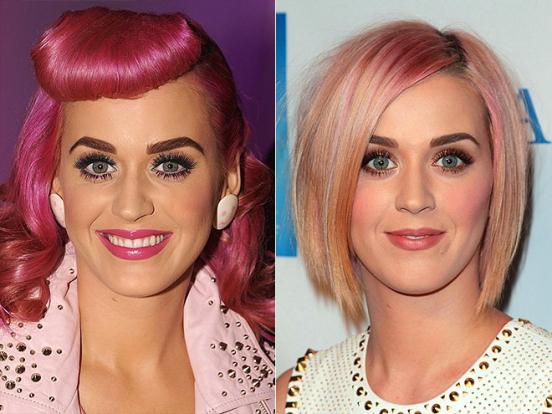 Freida Pinto
Cute girl on the exterior, it is better with straight hair, so I'm all hands variant №1.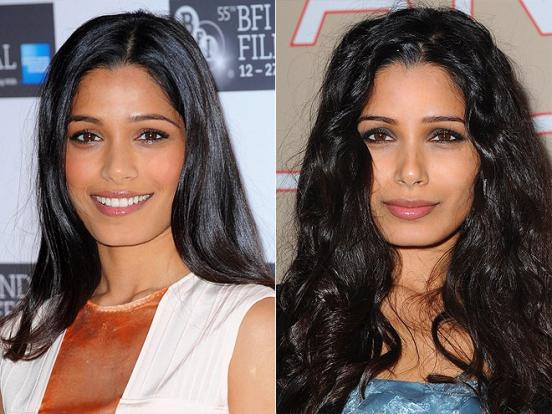 Emma Roberts
Absolutely not like this girl. Let it be though her daughter and niece of Julia Roberts is not, but the raisins in it. Quite boring person. Choose one option only because of the hairstyle.
Elizabeth Olsen
Yay! Thank God younger sister Olsen is not like the two older twin. This girl is life, and that's fine, but then the sisters Mary-Kate and Ashley in recent years as a zombie walk. Charming Elizabeth I for the second option, because there a more beautiful hair color, and more successful styling, and makeup wonderful.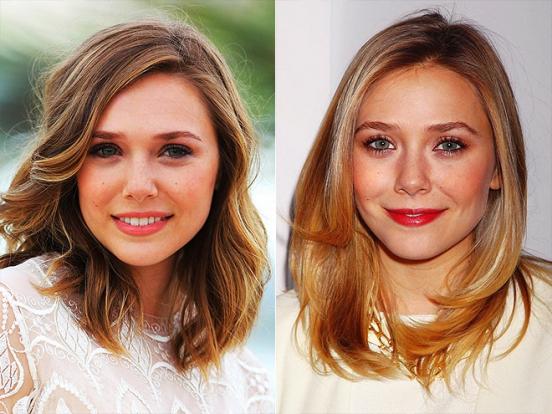 Demi Lovato
She does not look at his 19. I think she should be a little more restrained and selective in choosing outfits as well as make-up, as red lipstick and arrows that make up artists make it hard for every event, already stuffed mouth. Seen her picture without "Colorize" and she was so much better. Do not like it when girls ahead of time "obabivayutsya." Select the first option (clothing, hairstyle and make-up is better).
Evan Rachel Wood
There is this girl in something that attracts. Somehow it was even called the devil in the guise of angels, perhaps it is the "devilry" and attracts men? The second hairstyle is definitely stylish, but I like Rachel Wood with long blond hair.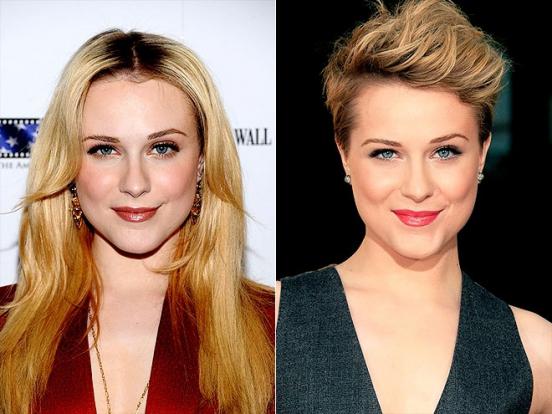 Cheryl Cole
Another newfangled haircut that does not fit its owner. Although there is no longer the case in cutting and styling, and hair color. With dark definitely better. I am for the first option.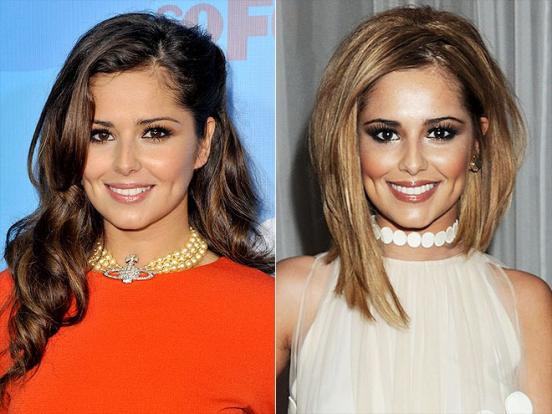 Leighton Meester
No wonder they say that the fringe to some extent hiding his face. On the example of Leighton we see it clearly as ever. I like more the first option, although with a sparse chёlochkoy Mr. good. I do not know what to stay ...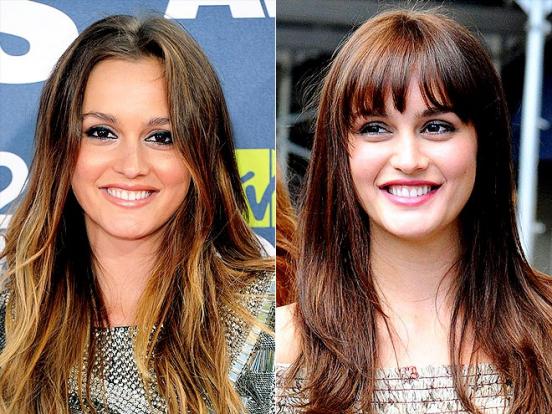 Dianna Agron
For a long time I thought that Diana Agron not, and Argon, but it does not matter, because I do not watch the show Glee and, in general, have no idea which of her actress and know her name I'm not sure. The girl is certainly very nice, it can be seen immediately, and because of that many approaches to her face. I still for the second option, as it bobs and laying me captivated.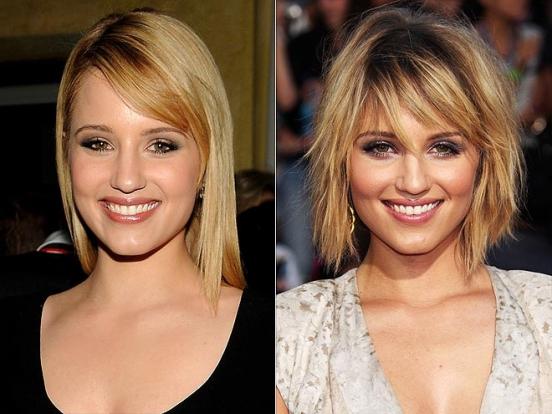 Lindsay Lohan
"What is not thread winds, there will still tip ...". Yes, LiLo what are you going and what you want from life? Without tears on the drunken girl who once loved me so, will not look. In the first case, it is more natural, but the second I like the hairstyle and makeup, so I am for the second option (after considering hair and wear make).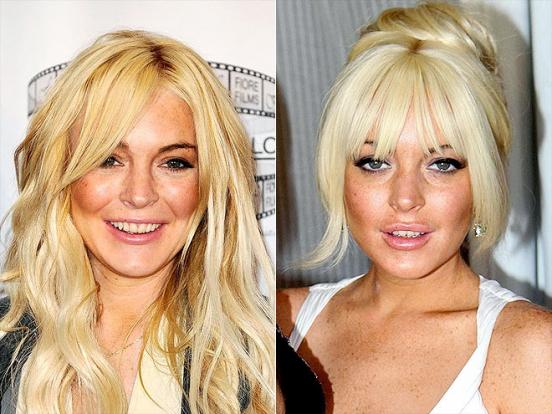 Rihanna
Rihanna is almost as old as Lindsay, but it looks many times better. Beautiful, that in that photograph that to another, but I liked her red hair so I option for "before". In conjunction with her dark skin and green eyes, this hair color was perfect, as if he was not there SAG **.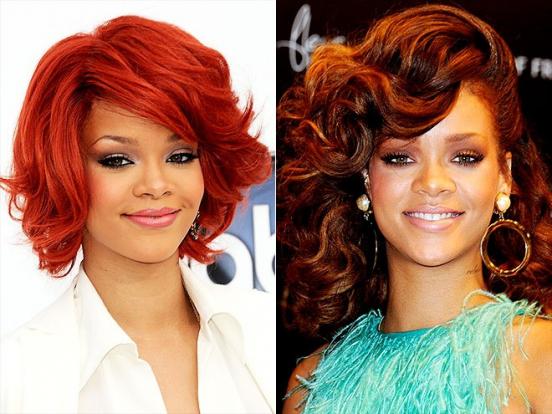 Jennifer Hudson
The strong-willed woman. Throw as many kg did not succeed each, but she was able to win the fight against excess weight. Looks good despite the numerous extensions and slightly sagging skin (with a sharp weight loss with large weight of all this is difficult to avoid). I am the first option (styling beautiful, sorry that is not their mulatto hair). Ah, yes, the red dress she is very refreshing.
Jessica Szohr
Girl with a smile at all 32. I like Zor in the second photo, but chёlochki there just is not enough (it seems to be removed, but in vain, very vain).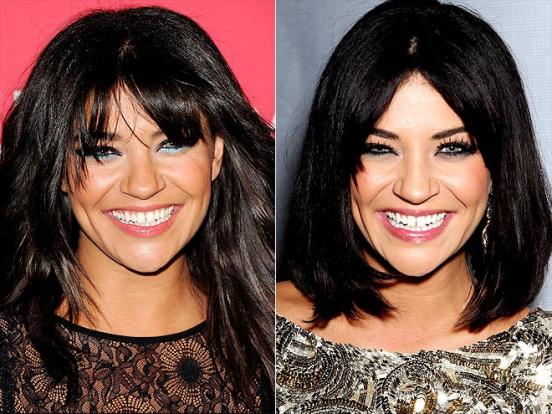 Sienna Miller
Judging by the photos Sienna kind-hearted man agreeable. The conclusion is obvious - it goes a gentle make-up, so I'm the first option.
Vanessa Hudgens
Here and do not need words. Definitely "after».