January 6
Beauty Charlize Theron attended basketball game in Los Angeles. Actress rarely smiles, but the smile Her. How would like to have such a charming woman in addition to a successful career was no less successful personal life ... Beautiful and unhappy - the concept is almost incompatible, but well the saying goes "not born beautiful, and born happy", because to be perfect in appearance and very unhappy at life can be. But in spite of the turmoil in his personal life (Charlize 8 years met with actor Stuart Townsend, but in 2010 the couple broke up) the actress continues to live, now not only for themselves, but for the sake of an adopted boy Jackson. In January of paper for adoption has yet ready, so could Charlize and fun away from home. The match Theron wore a stylish ensemble consisting of a black jacket, white stamp, gray jeans and gray hats. Add an image bag with a strap-chain. Hairstyle commonplace, but with such beauty Charlize can afford to be even bald.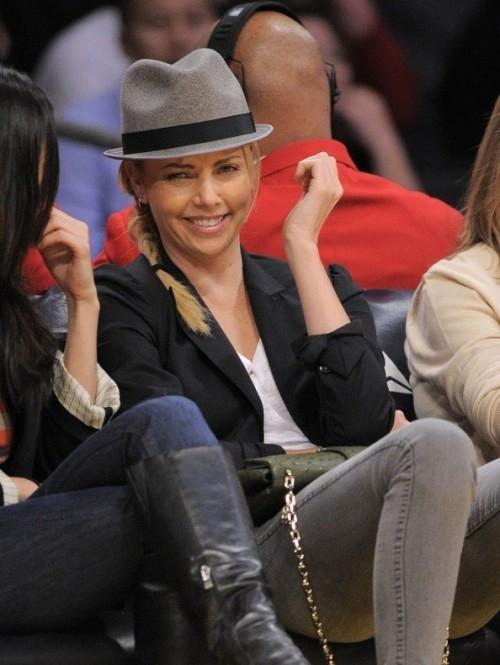 January 8
Charlize and her assistant leave the gym in West Hollywood. Actress carefully watches her figure and in 36 years the body of her that is necessary (she did not give birth, so it a bit easier in this regard). For a hike in the gym Theron chose gray leggings, comfortable gray "slippers" and a jacket with a picture of David Bowie, which she wore over a black T-shirts (it seems she did). Comfortable and looks good.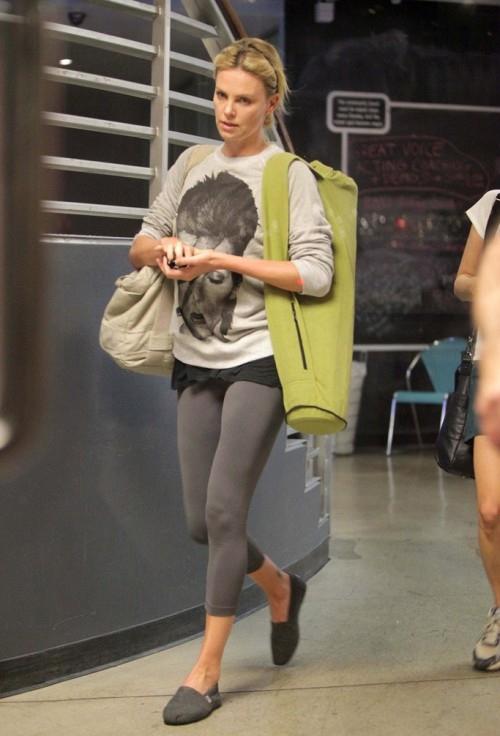 January 12
Charlize walks through the streets of New York. Sad, but very beautiful. Black and white bow laconic, but it does not deprive the right to be Charlize stylish woman. In this outfit she looks like a superspy (although a box of chocolates in this case to anything).
January 15
Charlize visited the restaurant in Century City (Los Angeles), again paying tribute to black. Black - this, of course, a universal color and it goes very Theron, but it would be necessary to change the color palette in clothes, diluting its bright and delicate flowers. In an elegant black dress and jacket Charlize looks elegant and attractive. Thank God for there is no dark glasses, hiding her bottomless blue eyes - one of the main advantages of her appearance in principle.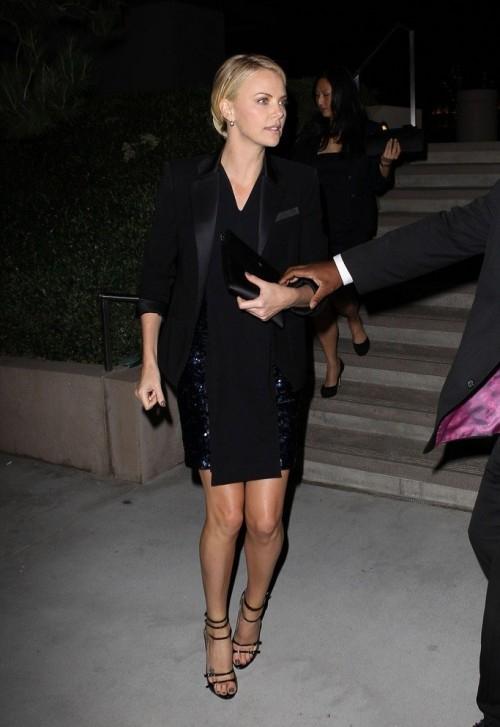 January 30
The actress is directed to a friendly meeting in Los Angeles. In LA sun, but Americans often do not dress for the weather, and Theron, who was born in Africa and moved to the US, is no exception. Knitted ugg boots - this is a very convenient option, so Charlize chose them. And she's hot or not - is a mystery ...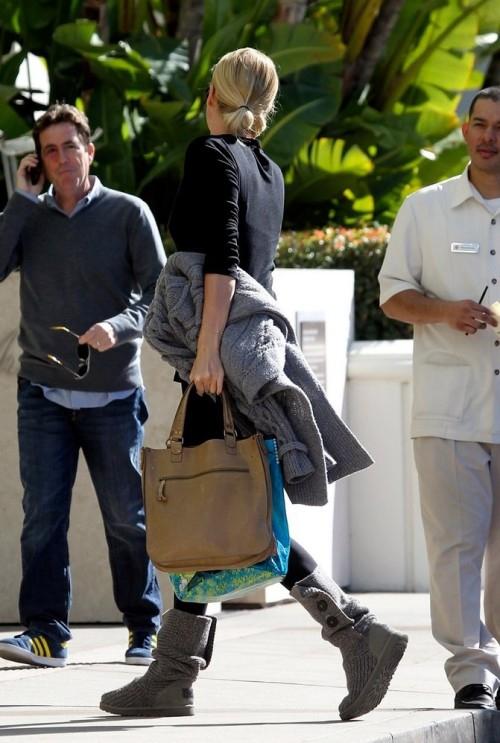 February 3
Charlize goes to a beauty salon to direct marafet. In a free tracksuit and sneakers, there is the road. Looks good, but I think at the exit from the cabin she looked even better.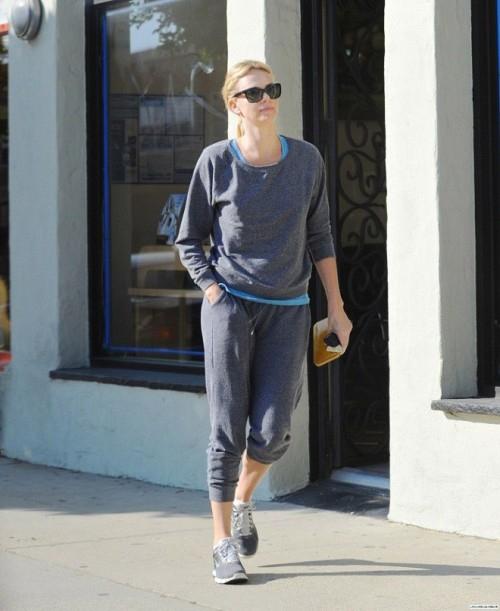 February 7
Charlize and her friends walked around the shops. Fragile girl pulls a few boxes (one with fish, the other, as I understand, with blender), but it looks at this much better than heading to the beauty salon. Plaid shirt, which does not hand over the positions of the second season in a row, plus skinny jeans, bag over his shoulder and interesting shoes to brighten up the already beautiful Charlize. Again, the figure she is really cool, I especially like the legs.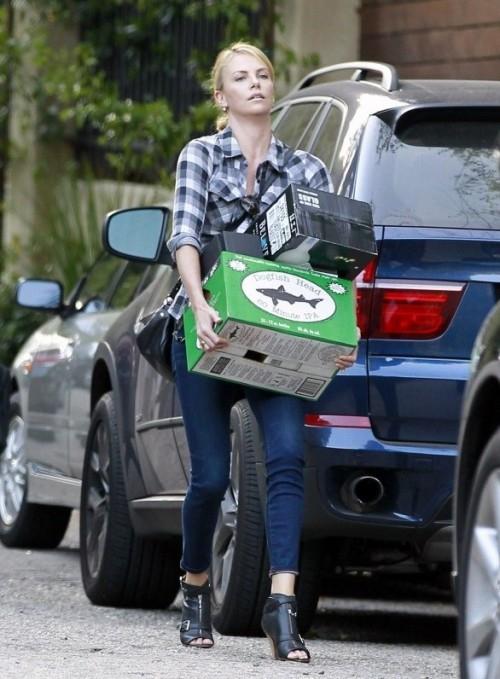 February 21
Charlize came out of the hairdresser «Byron & Tracey» in Beverly Hills. Actress updated haircut. View from Charlize very fresh, still bright colors are not worse dark shades. Cropped white pants fit well on Theron and wide beige blouse pretty fashionable. Completed image of two bright spots - bag and sandals.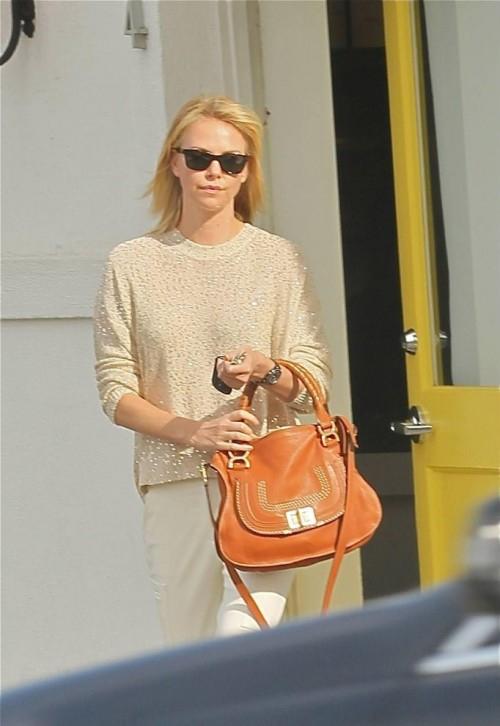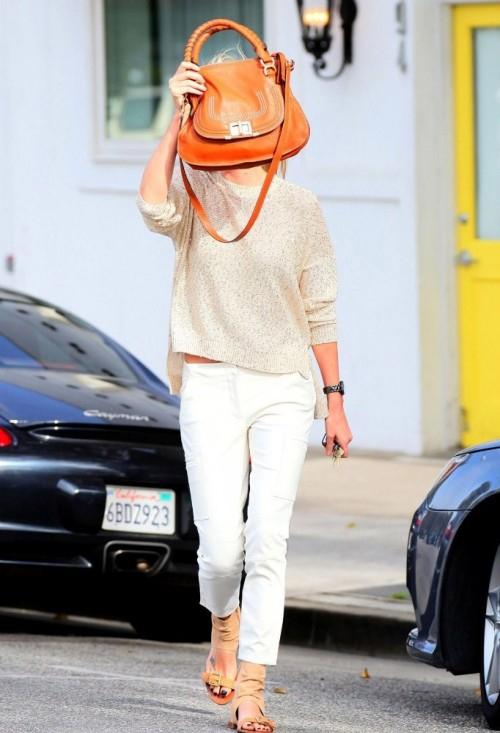 February 22
Paparazzi caught Charlize leaving the restaurant «Chateau Marmont» in Los Angeles. Unfortunately, as always without a satellite. For dinner in splendid isolation Theron chose a black suit and a bright orange clutch.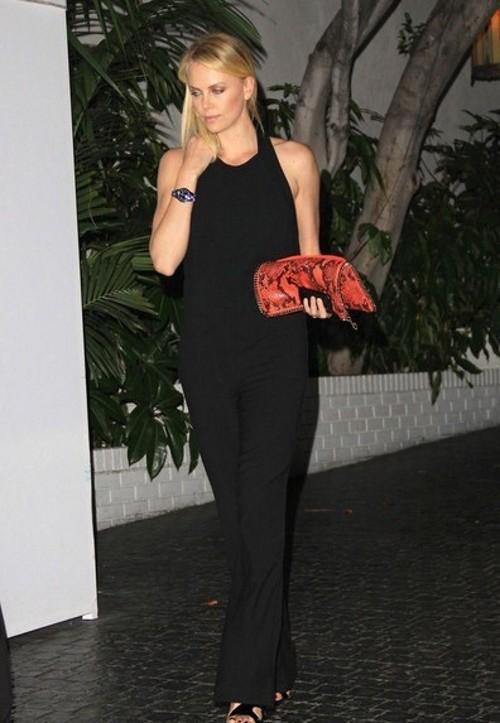 February 26
Mysterious stranger in the photo - it's just one Charlize, not boyfriend, whom he was baptized immediately after the appearance of a light workout after Theron in the gym. Fans spotted this man similarity with last man Charlize Keanu Reeves (relationship was not official, but the media told that they were all the same), so a wave of rumors swept ... and then disappeared. For a hike in trenazhёrku Charlize chose black tights and gray shapeless sweater.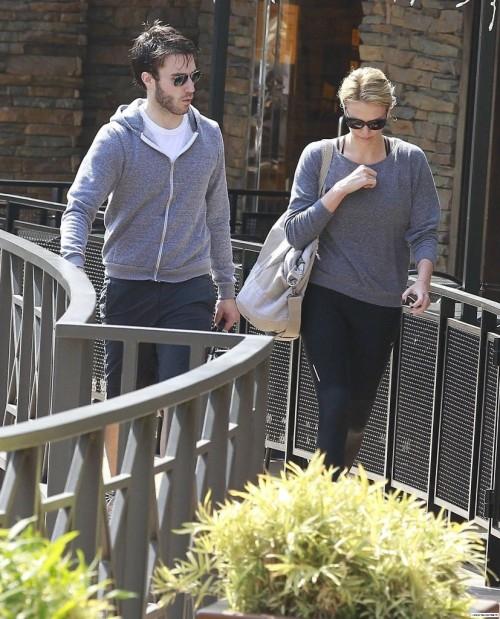 March 19
Charlize airport LAX (LA) looks simple but tasteful. I like the blue shirt, wearing a sweater and boots.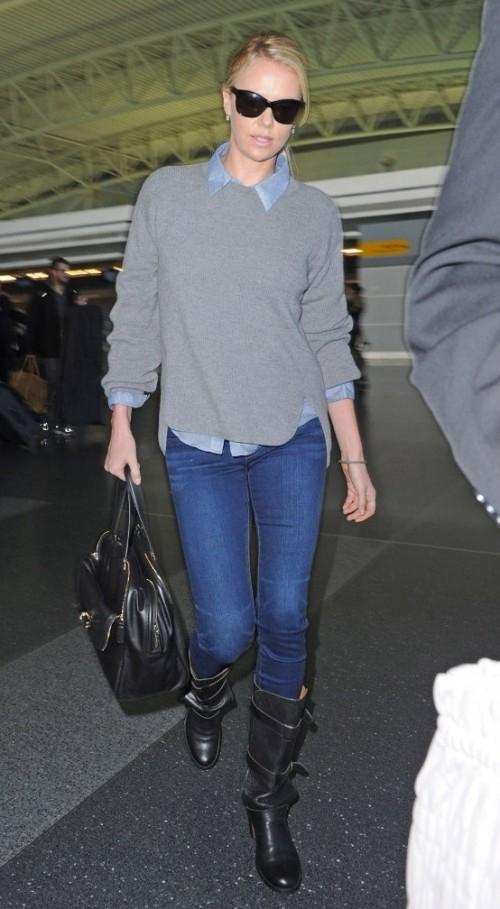 March 19
Not having to fly Theron has already changed clothes and went to «The Today Show», there to meet with Kristen Stewart and discuss with leading their new film "Snow White and the Huntsman." For this event Charlize prefer totally black bow. All of the figure, so it is impossible to take look. A woman's dream!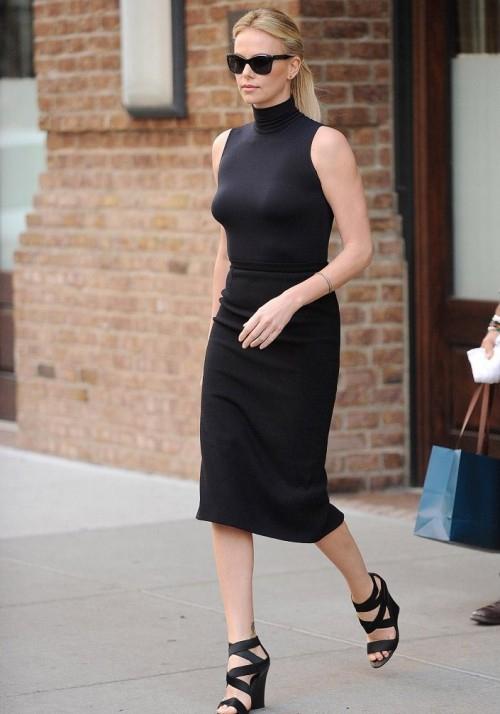 March 25
Charlize and her mother leaving the gym. Nothing special, but I like this tote bag that is always with Charlize, when she goes to the gym.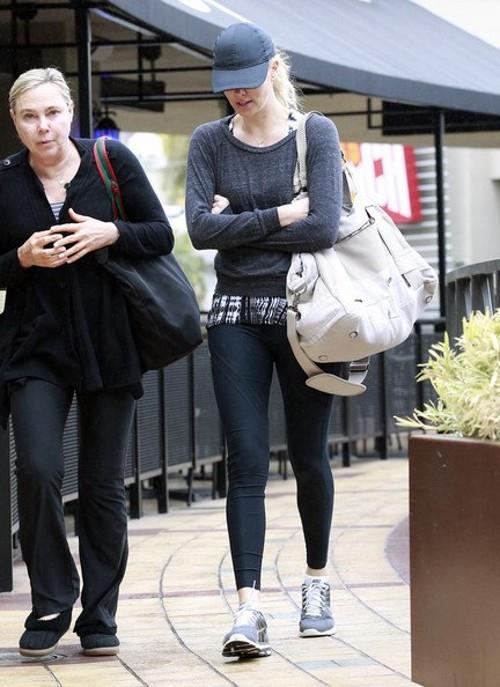 March 27
Just dinner in a Japanese restaurant Charlize seems preoccupied with something (she had a son, and it is no wonder that there were also troubles) sent home. Looks great. Simple casual design-bow without claiming to star status of its owner stressed dignity of the figure Charlize. I like all these things, which, incidentally, perfectly combined with each other, but in particular highlight the bag. Good.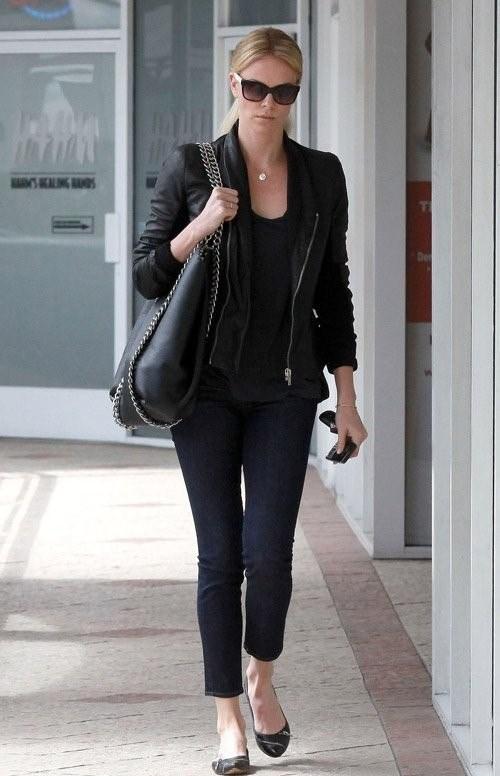 March 28
And here is the happy mother with her son Jackson. Smiles and is very happy. In plain image (stretched dark gray sweater, leggings and high suede boots flat shoes) Charlize and her baby are sent to the post office to get his papers. While Charlize does not want to show the world his son, so she covered portability white towel with red stars. We are waiting for new photos of Jackson and Charlize (now she will smile more often, because children - is the most beautiful in the world). I believe that she will find a decent man, and it will have a happy family. So be it, by the way with Reeves they looked good ...